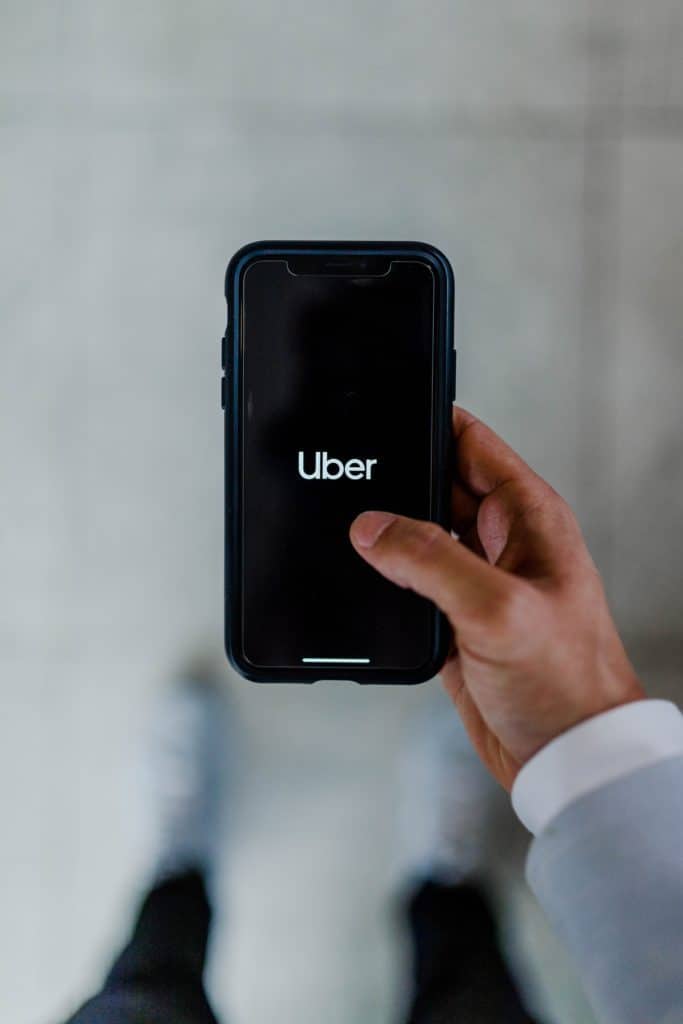 THE COMPANY OVERVIEW
ABOUT UBER
Recall the times, when ordering a cab was a nightmare! The dreary wait to get a cab that agrees to take you to your destination at reasonable fair prices was quite a task. Kalanick and Garrett recognized the value of this service, and took us by storm with the introduction of Uber Cab in the year 2009, a revolutionary step in the transport industry. Here, let's know about Uber Mission And Vision Statements.
Uber cab what later came to be known as Uber is the highest valued private company in the world more than Airbnb, Space X, and Lyft combined at a whopping 6.8 billion dollars in valuation, more than any start-up in the world. Uber would like to be called itself as a technology industry rather than a transportation company. As it is through technology that the company can easily connect drivers with riders. 
Uber is the 'Amazon' of the transportation industry. It has had a significant impact on the other industries and the change that it has brought has been referred to as 'Uberisation'. It Is known as one of the largest firms in the gig economy.
With the on foot of Uber, an altogether different industry came to be. 'Ride hailing' became an industry in itself as it kickstarted the evolution of the taxi market in the early 2010s. And competitors such as Lyft, DidiChuxing, Grab, Curb, Gett, etc. who subsequently emerged in the business became a part of this ride-hailing industry. Uber held USA 71% of the market share for ride-sharing and a 21% market share for food delivery. 
Uber has its headquarters based in San Francisco, California. Uber rides is the company's primary source of revenue. The subsidiaries include – Careem, Jump, Postmates, Ubereats (2nd biggest source of revenue for the company), Zomato (9.1% stake). 
BUSINESS MODEL OF THE COMPANY- UBER
Uber has a very peculiar business model, it has raised many questions and controversies among the public regarding its in-app operations and algorithms and treatment of drivers as non-employees and this is just the tip of the iceberg. Its business model explained in a nutshell (Open the app, enter a location, choose the mode of transportation, book the conveyance, pay through cash or credit) wouldn't look as much complicated as it would appear to be when examined closely, here are few peculiarities and complex algorithms the company operates in – 
– It has been reported that the company operates on wrong algorithms to avoid losing customers they misrepresent the distance between the rider and driver just so the sales don't suffer. If the driver is 23 minutes away in actuality, the app shows 9 minutes. This strategy costed their customers with bad experiences spend 10% less with Uber. 
– Uber determines fees and terms on which drivers transport their passengers, and mostly they are underpaid. There is no control of drivers over the pricing and related policies. 
– Uber has a dynamic pricing model, fares fluctuate depending on the local supply and demand at the time of service. The prices automatically surge in times of peak traffic and climatic conditions, busy hours or time in the day, or the cases of demand-supply conditions. 
– The fare is generally calculated as such – Regular base fair + per minute rate * time spent in car + distance times the per-mile rate all of which depends on the city, also depends on the airport, toll cancellation, cleaning, and lost item fees * surge price (If riders are more, and drivers are less or if drivers log out when demand outstrips supply).
– Uber did not have room for tipping in its business model until very recently when Uber introduced tipping a few years ago, but its competitor Lyft was way ahead of time with this aspect of it. 
– Before the company takes in a driver to work for them, Uber cross-checks on a series of aspects before appointing a driver. There is a thorough background check, any sexual assault allegations, sexist jokes, jumping the signal, unabiding traffic laws are sufficient causes to rule out on a driver, checking necessary permits, cyber-attack personal check, is also done as a part of the process. 
– As a part of the agreement, the drivers are free to drive for their competitors as they drive their vehicles and the company allows them to do so. 
– Drivers get fired automatically by a computer if the rating for a driver falls below 4.6 on a scale of 1-5, as feedback matters. 
One unresolved issue that remains is the consideration of drivers as not the employees of the company but independent contractors. This establishes a complex platform and vendor relationship, this is an unjust treatment for the drivers but the company does so because it saves them cost, huge legal formalities, and compliances, and avoiding massive tax rates and employee costs. 
THE MISSION AND VISION STATEMENT ANALYSIS- UBER
THE MISSION 
'We ignite opportunity by setting the world in motion.'
'WE IGNITE OPPORTUNITY…'
The statement can be analyzed in 2 ways – First, that the company helps ignite opportunities for people across the globe by helping them get to their destination on time so that they do not miss on their potential opportunities.
And secondly, it can be perceived as igniting opportunities for those working with the company, for those connected directly or indirectly. The company allows its drivers to earn money and be flexible with the timings as well and allows its drivers to work for its competitors allowing them to moonlight and earn through multiple sources, it gives equal opportunities to men and women for driver-ship. 
But, the male drivers earn 7% more than women, as men are 2.5% faster than women enabling them to serve more customers and women drivers received more tips so long as they were of the age less than 65 and the treatment of drivers as independent contractors is where the opportunities become crooked and the companies must take a corrective decisive action to devise a solution for this unresolved problem.
'SETTING THE WORLD IN MOTION…'
The second half of the mission statement pinpoints their aim to go for the global coverage and it is proceeding aggressively to achieve it, it has expanded to 69 countries and 900 metropolitan areas. But this also led to them being criticized for disruption of taxi cab businesses and an increase in traffic congestion. 
About 15 million rides are taken across 600 cities in 8+ countries, it had 5 million drivers worldwide as of 2020. To make its mission come true and to spread its wings worldwide the company in Russia has acquired a 37% stake in Yandex taxi, a15% stake in Didi, in China. And a 19% stake in Grab (widely popular in South-eastern Asia.)
THE VISION 
'Transportation as reliable as running water, everywhere for everyone.'
'TRANSPORTATION AS RELIABLE…'
The first half of the vision statement speaks about the reliability of its transportation services, let's analyze how reliable the company in question is. 
Uber employees in New York ordered rides from Gett, only to cancel the ride later to waste the driver's time and delay service to actual customers. Moreover, Uber did not apologize for what had happened and instead reasoned that the recruiter attempts were third parties trying to make bucks.
The company was also accused of the unauthorized access to Uber employees to sensitive customer information, and tracking movements of its customers such as political party members and top-notch people resulting in the invasion of privacy, this was termed as what the company was said to have a 'God's view'.
These controversies along with many others such as the '#DeleteUber' campaign, delay in reporting information data breaches to highlight the fact that the company has compromised on the 'Reliability' aspect, there is room for improvement and it must strive to stand by its words. 
'EVERYWHERE FOR EVERYONE…'
The second half of the vision statement highlights the 'Availability' of the service, Uber has worked towards achieving this target ever since its launch as there are many virtual pieces of evidence that speak for the statement such as the introduction of Uber X (a basic level of service) in July 2012, economical cab service to customers who are price sensitivity ensuring that the target customer segment isn't deprived of the service. 
To increase the magnitude of service provision and for a wider reach, in August 2014, the company launched Uber pool, a shared transport service to its customers that would ensure saving in commutation costs and traffic. 
In 2013, USA Today named Uber the tech company of the year. It launched Uber Eats a food delivery service and in August 2016 and later Uber ATG was developing self-driving cars, jointly owned by Softbank, Toyota, and Denso.
Also, the company has provided services to many as the statistics depict an upward curve for ridership and customer usage over the years, the Uber users figure scaled up from 11 billion in 2015 to 93 million in 2020. And Uber trips surged from 3.79 billion in 2017 to 4.98 billion in 2020. 
Uber achieved its 6 billion dollars ride mark in the year 2017, Uber also launched Uber boat partnering with the locals to expand the mode of transport preferences. In 2011 it started offering rides in black luxury cars, it also provides services in a helicopter that constitutes an 8 minutes ride from Manhattan to JFK airport for a hefty price. The other modes include premium vehicles, cars with leather seats, SUVs, minivans, hatchbacks, Electric vehicles, hybrid vehicles, motorcycles, auto-rickshaws, actual taxi cabs with additional assistance to senior citizens, specially-abled and wheelchair accessible vans. They are also open to pet shipping, package delivery, and car rental. 
Along with such wonderful advancement in services, the company has also been booked for the 'Greyball' controversy, that showed fake drivers around the customer's locations making the legit drivers cancel the ride and depriving services to a selected group of customers, this challenges the prime motive of their vision statement. 
THE FINANCIALS OF THE COMPANY
Uber was hit hard due to pandemics as were other companies but they managed to bounce back in the 4th quarter of 2020. Predominantly because of Uber eats, contrary to what the analysts anticipated about Uber rides making more than any other business. Uber eats was highly profitable during the pandemic which is quite understandable due to the lockdown and the public's preferences from avoiding eating outside or setting foot outdoors ordering food from the comfort of their homes. Eats has had a 200% increase in revenue (Year-on-year). 
– Uber generated 11. 1 billion dollars in revenue in 2020, a 21% decrease due to COVID. 
– In the 2nd quarter of 2020, for the first time, Uber Eats generated more revenue than Uber Rides. 
– In Q4 of FY 2020, it recorded 3.6 billion dollars and gross booking rides of 7.4 billion dollars.
– Uber drivers complete 4.98 million trips in 2020, a 27% decrease from the 6.9 million in 2017.
– And revenue by segment in mobility sitting at 7.9 billion dollars and 4.8 billion dollars from the delivery sector, 0.9 billion dollars from freight, and 1.3 billion dollars from other sectors.
– It has earned the most from the US and Canada (6.8 billion dollars), EMEA (1.8 billion dollars), APAC (1.5 billion dollars), and from LATAM (1.3 billion dollars). 
– The profits dropped to 6.7 billion dollars in 2020 that earlier stood at 8.5 billion dollars in 2019. 
– The valuation and funding as of 2020 stood at 48 billion dollars and 20.9 billion dollars respectively. The valuation is low than its previous financial year. 
THE CULTURAL NORMS
It is the culture, ethics, and norms that come to the rescue in times of decisive actions and tough decision-making, playing a part as a deal-breaker. Setting a tone by the top management or an establishment of a custom from the first directors and founders is very crucial as, if the history repeats itself, the company will have something to look back on. 
It is the culture and approach that got Uber where it is today. The company believes that the culture should also come from the bottom up rather than be pushed unidirectional from the top down. Uber encourages its workforce to share ideas and lends an ear to every idea irrespective of age, experience, power, or position. This tells us that the company is open to ideas pouring in and striving to bring in innovation as a part of its existence.
Its cultural norms include – 'We build globally, we live locally.', 'We are customer-obsessed.', 'We celebrate differences.' Etc.
SUSTAINABILITY DEVELOPMENT 
The sustainability proclamations and potential solutions and declaration by the company sound very impressive as a set of words. It would be even wonderful to see if they achieve what they claim. Uber has grand plans for environmental climatic issues and sustainable development, they have taken up the deteriorating situation in their hands, and here's what they are willing to do about it – 
– To become a zero-emission platform mobility 
– Power all US offices with 100% renewable electricity by 2025.
– Expand EV efforts by partnering with 'EVgo' and 'Powerdot'. 
– They invite environmental experts to provide feedback on their sustainability development methods. 
– As a part of the green future program, Uber has developed Uber Green – Green trip in a hybrid or electric vehicle emits at least 25 % fewer carbon emissions compared to the average uber ride. 
– By 2040, 100% of rides globally are in zero-emission vehicles or through micro-mobility and public transit. 
– By 2025, Uber anticipates a greener future by bringing in transition to battery EVs in Canada, Europe, USA. 
– Electrifying ride-hailing in Europe, and partnering with industry and policymakers to help drivers move to fully electric vehicles. 
– Fight against climate change – NGOs, advocacy groups, and environmental justice organizations to help expedite energy transition. 
These monumental changes won't come easy, but Uber strives to enhance its environmental, social, and governmental report and device methods to come out with revolutionary steps to solve the prevailing conditions. 
THE CONCLUSION
Uber's journey from 'Everyone's private driver' to 'Connecting you with the people, places, and things you love' was with quite a few bumps in the road, if not a rollercoaster. Uber has indeed come a long way under the three masterminds – Ryan Graves, Travis Kalanick, and Dara khosrowshahi who to the company have given nothing but the best. 
Especially, under Travis Kalanick the company outperformed its competitors and set new record highs. The company undoubtedly prospered in his tenure and took the company to new heights but the bug lied in his aggressive strategy for dealing with obstacles. Kalanick's so-called principal confrontation took him down as a CEO in 2017.
The now-current CEO Dara Khosrowshahi has beautifully handled the company through the pandemic. As a CEO of a company of the most vulnerable industry in the pandemic, he managed to keep the financials from dropping and kept the company afloat. He bought a paradigm shift from the Travis' principle of 'Win at all costs to 'We do the right thing' and this is what's keeping them from falling a victim to the pandemic. 
Uber Mission And Vision Statements- Values Analysis