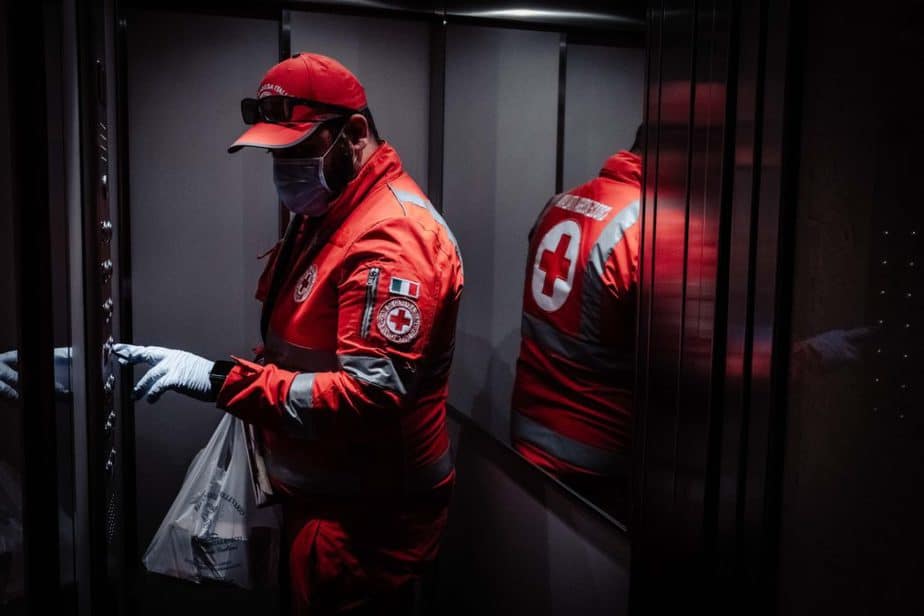 The International Red Cross and Red Crescent Movement or the Red Cross, as it is commonly referred to, was born out of respect for human life and its sacrality. They ensure that the rules of war are followed and that people affected by conflict and armed get the help they deserve. It is an international humanitarian movement with chapters across the world and nearly in every country. It aims to alleviate human suffering wherever it is found, be it within a country or in the international arena, and works even on battlefields to help the wounded. Here let's see Red Cross Mission and Vision Statement and its Values Analysis.
What is the Red Cross Mission Statement? 
The American Red Cross Mission Statement goes, "Prevents and alleviates human suffering in the face of emergency by mobilizing the power of volunteers and the generosity of donors." This implies that the Red Cross mainly functions through its network of volunteers and from the donations it receives. Generally, in cases of emergencies, what is most required is manpower and funds.  Relief work in emergency areas, like conflict zones, requires a lot of funds. Similarly, volunteers at the ground level are hard to come by in such areas. Lack of both has often resulted in relief work being halted and becoming stagnant for both of these factors are equally important. 
What does the Vision of the Red Cross Mean? 
The vision of the American Red Cross includes; 
To always be there in times of need by providing its strong network of dedicated volunteers, donors, and partners to help those who require it.  
Similar to the mission statement, it emphasizes the network of volunteers and donors who provide the necessary help in times of crisis.  
Ensuring that in times of crisis, communities are ready to handle such disasters and prepared for the worst. 
For high chances of survival, communities must be coached on what to do and what not to do in times of emergency, depending on the type of emergency it is. It is quite common to see people panic and be out on the streets looting or rioting in such cases. It only makes the situation confusing and more dangerous for everyone involved.  
Ensuring that there are always trained individuals nearby in cases of emergency. These trained volunteers in such instances can put their training and Red Cross skills to use and save lives. 
This is one of the reasons why there is almost one Red Cross in every country and often even more than one in one country itself. For instance, within the United States itself, there are more than hundreds of chapters. The Red Cross trains its volunteers so that no matter the situation they are quick to adapt and respond accordingly.  
Ensuring that everyone within the country has access to safe lifesaving blood and that all members of the armed forces find support and comfort as needed.  
The Red Cross often conducts blood donation drives and encourages people to donate blood, so that in case something happens, there will not be a shortage of safe and healthy life-saving blood and related products. It also ensures the delivery of emergency communications for members of the military and their families. They also help veterans and military hospitals.   
Turning compassion into action such that any people who are affected by disasters, be it within the country or anywhere across the world, get access to help, shelter, care, and most importantly hope.  
What are the Values of the Red Cross? 
The Red Cross has seven fundamental values or principles. 
Humanity 
Humanity is one of the core principles of the organization. It was formed out of respect for human life and dignity. It promotes and nurtures mutual understanding, coordination, friendship, compromise, and lasting peace among all people.  
Impartiality 
The Red Cross is all about helping people and alleviating human suffering irrespective of their religion, class, nationality, race, political inclinations, etc. There is no place for discrimination within it and priority is given according to the severity of the case.  
Neutrality 
Since the organization is about helping everyone, it does not take one side over the other, in cases of hostilities or political, religious, racial, or ideological controversies. 
Independence 
The Red Cross does not come under the jurisdiction of any one country. It is independent. While its chapters are subject to and respect the laws of the country they are situated in, as a whole, the organization is not dependent on anyone.   
Voluntary Service 
Volunteers make up about 90% of the Red Cross. It is a voluntary organization and is not motivated by profit or any other material gain. 
Unity 
Though there are many chapters of the Red Cross, within a single country there is only one Red Cross or Red Crescent Society. All the chapters in that country come under it.  
Universality 
All Red Crescent Societies have equal statuses, duties, and responsibilities in helping those in need. 
How to Sign Up as a Red Cross Volunteer? 
Volunteers make up the backbone of the Red Cross and their need for them is always constant. It is very easy to become a volunteer.  
The American Red Cross site provides a short quiz to find which role suits you best. Take the quiz if you are not sure what position you will be well suited for.  
Through the site, you can also get access to the Red Cross chapters near you and the volunteering opportunities available there when you enter the Zip Code for your area.  
Contact that chapter by phone or email or by visiting them in person and inform them that you would like to sign up as a volunteer.  
You will then be asked to fill out some basic paperwork and after evaluating your interests and commitment level together, you will be assigned a role.   
All volunteers will be given training as required for their position. 
Volunteers must be eighteen years old or above. If they are below eighteen, they require permission from their guardian.  
Background checks and photo ID are mandatory for all adult volunteers.  
What are the Different Volunteer Positions? 
Behind the Scenes 
Administrative and operational tasks at the offices, warehouses and training centers of the Red Cross come under this category. This involves activities like scheduling shifts for other volunteers, supply chain management to ensure calamity relief operations have the necessary supplies and equipment, etc. It is best suited for people who are organized, detail-oriented, and possess good multi-tasking skills.  
Boots on the Ground 
This is an action-oriented role and requires you to work directly with people affected by the calamity. Thus, you may have to work at irregular hours on short notice and do physical labor, etc. You would have to do at least one shift per month and some positions may require the ability to lift to fifty pounds.  
Client Facing 
This role also requires you to work in close contact with those affected by the calamity, for you would be tasked with assisting them in locating their loved ones or ensuring that they receive all information, support, and services as required. This position is ideal for people who are empathetic, resourceful, and good communicators. While prior experience in counseling, casework, or customer management is certainly welcome, it is not mandatory for every position.  
Communications/ Outreach 
This involves marketing, public relations, social media, and photography and deals with attracting new volunteers and donors while educating the public on the various events conducted by Red Cross. Excellent interpersonal skills and those with specialized skills like photography, videography, or social media are preferred.  
Finance/ Fundraising 
The finance role is best suited for those who enjoy data analytics, are detail-oriented, and have research skills. Computer skills and professional experience in roles like auditing or other accounting positions are useful. Those with customer experience can be involved in fundraising roles wherein you directly interact with donors and ask for contributions. Having a thick skin, an outgoing personality, and excellent communication skills are necessary for this particular role.  
Instructor/ Presenter 
This involves training and developing the paid and volunteer staff of the Red Cross and providing community education on topics like calamity preparation. This is ideal for those with prior teaching experience, excellent communication skills.  
Health Professional 
Roles include providing care as delegated by a licensed nurse to assist with activities of daily living, health education, and assistance with replacement of medications, durable medical equipment, daily observation, and health screening for Covid-19 like illnesses for all shelter clients, etc. Training will be provided.  
Ancillary roles are available for certified nursing assistants, nursing and medical students, and certified home health aides.  
IT 
This is best suited for IT professionals or those who have experience in troubleshooting IT equipment or radio communications equipment, setting up and installing hardware, providing service desk support, developing and testing apps that help people prepare for emergencies, etc.  
Leadership 
Those with leadership and management skills can help by serving on the chapter or regional Board of Directors, Advisory Boards, or in other executive positions.  
Team Empowerment 
This involves HR and managing the relationships between the different groups of people within the Red Cross, matching volunteers to roles that suit them, ensuring blood drives and veteran hospitals are fully staffed, etc.  
The Red Cross organization is about converting the compassion we have for the human suffering of others and turning it into actions that can impact them and help reduce those suffering. It is about giving back to society and helping those in need. Whether you choose to participate in it for your ambition or due to your moral compass, the experience you gain by volunteering with the Red Cross will benefit you throughout your life.   
Red Cross Mission and Vision Statement-And Values Analysis