Healthcare is a sector of the profession which is treated as the most important sector in society because every other sector that is primary, secondary, and tertiary all helps other humans with food, shelter, and better living conditions. But healthcare is work that helps humans to cure them, cure their illnesses and injuries, and shape their lives. In this article, we will see about 'Nursing Job Titles And Descriptions'.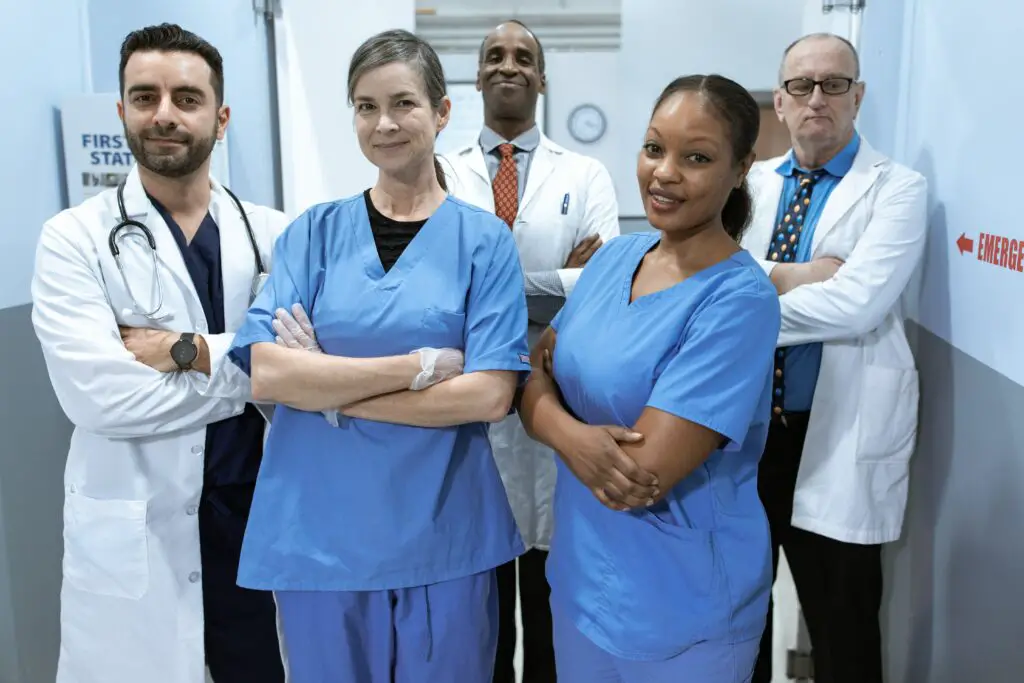 Nursing Job Titles And Descriptions
There is a famous saying that we all must have heard, "Health is Wealth." Well, doctors and nurses are the people who take care of health.
Nursing is an important part of healthcare as doctors do surgeries and give medications. Nurses help families and individuals attain, maintain, or recover health at a good time.
Nurses care for all people, irrespective of their class, age, and background. They take care of the person's physical, emotional, psychological, and social wellness.
Despite giving equal rights to men and women equally, there are still 90% of female nurses and attendants in hospitals. There is also a reason behind that; "women are thought to be and are more emotional and helpful when it comes to helping and treating others in comparison with men," so that is the reason most the nurses around the world are women.
A History of Nursing: Nursing Job Titles And Descriptions
Nursing as a profession emerged around 600 BC when there were mentions of people whose profession was to help people who were ill, take care of their needs, and help them in their daily chores. Before the word modern nursing or modern healthcare was invented, nurses were nuns and monks who used to cure people and help them in their work for fast recovery.
After some time, the need for a person was felt by medications and doctors whose main profession would be to help people during illness and take care of their needs as an attendant. This was the phase when nursing as a career started to grow. Women used to get free lessons on how to take care of and help people during illness.
During the time of the 16th century when the reformation occurred, the churches were suffering under Roman Catholicism. This was a time when nuns were asked to leave this profession, get married, and leave their lives. This was the time when the nursing profession was seen as a work of the low class, and due to this around that time for 200 years, nursing saw a setback.
Nursing as a profession
Nursing as a profession started in the 18th century as "Florence Nightingale" is known to be the founder of modern nursing as a professional career. But according to most sources around the world, the nursing profession saw a rise during the mid-19th century.
Nursing as a career is known as a person whose main focus is on helping people and families to maintain optimal health and attain a good quality of life free from illness.
Job Opportunities
The job opportunities as a nurse have a wide range of qualifications and professional options:
1. CNA (Certified Nursing Assistant)
Starting with CNA, as this is the basic or starting level in the nursing profession, this job mainly revolves around patients and nurses under the professional nurse. Their job description is to help a patient with their daily chores such as eating, bathing, toileting, and dressing.
Responsibility
Staying with the patient and taking care of his needs
Helping nurses with small tasks such as answering calls
Helping the patient with their daily chores of cleaning and proper sanitation of the patient
Setting up a patient bed
CNA pay scale
The salary of a certified nursing assistant is low compared to other people. Their annual salary ranges from $31,000 to $65,000. CNA as a career needs a lot of patience and determination because it revolves around patients and attending nurses, so there are many times when a patient misbehaves. Admission as CNA is a 10-week program, and there are plenty of openings in hospitals for this post.
2. Licensed vocational nurse and Licensed practical nurse
A licensed practical nurse or a licensed vocational nurse is a nurse who is important in a healthcare institution because they maintain a record of every patient's details, which includes their vitals, their recovery rate, and take care of their proper sanitation.
Responsibility 
Record the patient's every detail and information to give the doctor.
Assist the medical staff with their work.
Giving proper information about the patient and the treatment to the patient's family members
Change of bandages and medical equipment used
Salary
The average salary of an LPN and LVN is around $50,000.
Education
They need to have a diploma or a certificate in the technical program.
3. Registered nurse
A registered nurse is a person who has reached their qualified degree and has experience in dealing with medical instruments as well as knowing how to take care of the patient and motivate them to stay positive.
Responsibility
Give proper medication and assistance to a patient.
To diagnose test results and inform the doctor.
To perform small tests that are required
to give emotional support to the patient and his family.
Give proper information about medication to the patient's family.
Education: 
A registered nurse must have an Associate's degree in nursing or should have a degree in Bachelor of Science in Nursing.
Salary:
The average salary of a registered nurse is around $78,000.
4. Registered Nurse Surgical Assistant
The surgical assistant nurse is essential in surgery hospitals and operating rooms where surgeries and operations are performed; their main job description is to assist doctors with operation equipment and assist them in successful operations. Their work needs experience and a college degree from which they have the basic information about operations and surgical instruments. They have to work under doctors and follow their orders.
Responsibility
Patiently helping doctors during operations and surgeries
Helping patients with proper exposure
Having proper knowledge of all machinery and equipment
Proficiency in technical and surgical procedures
Help the patient in getting proper care by
Education
The education requirements in this field are very important. One should have proper knowledge of equipment and work.
An associate degree in health fields and a bachelor's degree in health-related science with a degree should have experience in hospitals and have proper knowledge of equipment.
Salary:
The average salary of a surgical assistant registered nurse is around $100,000.
5. Registered Nurse in Home Care
Homecare nurses are qualified and experienced nurses whose primary responsibility is to care for patients in their homes. Many patients require personal assistance with their daily chores, and after medication or surgery, they require close assistance from people in their daily chores, which is provided by homecare registered nurses.
Responsibility
Maintain a record of patient performance.
Give proper medication that is suggested by doctors.
Cleaning and dressing of wounds
Keeping the patient motivated and emotionally strong
Recommend tools or ways to a patient's family which may help the patient to lead a better life.
Education
They need to be trained with a degree in health fields or a bachelor's degree in health science.
The nurse is required to have a proper license through (NCLEX-PN), which is a national council licensure exam.
Salary:
The average salary of home care registered nurses is around $60,000.
6. Emergency room registered nurse
Emergency room registered nurses are nurses whose needs are in emergency cases. They should have strong willpower and a good state of mind because there are times when emergency cases are very critical.
Responsibility:
Always ready to deal with emergency cases.
Have a quick mind.
Should be able to handle pressure.
Maintaining the standards of an emergency room
Having strong decision-making skills
Can perform minor wounds and operations.
Education
They should also have a certified degree in an associate's degree in nursing or a bachelor's of science in nursing. They must also be licensed through (NCLEX-RN).
Salary:
The average salary is around $80,000.
7. Labor & Delivery nurse
The need for labor and delivery The term "nurse comes from the medieval times when there were no modern techniques and equipment. The delivery was very risky, and with evolving times, the need for better nurses was felt, so this qualification was added to the list to have less risky deliveries of the baby.
Responsibility
to help the mothers during their delivery time.
Have quick decision-making abilities.
must have proper knowledge of delivery.
should have little knowledge of surgery.
should be aware of proper child care treatments
Education
should have an associate degree in nursing.
Alternatively, a bachelor of science in learning and equivalent experience in that field.
Salary:
The salary of a labor and delivery nurse is around $80,000.
8. Nurse Specialist In Health Information Systems
This is a consultant type of nursing facility which is offered by hospitals as well as an individual having a subsequent degree. This need was felt when a patient needed some information and there was no one, and to give proper information, a need for an information specialist was felt.
Responsibility
can provide medication timetable planning
and can diagnose small things.
have relevant skills as a consultant.
Good communication skills.
Proper knowledge of technology
can assist patients in hospitals.
assists the nursing assistant
Education
should have a bachelor of science in nursing degree. should have the proper license from (NCLEX-RN), a master's degree in health informatics, and also a certified degree from (ANCC).
A minimum of three years of experience in information-related healthcare is required.
Salary:
Consultants, their work revolves around patient queries and the payment that is made to them. If they are working in a hospital, then payment is made by the hospital for their consultancy services. If they are working independently, then the payment is made by the clients.
On average, a health information nurse specialist earns around $95,000.
9. Registered Nurse With Advanced Practice
Advanced Practice Nurses are helpers to physicians and doctors who diagnose patients and help them perform everything smoothly by handling the patient and helping them give proper information about everything. They sometimes also work as doctors' assistants who give medication information.
Responsibility
Helping and assisting doctors in understanding patients' problems
should diagnose patients.
Good communication skills.
must have patience and emotional thinking skills.
should know about the related illness.
Proper assistant skills.
Education
should have a graduate degree in nursing.
should have a licensed degree.
They must have passed the national certification examination (ANCC).
should have experience of at least 4 years as an active nurse.
Salary:
The average salary of an advanced registered nurse is around $130,000.
10. Nurse Educator
We discussed all the fields and all the job options for nurses, and now we are at the most important one, the nurse educator job profile.
This job profile is the main reason that all over the world there are specialists in the nursing field. A nurse educator is a group of people or nurses who train and give proper knowledge and guidance.
They train the nurses about emergency cases as well as proper diagnostic knowledge, with the knowledge of how to deal with the patients, how to take care of them emotionally and support them mentally.
Responsibility
should have proper knowledge of
should know all the equipment as well as machines.
Good communication skills.
They should be able to tell their students all the things.
Taking tests from time to time is
Unbiased decisions
Education
MSN degree
Associate Degree in Nursing
Nursing practice doctors
Apart from the educational qualifications that are needed in this field, the most important ones are the decision-making skills and the proper knowledge of the equipment and machines used in health care departments.
Salary:
The average salary earned by nurse educators is approximately $110,000.
Conclusion
Nursing as a career option evolved in the mid-nineteenth century when hospitals and health care facilities were on the rise. The founder of modern nursing, Florence Nightingale, is the reason behind the world-class facilities that normal people are getting from nurses. Previously, nurses were nuns and normal monks who used to serve people part-time but in a time when illness and medication felt important, the needs of n century, when the outbreak happened and many people were in the hospital, the need for nurses was at its peak.
Nurses were mostly females because, according to research, women are more emotional and helpful when it comes to assisting and caring for others.
The job options for nurses are many, starting with basic bits of help and attendants to qualified specialists in that field who can give proper information and guidance to patients about the medication facilities.
Nursing is a very defined job where you don't need just a degree but also experience as well as emotional skills to help patients.
FAQ
Question 1: Is nursing a difficult job?
Ans: Some nurses think that nursing as a career is a very difficult job, whereas, from others' points of view, it's not that difficult. It depends on the level and type of nursing field you are in. Yes, sometimes it can be hectic as a nurse. You might have to deal with a lot of patients, but sometimes there is no work.
The job in an emergency room can be difficult because you get to see critical cases.
Question 2: What are the working hours of a nurse?
Ans: The working hours of a nurse depend on the type of health care facility you work in. Normally it's between 7-8 hours, and then the shift changes. There are morning and night shifts in the hospital, and you also get a lunchtime break of 30 minutes in between. There are some profiles in nursing fields where you need to work a 12-hour shift from 7 am to 7 pm and vice-versa.
Question 3: What are the criteria to be fulfilled for salary increments?
Ans: The salary increment solely depends on your years of practice and the kind of services you provide. Some get a yearly increment of 8% to 12%.
Question 4: What are the maximum hours that nurses can work?
Ans: If a nurse is working as an assistant to a person, then the maximum hours can vary on the type of job. Some can even have to work for around 80 hours a week.
Question 5: What is to be done to be a registered nurse?
Ans: Registered nurses need to complete their bachelor's or the subsequent degree that is required for that job profile and then go for a license or practice after their exams. They get a license from the subsequent body, then they can be said to be registered nurses.
Question 6: How to get into nursing school?
Ans: A nursing school is an institution where nurses are trained and given proper knowledge of everything. Entry into a nursing school is after an associate's degree in nursing. After that, a candidate can get into a nursing institution.
Nursing Job Titles And Descriptions