The market that the logistics sector has captured is huge and rewarding. It serves as a line between the manufacturer, companies, and customers. Moreover, the worldwide market in 2017 was around $7,642.50 billion reported in a research by Allied Market Research. Here we will see about Logistics Job Titles
However, today it has reached over 12k billion and has job opportunities for millions of people. In the coming ten years job offers are anticipated to rise by 4% in the statistics report of the Bureau of Labor Statistics. Because every company needs this chain of supply to get to its customers.
Moreover, Amazon, Shopify, and others have their supply route to distribute to their customers. If you want to know about the job, college, or opportunities hang tight till the end. You will understand the different roles and requirements for the Logistics Job in this field.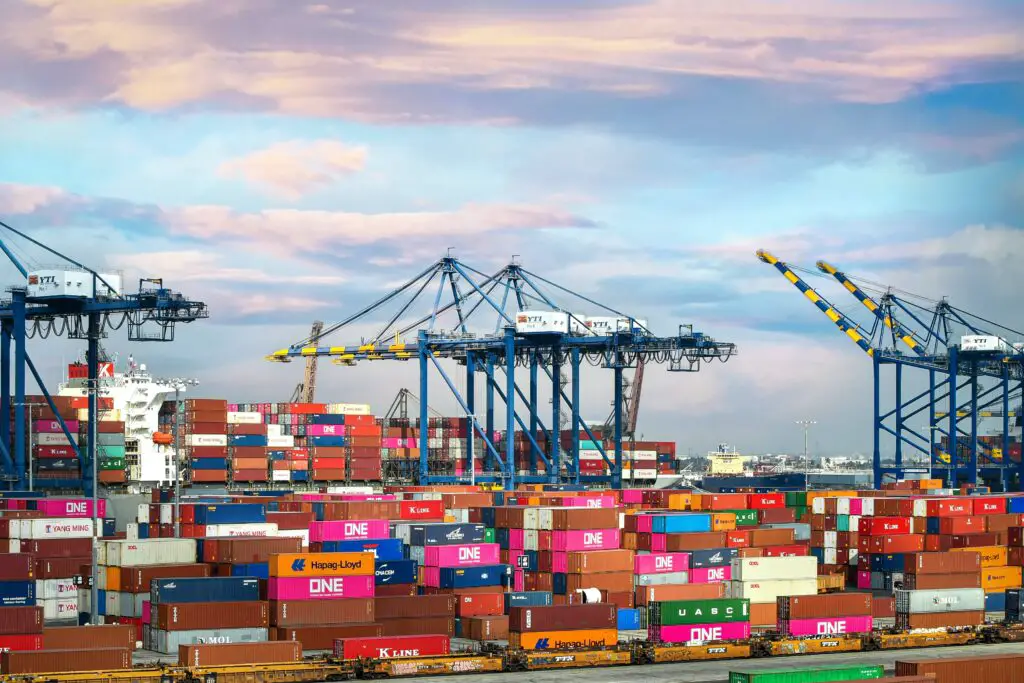 What do you understand by Logistics Job?
Logistics job is a supply line that offers middle services to the market. It collects the product, packages it, and loads it in transport vehicles to deliver it to the right people and customers. 
Further, it is responsible for making sure the right product reaches the right customers. It has seven Rs that boost the possibility of success. The product should be of-
The right quantity.
Have the right quality.
Is the right product.
Picked from the right company.
Has reached the right customer.
At the right spot.
And, at the right time.
So, that nothing goes wrong when a customer or company books a product online or offline. Have you seen big ships, trucks, vans, and delivery persons? They all are involved in this field from picking, packaging, transporting, collecting, and delivering the product.
That is why online platforms like amazon will showcase the period and place of departure of products. However, the company that you ordered from is not responsible for the delay in delivery. Because it is the logistics job service company that looks at the entire process.
Career paths in logistics:
The career in this industry varies due to its large scope and opportunity. Because there is a demand for engineers, managers, analysts, and other roles. You can be a delivery person, package collector, and many more that we will discuss below.
Moreover, the workplace and job can also shift depending upon the type of role and responsibility in it. Further, to complete this chain people at every level depend on one another to do their tasks on schedule.
Therefore, it can become hectic, and some have to deal with a lot of pressure at certain times. Some career paths in this industry include-
A career in supply chain planning and management.
Service related to manufacturing and production.
Purchasing and sourcing.
Logistics and transportation-related.
Services related to engineers, analysts, and specialists.
Customer service, consultants, and operation-related.
Health, safety, and environment management.
Transportation services and sales.
Responsibilities that come under a logistician:
This sector majorly depends on the flow of materials, people, vehicles, and their specific time. So, when the wrong worker visits the wrong location for the wrong customer the entire cycle is disrupted.
Therefore, the right information and communication are needed at different levels to maintain a smooth structure. Their responsibilities include-
Managing the time frame that takes in transporting, picking, and delivering a product or people.
Choosing the right mode of transportation and planning.
Looking at the warehouse requirements and storage facilities at different places.
Adaptability and efficient workflow of all employees.
Providing better health and environment for people to work.
Hiring the best people and innovation to boost the overall supply chain.
Designing better infrastructure and technology to evaluate all methods.
Providing customer and consultancy services to maintain the environment.
What does it take to become a logistician?
This industry serves as the backbone of our economy. So, workers located at different places work on tight schedules and under pressure. They have to work at the right time with better equipment, transportation, and distribution plans.
Further, any delay at any level disrupts the entire process. So, managers look at the overall procedure and maintain them. Sometimes people have to work at different places according to their employers.
It can cause stress, high blood pressure, anxiety, and other mental and health problems related to your role. Therefore, there are consultant jobs for people who want to help them sustain their roles.
People also get a chance to explore different opportunities within this sector while employed. It is a diverse field with diverse roles and locations where one can work with. You can get a job on docs, ships, and other countries, and enjoy your travels.
How can I enter the logistics sector?
The logistician professionals work with a wide range of industries that involves daily operations, distributions, and transportation. They take part in purchases, and sales and build relations with suppliers, manufacturers, and customers. To get into this sector one must understand the roles and responsibilities that come under it. I have pinpointed below some methods to understand-
Learn about your Job: You have to search for the different positions and roles that this field has to offer. Next, learn about the responsibility that comes under that job and the type of work. For example, you can find out how managers, engineers, analysts, supervisors, and sales personnel work and their environment?
Degree requirement and exams: If you are interested in the job profile and salary that this field offers. Second, find out online or offline through people what degree is required and which university offers the best programs? You can complete your bachelor's or master's and give competitive exams like ISM, SCPro, NCMA, etc.
add new skills to your resume: When you have completed the exams, degree, and learned any skills related to this field. Add that to your resume and you can take internships or jobs to learn practical approaches on the job. It will help you to better prepare yourself for a challenging career.
What skills are required to become a logistician?
People in this field require a different set of skills to remain consistent. Because depending upon the type and nature of jobs these skills will help you to boost your career.
Further, change is a part of any industry and a long time people need to adapt to them. So, below I have stated some skills important for your survival in this industry-
Data analysis: Logistics is a big industry that collects piles of data from different places. Analysts collect and process data to find errors and innovate the timely process of distribution and transportation. Therefore, they change and mend data to improve the system.
Industry exposure: People choosing this industry need practical experience and understanding of work. So, they can fit anywhere and process without delay in work. A hand of experience through an internship and job might be helpful in the selection process.
Ability to adapt: Every industry either automobile, commerce, or media is affected by the change with new technologies and innovations. However, those who cannot adapt to these will be left behind in the market. So, to stand tall against all challenges one must learn new skills and be ready to change.
Teamwork and cooperation: Without team and cooperation no business will stand and lose. Therefore, people can work in teams and learn to understand others and share ideas. This will help people to be efficient and increase workflow.
Critical analysis: This skill is most important in this sector to help you decide. You have to analyze which plan is cost-efficient and which technology or method will ensure error-free delivery.
Time master: Time is the most important skill to manage and gives you the power to move forward. It helps people to remove the delay factor and gain extra time in hand.
Communication: It is also the most valued skill above many others and quite helpful. If you can easily communicate with others, you can understand problems, have bigger deals, and receive satisfaction.
Creativity: Innovation and creativity is always appreciated here. You will be able to generate new ideas and reduce the period. You will also be able to work at different locations with different people.
Some examples of jobs available in the logistic department-
Logistics manager: Their area of work is large as they can work with retailers, companies, manufacturers, and dealers. Moreover, they help and look at the entire process of transportation and shipment. The salary involved is around $61.8k.
Landman: Their work involves ensuring proper laws are being followed by a company. So, as a landman, you can purchase, sell, and invest in the land beside companies. You can work along with government agents and create proper land paper to acquire or sell lands.
Supply chain manager: A supply chain manager looks at the flow of goods and their delivery. They ensure that every person in command follows their orders and works on time. Moreover, the supply chain manager maintains relationships with the purchaser and supplier and meets people's needs. Their salary ranges between $79k.
Logistics analyst: As an analyst, you will be responsible to check every piece of data and find errors. Moreover, they help the logistic service to improve productivity and reduce cost. They also see a better solution for the execution of plans. Further, the salary they receive stands at $63.5k.
Logistics coordinator: People working in this role see the transportation and shipment. They help the business to facilitate trading. Their salary stands at $35k.
Some best Universities offer programs in the logistics sector-
You can pursue logistic and supply chain programs through various universities. People who get into this sector have bachelor's degrees, master's degrees, and certificate degrees. 
However, you can also learn skills online but very few colleges offer that. You can see below our list of university that offers all courses in the logistic department-
Michigan State University
Arizona State University
The University of Tennessee
Pennsylvania State University
The Ohio State University
Conclusion on logistic job titles-
This industry offers various opportunities for everyone and is quite huge in scale. It has become the backbone of the economy and supports the business through its supply chain. 
Moreover, it offers work at different locations and also in countries where you can be a part of this chain. You can have the chance to travel and deliver parcels to work with industry people at corporate levels.
To get a job in this sector you can opt for a manager degree or science degree in supply chain or logistics. You can be a data guy and improve the system with numbers and change the process.
But before enrolling in it you have to analyze why you want to get into this field and what challenges you will face.
FAQ:
Define the five characteristics of logistics and supply chain?
Storage, warehousing, and materials handling.
Packaging and unitisation.
Inventory.
Transport.
Information and control.
What are some job roles in the logistics sector?
You can be the delivery and transportation guy.
Cargo and shipment management.
Storage and inventory.
Distribution and processing.
Information and sales.
Which is the best master's degree program in logistics and supply chain?
Master's program in supply chain management.
Master course related to science in logistics and supply chain.
Master in logistics.
What are some of the bachelor's degree programs in logistics?
BA program related to business administration in the supply chain.
BSc in supply chain management.
Logistics Job Titles-Know More