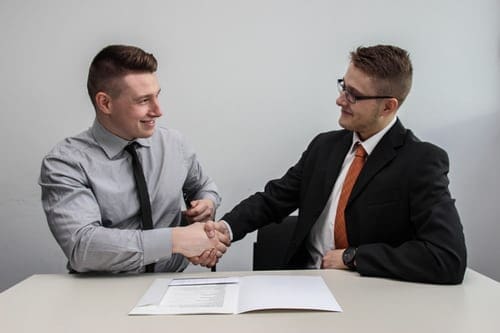 An executive is someone who is in charge of operating a company. Executives are in charge of businesses or government bodies. The specific nature of the job performed by an executive varies from company to company and it also depends upon the executive job title. This job needs hardworking individuals who have years of expertise in many aspects of the organization. Here, let's know about the Executive Job Titles. Some of the responsibilities of an executive are:
They devise strategies to aid in the expansion of their businesses
They set and assess the company's objectives. 
They collaborate with a group of upper-level employees or assistants. 
To attain the objectives, the executives may devise both long- and short-term strategies.
 Once the strategies are in place, executives ensure that the firm follows them. 
If you are interested in managing a firm and making high-level strategic choices, you might consider applying for an executive job. To become a successful executive, you require years of promotions and hard effort. If you have excellent leadership abilities with effective outcomes, a positive and confident professional attitude, prior management experience, and a solution-focused approach to the workplace, executive jobs are likely to fit you best. There are various executive job titles of the executives such as department store manager, small business operator, and chief executive officer. Executives sometimes earn six-figure incomes due to the complicated and essential nature of their jobs. In this blog, we will tell you about various executive job titles, their duties, and their salaries. 
Executive Job Titles, Salaries And Qualifications
There are a lot of executive job titles that exist in a company depending upon the size of the company and the levels of management. Here are some of the main executive job titles that exist in a company, the educational qualifications required for them, and their salary :
The company's finances are overseen by the chief financial officer or the CFO. apart from the requirement of Budgeting and accounting, forecasting is also important, since CFOs must be able to foresee the financial gains of the company and losses to choose when and how to spend the money of the company. a CFO also decides where the money of the company should be spent.  You could be in charge of investments as a CFO.
Qualifications Required: In addition to a bachelor's degree in finance, accounting, or economics, most CFOs also have extensive experience in their respective areas. to increase your chances of getting employed as the CFO of a company, a master's degree in business administration or certification as a public accountant can prove to be helpful.
Expected Salary: CFO's are an important part of an organization and can expect a salary anywhere between $125,000- 127,000.
The CEO is the sole one to whom the chief operating officer reports. As COO, you are in charge of managing everyday operations to guarantee a company's efficiency. The COO promotes the company's vision and tone by setting policies and planning and implementing strategies, whereas the CEO establishes the tone and vision. The chief operating officer may also be in charge of human resources (HR) and take an active part in hiring, depending on the size of the firm.
Qualifications Required: COO's often have a bachelor's degree in business or a similar discipline, as well as several years of executive experience. As COO, you must be able to comprehend sophisticated business processes as well as anticipate and resolve corporate issues. Employers frequently seek COOs with fundraising and international business expertise
Expected Salary: the average expected salary of a chief operating officer is around $118,000 – 120,000. 
The chief marketing officer is in charge of the company's marketing strategy as well as advertising and branding. apart from being a CMO, you're also a researcher and it is your duty to, keep up with trends and identify and entice your consumer base. As you create wide marketing campaigns to engage customers and business partners, your role requires excellent communication skills.
Qualifications Required: CMOs are often required to have a bachelor's degree in marketing. However, a master's degree is usually recommended. Many firms may demand that you should have at least 10 years of prior experience in advertising or marketing. experience in management is also required for being a highly skilled chief marketing officer. 
Expected Salary: a chief marketing officer can expect a salary around $120,000 – 125,000.
Chief Information Officer: As businesses become more reliant on technological systems to function, the chief information officer plays an increasingly crucial role. In a major company, you'll typically report to the CEO and delegate information technology responsibilities to a deputy, who will then pass them onto particular IT teams. Today's CIOs are expected to keep up with the rapid speed of development in digital technology, which means you must provide your organization with cutting-edge technical solutions.
Qualifications Required: a candidate applying for the post of a CIO must have a strong understanding of technology. Employers would expect you to have a wide range of hard skills, including the ability to set up IT service frameworks. A bachelor's or master's degree in a related subject like information systems, computer science, or software engineering is required for applying for the post of chief information officer.
Expected Salary: owing to the technological advancements taking place in businesses, the importance of CIOs has increased dramatically. Their salaries have also increased over time. Their average expected salary is around $115,000- 122000.
In many businesses, the chief executive officer or the CEO is the highest-ranking executive. As CEO, you are in charge of important decisions, resource management, and operations, as well as setting the company's tone, vision, and public image. Your responsibilities as CEO change depending on the size of the firm. You are generally in charge of all the large-scale operations in major businesses. you are also responsible for planning strategically for the growth of the company. apart from your involvement in top-level management and decision-making, you may be more involved in everyday operations in smaller firms. it is the responsibility of the chief executive officer to manage and oversee all the other executives of the company.
Qualifications Required: The board of directors of the corporation generally elects the CEO. When applying for the job, to prove that you are a deserving candidate, you must be able to prove your capability to plan effectively, implement the plan and build on the company's goal. if You may have previous managerial experience along with a Master's degree in business or another comparable subject, then your chances of getting the job are very likely.
Expected Salary: a CEO is an important part of the company because he supervises all the other executives. They can expect a good salary that can range between $112,000- 115,000.
In many non-profit organizations, the executive director is the highest-ranking executive officer. It is the duty of The executive director to report directly to the board of directors in both, nonprofits and businesses. The executive director's job is similar to that of the chief executive officer in many aspects. But unlike the chief executive officer, the executive director must obtain approval from the board of directors before embarking on any major initiative. The executive director's job is to keep the organization's goals alive and well, as defined by the board of directors.
Qualifications Required: To work as an executive director, you need to have a bachelor's degree in a related subject at the very least. Most organizations will demand some years of prior senior management experience. You should be experienced with volunteer coordination, budgeting, and fundraising in organizations. You should have good verbal and interpersonal skills because you are the public face of an organization that relies on donor funding.
Salary Expected: an executive director can expect a salary of around $73000- 75000.
Vice presidents, sometimes known as heads or directors, are in charge of a specific department or unit within the corporation. "Vice President of Product Marketing," is an example of the job title of a vice president. the vice president may also serve as the second- or third-in-command to the CEO. You're probably more involved in the daily operations of a specific department than the CEO or COO. probably, you may not be involved in the rest of the company's operations. In other cases, you may be involved in all aspects of the company, with responsibilities that are similar to those of a COO.
Qualifications Required: Vice presidents, directors or chiefs, frequently apply for positions depending on their specialties. For instance, you may get a bachelor's or master's degree in finance, economics, or public administration, allowing you to specialize in that respective field. Employers usually need vice presidents to have many years of company management experience, similar to that of a COO or CEO.
Expected Salary: the job title of vice president is one of the highest designations in a company. Vice presidents receive a very handsome salary because they offer expertise in one specific field. They help their respective departments to achieve their goals. They can expect an annual salary of $153,000- 155,000.
The Board of Directors is led by the highest position in the executive ladder known as the Chair of the Board or the COB. This individual is at the top of the organization's hierarchical structure and is elected by the board. The COB is in charge of making all the big and significant decisions, guiding the executives of the company, and developing the company's corporate culture. As a demonstration of trust and faith, the board sometimes elects the CEO as the COB.
Qualifications Required: a person applying for the post of chief of directors must have prior experience in management and should also possess leadership qualities. He must have excellent communication skills so that he can be in constant touch with the other executive members and know about the functioning of the company. He must hold all the necessary educational qualifications.
Salary Expected: the chief of the board can expect a salary of $160,000- 162,000. He can also receive additional compensation if the company receives exceptionally well.
Duties of Executive
The tasks and duties of executives are determined by the number of individuals in their team. Some executives supervise general managers in several departments. Some of the duties performed by the executive members are:
They may direct one aspect of a broader business, such a legal services, marketing or finance. 
In the banking sector, executives may direct the purchase or sale of property or other investments. 
They could be asked to hire or train new employees. They may instruct employees on what duties need to be completed. They could choose computer systems to keep track of data such as budgets.
When complaints are made, leaders may order investigations to determine what happened in the agency or amongst employees.
Conclusion
Executives are the most important part of a business organization because they make all the strategic decisions, devise plans and objectives of the company, and try to achieve these goals through planning. They also perform numerous other tasks and their responsibilities depend upon the level at which they are working. To be an executive, you need excellent management and decision-making skills. There are a lot of job titles for executives and each title requires certain qualifications and years of experience. People get promotions after gaining years of experience in this field and after years of promotions, you get to be a part of the higher-level management. So, if you are interested in making top-level decisions and managing a company, you should become an executive.
Frequently Asked Questions
What is an executive job and what are their responsibilities?
An executive is a person who is in control of a company's operations. Executives are in control of corporations or government organizations. They come up with ways to help their company grow. They have a lot of responsibilities and try to fulfill the goals and the objectives of the business. The responsibilities of an executive include hiring new employees, guiding the organization, resolving conflicts, etc.
What is the expected salary of an executive? 
The salary of an executive depends on the job title that he holds. The higher the job title of an executive is, the higher will be his pay. Depending upon his job title, an executive can expect an average salary anywhere between $110,000- 160,000. Their salary can also increase over time.
What are the qualifications required to be an executive?
To be an executive, you must hold at least a bachelor's degree in accountancy, management, finance, or any related field. However, if you have a master's degree or have some years of prior experience in the management of the company, then your possibility of getting the job is very high.
Executive Job Titles- With Descriptions