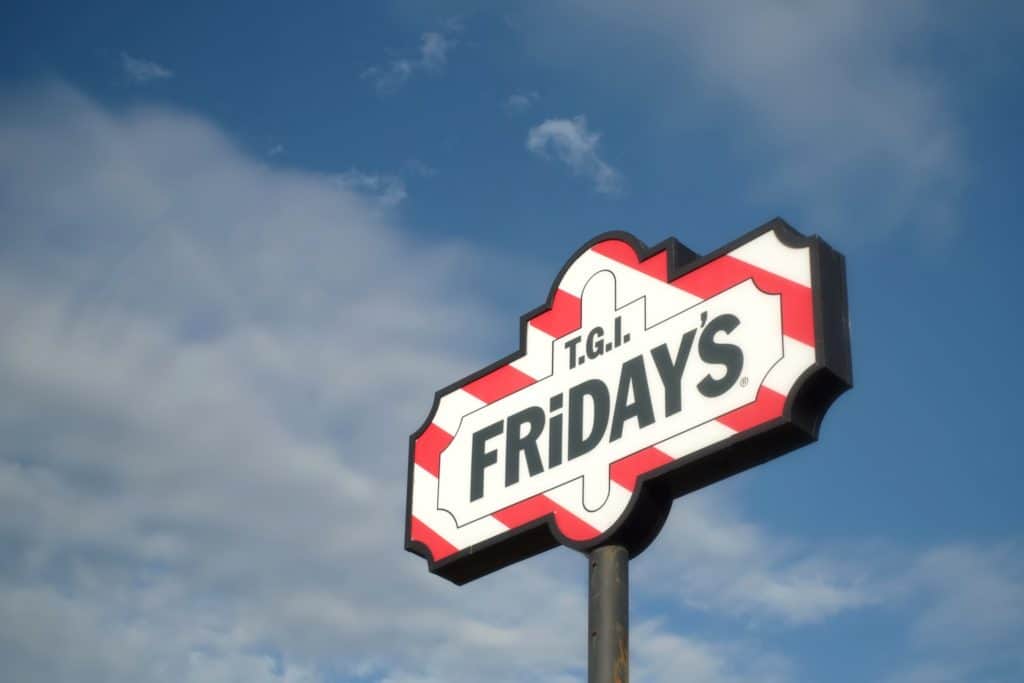 TGI Fridays Careers – Live your life with positivity and dreams is good, but you have to know the path of your success to help you achieve your goal smoothly. If you want to make your career in TGI FRIDAYS, it's an opportunity to increase your passion and work for your dream. TGI Fridays is an American chain restaurant that vibes with a fun, vibrant, and buzzing atmosphere for family and friends. TGI means 'Thank God It's Friday's. Applicants with a culinary background can make their future bright with learning experiences and better opportunities. TGI Friday's provides a long-term future for hardworking employees. TGI Friday's is the most popular place during the night that fits entertainment and precious time with families. 
The first branch of TGI Friday's opened on 63rd street in New York City in 1965. TGI Fridays have their standard in America regarding entertainment, food serving, unbeatable prices, and an outstanding atmosphere. It is known as a thriving single's bar. As it's famous among young adults because of its coll and thrilling atmosphere. In terms of popularity, we can say that not only common people but many celebrities also worked there including, Ellen DeGenres, Author Ann Patchet, reality star John Gosselin, and actor Brad Garrett. The charm of this restaurant is impossible to ignore. As it's originally a cocktail bar, the main and special appetizer of TGI is always drinks. It has been a big part of this chain. There is an interesting fact about TGI which captures the attention of people. In 1973, at Houston Galleria in Texas, seven astronauts attended the opening of this chain. The first American fly in space, the Alan Shephard. 
TGI Fridays Careers
TGI is always focused on the customer's entertainment their is a special trick in TGI, which is called "flair bartending" ( when bartenders perform tricks for customer's entertainment). Other than this, the TGI has a " world bartender championship" for bartenders, and it includes 10,000 bartenders across the world. The talented staff makes them more famous and popular as some of its bartenders hold Guinness world record for "most people cocktail flaring." 
If you want to join them, then you must have the skills which can help you to impress your employer's requirements. Their main requirement is restaurant work you need to show your best skills and passion towards your work. It will be hard for you if you don't take it up seriously. Their most famous key element of becoming popular is their teamwork, leadership, and working together for serving their customers, which is mainly the reason for their success and popularity among food lovers. The employees working there have limited experience, and they still want to grow forward and learn more. Firstly you need to prioritize three jobs if you are willing to work in culinary fields, and that will be Server, Bartender, and Manager. TGI Fridays typically handle uncountable applicants form for their job openings, but the hopeful candidate can take the opportunity to prepare for the interview.
HOW TO APPLY FOR TGI FRIDAYS JOB?
As we all know, the importance of the Application process, the most important step, and it gives the first impression of you. It gives the idea to the company about your suitability for the job. 
The application process is quite easy but important so be accurate with it.
Step 1 – Create an account on their online portal. Find their online official website and create an account with id and password for processing the application.


Step 2 – Then, search for a job that you want to take part in. Search your suitable job on the website and apply for it 


Step 3 – Fill the application form with correct details and submit it. The next and important step would be the application form. You have to fill this form with proper details and accuracy it will be your first impression for your job. 


Step 4 – Wait for the reply (now it's up to managers to see it and contact you for an interview). After applying next step would be waiting for your chance with patience. It depends on the manager if your profile matches their style or not. You need to wait and give time till then, don't lose hope, and don't be negative. 


Step 5 – (After the interview schedule) prepare for the interview. Now the time has come for your last move towards your future job. You received a call for an interview, so it's time to show your real strength. Don't be nervous. Just be confident and think positive because positive thinking can help you reach your goal. 
INTERVIEW QUESTIONS FOR TGI FRIDAYS 
The interview is considered the last step, but it is the main step as during the interview, your employer will judge you based on your performance in the interview. They will ask you certain questions, and your answer, confidence, and attitude will decide whether you are fit for the role or not.
The interview questions of TGI Fridays job will be based on the job profile and your previous experience but the most generally asked questions are as following:
Why do you want to do this job?
Say you love this company and you would do this job with great efforts. Say you did some research on this company, and you admire their determination and concepts. 
Why should I hire you?
Instead of being overconfident about your strengths, reply to this question with the skills and experience required for the job. And then match the required skill set to your skills with the perfect combination. Make sure your interviewer is convinced that you are the one they are looking for.
Introduce yourself.
Your introduction in an interview doesn't include the information mentioned in the CV you need to tell them about yourself except the information in CV like what's your goal? Why are you looking for this job? Etc.
Tell us about your strengths and weaknesses.
A good way to respond to this question is to explain your merits and demerits for the requirement of the job. Please don't be too negative about your weakness. It can be harmful to your job selection. Just say you are working on your weaknesses to overcome them and convert them into your strengths. Review the job description and assure your interviewer that you have the required skills for the job and you can overcome your weaknesses it will not affect your performance while working.
Are you willing to work overtime?
This question is especially ask to observe your passion and attitude towards the job as it can show if you are willing to work overtime for the benefit of your organization. Make sure you show your keen interest and passion for the job as you are working to earn money and gain knowledge and experience through this job.
Are you a team player or leader?
Team players and leaders both have different points of view and perceptions. A team player is willing to contribute to the team, and a leader is a person who is leading the team with professional strategies. Your point of view will decide if you are a leader who can lead the team or a team player who can work in a team.
What do you understand by teamwork?
You have to answer this question, not for your personal growth but majorly for organizational goals. As a leader, you need to take responsibility for the restaurant's goal and its reputation.
According to you what are the best qualities of a leader?
Observe the requirement of your job and the goal of the company to elaborate on the leadership qualities and tell them how you can work as a leader. 
Where do you see yourself in five years?
Considering this question, you would like to see yourself in a higher position in the recent company. For example, like TGI Fridays, the general manager has kitchen management, restaurant management, and general manager positions. 
Why do you want to work for TGI Friday's?
Show your passionate side towards the company, say you love their working environment and services at TGI Friday's, and because of this reason, you would love to represent them as an employee. Say working with them can help you with your personal growth. 
If there is an upset customer then how would you deal with him?
Answer that you would find the reason of his disappointment and if there any problem with the product you would offer him to replace it with another one and apologize for their mistake. Mention that your main goal on behalf of the restaurant is to make the customers happy and provide the best services to them.
What is your expectation from us?
Answer this question in a personal manner, say your expectation from the TGI is to help you in personal growth, enhancing your skills, and provide you with better opportunities in the future to prove yourself. Other than this, you expect a happy and cheerful atmosphere.
What is your worth?
Say you are a hardworking person and passionate about your dream, and now your dream is to work in TGI Fridays. That will help evaluate your worth, and other than this, including your strength and experiences required in a job position.
Do you want to ask any questions from us?
Ask few questions about them and show them that you researched them:
How do you feel after working here?
How would you describe your perfect or ideal candidate for the required position?
What opportunities will I have to learn and grow as a better person?
What is the happiest thing you would like to share with me after interviewing me?
Ask about their hopes for you as an employee?
How would you measure my strengths and weaknesses for this job?
WHAT IS THE HIRING AGE?
TGI Friday's hiring age limit for a back house is 18 above and for a front house is 16 above.
HOW MUCH MONEY DOES A TGI FRIDAYS EMPLOYEE EARN?
The TGI Fridays salary packages are quite good as per their reputation. Their salary package for various positions involve around:
Bartender : 15k – 29k/m
Food and Beverage Manager: 24k – 26k/m
Line Cook : 7k – 8k/m
Shift Supervisor : 12k/m – 13k
Chef : 21k – 23k/m
Restaurant Manager : 42k – 45k/m
Technical Support: 593k – 641k/m
Operations Manager : 40k – 44k/m
CONCLUSION
The conclusion of this article is very simple, "you can do what you want." TGI Fridays are one of the most popular restaurants in America. According to their reputation, many people want to work with them, so these points are helpful for those. There are many opportunities in this Company since it is quite popular. It will take lots of hard work, but all you need to do is be positive and confident about the interview.
FREQUENTLY ASKED QUESTIONS
What are the job options at TGI Fridays? TGI Fridays are restaurant and bar, so I include general manager, kitchen department, restaurant serving department, bartender, and other staff.


How do we get to know about vacancies in this restaurant? You can search it online or any ad posted by TGI.


What are the selection criteria for this job? You need to apply for this job online, and then they will schedule an interview for their better understanding and communication with you.


Is there any place for interns on TGI Fridays? It depends on your experiences and their requirements. It would be a good opportunity for freshers to start their careers on TGI Fridays.


Does TGI Fridays only operate on Fridays? No, as the name suggests it does not opens only on Fridays it operates regularly of the week.
TGI Fridays Careers – Salary, Application Process, Interview Questions