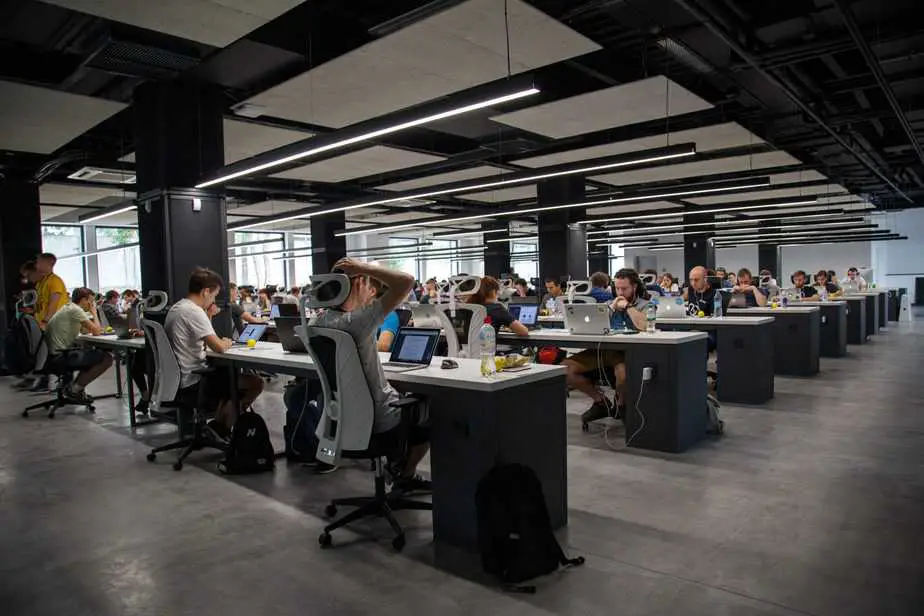 If you are looking for a platform to get a temporary job with great working conditions and amazing remuneration rates, then you should seriously consider Select® Staffing. Working at Select Staffing gives you a unique opportunity to work in a fast-paced environment that offers daily avenues to deliver great results, embrace new challenges and advance your career while earning a competitive salary.
Select® Staffing provides job seekers with a wide range of short to medium termed employment opportunities. With a very large coverage in the United States, you are almost certain of landing a good-paying job with the company if you have the required skill and experience. Most job opportunities at Select® Staffing are blue-collar jobs and require vocational skills in one or more areas. However, there are a few office-related jobs that you can find as well. Thousands of applicants have been able to secure good placements through the company. To a large extent, the company has a reputation for providing a conducive work environment and a good remuneration plan. There are also numerous extra bonuses for employees based on their level. To be a part of one of the largest recruitment companies in the nation, you can apply by completing an online application form or sending your resume and cover letter to the official mail. The recruitment process is straightforward – once you qualify, you will be contacted by a representative. 
About Select Staffing
Select® Staffing is a recruiting company founded in 1985 with its corporate headquarters in Atlanta, Georgia. It is a leading provider of temporary staffing and employment services in the United States. It provides recruitment solutions across several sectors, and its operations are nationwide. Presently, over 100,000 people have been assigned jobs with more than 6000 client companies in all states of the country. 
At Select® Staffing, the primary mission is to be the most respected staffing firm in each market area by providing best-in-class, extra-mile services to valued clients and associate employees. Various strategies have been adopted over the years in helping the firm accomplish its "we get people" policy. These include; 
Developing lasting relationships with customers
Exceeding productivity standards 
Continuously identifying and adopting best practices to deliver consistent quality and minimize cost. 
Develop and reward synergetic teams
The core values at Select® Staffing are; 
Professionalism 
Integrity 
Going the extra mile [in service delivery to 3 specific customers – client companies, internal colleagues, and temporary associates]
Decisiveness and growth mentality 
Commitment and meaningful goal setting 
Result-oriented – recognition and reward for achievement 
Leverage on technology, innovation, and teamwork
CDR (courtesy, dignity, and respect)
Problem-solving – every colleague owns a solution to satisfy the customers
Select® takes pride in rewarding excellent work through their performance-based bonus opportunities for qualified employees. Beyond monetary benefits, though, special bonus packages include car offers, mortgage, and retirement funds. Select® gives its employees the chance to pursue and fulfill their American Dreams irrespective of race, religion, or sociocultural background.
Being an Associate at Select® Staffing
As a Select associate, you are not just an employee of the company. You must have passed the screening and selection requirements. You also would have proven yourself to be the best among the best. As an associate, you have at your disposal endless access to specialized and exceptional opportunities with companies all over the country. Select® Staffing expects their associates to be focused on professional success irrespective of their present assignment, whether part-time, temporary, or temp-to-hire. Select® Staffing appreciates associates' immense value and resources; hence, there are numerous opportunities placed at their disposal. Full details of the job search resources, benefits, and reward programs for associates are available on the Associate FAQ page. 
Job Opportunities
Select® Staffing offers blue-collar job opportunities temporarily, usually between 1 – 6 months. Most positions are part-time, and you will have to work in shifts between the regular work hours of 9.00 am – 5.00 pm. At Select®, you can apply to work in a wide variety of positions which includes;
Assembler 
Bookkeeping 
Bottle inspector
Care worker 
Cleanup/wheel cleaner 
Customer service representative 
Dispatch rider/dispatcher 
Driver 
Electrical and mechanical assemblers 
Electrician 
Expeditor 
Forklift driver/operator 
General laborer 
General warehouse worker 
General worker 
Hardware helper 
Human Resource Specialist 
Import coordinator 
Industrial Maintenance Mechanic 
Inventory officer 
Janitor/facilities cleaner 
Line lead 
Loader 
Machine operator 
Machine stacker/feeder 
Maintenance associate 
Maintenance utility and grounds 
Material buyer 
Material handler 
Mechanic 
Order peller 
Packaging operator 
Packer 
Pallet jack operator 
Palletizer 
Production associate 
Quality control officer 
Receptionist 
Shipping and receiving 
Truss building 
Underwriter 
Unloader 
Warehouse associate/worker 
X-ray technician/mechanical assistant
Yard clerk 
Youthcare worker/monitor 
What is the Application process at Select® Staffing?
The hiring process at Select® Staffing is quite straightforward. If you are interested in securing a job through Select® Staffing, you can indicate your interest by simply completing an online application or submitting your resume and cover letter to [email protected]. 
The recruitment process begins with submitting a resume and cover letter or completing an online form. 
After your application has been reviewed, you will be contacted by a personnel supervisor if your application is accepted. An interview will be scheduled to understand you further and know where best fits you.
You will be placed on a temporary job – this could last between one day to 6 months. More details about this are contained in the orientation and safety videos.
You will be required to provide a documented proof of your eligibility to work in the United States.
You may also be required to provide a drug test, reference, and criminal record or background check. 
What is the minimum age requirement at Select® Staffing?
To be considered for any job, you must be 18 years or older. And you should have a legal document proving that you are eligible to work in the United States.
Benefits for Select® Staffing Associates
Select® Staffing has one of the most favorable benefit options for their employees. Employees at Select® Staffing enjoy competitive paychecks and many other extra benefits like;
Medical Benefit – this includes major medical, wellness, and basic plans from which you can choose. They offer fully insured health plans with a national insurance provider and plan options that provide comprehensive coverage, including hospitalization.


Retirement Plan – with Select Staffing, you can start saving for retirement via the American Funds IRA (Individual Retirement Account). You will even have the option of choosing from ROTH or traditional IRA. 


Referral Bonuses – employees can participate in the Select Staffing referral program, which is (i) voluntary (ii) off normal working time, and (iii) an after-hours solicitation done primarily among family, friends, neighbors, and acquaintances. 


Pay Cards – all field employees have the option to be paid through the Select® Staffing pay card system. The system guarantees access to funds at least one time free of charge per week. The cards can be used at ATMs, local banks, and point of purchase machines. 


Training and Skill Development – as an associate at Select® Staffing, you have access to tutorials for the most popular software programs across all branch offices. Client companies also provide specialized training and video-aided job reparation for interested associates. 
How much do Associates at Select® Staffing earn?
The average salary of field associates is usually around $12.00 per hour, but this may be lower or higher depending on several factors like experience, location, area of specialization, etc. Payday is often on Thursdays or Fridays, depending on the peculiarity of the branch office. 
How many hours of work do associates put in per day?
At Select Staffing, normal working hours is from 9-5 but associates work in shifts within this hour depending on the stipulations of the client company. 
What do you do if you are unable to report to work?
If you are sure you may not resume at your station, you must inform your personnel supervisor as soon as possible so that he can make arrangements for a replacement worker who will stand in for you while you are away. Clients' companies seriously frown at the issue of absenteeism.  
Common Questions Prospective Employees Ask
Why would I want a temporary job? 
A temporary job provides you the privilege of having someone take charge of your job search rather than you sending your resume. The personnel supervisors at Select® Staffing will scrutinize your qualifications and experience, after which they will submit to client companies that need your skill set. Temporary jobs will also suit you if you;
Want to have a flexible work schedule 
Want weekly paychecks 
Want healthcare provisions
Seek entry into the company where you want to work
Are you looking for an opportunity to gain valuable experience, training, and professional growth in your area of expertise
Can I take up another Select Staffing job if I am not currently having any assignment?
You will only need to fill the online application just once. Your data will be stored in the company's database and if you see any other position that you are interested in, inform your personnel supervisor. You may need to attend an interview if you have not had any previous interviews. This will help to determine your suitability and qualification for the position of interest. 
How can I find a job that is close to/within my vicinity?
Select Staffing has clients across all states offering thousands of job opportunities. Using the "job search" function on the website, you will be able to filter through the search results to suit you. Furthermore, you can also fill up the online application and follow-up by reaching out to the local recruiter within your area to upload your details to the company's database for further opportunities. 
How quickly will I find a job?
Experience for individuals varies. But in some cases, you will be placed on an assignment the same day you complete your application. Generally, it depends on the openings available at the time of your application.
How secured is my information with your online application?
Select® Staffing places a high priority on the safety and privacy of its employees. Thus, precautionary measures are in place to safeguard the application so that jobseekers' information remains private and protected. This is shown on our page URL – the HTTPS and the padlock icon that is visible on the web page. 
Do felons have an opportunity to be employed?
We need to double-check the criminal records of jobseekers. This may be relevant to a particular placement. We advise persons with a criminal record to complete the online application, and a personnel supervisor will review the history and work experience. 
How can I become eligible for benefits through Select® Staffing?
The referral bonuses and IRA retirement plans offered at Select Staffing are conditional. Thus, you must fulfill certain requirements to qualify. Select® staffing offers robust benefits in health benefits for purchase like – medical, dental, vision, term life, and short-term disability. Your recruiter will be open to discuss with you your chances of eligibility. 
Do you have advisory services for job seekers?
Yes. The personnel supervisors at Select® Staffing were available to engage you about your qualification and experience in other to find job openings that best suit you. 
What other service can job seekers benefit from Select® Staffing?
The company has a partnership with CareerPerfect to help job seekers prepare their resumes for any job. Professional resume writers will help you tailor your resume to suit your area of expertise at no extra cost. Visit the resume writing page on the company's website for more information.
Summary 
Whether you are looking at starting your career or need a temporary placement, Select Staffing has a viable platform that will perfectly suit your needs. With exceptional remuneration package and bonus packages, you will earn reasonably and gain valuable experience. 
Also read Verizon Careers – Job Application, Salary, Age & Interview Questions
Select Staffing Career – A Complete Guide