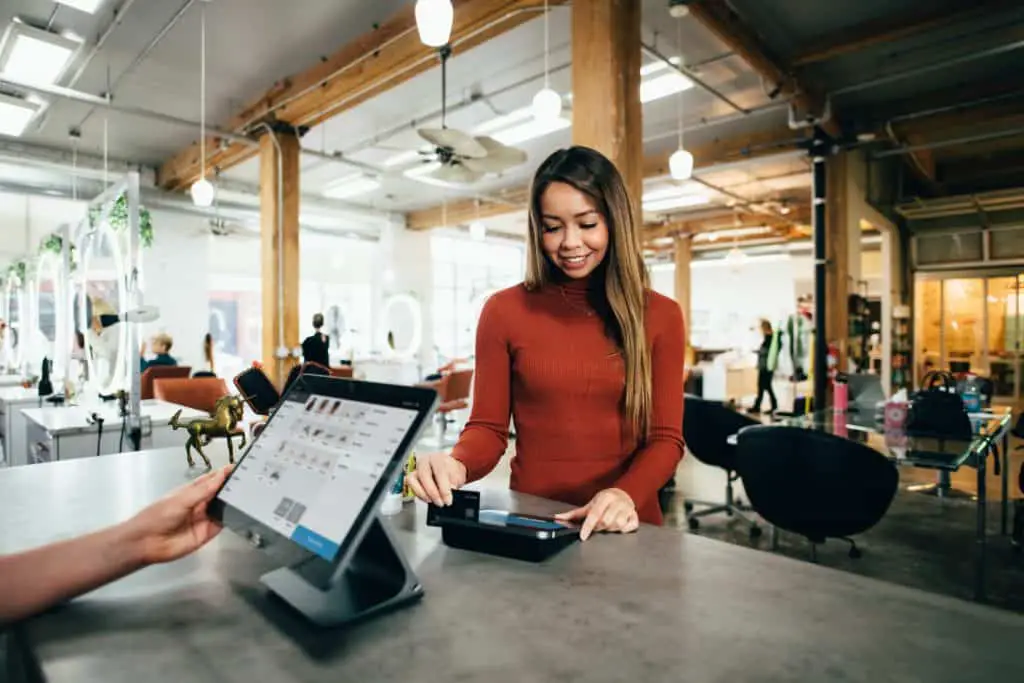 A Sales Associate is responsible for all types of sales marketing, dealing with customers, customer satisfaction, advertising all products, gaining customers, building trust, etc. However, there is much more to the job than this that we will learn about in this article.
What is a Sales Associate actually?
Sales Associate aims to increase product sales through innovative marketing campaigns, including online, in-store, and door-to-door marketing. They are usually found in retail shops where they sell different items, including electronics, beauty products, clothing, office supplies, sports items, grocery, jewelry, etc. 
The Sales Associate's first job is to greet the customer on arrival and make them comfortable before proceeding. Then, they start suggesting different items based on their preferences and budget. Next, they try to convince them by telling them the benefits associated with the product. Once satisfied, a customer makes a purchase. If a customer is not satisfied, then the sales associate tries their best to convince them. The convincing thing depends upon person to person, and sometimes even the best speakers cannot sell a product. 
A sales associate job is not an easy job. Many customers simply have inquiries with no purchases, which might anger the person. Hence a person needs to be patient in dealing with the customers. Then there is another set of people regarding after-sales service, returns, and product complaints. Most of the time, the sales associate spends dealing with such types of customers. Making an angry person calm is an important aspect for a sales associate. Maintaining the company's image is an equally important task as it makes an important point for your job and promotions.
There are many different terms used to represent a Sales Associate job. Some of them are:
Senior Sales Representative(Works for B2B companies)
Sales Executive
Sales Engineer
Chief Sales Officer
Account Executive
Skills Required
Good Communication Capabilities. You need to make the person next to you comfortable in a small period.
In-depth knowledge regarding products. You should have proper research regarding products which you want to sell.
Convincing Ability. If you want to stay in this field, then this would be the most important skill.
Be a good listener. A person who listens to others is often considered more humble.
Be polite to everyone in all conditions. There will be different types of customers, some nice and some rude. You need to deal with everyone with ease.
Ability to stand up in tough situations where you have no answers to customers' questions.
Educational Requirements
High School Degree, Higher, or Equivalent.
Bachelor's in marketing or sales management is preferred.
Good in English language (Spoken).
Good in basic maths operations.
Duties and Responsibilities
Assist customers in selecting the best product from them.
Manage all the financial transitions smoothly.
Offer the best customer service.
Manage the inventory accordingly to demand and supply.
Try to keep a long-term relationship with your clients by keeping them updated on new products.
Answers questions and queries of customers in a satisfying way.
Ability to convert potential clients to customers.
Work as a team to deliver results to the company.
Suggest new ideas to increase sales, policy changes, and build a public image. 
Offering promotions and cashback deals from time to time to be in the public's interest.
Build a brand reputation.
Assisting cashiers whenever necessary by operating a sales register from time to time and processing the payments using the Point of Sales machine.
Performing all major and minor duties in the store with full leadership. This includes managing the inventory, placing items in the correct places, cleaning activities in the store, and processing item deliveries.
Complying with all the health and security protocols because of the ongoing Covid-19 pandemic. Your store should be timely sanitized. Masks should be worn at all places wherever necessary. In addition, sanitizers should be made available at outlets for customers' safety, thermal scanning to stop any potential infection from entering the store, and motivating people to get vaccinated.
Take the help of software to manage the inventory like Zoho Inventory and Upserve effectively.
Prompt action regarding security. If you find any suspicious activity, you should always call the guards and report to the police as soon as possible. Furthermore, in case of robbery or damage to property, you need to comply with the company's policy and cooperate.
Sales Associate Matrix
Important tasks to be performed are listed below.
| | | | |
| --- | --- | --- | --- |
| S No. | Tasks to be Performed | Expected Relevance (%) | Time to be Taken(%) |
| 1 | Able to find new customers | 10 | 15 |
| 2 | Convincing a customer to talk | 15 | 15 |
| 3 | Selling a product successfully | 20 | 15 |
| 4 | Answering customer questions and after-sale service | 15 | 20 |
| 5 | Keep customers updated regarding new products | 20 | 15 |
| 6 | Achieving sales targets and prepare an overall report | 20 | 20 |
Average Salary 
The average salary of a Sales Associate is $30,000 per year or $16 per hour. This is a good figure for a job that requires much less technical or educational knowledge. However, with experience, your pay will only rise from here. In addition, there are extra incentives if you achieve your targets(depends upon companies or offices) which will further increase the count. So, it is a good amount to start with if you are a fresher.
Ending Words
A sales associate is full of responsibilities much more than just selling stuff for the company or office. You need to have high spirits to continue and make an impact in this job. Things are not always on your end, but you need to be calm and wait for your time. This job requires a lot of time. If you are passionate and hard-working, then you can expect huge growth in this domain. There is a lot of scope in this field so you can continue growing for the rest of your life. 
Frequently Asked Questions
What is the minimum qualification requirement for becoming a sales executive? A high school degree, spoken proficiency, and knowledge regarding basic Maths operations.
What is the best place to find a sales associate job? Many popular online websites- Indeed, Naukri, etc. offer lots of opportunities for sales associates. All the basic requirements are mentioned. There are a lot of new hirings coming there regularly. If you are interested, you would be able to secure a job for yourself easily.
What are some qualities a person should have to pursue a career in this field? A person should possess good speaking capabilities, fast reactions to people's questions, able to think beyond the mind of others, and sharp maths. Communication skill is the best characteristic for this job. You should be enough to convince people with your ideas and thought processes. Then, if you are one of them, you can apply.
How do you respond to questions regarding which you have no idea? This is a common situation in everyone's life. However, you are expected to answer in the case of a Sales Associate. You can't simply make big promises and assurances which you and your company can't deliver upon. Hence you must ask them to wait till you have a perfect response to the doubt. You can inform him through phone, email, or through a normal meeting the next time you enter the store. To avoid such a situation in the future, you should start acquiring more knowledge regarding the company and things that might seem of little value. Remember, the 1st impression is the last impression for many. Hence you need to have a good appeal among your visitors.
How do you greet a customer when they enter a store? First, you can say a simple hi or hello to the person with a smile. Then, try to make them comfortable by asking them to sit and enjoy the store experience. Acknowledging a person's presence means a lot. Even if you are busy, you should send other people to your rescue to don't feel left out. This might motivate them to visit your store again in future due to the previous experience. Even when leaving, you should respond to the customer by wishing them a good day ahead. This is something that makes them feel respected.
What should be done if a customer is not happy? There are a lot of reasons why a customer might be upset. Customers are often someone who thinks that sales associates are determined to make sales for their own benefits. You need to make it clear to them that the deal is worth it for them too. If they are sad about a product, you can suggest other products in the same category. You should be able to convey to them that your feedback is vital for you. You need to give them the best service from your side. If possible, consider replacing faulty products or offer some other freebie. This should be enough for customer satisfaction.
How will customers be aware of an ongoing sale or limited-time offer? You should be able to spread the word among people to benefit from any new scheme. Even the best ideas fail when there is nobody to hear them. The same applies here. You need to have good promotions for receiving a positive response apart from word of mouth. You can advertise through billboards, hoardings, newspapers, digital marketing, etc. You can also make a list of old customers and create a mailing list. Then you would be able to target them, which might give better returns specifically.  
Job Requirements Matrix for Sales Associate