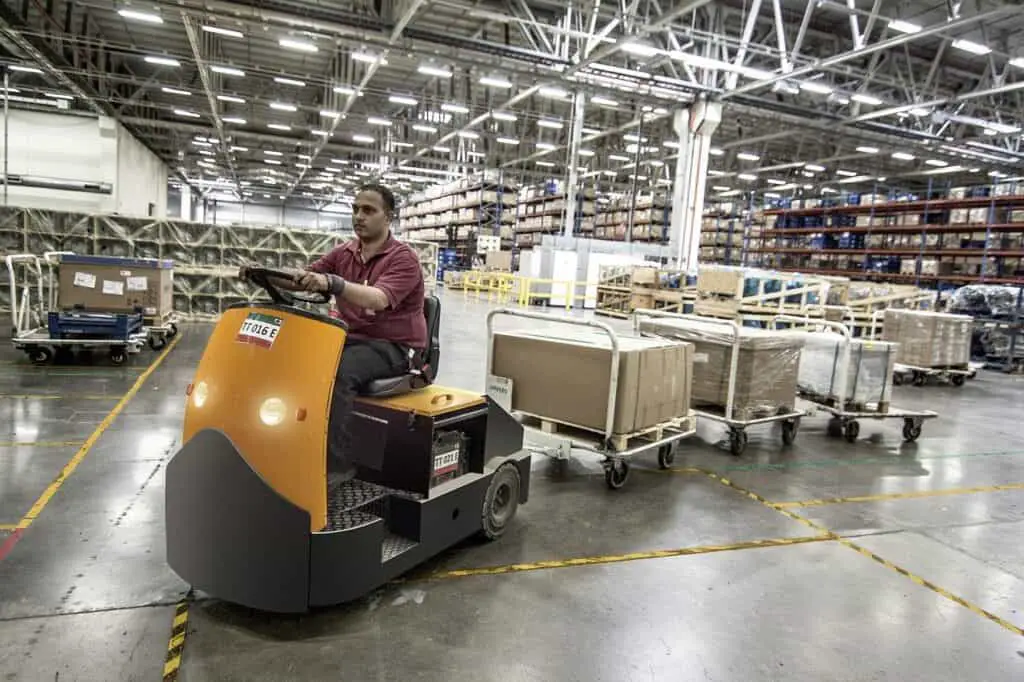 Amazon, an American-based tech company, was founded by Jeff Bezos in 1994. We will Discuss FC Amazon Shipping Job Description here. The company initially started in a garage as an online bookseller who later expanded to selling other products such as clothes, furniture, software tools, and all other retail items found on the Amazon marketplace today. Amazon thrives on technology and holds the world's biggest online platform for retail. Today, Amazon is a "force to be reckoned with" not just in its mother-found country but throughout the world. Though it's a strong presence today, it has been known to be brutal from the start. The bookseller platform that Amazon started with has been said to put physical bookstores out of business and acted as a huge competitor in the bookselling industry. The company has competed with several large competitors over the years. It has come out on top repeatedly, not only as one of the strongest brands globally but also as a strong economic influence. Below are sales figures indicating just how well Amazon has been doing from 2008 until 2020. There has been vigorous growth, clearly indicating strong business success. 
Revenue Generated Over Years:
| | |
| --- | --- |
| Year | Revenue Generated |
| 2020 | $386,064 |
| 2019 | $280,522 |
| 2018 | $232887 |
| 2017 | $177,866 |
| 2016 | $135,987 |
| 2015 | $107,006 |
| 2014 | $88,988 |
| 2013 | $74,452 |
| 2012 | $61,093 |
| 2011 | $48,077 |
| 2010 | $34,204 |
| 2009 | $24,509 |
| 2008 | $19,166 |
Although Amazon is an online retail marketplace, they have learned to play in different spheres of business. Their business is divided into multiple facets and no longer only thrives on being an online retail marketplace only. Below are the various segments Amazon specializes in:
Online stores as we know it, the Amazon platform where customers can purchase almost anything at their fingertips and have it delivered straight to their door or any other form of delivery. The online store is currently Amazon's biggest form of revenue, which in fact makes sense as the core function of the business is acting as an online retail marketplace. 


Third-party selling services allow an individual or company to list their product on the Amazon website, and Amazon sells these products as its own. The only distinct difference is these sellers will solve their own custom queries. 


Amazon web services were launched in 2006 as a subsidiary of Amazon. Amazon Web services are cloud-based technology products such as IT networking tools, data analytics tools, computer storage, etc., which are being sold to companies, individuals, and governments to assist how they conduct their affairs. 


Subscription services are services to which customers have a subscription with Amazon, such as e-books, audiobooks, and other forms of subscription. It's basically like having a Netflix, youtube, or perhaps even a physical book subscription. Monthly access is granted for a monthly fee. 


Physical stores are stores that allow customers to go to a store and purchase a product physically. Please note that these stores are not in the online marketplace but rather act as subsidiaries with a different name. There are currently 589 stores across the globe, with "Whole Foods" occupying 500 of those. There are other stores such as Amazon Books with 23 stores, Amazon Go with 2 stores, Amazon 4 star with 31 stores, and Amazon Popup with 7 stores. 


"Other," which is Amazon advertising revenue
According to https://www.visualcapitalist.com, Amazon generates income through various channels as mentioned above, generating the below amount of sales from June 2019 – 2020.
Amazon Business Model 
| | |
| --- | --- |
| Business Segment | Net Sales (June 2019 – 2020) |
| Online stores | US$163 billion |
| Third-party selling services | US$63 billion |
| Amazon Web Services | US$40 billion |
| Subscription services | US$22 billion |
| Physical stores | US$17 billion |
| Other | US$17 billion |
| Total Revenue | US$322 billion |
Amazon holds a strong position in the employment sector of the US and generates the biggest profit margin in the world with multiple subsidiaries. Subsidiaries such as A90.com to one of the largest food stores in the US, "Whole Foods," generating US$245 million from 2007 – 2019. Below is a list of the top five companies Amazon has acquired over the years, showing strong signs of revenue. 
Top 5 Acquisitions by Amazon
| | | |
| --- | --- | --- |
| Company | Acquired Price | Currently Generating |
| Whole foods | US$13.7 billion | US$ 13,175,496 billion |
| Ring | US$1 billion | US$ 1 billion |
| Zappos | US$1.2 billion | US$ 840 million |
| Pill Pack | US$753 million | US$ 1.8 billion |
| Goodreads | US$1 billion | US$ 3 billion |
Growth
A company that started with 11 staff members in a garage grew to 613,300 staff members in 2018 and grew even larger in 2020 by employing 500,000 staff members, totaling the workforce number to 1.3 million globally. This exponential number excludes contractors and temporary staff, which clearly indicates how brutal the growth rate has been. Amazon serves itself by generating a volcanic force of revenue and empowers other companies to partake in their journey with them. Outsourced delivery services have allowed other companies/startup entrepreneurs to generate income and grow their start-up or already founded company by acting as a delivery service to Amazon. Amazon has a total of 1.300 delivery driving partners contracted to their business which largely contributes to employment rates worldwide. 
Over the years, like many other businesses, Amazon has grown and changed the way they do things. Delivery wasn't always as easy and fast, services were not always as fast-moving, and the number of employees was much less. As a start-up business, the number of sales and generating revenue is of top priority, as, of course, the business needs to grow. As the business has grown, Amazon has shifted its focus from generating revenue to customer wants and needs. Amazon has extensively dived into this new approach, searching for ways to satisfy customer needs rather than increasing sales revenue and focusing more on retention. 
Amazon's main focus today is to be one of the strongest customer-focused retailers in the world. Bringing customers what they need to their steps, quality products that are not costly, and providing excellent service. Amazon takes pride in the service they deliver and aims to display customer centricity at all contact points. Amazon has a strong culture with four core values that all Amazonians live by; a customer-centric approach, thriving for excellence, forward-thinking, and innovation. Through living and displaying these core values, Amazon promises always to ensure world-class service. 
With amazon changing its business objectives from sales generation to customer-centricity, frontline staff has been impacted, and warehouse staff. The company has come to a strong realization that warehouse staff has as much influence on customer service; after all, packages are dispatched from the warehouse before making their way to the customer.  In light of this, Amazon had a long and hard look at warehouse staff positioning and processes. Instead of having warehouse staff assigned to single fixed roles, Amazon has done some reshuffling and created a position now called the Amazon FC shipping Associate. This role is far more versatile than the previous role, allowing warehouse staff to work faster and more efficiently than before. Warehouse staff is now also feeling a stronger sense of the Amazon culture and four core values which drive this business. Shall we say integration has taken place! 
Below is a look into the job function of this newly created position which now rocks the world of Amazon warehouse staff. Job description, duties, required skills, education, salary, and job type is listed below, clearly stating what a day looks like as an Amazon FC Shipping Associate. 
FC Amazon Shipping Job Description
The Amazon FC shipping associate role is a very versatile role within itself. It has no fixed duties but rather fulfills more than one core function. The role requires duties from labeling to warehouse management storage and housekeeping management. The role requires strong multitasking abilities with a forward-thinking approach, continuously seeking ways to improve warehouse operations duties. The  Amazon FC shipping associate must work closely with other warehouse staff to ensure the smooth running of the warehouse and ensure processes are followed according to company policy and procedure. The Amazon FC Shipping associate is responsible for ensuring that customers' packages are accurately processed, packaged, and dispatched promptly. This role acts as the warehouse gatekeeper, ensuring that all outgoing and incoming packages have thoroughly undergone all quality checks and are labeled accurately. The Amazon FC shipping associate ensures that delivery vehicles have been accurately loaded with all required packages and relevant documents such as waybills have been issued, with a lot of attention to detail when doing so. This role is responsible for warehouse management, such as inventory control, ensuring information is captured on a digital inventory record system by the end of each day. Weekly, Monthly, and Annual reports are also to be completed at the end of each financial year.
The safety of goods is a top priority in this role. It should be dealt with diligently while ensuring a classification or categorization system that allows for easy retrieval of goods for other warehouse members. Goods are not just outgoing and incoming to and from customers. Still, the Amazon FC shipping associate must ensure that the warehouse is adequately stocked and that incoming stock is stored following storage guidelines with adequate space. The warehouse should be kept neat and tidy, thus being the last thing on the Amazon FC shipping associate's checklist before finishing off the day. 
Job Duties listed below:
Processing orders – All Incoming and outgoing
Ensuring parcels are packaged and ready for dispatch
Labeling parcels – outgoing and returned goods
Quality check – Outgoing and Incoming parcels
Ensure parcels are packed correctly and loaded to a delivery vehicle 
Inventory control – Using a Digital Inventory Record system
Arranging parcels using a classification or categorization system
Ensure adequate stock in a warehouse
Receive and quality check all returned goods
storage Management
Housekeeping Management
Ensure housekeeping checklists are completed
Adhere to Health and Safety rules according to Amazon Healthy and Safety Rules and Regulations
Manage Digital Inventory Record System:
Complete Stock Requisition form
Complete Pick and issue sheet
Complete Issue confirmation form
Complete Inventory adjustment sheet
Complete Returned goods form
Required Skills for the job:
Good understanding of Amazon products and product coding system
Deadline is driven to ensure parcels are packed and dispatched for delivery
Good written and verbal communication
Strong understanding of inventory and inventory control tools
Strong understanding of classification and categorization systems
Good understanding of package international quality standards
Attention to detail  – ensure packaging quality standards are met in line with Amazon Quality Packaging Standards
Strong interpersonal skills to work closely with other warehouse staff to ensure effective dispatch of parcels
Accurately and timeously ensure the Inventory record system is kept up to date and information is retrievable.
Strong understanding of stacking principals

Stability
Stacking order
Light and Ventilation
Damaged Goods
Open areas
Rotations

Integrity – follow health and safety rules set out by Amazon Health and Safety rules and regulations.
Flexible to work in all areas of the warehouse
Process-driven
Good eye for details and observant
Team player
Computer Skills Required:
Microsoft Suite
Understanding of digital inventory control systems
Data entry and retrieval of parcel information
Business Email writing skills
Report writing skills
Good understanding of statistical information
How to Become?
Education Requirements:
Matric Certificate
Warehouse and distribution course an advantageous
Experience Required for the role:
3 – 5 years retail warehouse work experience in a similar role
5 – 7 years warehouse experience for any other industry
Salary
The salary bracket for this position currently stands at $28,966 per annum. 
Job Type
This is a full time permanent position with no possibility to work from home. Amazon operates 24/7 365 days a year and will require this incumbent to work shit rotational shifts.
What Amazon offers for this role:
Friendly and safe work environment
Contribution to Medical Aid
Contribution provident fund
Annual Leave
Annual Salary Increase
Employee Discount
Employee growth  
For information about this role go to the Amazon website at https://www.amazondelivers.jobs 
Is the new position working for Amazon?
The Amazon FC shipping associate position was rolled out six months ago and, so far, has shown drastic changes in warehouse production. Packages are no longer misplaced, mislabeled, nor late for dispatch. Amazon FC Shipping associates find it easier to retrieve goods and store goods and mentioned that the digital inventory record system allows them to work in a more organized manner. 
Although Covid-19 has taken a toll on the world and its economic state, Amazon has proven to come out stronger than many other companies in the world. It has shown continuous signs of growth from the beginning of time throughout a pandemic that we currently still find ourselves in. Truly pioneers in the business world, I would say. 
FC Amazon Shipping Job Description, Skills, Salary, and More