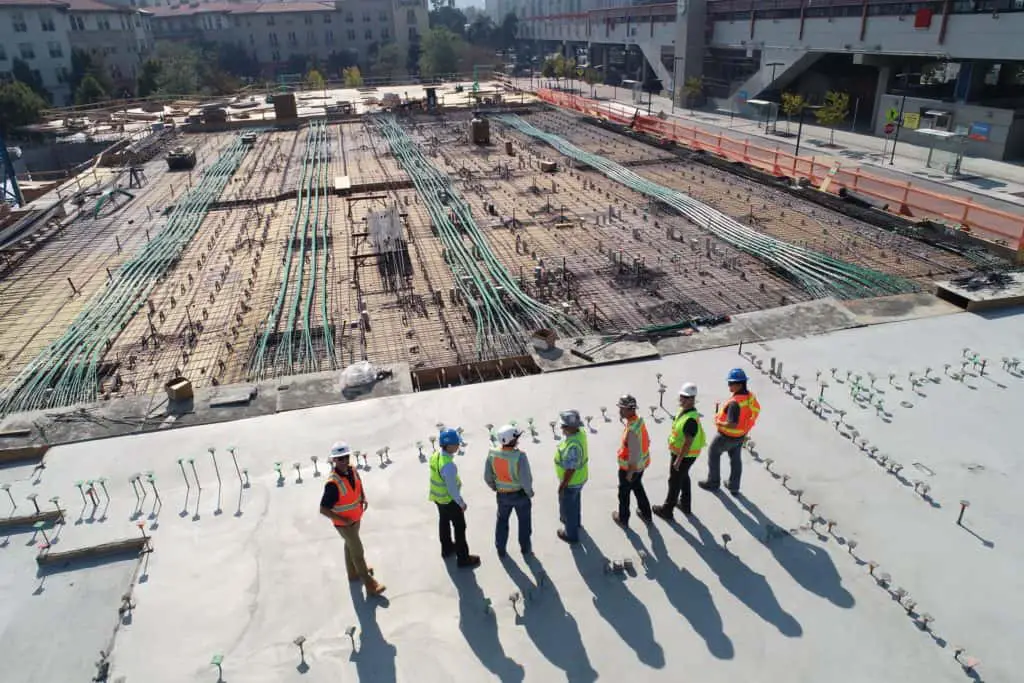 Civil Engineers are professionals whose job revolves around planning, designing, supervising, constructing, and thus maintaining an infrastructure keeping in mind human and environmental safety. From infrastructures to project systems like roads, airports, tunnels, dams, etc., all are taken care of by civil engineers. But how does one become a Civil Engineer? To become a civil engineer, one needs to have a bachelor's degree BSc or BA in Civil Engineering. Then, a master's degree (optional) in Civil Engineering in their specific area of interest, substantial experience in the field, a Professional license (PE), and you're all set to land an entry-level civil engineer job! In this article, we will discuss here Civil Engineer Job Description and steps to become one.
Steps to Become a Civil Engineer
Step 1: Graduate with a Degree in Civil Engineering
Being a minimum requirement in most companies, a Bachelor's degree in Civil Engineering can get you started with your career as a civil engineer. It can help you take that first step and land an entry-level job. Civil engineering degree teaches courses that include math, engineering principles, statistics, fluid dynamics, architectural and structural design, Civil Engineering Materials, Risk Assessment, solid or hazardous waste management, and more. These courses are tailored for the candidates to acquire theoretical knowledge and fieldwork as well. It helps the candidates to prep for the after-graduation jobs. There is also an internship available which a candidate can pursue to gain experience and upskill their resume. If possible, search colleges that are ABET-accredited. ABET-accredited colleges make it easier for a candidate to earn the Professional Engineer License, which is crucial as you climb the career ladder.
Some of the ABET-accredited colleges and Universities are listed below:
Arizona State University
Capella University
Washington State University
Daytona State College
Devry University and more
Step 2: Gain Experience via Internships, Apprenticeships, or Other Employments
Civil Engineering has many specializations like structural Engineering, Constructional Engineering, geotechnical, or transportation engineering. Now the candidates need to spend their time learning about every specification. It is best to pick a specialization that they are interested in and complete an internship, keeping in mind the area of interest. Moreover, every bachelor's degree in the Engineering field has a curriculum that includes at least a semester or a summer internship to gain insights into the particular area of the field. It is the perfect opportunity for the students to put the skills that they have learned in the classroom to work. Summer internships help candidates enhance their skills and earn substantial experience to open the doors for future employment. Networking also plays a crucial role while interning. Mentoring under a senior Civil Engineering, expanding your contacts, and leveraging these networks can bag the candidates their desired job.
Step 3: Pass the Necessary Certification Exams and Earn a Professional Experience
Earning a professional experience is mandatory when climbing up a professional ladder. Civil Engineers start their job as Engineers in Training (EIT) or CE Civic Engineer intern. Some of the certifications/exams required for an employments/ internship offer are:
Fundamentals of Engineering (FE) Exam. Although most of the states does not necessitate passing this exam, it can be helpful when candidates want to work in co-ops, internships, etc.,
Professional Engineer (PE) License. A PE license is not mandatory when a candidate is searching for an entry level-job but helps in career advancement. Hence, a passing score in the PE exam is a safety net. In addition, the license can also help earn work experience under a professional, which is another impressive addition to a candidate's resume. 
Devoting dedicated hours for preparation and passing the above examinations is crucial. Every individual should be licensed. Hence the American Society of Civil Engineers offers support to train and prep the candidates for particular examinations. 
Step 4: Obtain a Master's Degree or a Doctoral in Civil Engineering (Optional)
A Master's degree or doctoral is optional but can expand a plethora of opportunities for the candidates. In addition, a Master's Degree in a particular specialization can further enhance the knowledge of a candidate. Requirements to pursue a Master's degree is as follows:
A Bachelor's degree in Civil Engineering or its equivalent
CGPA above 3.0
A LOR ( Letter of Recommendation)
A good score in GRE (Graduate Engineering Exam)
Step 5: Land an Entry-Level Job
After rigorous training during internships or working as an EIT, candidates can start pursuing an entry-level job. Now there are several ways to do this.
Networking. A myriad of internships during college, working as an EIT (Engineer in training), leads candidates to expand their network with the respective civil engineers in the industry. Believe it or not, networking is necessary. It helps bring a candidate one step closer to their dream job. 
Job Boards. American Society of Civil Engineers (ASCE) also provides regular updates regarding civil engineer jobs.
Online Portals. Online portals like glassdoor, indeed, engineering jobs are another way to go. Candidates can search for jobs as per location preference, salary, etc., at these portals. 
Different Degrees for a Civil Engineer
A candidate can either pursue Bachelors's in Science (BSc) or Bachelor in Arts (BA) degree in civil engineering. It serves as the base level of education required to begin working as a civil engineer in an entry-level job. The degree mainly focuses on courses like fluid mechanics, architectural design, mathematics, and more. 
Eligibility for a Bachelor's Degree: Proficiency in Physics, Chemistry, math, statistics is required to pursue a bachelor's degree in Civil Engineering.
Job Opportunities: A graduate in civil engineering can work in various job profiles like a construction manager, environmental engineer, transportation engineer, geotechnical engineer, and more.
A master's degree in civil engineering requires at least two to three years to complete—one year in thesis and two years of completion in standard. 
Some of the specializations are: 
Geotechnical Engineering
Environmental Engineering
Structural Materials, Transportation Systems Engineering
Civil Infrastructure and Construction Management and Engineering 
Eligibility: A graduate degree in Civil Engineering.
Job Opportunities: A civil engineer with a Master's degree can work as a: Project Coordinator, Project Manager, Project Engineer, Construction Project Engineer, and more. 
A doctoral degree takes four years to complete. The degree includes a rigorous course for the first two years, followed by two years of work dedicated to research.
Eligibility: A bachelor's degree, a master's degree, and at least two graduate-level maths courses during the first two years of doctoral.
Job Opportunities: A candidate with a Ph.D. in Civil Engineering is eligible for a career as an educator in government, public, the private sector of the work industry, educators in universities. 
Civil Engineer Job Description
Civil engineering is an engineering discipline that deals with the construction, maintenance, and design of infrastructures that include roads, railways, airports, tunnels, pipelines, sewage treatment plants. They are also in charge of structural components of buildings and railways. 
Additional Skills Required to Become a Civil Engineer
Technical Skills- A knack for solving engineering problems.
Strong fundamentals in Physics and Mathematics. 
Good Managerial, Communication, and Critical Analysis Skills
Creative Thinker
Civil Engineers -Types
Every branch in Engineering has a specialization, and so does civil engineering. For example, civil engineers can land a job as constructional or structural engineers.
Construction Engineers are more into managerial work. They manage a construction project by keeping up with the timelines and procuring trades that are necessary for a project.
Structural Engineers however, designs infrastructure be it bridges, roads, commercial buildings, etc. Design is one aspect for a structural engineer. They have to also keep in mind human and environmental safety. Material to be used, keeps in mind factors like materials to be used, natural phenomena that might affect the infrastructure, all should be taken care of by a structural engineer. 
How much money does a Civil Engineer Make?
The salary of a civil engineer varies from state to state. It depends on myriad factors such as policies, the demand for civil engineers in a particular region, and taxes. On average, the annual salary of a civil engineer can vary from USD 60,000 to USD 1,23,000.
Listed below are the top job profiles of civil engineers and their respective salaries.
Project Managers – Project managers cater to every need of a project, from maintaining financial records to ensuring that the project conforms with safety regulations.
Senior Civil Engineer – The roles of a senior civil engineer include the repair and construction of buildings, highways, and other structures. From planning, the project design, to managing the project, everything is taken care of by a senior civil engineer. 
Civil Engineering Manager – A Civil engineering manager is responsible for planning, controlling, and evaluating the activities of a construction/ design project of a firm. They are also responsible for overseeing the work of an engineering department.

Salary: USD 88,000-USD 118,000/-



Civil Engineer – From planning to managing, the Repairs/construction of buildings, highways, bridges, and other structures are overseen by a civil engineer. 

Salary: USD 60,000 – USD 90,000/-



Architect – As we are aware of an architect is the creator of how the infrastructure would look. They are responsible for conceptualization and then designing the plans for any residential or commercial building.

Salary: USD 57,000 – USD 93,000/-
Job Outlook and Future Scope of a Civil Engineer
The job market of the United States currently has over 3,00,000 civil engineers, and the growth rate is 10 percent of the same. At this rate, civil engineers are sure to have good employment options in the foreseeable future. The job outlook is positively favorable. Repair of aging infrastructure, the need for infrastructure that is resistant to natural calamities, repair, maintenance, or creation of new water treatment and sewage plants all culminate in the rising demand for civil engineers. Overall, work carried by civil engineers makes them an integral part of the job market and a stable career option with whooping job opportunities. With a healthy growth rate, there are veritable advancement opportunities in the civil engineers' profession. Civil engineers can surely encounter a step ahead in their career ladder in the future.
Comparison Between a Civil Engineer and Other Related Fields
The statistics below depict the comparison between civil engineers and other related fields as per the salary and demand in the job market.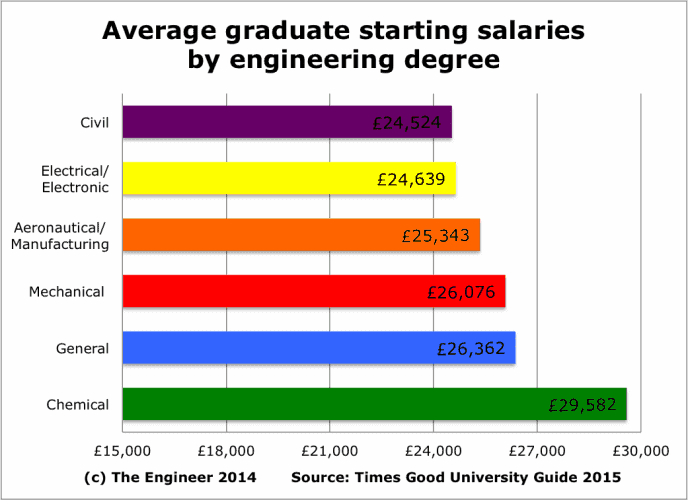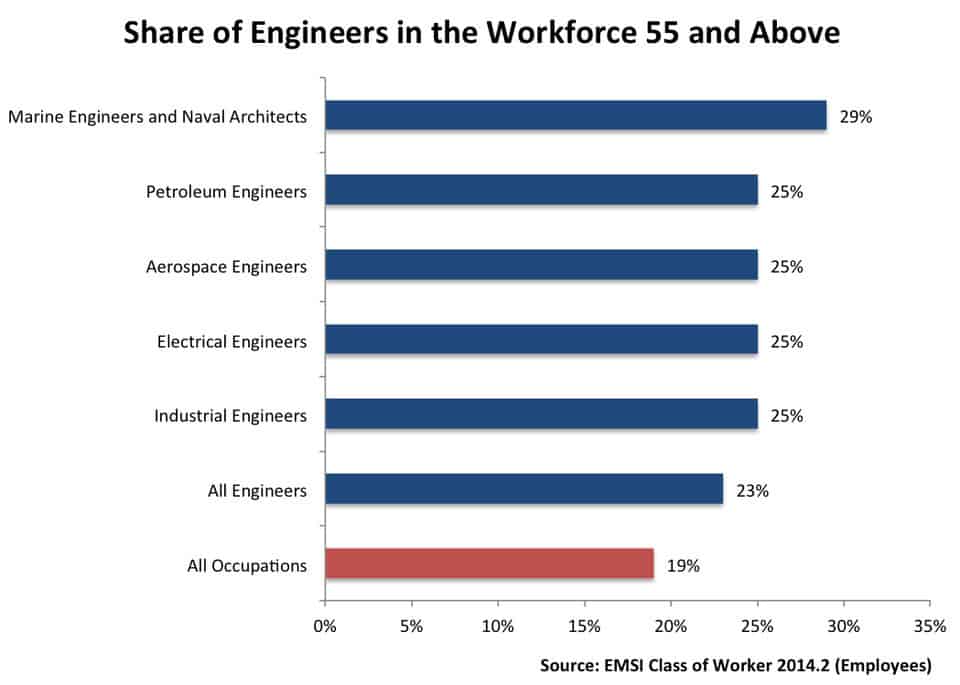 Conclusion
To sum it up, civil engineers can never go out of demand. The United States is an economically sound country, and constructing infrastructures is not something that can decline over time. Be it the construction of new infrastructures or repairing the old infrastructures, civil engineers will always have budding opportunities in the job market. 
Frequently Asked Questions
Who are the top recruiters that hire a civil engineer?

Atkins
Stantec
Balfour Beatty
Bechtel
Skanska
Arup, Vinci
Mott McDonald

What are the different sectors where a civil engineer might work? Construction or design of public/private sector projects including tunnels, dams, roads, buildings, airports, bridges, water supply, sewage treatment plant, transportation, and infrastructure projects. 


How do I land a managerial or higher-level job profile in Civil Engineering? Civil Engineers can climb up the professional ladder by having sufficient experience in the field. A candidate's professional experience as a civil engineer and certifications play a crucial role. 


Can I land a job as a civil engineer in any part of the world? Yes, it is quite possible. Some countries are economically advanced and have the resources to builds sound infrastructures. Some of the popular countries where one can land a job as a civil engineer are India, Japan, China, New Zealand, Canada, etc.


What is the highest designation of a civil engineer? The highest degree of a civil engineer is a doctorate. Speaking about the highest designation, a few of them include Senior Project Manager, Senior Manager in Project Planning, Senior Civil Engineer, Chief Engineering Officer, Chief Technical Officer, Project Administrator, Design Engineer, City Engineer.
Latest Civil Engineer Job Description, Roles, Salary