A balloon artist creates animals and other balloon decorations of different shapes for events. They mostly use latex balloons which are flexible and biodegradable. Such balloons are specifically made for decorations. Balloon artists are often referred to as Twisters or Balloon Benders. Here we will see about Balloon Artist Job Description, Duties, Salary.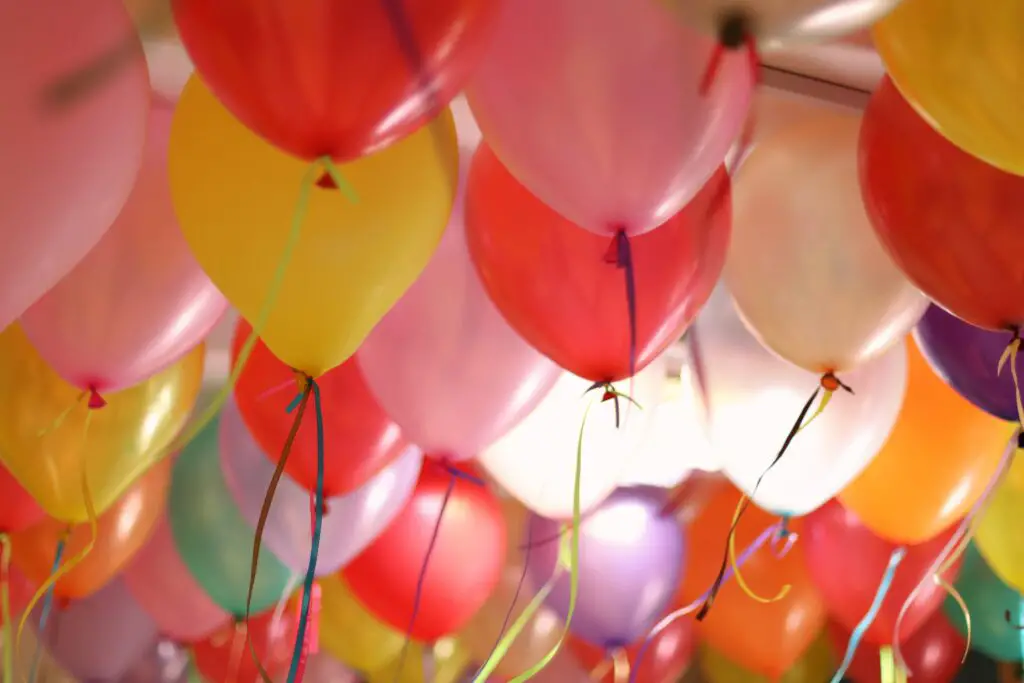 Balloon Artist Job Description
In order to apply for the job of a balloon artist, one must have the following at minimum –
Drivers' license
Problem solving skills
Creative skills
Interior designing skills 
Communication skills
Time management skills
Basic computer literacy
Mapping techniques
Multi-tasking 
The job of a balloon artist is mainly to make decorations for events like birthday parties. The job includes the following duties :
Guiding customers with ideas, themes and colour combinations
Resolving queries of customers
Taking orders
Making centrepieces 
Placing orders for balloons from suppliers
Organization of orders
Coordination with customers and suppliers
Prepping tasks 
Salary
The average salary of a balloon artist is around $40,000 per year in the US. Additional pay may reach upto $3,000 per year, it includes tips and bonuses. However, it varies dramatically from place to place depending upon the goodwill of the business and the location. Location lays an important role because a balloon artist may not be able to earn as much in an under developed or a developing country, as compared to a developed one. The salary can also vary depending on the materials used and time spent. 
Styles
There two styles which balloon artists use. They are as follows :
Single balloon modelling.  In this style, the balloon artist is restricted to one balloon per model.
Multiple balloon modelling. In this style, the balloon artist uses more than one balloon for each model. 
The styles can be switched depending on the model to be made. Modelling also involves techniques like weaving and stuffing. 
Equipment  
Some balloon artists simply blow air into the balloons as a part of their performance. However, this traditional practice is evolving and nowadays pumps are used for inflation of balloons. Pumps can be hand operated, electric, or battery run. Usually, air or nitrogen is used to fill the balloons, and helium is avoided. 
Balloons are sized according to their length and diameter. The most common size is 260, which is basically a balloon two inches in diameter and 60 inches long. Another commonly used size is 160. 
Popular Models 
With single balloon modelling style, most common models include :
With multiple balloon modelling style, most common models include :
Dog 
Butterfly
Octopus
Flowers
Turtle 
Famous Balloon Artists 
Henry J Maar was titled "The Sultan Of Balloons". He was one of the first balloon artists. 
Ralph Dewey is an American balloon twister known as "Grandfather of all Twisters". He has published 16 books on balloon twisting. 
Lawrence Charles Moss. He was identified as "the best balloon artist in the world" by The Washington Post. He also set a second world record at Brick 2014 event at London by erecting a 20 foot tall replica if a LEGO minifigure. He also created the world's first piloted balloon sculpture. 
How Do You Become A Professional Balloon Artist?
 To become a balloon artist, you must do the following 
Work for a reputed balloon artist 
Pass a series of examinations offered by Qualatex with a minimum score of 80%. 
Pass practical examination in which you will have to create perfect designs, while demonstrating knowledge of colour, rhythm and proportion. 
You must have the knowledge of sales, business and finances.
What Steps Should You Take?
To work towards becoming a balloon artist, you may take the following measures :
Perfect your skills. You can do this by working under an expert balloon artist as an apprentice. You can also refer to online tutorials and courses.
Use the right materials. It may take you some time to find the right materials that fit within your budget and at the same time, do not compromise the quality of your work. You can find the right materials by seeking advice from more experienced balloon artists. 
Set your prices. This may be tricky initially, but with time, you will learn to set the right prices. Your prices should be decided on the parameters of time, materials and other resources utilised for a particular project, 
What Types of Decorations do Balloon Artists do?
Balloon artists can create sculptures, bouquets, garlands, arches, animals, columns and much more. 
How Much Do Balloon Artists Charge?
Balloon artists may charge upto $100 dollars per installation per hour. 
What Equipments does a Balloon Artist Need?
A balloon artist requires the following :
Startup Kit. This includes materials like string, weights, glue purchased at a wholesale business.
Delivery Vehicle. In order to make installations, you will need a suitable delivery vehicle as inflated balloons take up a lot of space. 
Advertising Medium. You will need to reach out to people for them to know you. For this, you will need a stable advertising medium like a website, business cards, fliers etc.
Office Setup. You will need a business phone number and a computer to keep track of your orders, payments, supplies and taxes. 
Helium Tank. Balloons are required to be filled with helium to keep them afloat. 
What are some Cons of A Balloon Artist Business?
Low margins. 
Work maybe inconsistent 
Lack of benefits due to self employment
Niche market
Time consuming
Easy target for criticism
Giving up on comfort zone.  
Conclusion 
It is not easy to establish a business as a balloon artist as you will most probably be self employed. It is challenging at initial stages as you will have numerous ups and downs due to prices, criticisms, unsatisfied customers and other difficulties. However, you will gradually be able to tackle the hardships when you establish  goodwill. People are entertained by balloon artists on social media platforms helping the artists gain tremendous popularity. Nowadays, it is much easier to reach out to a huge audience by showcasing your skills online by posting videos or photographs of your models. Through this article we have learned about Balloon Artist Job Description, Duties, Salary.
Balloon Artist Job Description, Duties, Salary