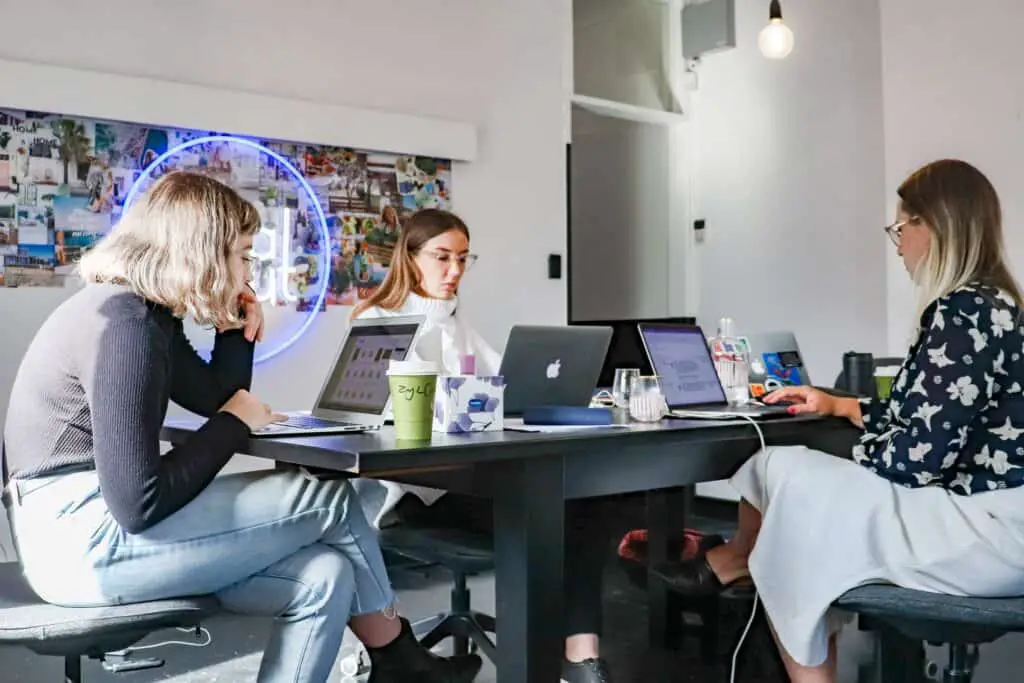 Advertising Agency Jobs – Are you looking for a job in a creative and fun environment? One where you get to tackle challenges daily? If yes, an advertising agency could be the right place for you. With advertisement spending in the US expected to rise to 289.5 billion dollars in 2022, it may not be ill-considered. 
Advertising Agency Jobs
Advertising Agency Jobs come under four main categories: creative, client servicing, media planning and buying, and account planning. Different roles that come under these departments are mentioned below.
Creative

Art Director
Content Producer
Graphic Designer
Digital Illustrator
Image Retoucher
UX + UI Designer
Copywriter


Client Servicing

Account Director
Account Managers
Account Executives


Media Planning and Buying

Media Manager
Media Executive


Account Planning

Account Planner
Account-Researcher
If you thought that ad agency jobs are only for creative artists, you might be in for a surprise. An advertising agency requires people with varied skills. Each department demands a different skill set that is required to perform the tasks. The skills required range from leadership and team management to designing and software proficiency. The roles and responsibilities, and skills required to execute each of the roles in an ad agency are mentioned in detail below. Keep reading to check if you have what it takes to work in this high-energy environment.
Creative department deals with creating the artwork and copy for projects the agency is working on. The creative team transforms ideas expressed by clients or suggested by the agency itself into physical or digital form. The creatives prepared might be used in print, radio, video, product packaging, website, or social media. With the internet and the devices that we access it with becoming so diverse, the range of types of artwork and content has increased exponentially. There are different roles in the department, which are mentioned below. Each of the roles contributes to creating the advertisements that we finally see on different media platforms on varied media channels.
A creative director is responsible for leading the creative team. The person will have to guide designers, copywriters, and art directors to get the desired output. The creative director drives the team to produce creatives that adhere to the objectives and brand standards set by the client. This position is usually taken up by career-driven people willing to work in a very fast-paced environment. Apart from the creative eye, the person should compulsorily possess management skills to assign tasks to members of the creative department and make sure that creatives are produced on time lies with this person. This person usually has the final say over the creatives produced by the agency. This role demands skills ranging from strategic thinking, leadership, creative thinking to communication.
The art director is responsible for all the visual aspects of the project. This role is usually taken up by people who have completed their education in art or design subjects. The person needs to visualize and ideate the artworks required for a project. The responsibility of bringing the entire crew unified under a common artistic vision also lies with this person. After the crew produces the artwork, photograph, or graphics, the art director needs to decide if to make changes or carry it forward. An art director needs to be highly creative, resourceful and should be able to manage time and stick to deadlines.
A graphic designer creates and manipulates images, fonts, or motion pictures. The designs created are used across different platforms. The designer often manipulates the same creative into forms that are fit for different uses. It could be used in logos, packaging, banners, brochures, web content, etc. Softwares commonly used by graphic designers include Adobe suite software like Photoshop, Illustrator, and Indesign. Graphic designers usually maintain a portfolio of work and projects they have completed. This is used for evaluation during the hiring process. Apart from exceptional creativity and innovative thinking, one needs a good grasp of design software to succeed in this role.
Digital illustrators work with bitmap or vector graphics software. They produce illustrations according to client demands and ensure that quality is maintained across different prints and media. A digital illustrator has the skill to transform ideas into a visual form easily. Some illustrators prefer to sketch an initial drawing on paper and then convert it to a detailed sketch in digital form using illustration software. A digital illustrator should have a creative eye. Skills required in this field include drawing, sketching, and painting.
Images have become an essential part of advertisements. With advancements in technology, the quality of images that can be used has gone up exponentially. Image retouchers polish the images and elevate them to the optimum quality required for advertisements. The person in this role wields the magic hand that can remove the imperfections that may have been registered in photographs. Image retouchers may help photographs avoid reshooting complicated or even expensive shoots due to some faults that may have occurred during the photoshoot.
The job requires you to have a good working knowledge of image editing software. Image retouchers possess a creative eye to recognize issues with images and transform them into an acceptable form. One should also be able to create image output that is consistent with the brand design philosophies specified by the client.UX + UI Designer
User experience (UX) and user interface (UI) designers work to interact with advertisements as impactful as possible. This role was not part of an ad agency traditionally. But technological advancements have allowed advertisements to evolve from lifeless paper to very interactive interfaces. With digital advertisements, the level of interaction a user can have with an advertisement is rising. This role requires you to research and understand the user perspective. The advertisements need to be optimized so that users interact more with these ads. Along with the ease of advertising in the digital age, noise has also risen exponentially. It is becoming increasingly difficult to capture the attention of the consumer. Interactive and intriguing advertisements will help brands cut through the noise and get their message across. Technical skills like coding, interaction design, and visual communication are also required.
Copywriters are in charge of linguistic content in advertisements. Copy is referred to as words designed to influence readers to take action. A copy is used to influence viewers to buy or take action related to the business objective in the business or advertising context. In digital space, a call to action or CTA is usually used to direct the viewers to a website or web page where further details are listed. This page is called the landing page, and the content here is carefully crafted to make the viewers take a specific action. It is common to have different landing pages for different alterations or even the same ad. Copywriters today strive to perceive that whatever content is shown to a viewer is extremely personalized for the viewer based on information collected about them. This kind of hyper-personalization has been proved to provide a better result. Copywriters work to develop written content in different formats to be used across different mediums. Knowledge of different mediums is required to create copy that is fit for that environment and context. Writing captivating stories, research, conduct interviews, and communication skills are required for this role.
Client services bridge the gap between the creative team and the client. No matter how good the creative team is, client servicing can make or break deals. This is because clients mostly interact only with this department and not the creative department. Everything from communicating advertisement requirements to budgeting is done through the client servicing department. This department lays out a delivery plan and is responsible for the on-time delivery of promised deliverables. A person can start their career in this department as an account executive and work their way up. People who work in this department are usually well polished and have exceptional interpersonal skills. The most basic characteristic required for people who want to work in client servicing is building and nurturing relationships. Building new relationships and also growing existing relationships with the clientele is extremely important. The department's success could be measured through the retention figures and the growth figures of existing clients.
Account director is the senior-most position in this department of an ad agency. The key responsibility is to maintain good relationships with the client. The account director often sets the client expectations regarding the project. This person also deals with budgeting and the smooth operation of the project. The account director usually sets the goals and responsibilities of employees. The ultimate goal of the account director is to retain relationships and facilitate growth. Team management, communication, and relationship-building skills are key to be successful in this role.
Account managers are assigned to clients by the account director. Account managers build rapport with clients and formulate the contracts. The account manager reports to the account director of updates that happen. People who work in this role have the skill of carefully breaking even bad news to the clients. They become the initial point of contact for the clients. Communication skills will top the list of skills required for this role. Negotiation skills, influence, and interpersonal skills are also important for this role.
Account executives take care of the day-to-day tasks involved in client servicing. They manage and coordinate the activities between agency and client. They maintain communication flow between the agency and client. Account executives also take up administrative tasks. They often arrange and attend meetings with clients. An account executive should be able to solve problems that arise in day-to-day operations that take place. The determination to solve problems and goal-oriented mindset will help one succeed in this position.
Media Planning and Buying
Media planning and buying have undergone significant changes due to technological advancements and changes in how we consume information. Media planning is the selection of media channels where a particular ad will run. The media plan will have information on where the ad will run, when it runs, and how. It will also have information on results or how results can be evaluated. Media planning channels were limited to managing content over the radio, out-of-home advertising, and television, which has transformed into a much more complex ordeal. The number of channels has increased a lot due to the advent of the internet and digital media. Today, media planners need to understand the different media channels on the internet and choose channels that will offer the most returns.
Media managers have a vast knowledge of the different types of media platforms. They plan and implement media campaigns for the clients. They also create public relations and communication plans for clients. Successful media managers have excellent project management and leadership skills. Media managers need to manage and maintain relationships with communities. Being updated with the latest trends in the field is also required. Apart from understanding how content works, a media manager needs to think strategically about which mediums to use for the most efficient results.
The media executive overseas operational part of media management. The person will maintain relationships with various channels for publishing the media. The media executive will monitor the performance of ads on different channels. For digital ads, real-time viewing of performance is available. The media executives make changes and optimize ads if performance is found to be below the expected range. Technical knowledge is essential in this digital age to function in this role. The media executive understands how content works in different media and optimizes it to the platform and technology. Knowledge in paid search, social media, and programmatic advertisements is necessary to function in this field.
People working in this department sometimes need to understand the consumers better than the brands themselves. The account planning department often works alongside client servicing to build the right strategies and plans for the agency's brand. This department provides the direction in which strategy needs to be developed. This direction is decided based on consumer insights. Consumer insights are increasingly derived from data analysis. This department also needs to work with the creative department to make sure that creatives impact the target audience. It should also align with the brief given by the client. This is important because understanding the target audience and their preferences are crucial for advertisement campaigns' success. If the campaign is based on inaccurate insights, it will result in reduced performance or failure.
Account planner has a very strategic mindset. This person knows advertising strategies and chooses a strategy that best fits the client's brand. Account planners work on consumer insights. Apart from the ability to think strategically, they must also have the power to conceptualize ideas.
Account researcher does the consumer research needed for account planner to make the right decisions on strategies to implement. This person does the qualitative and quantitative study utilizing focus groups and consumers. These studies help understand consumer requirements and preferences. Data analysis tools are increasingly used in this process to get accurate insights on customers of the brand. An analytical mindset is essential for this role. Attention to detail will help the person identify trends and present accurate information to the account planner.
There are different roles in an advertising agency that one can work in. Different roles require different skill sets. It is important to identify one's skills and strengths and align those with the ones demanded by a role. Even though an ad agency may have a very social culture that attracts many, it is in no way an easy-going culture. A lot of hard work is required to succeed in this area. It will be the person's determination and skill that decides their future in this particular field. With technology advancing rapidly and newer forms of social media and other media channels popping up every other day, content creation and planning is not as simple as it was two decades ago. Constantly updating oneself with trends in the digital space is essential to stay afloat. Any role today in an ad agency requires you to have technical knowledge. Digital advertisements have proven to be cheaper and more effective. The ability to target particular audiences and modify ads even in real-time according to information collected about the user's past interactions allows advertisers to develop interactive and innovative advertisements. The advertisement space is continuously evolving. Those who understand new technology well will be able to use it to their advantage. If you're passionate about this field and willing to put in the hard work, this is an area where you can find a lot of satisfaction and wealth in the long run. 
Frequently Asked Questions
There are multiple ways to enter an ad agency. One could start as an intern at an ad agency. After the internship period, the person could be offered a permanent position. Or else, the internship experience can be used to get a job in another ad agency. Freelancing is a good way to start your ad agency journey. This helps develop skills and get hands-on exposure to the challenges one may face at an agency.
What is it like to work in an ad agency?
Advertising agencies are one of the coolest places one could work at. Even though work is not easy-going, a young professional will appreciate the social culture of most ad agencies. A young professional needs to be ready to work long hours. Sometimes, if work requires, you may have to work on weekends too. Even though the work that needs to be put in during the initial years is high, it is generally perceived as a gratifying and satisfying field.
Advertising jobs may pay from $40,000 to $227,000 per year on average. Even though many of the starting jobs may not pay very well, with experience, one can occupy a position that easily pays above $100,000 per year. As with most areas, the more experience you have the salary will also go up. You can also demand a higher salary if you can show high results achieved in past projects worked on.
Are advertising jobs laid-back in nature?
Advertising jobs usually require the person to work very hard. Even though the work environment is very social, it may not be an 8-5 job, especially for young professionals. Working late through the night is a common sight in this field. 
Are advertising jobs just for creative people?
No. Even though creative content creation is a necessary aspect of advertising. There are other essential roles too. As explained in detail in the section above, account planning, client services, and even media planning require people with other skills. People who are good with strategies and have an analytical mindset thrive in these roles. People skills are also important to have in these roles. And as with any role today, the importance of technical knowledge is only rising.
Is a job in advertising satisfying?
If you're considering a job in this field, you probably don't prefer a cozy job on a boring desk. Even though these jobs demand hard work, dedication, and even working on weekends, it can be gratifying if you're passionate about this kind of work. Pay at the beginner level may not be very high. But it gets better as you climb up the ladder. 
What are some of the biggest ad agencies?
Most of the biggest ad agencies in the world operate in the US. 72andSunny, BBDO, Leo Burnett, Saatchi & Saatchi, Ogilvi, Motto, McCann, TBWAChiatDay, GS&P, Wieden+Kennedy, and LRXD are a few on the list.
Also read What is A Staffing Agency?
Advertising Agency Jobs: Titles, Roles and Responsibilities