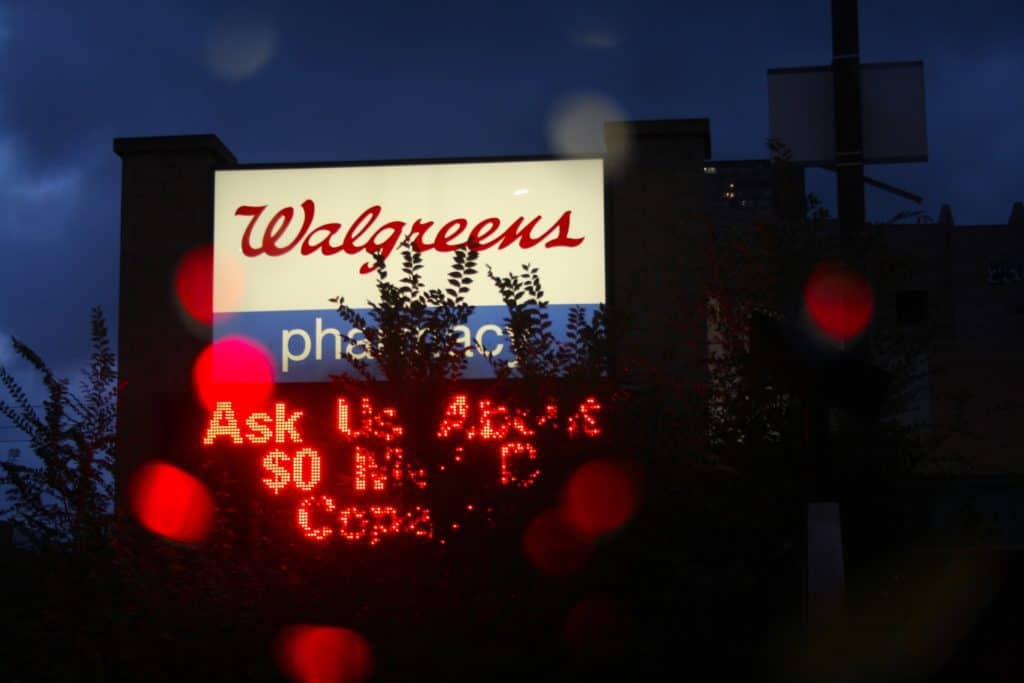 In this article, we will see the Walgreens Interview Questions and answers.
About Walgreens
Walgreens is the second-largest pharmacy chain in the United States behind CVS Health. It was founded in 1901 in Chicago, Illinois, the United States by Charles Rudolph Walgreen. Its headquarters is in Deerfield, Illinois. The company specializes in filling out prescriptions, providing health and wellness products, providing health information, and even photo services. It started as a small store in a small corner of Bowen and Cottage Groves Avenue in Chicago.
Walgreens is known as a global retailer as well as a wholesale pharmacy. Walgreens has a wide range of products from various companies. Some of these are Infinitive for electronics, Finest Nutrition for vitamins, Botanics and Your Good Skin which provide skincare, Almus Generics who produce medications. It also provides daily use products from companies like Smile & Saves for paper towels, Well Beginnings for baby products, West Loop who produces clothing, Wexford for office supplies, and many more companies. 
Work Environment at Walgreens
Over the years, Walgreens has gone through so much.  For example in 2017, there was a campaign to stop the sale of tobacco as it promoted smoking. By December 2017, it made sure that it would offer customers advice to stop smoking. So, Walgreens changed its slogan from "At the corner of happy and healthy" to "Trusted since 1901". 
Employees say that Walgreens is a great place to gain experience working in the industry, It gives great opportunities to work as a team and mentor teams. Walgreens provides great job security and employees get to learn so much. It helps people learn about the healthcare industry and learn new technologies. The company ensures all its employees are well trained and receive all the necessary guidance.
Overall the company develops an employee's skills from a professional point of view. Walgreens provides a flexible work schedule and most students from high school and college choose to work here to make a little extra money. They are very accommodating of students' busy schedules. Working at Walgreens also gives employees opportunities to grow in the industry and work their way up the ladder. Many employees say they have received the right training and have been able to grow in the pharmaceutical industry with the help of management. 
The global pandemic has brought about so many changes. Especially, the healthcare industry is going through such a busy period. Demand for medicines and drugs has skyrocketed, from customers, other producers, and hospitals. This has caused employees to be extremely busy throughout the pandemic. It is has resulted in so many challenges, especially for frontline workers. There are lots of regulations to keep up with so many employees have found it challenging to keep up with. 
Walgreens provides numerous job positions like Cashier, Assistant Store Manager Trainee, Beauty Advisor, Beauty Consultant, Custodian, Customer Service Associates, District Manager, Photo Specialist, Pharmacy Technician, and the list goes on. The company does not limit employees to only one or two tasks concerning their job position, employees perform a variety of tasks that they are capable of at that level. For example, an employee who is a Customer Service Associate will perform tasks of a cashier, a photo tech, a bank teller, a stocker, and more. This concept allows the employee to polish various skills and contribute to the company in various ways. Employees also find it interesting and engaging as their job tasks are constantly changed. This eliminates the monotony of any job and encourages efficiency in the workplace. 
What does Walgreens look for in Employees
First and foremost, applicants must have a positive attitude and have a welcoming personality to appeal to both the hiring managers and the customers. Being an extroverted person will help communicate with the customers and give the right impression of the Walgreens workforce. Since this is the pharmaceutical and drug industry, applicants must have the necessary knowledge about the industry and the products. They should be well versed with the products and services provided. This holds good for all employees at different levels because every employee performs a variety of tasks. So, knowing a little extra beyond your job position is always beneficial. Such applicants will be considered first and treated as most important.
Hiring Process
Applications can be filled out online or handed in to store locations, although Walgreens only takes online applications nowadays.  Candidates must still visit store locations to take the skills assessment. To apply online, candidates must create a profile for themselves in the online portal. They must provide information like contact information, education background, work experience, special skills, etc in applications. After both applications are submitted and the assessment test, the applications are reviewed. Once applications are reviewed, successful candidates are advanced to the interview phase. 
The overall hiring process takes around 3 weeks to 2 months. In some cases, it takes only up to a week for applicants to get a phone call. Candidates can check the application status on the website or call the company if it has been more than the time specified. Candidates are recommended to call the company only if it has exceeded the specified time otherwise, the management will feel rushed and pressured. 
Candidates must be capable of handling tasks in stressful situations without compromising on customer service. Walgreens has some basic requirements for applying. They are:
Candidates must be above the age of 16.
Most job positions require a high school diploma, a GED, or its equivalent.
Candidates can work either part-time or full-time
Candidates should be able to adjust to company work schedules which may include weekends or holidays.
In areas of photography and pharmacy, there are certain standards candidates must meet, even if they do not have prior work experience. 
Walgreens Interview Questions
Interviews cover the information of the candidate's resumes, their work experience, their skills and capabilities and also covers topics like where they would like to work, and even at which job position they would like to work. Applicants are tested on their strengths, weaknesses, special abilities, their will to work, and attitude.
The Walgreens interview process is broken down into a 3-step process. 
Initial call candidates receive to schedule the interview
Either an online or paper and pencil assessment test 
In-person interviews
All three stages are important to filter out the right applicants that fit the company's reputation and image. Working at Walgreens requires certain knowledge about the industry and products dealt with, that's why it is not so easy for students to get higher-level jobs. 
The interview questions are mostly centered around behavioral situations. They test how a candidate would deal with a particular situation or person. Interviews usually take around 45 minutes for entry-level applicants. However, it may last longer for managerial positions. 
Candidates applying for the photo and film department are asked questions based on their previous experience, training, and camera-related equipment. Stock workers are tested on their ability to perform physically straining tasks. Some questions they are asked are as follows:
How much can you lift comfortably at once?
Do you have any conditions that might limit you from carrying out this job?
Common interview questions for all job positions
Have you ever helped someone achieve their dreams? If yes, how?
Have you ever led a team before? What was your experience?
Why do you want to work for Walgreens? 
Sample Answer: "This is a place I want to gain experience in. Working in this industry will help me gain certain skills to start my career and gain a sense of responsibility and independence."
Describe a situation when you had to deal with an angry or rude customer. How did you deal with the situation?
What motivates you in your job?
Sample Answer: This question is very subjective, but candidates can talk about motivating points on a personal or professional level. They can also point out things they can apply to their job. 
What are your weaknesses?
Describe your previous job. Why did you leave that job?
Sample Answer: "In my past job I enjoyed the work culture and overall production environment. Although I enjoyed a lot of things about my previous job, I was not able to meet the same opinion as my peers and seniors. We did not see eye to eye on a lot of matters."
How do your approach situation that requires confidentiality?
How effective are you in communication?
Tell us why you would be a good fit for the role?
For how many years have you worked in customer service? 
What can you bring to the company? Or,  Why should we hire you?
What kind of settings do you work best in? 
What type of worker are you? Do you focus on tasks at that moment and get everything done or do you take it bit by bit?
Sample Answer: "I understand that this job requires a lot of constant work and persistence. That is one of the reasons I applied here because I am sure I am can meet the expectations and work beyond them as well."
Have you committed any felonies?
Do you smoke?
What can you do for us that other candidates can't?
Such questions will test the candidate's ability to work in a team or lead a team based on the job position they are applying for. It will let the hiring managers know how much you will contribute to the company's growth and how much they can depend on you. They will look for your will to work and see at what priority you hold the job.
The most important thing for some job positions is to deal with customers, so they will be tested with their communication skills. Such candidates must have an enthusiastic personality to make sure customers feel comfortable and welcome in that space. Interview situations also test the candidate's ability to prioritize some tasks before others and how they efficiently work to accomplish what they need to. 
Candidates must give answers with as much detail as possible and should be able to support answers with anecdotes. This will keep managers interested in your responses and your side of the story. Candidates can also share failed experiences where they learned something and found a solution. Sharing a negative story will not be considered bad as long you emphasize the growth that came from that experience.
It will help them get to know you better on professional and personal grounds. It would also be great if candidates do their research on the company. A well-versed knowledge about their company will impress them and let them know that you are truly interested in the job position. 
Some ways you can answer questions during interviews
Weaknesses and Strengths: When asked questions about your weaknesses, always make sure to highlight your strengths as well. It is advised to mention your strengths more than your weaknesses. It is also better to talk about your strengths based on professional grounds, rather than personal traits. 
What can you bring to our company?: When asked questions like these, it is advised to mention how you contributed to your previous company with appropriate examples. The company would also like to know about how you see your future. It is always better to talk about where you want to be in a few years and how you'll work towards it. 
Why did you leave your previous job?: When answering questions like these, it is important to mention positive things about the company. Candidates can talk about how they positively emerged from their company issues. 
After interview sessions, candidates can also ask questions to the managers regarding their job. They can ask questions regarding which department they would be stationed in, how many employees they would be working with, about company culture, and anything other questions on professional grounds. Candidates can also mention their class schedules and overall availability so that work hours can be decided around that. 
Interviewees must dress appropriately and give the right impression to managers. They must follow the business casual dress code. They are allowed to wear jeans as long as it doesn't look too laid back. This holds good for entry-level candidates but if they are applying to managerial positions, they are expected to dress formally. Professionally presenting yourself will give a good first impression and let the managers know that you have an interest in the job. 
Calling the company and following up after interviews will let the managers know that you are truly interested in the job. Candidates can wait for a week or so, or the period they mention during the interview for a follow-up before calling the company. Previous applicants have said that it is always best to let the managers know you are interested in the job because each applicant is just one out of many. So, doing a little extra will help differentiate you from the rest. 
Tips for Walgreens Interview
Be honest and humble with your answers.
Know what the company is looking for and understand how you fit in the company.
Dress appropriately and sell yourself well
Be confident with your answers
Always give anecdotes to support your answers
Pay attention to detail and help the company understand who you are.
Employee activities and Benefits
Employees of various job positions have their tasks to deal with, but overall the company is working to serve the customers. So, the most important thing is to help customers with anything they need and guide them through the stores. Almost all job positions at Walgreens require employees to communicate with customers, so being approachable and working efficiently are the two primary qualities an employee should have. Even custodians help out customers find anything they need even though it isn't their primary duty. 
Photo Specialists earn up to $9 an hour to develop and print photos. Pharmacy Interns get paid $13 an hour to work under the lead of Pharmacy Technicians. Pharmacy Technicians get paid $15 an hour to fill prescriptions and recommend medication to customers. Beauty Technicians earn up to $15 an hour to work in the makeup department and help out customers with anything they need.
Assistant Store Managers Trainees get paid $16 an hour for studying the store and managers' reactions and learning how to become an Assistant Manager. Assistant Managers who provide overall support to Managers and keep track of activities in stores earn $19 an hour. Shift Leads also earn $16 an hour to manage the shifts of employees, especially overnight shifts. 
Most of the time employees are required to adjust to the long working hours which extend to evenings. Sometimes employees are required to work on holidays or weekends based on customer demand. The global pandemic has seen a rise in customer inflow, so more employees tend to work overtime. Employees are offered some benefits like paid holidays, paid break times, sponsored vacations, sick leaves, medical and life insurance. 
Overall it is recommended for employees to keep an open mind and have a positive attitude to promote a comfortable work environment. Working as a team with other colleagues is very crucial in team building which results in quality customer service. This positive attitude must be brought from the interview phase up until being hired and working as an employee. 
Conclusion
A lot of former employees say Walgreens is a great place to work and would recommend it to others as a place of employment. It allows you to familiarize yourself with the industry and allows you to mingle with customers and help others. The company promotes a positive work environment and makes customers feel comfortable.
Walgreens Interview Questions and sample answers