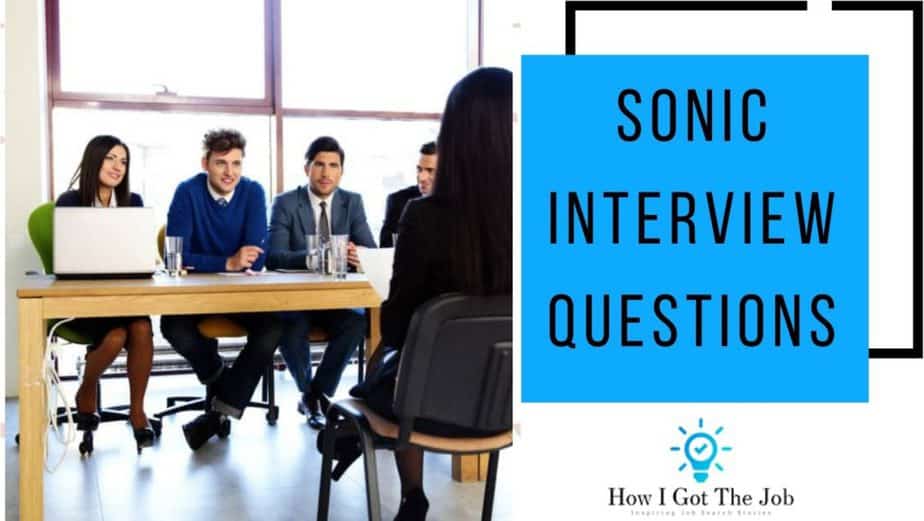 Congratulations to you if you have been called up for an interview at Sonic or aspiring to work at Sonic, and you need to prepare ahead for their interview questions. Today's topic- Sonic Interview Questions
It is usual for one to get nervous when going for interviews. Still, with the interview questions that will be answered appropriately below, there is every tendency that you will be chosen if you answer them correctly.
Sonic Interview Questions
Tell me about yourself?
This is no doubt one of the most frequently asked questions in interviews; when answering this question, tell the interviewer about your education, your past jobs, your current role, and your role in the future (that is, what you are looking to do for yourself in the future).
Don't forget to make it brief but well clarified.
What experiences do you have?
This is most likely the next question your interviewer or Interviewers will ask you. So, in this case, tell them things you have done in the past related to the role you applied for in the company. And if you do not have any relatable work experience, you can talk about volunteer jobs you have done. You can also tell them activities you executed while in college and how you have focused well on your studies. As a result, you are now well set to prove yourself in your applied role in the company.
What do you know About our company?
When getting prepared for the Sonic interview, make sure you have done a bit of research about the company. First, you need to know basic things about the company. Basic things like where the restaurant headquarter is being located, who the founder of the company is. For reference purposes, the headquarter of Sonic is in Oklahoma City in the United States, and Troy Smith founded the chain of business. The chain serves approximately 3 million customers daily, and various brands inspire the parent company.
You need to let the interviewer understand that you are a bit grounded about the company. Also, try to do your research about the company's history, vision, mission, future goals, and recent happenings. Finally, since you aspire to be a prospective member of the company, try to make yourself aware of the company's dealings.
Why would you like to work at Sonic?
The interviewers are interested in the reason you are interested in working with the company, so there are different reasons you can give them; you can tell your interviewers that working in Sonic had always been your dream job, and you have focused and worked on set skills to help you achieved your dreams.
You can also tell them that working in sonic sounds like fun to you, so you believe you will enjoy working there, you can tell them that you will derive pride in working for the company as you want their products and services, whichever you think is convincing enough to tell your interviewer, go with it.
Do you know the mission statement At Sonic?
Most companies have their mission and vision statement; for Sonic, their mission statement is "to become America's most-loved restaurant brand." Knowing the mission statement will help convince the interviewer that you are interested in the job and have done enough research about the company.
Tell us about your calculative skills.
As much as you are working in any fast-food chain, one of the skills your employer would want you to have is your mathematical skills, how fast you can calculate. They believe that having good mathematical skills will help you know the right amount to give your customers for change.
So, if you have good mathematical skills, you should let them know, and if you are not so good at calculations, it will also be a good thing to let them know. Don't forget to tell them that you can also learn on the job.
How would you deal with angry customers?
Tell them how you will always try your best to satisfy your customers because customers are always right, as they are needed to grow the business. Tell them how you will make sure the customers leave happy and satisfied with the products they bought.
Why Should We Employ You?
After answering the questions above, some interviewers might still not be convinced, so they will ask you why you should be employed in the company. Before answering the question, make sure you are very aware of the job description, then tell them the skills you possess that are needed for the company.
Below are some reasons you can give them to make the hire you:
· You can take orders and make accurate changes quickly; you can work under pressure.
· You are good at packaging menu items and correctly check products quality and consistency. You have good attention to detail.
· You are friendly and good at welcoming customers who enjoy providing courteous services; you are good with communication.
· You have a good willingness; you are ready to learn fast.
Would you be on roller skate?
If you know how to, tell them how you derive fun in it, and if you do not know how to roller skate, let them know how fast you would learn because of your love for the role.
How well do you handle criticism?
When answering, tell your interviewer you handle criticism well as you believe it helps you become better. Tell them you don't get angry when you are criticized. Rather, you sit back and reflect on what was said and make sure you do better.
What are the best hours for you to work?
Be flexible when answering this question; tell them the hours you want, but you can also tell them what time you would want them to tell you what work hours they want; if you think you can fit it, then accept.
Where do you see yourself in some years to come?
Look out for job sites where they have various answers to this question, but make sure you give a response. Tell them things you will be proud of about yourself in years to come. Still, it would be nice if you tell them things that are related to your job.
What would you do if you caught your co-worker stealing from the company?
If I catch my co-worker stealing, I will do well by reporting the case to the management because I understand the value of honesty by employees.
We put a lot of cleanliness and pride at sonic; how important is cleanliness to you?
If you have previous experience at a restaurant, cite some of your experiences of how well you cleaned the restaurant. You can also tell them that you are a prim and proper person who does not like dirt, so you will do well with the neatness of the restaurant.
Do you see a potential long-term career with sonic?
Discuss your relevant aspiration in the company with them, outline a plan for achieving your goals.
Are you a leader or a follower?
Tell them you can be both; as much as the team moves forward, you can take up any of the roles.
Have you taken any food safety courses?
It would be nice if you have taken food courses. Tell them the courses you took, but if you haven't, you can tell them voluntary courses you have taken that are related to your role or food courses.
At Sonic, we encourage training for our employees. But, if you could further your education, what path would you choose?
Tell them how you love to diversify. Then, tell them courses you will take that will be relevant for the development of the company and yourself.
Do you consider yourself honest and trustworthy? Site an example
The best way to answer this question is to cite various relevant examples regarding your previous experiences or situations you have found yourself in; it might not necessarily be work-related.
How do you react at work when you are emotionally down?
I try not to attach my emotions with work; I make sure I attend well to customers, placing my emotions till after work hours.
What are your first reactions when a problem arises?
I immediately try to think of a fast-long-lasting solution.
What are your motivations?
Working well with the team
Find ways to solve problems
Come up with ideas to improve the company
Do not say money is your motivation; it discourages your employer.
What questions do you have for me (us)?
Can you talk about the culture of the company a bit?
Can you clarify for me better the day-to-day activities of this company?
What are the major criteria you want in a candidate?
How can the company's mission be best supported?
What is the type of training I will receive from the company?
Below are tips to help you get jobs at sonic
After you finish with the interviewer, make sure you thank them for their time; also, tell them you look forward to hearing from them regarding the application.
Also, try to maintain a good pace while speaking, don't be too fast and be too slow. Make sure you are confident enough but not overconfident, so your interviewer does not see you as a proud person. Finally, try your best to maintain eye contact with your interviewer; it is typical for you to be nervous, but maintaining eye contact will help you.
Also, maintain a good posture throughout, be cautious of your posture, and don't speak when necessary; try to avoid saying irrelevant things.
The hiring manager will likely connect with you once you apply online or turn in a paper application.
Things you should not do during the interview
· Do not arrive late for the interview
· Do not slouch while sitting
· Do not fold your arms while answering questions
· Let the interviewer speak finish before you speak
· Stop glancing at your phone or the clock while answering your questions
· Try to keep your phone in your bag, also put it on silent, so calls do not interrupt your interview
· Try not to fidget, it reduces your confidence
· Try to ask questions as well, do not be afraid to ask questions that will help you get clarified
· Do not lie about things you cannot do
· Do not monopolize the conversation.
Tips for the interview process
The hiring manager will ask about your experience roles to know the best role to fit you in the company.
Best ways to prepare for the interview?
One of the best ways to prepare for the interview is to familiarize yourself with the drive-in location, so you can arrive on time. 
When going for an interview at sonic, you are good to go with smart casual cloth. Just look good and smart.
What to know before working at sonic?
Drinks are free for sonic employers
Tips are a huge boost for workers there
There are free foods for workers, but it depends on your manager
Some of the workers skip a step when preparing limeade
Speediness is a very big factor for workers there
There are some creative ways the workers use in utilizing the grease.
Workers there can make fun concoctions from some of their cheap ingredients, and it comes out great.
Workers have to wash their hands at least once every hour.
The order of ingredients must be strictly adhered to.
Salary
According to zip recruiters, the average hourly pay for sonic jobs in the United States of America is 17.29 dollars per hour.
Most wages within the Sonic jobs category currently range between $9.38 (25th percentile) to $24.04 (75th percentile) across the United States. However, the average pay range for a Sonic job varies greatly (by as much as $14.66), suggesting there may be many opportunities for advancement and increased pay based on skill level, location, and years of experience.
Based on recent job postings on ZipRecruiter, the Sonic job market in Chicago, IL, and the surrounding area is very active. People working within the Sonic category in your area are making on average $18 per hour or $0.41 (2%) more than the national average hourly salary of $17.29. ranks number 1 out of 50 states nationwide for Sonic job salaries.
Frequently Asked Questions
How do I get hired at sonic?
Apply online while you wait for you to be called upon for an interview.
What is the suitable age to work at sonic?
A sonic, once you are up to 16 years of age, you are legible to apply for jobs at sonic. Anybody less than 25 will not be qualified for the job.
Is it easy getting hired at sonic?
It depends, but in most cases, it is easy; according to feedback online, people who fill the application are called for an interview. Once they answer well, they are hired.
What qualifications do you need before you can work at sonic?
· You need vital entrepreneur skill
· You should be active in the community
· Restaurant background is a plus
· You should be able to develop and lead a team
What does a Sonic employee do?
Sonic workers cook foods, package foods, and deliver the food fast to the customer. Therefore, sonic employees must be familiar with all stations.
What Should I Take Along When Going for Sonic Interview?
When going for a sonic interview, take along with you 2-3 copies of your curriculum vitae, and plan to tell them about the employment history on the CV. Suppose you do not have a Resume yet, no problem. In that case, it does not disqualify you, just be ready to talk about your previous work experience or skills you have acquired before applying for the role.
What Should I Know about inspire brands?
Inspire Brands is a multi-brand restaurant that aims to create and grow a portfolio of highly valued brand. You should also know that Inspire is the parent company to Arby's, Buffalo wild wings, Jimmy John's Rusty Taco, and SONIC.
Is Sonic an excellent company to work for?
According to reviews online, Sonic is a perfect place to work and kickstart a career. The environment is also friendly.
Do they do a drug test at Sonic? 
People looking forward to working at Sonic do not carry out drug tests on their employees.
Conclusion
Suppose you study the interview questions well and follow all the tips stated above. In that case, it will make it easier for you to pass your interview well will Sonic. Do not forget to also do research regarding the company, so the hiring manager will see that you are so interested in the job.
Sonic Interview Questions- With Simple Answers