Who is a therapist? 
Therapists are professionals who look after our mental health. They help individuals cope with emotions, stress, anxiety, depression which individuals find difficult to deal with. The mental health professionals help us to understand our cognitive, emotional skills in a better way helping us to face our fears and live our lives happily, keeping our mental health in check. Let us know more about 'Interview Questions For Therapist'.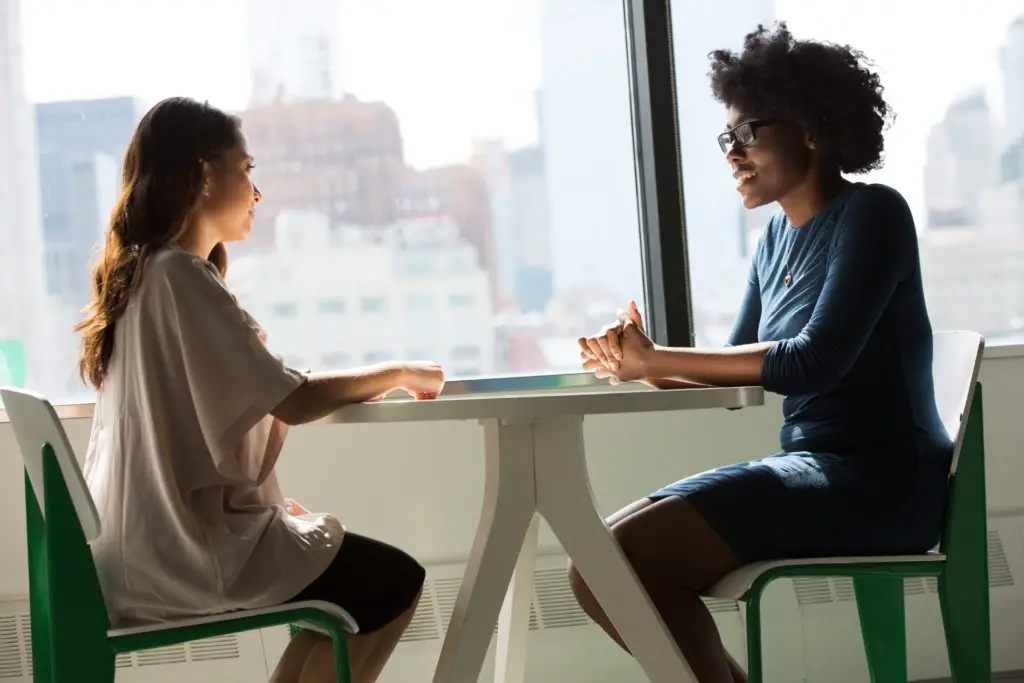 We often find ourselves lonely. Sometimes we feel no one will understand us. We prefer to stay silent at such times. At our lowest time, we feel none will listen to us. At times like these, therapists come to the rescue. Therapists provide us with ample services. They are ready to listen, great at understanding our personal issues. Therapists are also skilled in analyzing the influence of our past in our present times. Therapists are those great friends with whom we can share all our problems, we don't need to be ashamed of anything. Therapists can pacify the clients, help without any bias, keep our maladaptive behaviors in check, help us change our thinking patterns, and understand the better. 
We even get to learn a lot from therapists as they help us to acknowledge and work on our cognitive, communication, and emotional skills in an efficient manner. They help manage the symptoms of our mental illness and in reducing them. They also teach us to resolve conflicts be it emotional ( grief, suicidal thoughts, trauma), relational (breakups, infidelity), professional ( assault, abuse), and more. Most importantly, therapists help us in accepting ourselves the way we are. They teach us this beautiful concept of loving ourselves, which many of us have forgotten in the past years. Often there is a stigma around mental health issues, but we know how vulnerable we get when we don't address our emotions. Therapists help us in decreasing the shame of mental illness along with therapy.
Kind of therapists:
They provide rehabilitation. It is an umbrella term that requires a variety of services, social workers, counselors, life coaches, and many.
Addiction therapists: The therapist is also called a Behavioral Disorder counselor. The best-paying states according to money.usnews are Utah with a median salary of $67,410, Nevada with $63,910, and Oregon with $60,960. Overall they made a median salary of $46,240 in 2019. And it is ever increasing in 2021.
Art therapists: The therapists look to support people with special abilities like autism, depression, dementia, and people going through traumatic incidents like brain injuries, cancer. They do it with the creative process, art-making, and building a psychotherapeutic relationship. According to Payscale, the average salary of an art therapist is $46,194 per year.
Child therapists:  They mostly deal with children. Child therapists help children deal with various forms of anxiety level, stress like divorce in the family, death of a loving member in the family, be it family/school transitions. The average salary of a therapist is $50,579 per year.
Occupational therapists: They treat injured beings. They use everyday activities as a therapy to cure disabled patients. The prime role of the occupational therapist is to help recover, improve the skills in patients needed for daily living. The average salary of an occupational therapist was $84,950 in 2019.
Yoga therapists: Yoga therapists help us with suggesting postures, breathing exercises, and other techniques, needed by an individual. Such therapists mostly concentrate on the health needs of an individual. The average salary of a yoga therapist is about $65,484 per  year.
Music therapists: They assess certain areas surrounding an individual, from emotional well-being, social functioning, communication abilities, cognitive skills, music sessions, and others. The average salary of a music therapist is $48,220 per year.
Massage therapists: These therapists treat the clients with their touch to the muscles and other tissues of the body, thus helping in alleviating the pain. Thus, helping in relieving stress, improving circulation, and thus increasing relaxation. The median salary of a massage therapist is $43,620 per year.
Family therapist:  Marriage and family therapists resolve relationship problems,  diagnose, treat psychological disorders related to family context, helping clients going through transitional crises like divorce/death, highlight problematic, relational, or behavioral patterns. The average salary of a family therapist is $80,000 per year.
Psychotherapist: A psychotherapist takes talking sessions, communicating with people for emotional problems, mental illnesses. The average salary for a psychotherapist is $62,841 per year.
Physical therapist: Physical therapists help injured people in improving their movement, managing pain. An integral part of preventive care, rehabilitation, injuries, and others. The average median salary is $91,010 per year. This recent pandemic has created a massive impact on mental health. Due to this, there has been a rise in demand for therapists. Lots of Americans are struggling with anxiety, insomnia, increased rates of depression. 
According to the American Psychological Association, a third of psychologists are attending more patients since the pandemic. The highest demand occurred among the psychologists.
Educational qualifications 
In general, psychologists have the highest qualification after counselors and therapists. Every one of such positions requires a degree in psychology. Later they are licensed individuals where they get the allowance to start practicing or taking sessions provided they get the approval of a clinical experience. Getting a Ph.D. will make one become more of a prospective therapist. 
Interview Questions For Therapist
Frequently Asked Questions (FAQs)
Tell me about yourself.
Why are you interested to become a therapist?
Does being a therapist align with your career goals?
Describe your strengths and weaknesses? How are you attending to it?
Why do you find psychology interesting?
How do you motivate yourself every day? Any activities you take interset in?
What makes you right for this position?
Define yourself in one line.
Others
 Are you a detail-oriented person? If yes, explain.
What is acupuncture?
Tell me, what do you seek in the nonverbal cues during a therapy session?
Explain the altered state of consciousness.
 Define attribution and behavior theory? 
Any best quality you have that places you in the role of a psychologist?
 Explain a challenging case how you will approach it, and what solutions will you come up with? 
Share any case of your experience, how did you help the patient?
Why holds your interest to work here? What do you know about our programs?
Tell us your approach to a patient who is showing challenging/disruptive behavior.
How do you cope with your anxiety, stress levels?
Share your insights on values in healthcare, the one you find the most important?
What is Clinical Governance? 
After every interview ends…well that's the end. Do you have any questions?
What was your specialization in psychology?
What's your communication style? Describe it. 
What are your salary expectations? 
Explain the roles of a clinical psychologist?
Can you list out some of the qualities a psychologist should possess?
What is your daily routine as a psychologist?
What is your experience as a yoga therapist?
What was your CTC at your previous organization? 
How well do you perform under stress?
Where do you see yourself in five years as a Yoga therapist?
Any kind of disappointment you have come across in your profession?
 Are you social? Do you like being around people?
Define teamwork? How do you perform in a team?
What is your intention of benefitting the company, if hired?
What is success according to you?
Sing some of your favorite songs?
Which instruments can you play?
How do you handle everything at the same time, playing, singing, interacting with clients, making notes, and assessing them at the same time?
Share some of your success stories as a therapist?
What is your opinion on music therapy's future?
Name one of your favorite therapeutic activities in music therapy?
From my observation, I find children are very hard to deal with.  How do you keep the attention intact?
Why did you choose the field of music therapy?
Do you think music therapy can do any better if taught in schools? If yes, how should we plan it?
How does music therapy help a child deal with emotional stress?
 How music therapy helps children with special care, like autism, dementia, and others.
Name the massage techniques where you hold your proficiency?
Why do you want to be a massage therapist?
What massage techniques are you proficient at? 
Ever come across an inappropriate client? How did you handle it?
How many massage sessions can you take in a day?
Do you interact with your clients in your therapy sessions?
Why do you want to work for us? 
Explain to me about your training program.
What do you like about being a massage therapist?
 How do you find yourself building a  relationship with your customers? Do you enjoy it?
How do you manage your schedule? 
Share an experience where you had to take an unsolicited opinion. How do you handle it?
As a Marriage & Family Therapist ( MFT), how do you view this interview?
How do you handle stress, criticisms?
What will be your plan of action when you see someone stealing equipment?
How did you deal with a boss with who you didn't get along?
What should we do if a customer verbally insults us in front of co-workers?
How successfully do you think you've been so far?
How do you build an engagement/rapport with others?
Tell me how will you simplify a complex issue while explaining it to a client/colleague.
Tell me if you have work to be done, how will you persuade the concerned people?
How does one explain a complex issue to an irritated individual?
How will you handle a misunderstanding/breakdown while communicating at work?
Which form of communication do you prefer as a Marriage and Family Therapist(MFT)
How to approach a client for sensitive information?
How do you initiate a conversation on a topic that everyone is resistant to?
What is more important? Listening or Communicating?
Name the most common injury you have found in patients?
How do you plan out your physical therapy sessions?
What educational practices do you keep yourself updated with for best practices?
Any uncomfortable moments you come across in your sessions?
Approach to deal with clients
Self checkup —- every person should set boundaries instead of taking calls every now and then. It can affect one's mental health to a certain extent, even if he/she is a counselor. Psychologists should often indulge in self-care activities to take care of their mental health, social engagement is necessary. 
A therapist-client connection that builds over time and mutual trust. The way you put yourself out there in front of a stranger itself is a challenge and needs to be nurtured every now and then. A strong bond is imperative to the success of counseling and therapy sessions. It can be especially valuable for clients who are under severe depression, identity crisis, going through loss, or are emotionally damaged individuals.
This therapeutic relationship is built on certain characteristics:
The relationship is genuine, built on real values, feeling the pain in and out, letting the pain out by expressing all the unhealthy feelings, going out there in order to heal, and for our mental well-being.
Lots of care and warmth is indulged in it,  it is taken in time, exercise is being done in time.
Conclusion
After going through the interview questions, it might've struck in your mind the responsible nature of the job position. It carries a lot of strength be it mental or physical to become a therapist. Also, the therapist-client relationship is quite unique in nature as it builds a form of intimacy. One place where clients don't have to censor themselves. It is therapeutic in its own way. A relationship not formed on any bias. A relationship that builds on empathetic needs. A connection where feelings, ideas, thoughts are allowed to be heard, understood, valued for who they are, the mess they have been in. A therapist is more of a common friend or support, a client can rely upon.
If you love to help people on an emotional level or become a therapist, go ahead, read it again and start preparing. Best wishes!
Interview Questions For Therapist