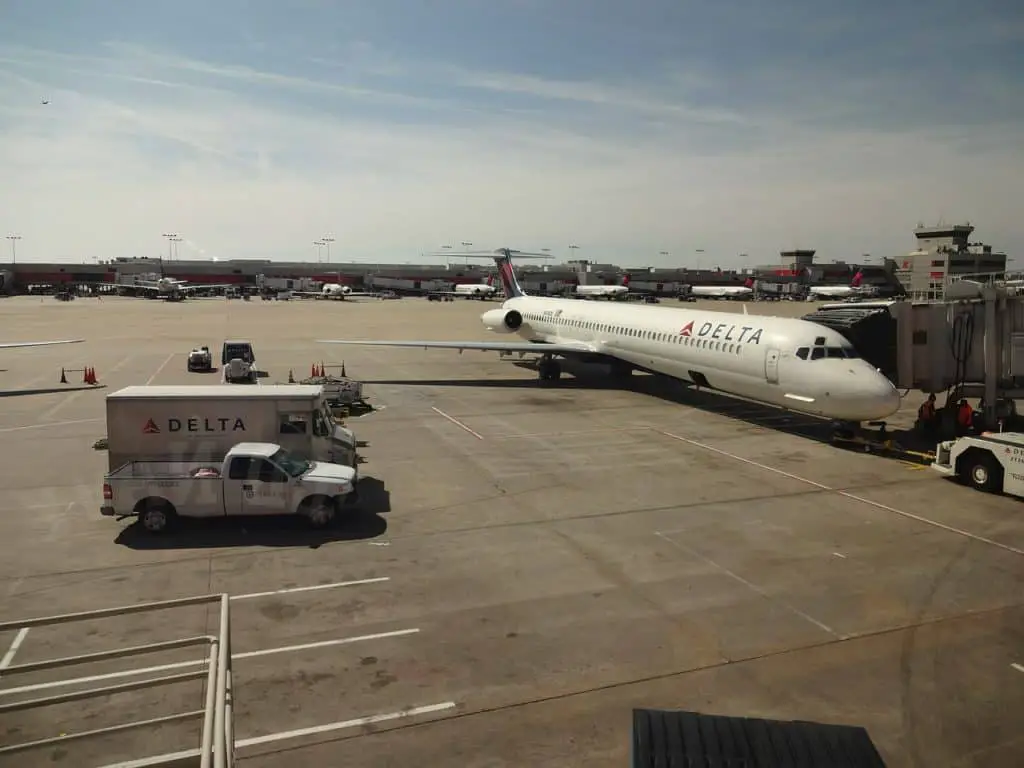 Today, we'll see about Delta Airlines Interview. As their website reads, Delta Airlines is a leader in the arena of domestic and international travel in terms of reliability,  safety, and customer delight. The airlines offer flights to over 300 destinations in around 60 countries. The Covid situation has plummeted the airline industry as a whole. Delta is ready with a sword in its hands to battle it out with Covid-19. They've revamped to a cleaner and safer environment and provide more space to the customers to bring a comfortable experience. Therefore, we can see it justifying its slogan of "Keep climbing."
We heard you're applying for a position at Delta! Are you tense? Honestly, every interview is a little bit frightening for us. Considering this, we have brought this article specially written for your interview. We have researched and collected all the necessary details and jotted them down here. From some common questions to expert advice, from addressing your dressing issues to some great tips, we've everything you need to read and note while preparing. Get ready for this flight will take you straight to the interview cabin of Delta Airlines. We're sure this flight will land you safely!
How to Apply and Prepare for Delta Airlines Interview
The Procedure to Submit Your Application
The four-step procedure to apply:
Check out their official website. Create your profile before applying. You'll have to fill in the necessary details like address, full name, email address, phone number, and others
Apply online for an open job position at Delta. This will take approximately 20-25 minutes for you to apply online. On their official website go to the Careers portal and search for the position matching you
Click to submit your application. This will mark the start of your hiring process
Wait patiently for a few weeks before the manager schedule son interview with you
Now depending on the position, you apply for, your interview pattern will be determined. It can commence with the screening of your video profile. It could also encompass telephonic interviews, aptitude tests, or video conferences. Now, based on your performance, you can be called for a one-to-one meeting. Senior professionals will charge you, and based on that. Finally, the offer letter will be given.
It does not matter which form of interview is taken, but the candidates must be prepared with all of them. So check your audio and video, your network, and keep checking your emails for any official conversation. The aptitude test comprises mental, verbal as well as behavioral questions. 
The Interview Questions and Suggestions 
We have brought you the most explicit approaches and important questions for your interview for a job at Delta Airlines. Your responses to the panelists' questions will enhance your chances of getting hired. The answers speak a lot about your individuality. So remember to speak well and to think twice before you open your mouth. Before you read, confirm that you note down all crucial aspects and remember our notions for your answers. 
Introduce yourself or take me through your resume.
Note: You need to accentuate only the essential pointers without going into depth. Your explanation must be short, crisp, and descriptive enough for the panelists to paint a picture in their heads. Please give them the rationales on why you are the most acceptable contender for this post through your response. You may speak about your skills and experiences. Also, do tell them the qualities in you matching the job position.
Why have you chosen Delta Airlines over all other airline companies?
Note: Don't brag unnecessarily about the company. You must have read about the company's work culture, backdrop, objectives, policies, goals. With this knowledge, you can answer that their work culture is easy to adapt/ amiable/ employee-oriented, etc. Suppose the company values its customers and employees. You can mention that you would love to work in an environment where arrogance and negligence take the backseat and satisfaction with optimism are the drivers. Tell them what makes Delta stand out among its competitors and what attracts you towards it. It could be mentorship, opportunities, growth, anything.
Where do you wish to see yourself 5 or 10 years down the line?
Note: You need to answer this question from two perspectives. The first being your short-term goals. The second being your long-term plans. Specify what position you want to attain in the future, what roles you wish to play, skills you'll learn, traits you aspire to develop. If you are saying you see yourself in the shoes of a senior in your department, tell the panelists what you can contribute and how you view the roadway to success for the company.
How will you describe Delta Airlines to your colleagues?
Note: Don't just go about mentioning all that you've read and learned. Understand the question and frame accordingly. Your answer must include the pointers like 1) the products or services Delta is associated with, 2) organizational culture and ethics, 3) vision and mission of the company.
Talk about your greatest achievements to date.
Note: This is your chance to shine! Brag about your achievement if it aligns with the company. For example, if you have been recognized for your leadership, then specify it to say how well you can lead a team here. Similarly, you may have won any laurel for showing creativity or best employee or management skills. Highlight them. Try to build a story around such events that bring out your achievements better. 
Are you good at working in teams/groups?
Note: We are sure that all will reply with a 'yes, but that's not enough. Give illustrations from your real-life situations where you've displayed team playing. For freshers, it could be your college fest, school's cultural programs, sports team, etc. For experienced people, you can talk about your team from your previous job and how you had to cope-up with them. You can talk about your projects or research work in teams. What matters is justifying your 'yes.'
Why should we hire you when you're not an experienced person in this field?
Note: Use creativity wisely and knit your answer properly. You can say," Sir, not all of us are experienced in everything we put our hands into. But we learn. What is important is not giving up. I fall, I get up, I learn, I move forward. Wright Brothers had no experience, and Elon Musk failed three times before the final model was approved. They were being questioned, but they proved their prowess. Similarly, I'm confident that all that I've learned through these years will help me excel in this field." You can add more creativity and originality to your answer. Be confident while you answer this.
How do you propose to deal with an angry or a disappointed customer?
Note: Okay, so this is a situational-based question to test your personality and thinking. You can say," I am sure we will offer the best services possible. However, if any customer complains about the service, I will first courteously ask them for the details about the issue. Next, I will accept and apologize if I find a fault in our service. I will find out where we lagged and try to rectify it as soon as possible. If the fault is not ours, I will explain what went wrong on the customer's part. I will not promise or swear something which is beyond my control. Instead, I'll express my care for the same. Now suppose that the customer's luggage is lost, I will try my best to locate it. If the situation is about the delay of the flight, I will explain what's wrong with the plane, and we care and sympathize with them. While dealing, I'll be calm and composed."
Describe your strengths and weaknesses.
Note: Be prepared with this question as it's quite common. For strengths, try to align them with the organization like you can say 'better leader,' 'customer handling,' 'team player,' and others related to customer satisfaction, management skills, innovative ideas coupled with problem-solving. Whatever you say, remember you can be further asked to illustrate, so you must have relevant examples for each. As far as weaknesses are concerned, be frank enough so that they believe you're honest. For example, you may say that you take a lot of stress while dealing with problems, or you lose your composure and get lost in your way. This role will help you overcome and learn these effective skills. 
What comes to your mind when we talk about exceptional customer service?
Note: When we discuss the exceptional quality of customer service, the airlines depart and arrive at the correct timings. Customers feel absolute safety and are treated well. Their complaints and grievances are addressed and investigated. Suggestions are taken, and services are improvised.
Any queries or questions you have in your mind?
Note: Almost everyone will say a clear 'No,' but we suggest you take the conversation further. Ask them any relevant questions like on what standards will my work be measured or what growth or opportunities I can expect in the future. You can also ask about the features they are looking for in a candidate. This intrigues them, and they learn that you're ready to take this role seriously. You are heeding their advice and answers and have a burning desire to work here.
These were the most common questions that you could be asked in your interview. However, we have researched further and brought you some extra interview questions that you've to prepare. So here we shoot them on you:
How do you think you can contribute to Delta's success?
During this covid times, what additional measures should we take?
What three things have drawn you towards Delta Airlines?
Why should we consider you for this role(say, flight attendant)?
What challenges have you faced in your earlier job and how have you managed?
Cite us instances to prove that you're good at handling customers?
If your colleague at Delta breaks the rules and behaves negligently, what actions will you take against him/her? 
Additional Guidelines for Your Interview
The Dressing Issue
It seems you've messed up the room and still do not know what to wear for your interview. Ughh! Worry not! We found that not just the interview questions, but you're also perplexed at what you'll wear for your interview. So, we have covered even that for you to help you dress better.
Smartness and confidence is your outerwear at first
Whatever you wear, be comfortable and keep a ravishing smile on your face
Men applicants can go for a suit and a matching tie. They can wear formal shoes as that will go well with the suit
For women candidates, a knee-high skirt and a nice blouse can go well. They can wear closely toed shoes
Your dress should be formals, ironed, and look professional 
Tips for the Interview
Face the panelists with temerity and be sure of what you say and think before you speak
Follow all the basic etiquettes of an interview like knocking before you enter, greeting all panelists, thanking when they allow you to sit and before leaving, etc
Comb your hair well and be neat and clean as this matter a lot in an airways interview
Maintain eye contact while speaking and speak aloud clearly without fumbling
Listen to the question carefully and then answer when you have got the idea of it
As far as possible, try to exhibit your skills and experiences in tandem with the airline industry to boost your prospects of getting selected
Check the company's social media accounts and get on track with their latest developments and policy changes, if any. Also read about their vision, mission, and other key objectives
Keep updating your resume and start practicing how to answer the common questions
Be ready with your current photograph and your passport because it is often found that Delta Airlines verify your profile and your identity for security reasons
The Bottom Line
 We have worked hard to assimilate all exhaustive information on how you can apply at Delta Airlines. This article ensures that you are well versed with the hiring procedure, and you have a complete idea of how to brace yourself for their interview. Prepare well for the aptitude tests that depend on the position you're seeking for. That will enhance your chances of getting a call for the interview. Further, our article has given you all noteworthy pointers to let you come out of the room with flying colors and adding a feather to your cap. I hope you enjoy reading and land safely at your destination- Delta Airlines. All the best!
Delta Airlines Interview- A Complete Guide to apply