Would you like to be a delivery driver? If so, then you are in the right place. Delivery drivers are responsible for making deliveries of food and other items to customers. They drive their cars or trucks while making these deliveries. This job is ideal for someone who enjoys driving, has good people skills, and likes working independently with minimal supervision. Read on to learn about how to become a delivery driver!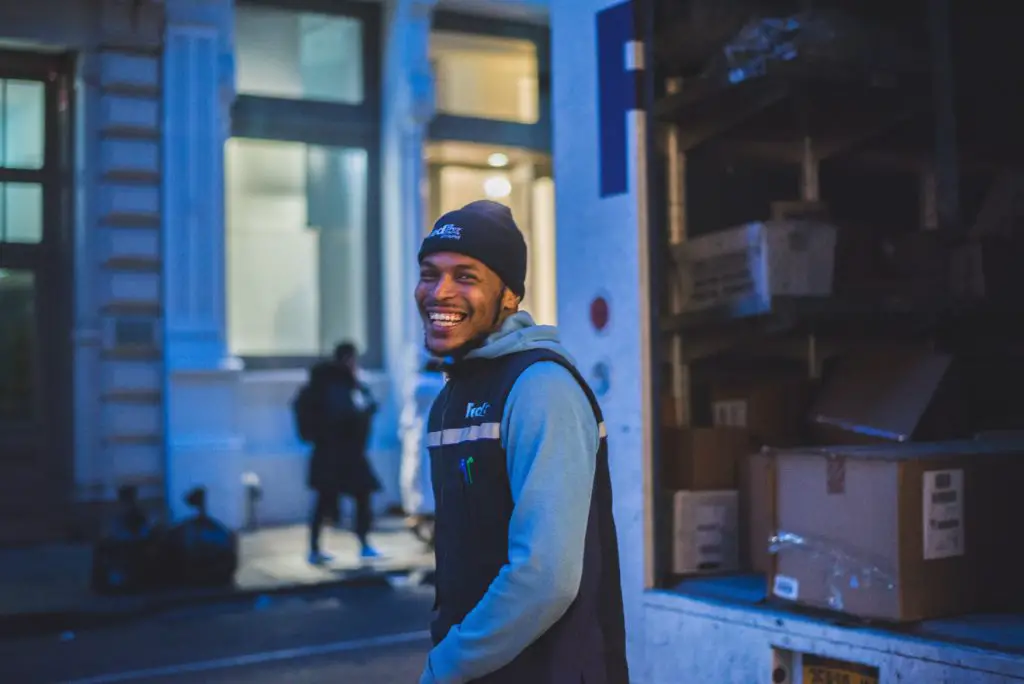 About Delivery Driver
Delivery drivers pick up products and transport them to their intended locations. They deliver food and other items to customers. They drive their cars or trucks while making these deliveries, or they can be provided with a vehicle to use.
Delivery Driver Duties and Responsibilities
The duties of a delivery driver can vary depending on the type of company they work for, but all drivers share some core responsibilities:
Making deliveries in an efficient manner Driving safely at all times Ensuring that packages are delivered on time Being professional with customers Providing excellent customer service Being responsible for damages caused by accidents etc
Getting Started as a Delivery Driver
You must have several essential qualifications if you want to become a delivery driver:
A clean driving record – You cannot get behind the wheel without having good vision and no criminal offenses
An insured vehicle – Your car should be well maintained and insured for any damages that might occur.
A valid driver's license – You must pass a driving test and receive your driver's license before you can work as a delivery driver.
Delivery Driver Education, Certification, or Training
To become an entry-level delivery worker, no formal education is required because the job only requires someone who has good people skills and enjoys driving. However, it will help if you have completed some trucking experience program via vocational school or through another company like UPS, etc.
Also, having passed a CDL training course would look great on your resume when applying for jobs! In addition to this preparation, most companies may require additional documents such as Social security card, Passport ID, Birth certificate, Driving record from previous jobs, etc.
Delivery Driver Salary and Wages
The hourly salaries of delivery drivers vary according to where you live. However, the national average is $11/hr for non-managerial workers. This means that if you work full time (40 hours per week), then your annual salary will be $22k – $44k depending on which state or city you reside in!
Advantages Of Being A Delivery Driver
Delivery drivers can enjoy many benefits of this job. Some of these include:
No formal education is required. You do not need a college or school degree or any other form of formal education to begin working as a delivery driver. There is no age requirement for this job, so teens can even apply if they have their car and meet the driving qualifications!
Flexibility
Delivery drivers work independently with minimal supervision. They are their boss! This means that you can set your schedule and make your hours of operation, which is ideal for students or people who want to combine a part-time job with another source of income.
Driving skills
Delivery drivers must possess excellent driving skills because they are behind the wheel for most of their shifts. If you enjoy road trips in general and want to explore different places, this job might be perfect for you! Additionally, delivery drivers can learn more about safe driving practices that will help them avoid accidents or other problems on the road.
Higher earning potential
Delivery drivers are typically paid an hourly wage, which means that the more hours you work in a given week or month, the higher your salary will be. Also, many delivery companies offer incentives for their employees, such as performance bonuses or rewards points redeemable for free deliveries! These types of benefits can raise your earnings substantially over time.
You can work your hours.
Since this job does not require a fixed schedule, you will have the freedom to choose which days and how many hours or minutes per week you want to work. Working as a delivery driver is ideal for anyone who wants flexibility with their time or has other school or family obligations!
Disadvantages Of Being A Delivery Driver
Unfortunately, working as a delivery driver does not come without its downsides:  
Driving is required for most of the day!
Most delivery drivers spend more than half their working week on the road. This means that you will need to have a reliable vehicle in good condition and handle driving it frequently around town. Also, if your car does not get good gas mileage, this job may cost you extra money at the pump every workweek!  
No benefits
Delivery drivers are typically paid hourly, so they do not receive vacation time or health insurance. It is up to you to find another way of acquiring medical coverage and additional perks like life insurance if this will be an issue for your family in the future! If you would like these types of benefits from work, consider applying with a company that has them available for employees.
Poor work-home balance
Since most delivery drivers spend a lot of time away from the office, it can be challenging to maintain a healthy home life. If you have children or other family members that depend on your assistance for daily errands and activities, then consider working part-time in addition to being a delivery driver so that you are not gone all day!
8 Delivery Driver Interview Questions And Answers
Q.1. How do you feel about driving a car?
A. Driving is an essential part of being a delivery driver since your vehicle will transport items from the store to customers all around town! Most companies require that their employees have excellent driving skills and own or lease a reliable vehicle in good condition. You should not apply for this job if you are uncomfortable spending most of your day behind the wheel.  
Q.2. What are your career goals?
A. Delivery driver typically does not have a set schedule, which means that you can take this job for just a little while to earn some extra money or acquire new skill sets to transition into another role at the company! If your long-term goal is to become an accountant, it will make sense to work as a delivery driver until you get promoted and increase your salary accordingly.  
Q.3. Do you have reliable transportation?
A. Driving is essential to this job, which means that your vehicle must be in good condition and handle high mileage without causing problems for the driver or other motorists on the road! If your car does not get good gas mileage, it might cost you extra money at the pump during each work shift. Also, consider how much room there will be to store items like groceries once they are loaded into your trunk!  
Q.4. What is one thing about being a delivery driver that interests you most?
A. The best part of working as a delivery driver is having flexibility with when and where you want to work since no fixed schedule is required by most companies hiring drivers! This would be best for someone who wants to spend more time with their family or has other obligations that they need to tend to during the week.
Q.5. What qualities do you think a good delivery driver should have?
A. The best drivers are comfortable driving all around town and often work independently without direct supervision from their managers or other workers on the team! If you like meeting new people, this job would be great for developing your social skills while earning some additional income each month.  
Q.6. Do you prefer being told what to do or having more flexibility in how things get done at work?
A: One of the main disadvantages of working as a delivery driver is that there will not be much structure when planning out your daily schedule; instead, most companies hire individuals who enjoy operating independently and can make important decisions throughout their shift themselves. If you want to be told what tasks and activities are necessary for getting the job done, this position might not meet your needs as a worker!
Q.7. Are you willing to work on holiday?
A: Holiday shifts can be tricky since most people will not have access to their cars or homes during these times of the year due to seasonal traffic jams and high volumes of visitors in town! However, if you do not mind working during regular business hours but prefer more flexibility when you come into work daily, consider applying as a driver at a company that offers both types of schedules.
Q.8. Do you have any questions for us?
A: If there are no additional questions you would like to ask, thank the interviewer and send them your resume once it is ready! This might be a good time to mention if you can think of anything significant about yourself that they did not cover during the interview process. Otherwise, keep these answers in mind as possible topics for future discussions with company representatives.  
Do not forget that these delivery jobs can be challenging since many customers will expect excellent customer service during each interaction at work; however, this position could be an exciting chance to earn some extra income while building professional relationships with new people every day! We hope that this blog post by us has helped you learn more about how to become a delivery driver.
Delivery Driver Interview Questions – Learn More