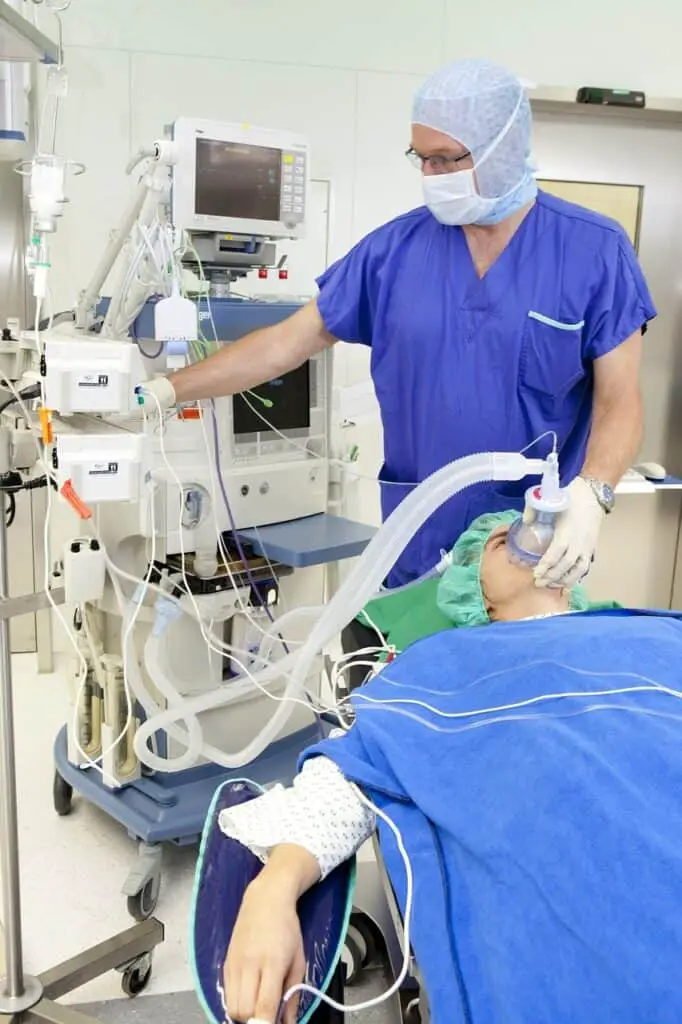 CRNA stands for 'Certified Registered Nurse Anaesthetist.' In this article, we will discuss CRNA School Interview Questions here. A CRNA refers to a nurse in the U.S holding a two- years masters or a three- years doctorate in anesthesia. CRNAs account for almost half of the anesthesia providers in the U.S, with major contributions in the field of military, maternity, and rural areas. More than 49,000 nurse anesthetists administer 43 million anesthetics to patients annually, out of which 40 percent of them are males. Their main job is to administer anesthesia to patients for surgeries or other advanced medical procedures. They might be required to participate in the surgery directly or, before and after that, look after the patient's pre-anesthetic medication and post-operative care. They may provide anesthesia either under the supervision of an anesthesiologist or independently during some minor procedures.
CRNA School Interview Questions
Once you have completed your nursing degree, you can look forward to becoming a CRNA. After receiving your interview letter, you need to prepare yourself for all the questions that you would be asked. You must be absolutely calm and composed and think rationally to ace your interview. Here are a few questions whose answers you must prepare beforehand to get the upper hand during the interview. So relax and believe that you are going to slay it, come what may.
Q1. Why did you opt for anesthesia rather than going for other advanced specializations?
Tip – Do not give a readymade answer talking about your love for the field or the experience you hold. Remember that the CRNA is considered an advanced practice, so you can't take things for granted. You should try to talk about how this particular field challenges you and simulates you to give your best even in the toughest situations.
Sample Answer – I think the field of anesthesia is no lesser than other advanced specializations. Rather it is the one where we need to be absolutely precise and attentive at all times as even a tiny mistake in administering can lead to serious complications during the surgery. Also, the misconceptions related to the field seriously concern me, and I would like to do my best to dispel them.
Q2. Tell us about your experience in the ICU.
Tip – Even though you hold more experience, the better chances you have of bagging the job. But don't worry even if you don't have that much experience. What you need to reassure them of are your capabilities and that you are more than able to handle difficult situations easily and are an absolute fit for the job.
Sample Answer – I have 9 months of experience in the ICU where I have had numerous experiences of…. (talk about the most complicated cases where you played an integral part and talk about what you learned and how that has helped you grow your professional knowledge).
Q3. How have you prepared yourself for the position of CRNA?
Tip – This is one of the easiest questions that you could be asked, so make sure that you answer it well. Your answer should reflect your interest and enthusiasm for the subject and avoid discussing the financial gains and other benefits you might gain from it. This can make you come across as a money-minded and superficial person who is not very serious about the job.
Sample Answer – I have been reading a lot lately about the uses, indications, contraindications, and adverse effects of various types of local and general anesthetics. Besides that, I also take a keen interest in updating myself with all sorts of case studies involving anesthetics that I can get my hands on. Also, I used to be particularly keen and curious during the anaesthesiology part of all the surgeries that I have witnessed.
Q4. What do you think the job of a CRNA involves?
Tip – Though seemingly simple, this is one of the most deceptive questions frequently asked to know about the candidate's interests and priorities and whether he or she is capable and fully eligible to take up the role.
Sample Answer – I think the main requirement is to apply all the theoretical knowledge practically as per the situation demands with a calm and composed mind. Besides, a CRNA is one of the most important professionals involved in surgery as the entire functionality. The probability of success of the surgery depends on him or her. (You may add a few points here to explain that you are fully aware of the duties and responsibilities of a CRNA).
Q5. Can you tell us about any incident where you had made a mistake before?
Tip – Do not ever say that you do not have any such experience, as the panel clearly knows that not making any mistake during the initial period of one's practice is almost next to impossible. So it would be better for you to talk about the one you are most comfortable with and speak in such a way that it shows how you took it as a learning experience and that incident molded you into a better version of yourself both ethically and professionally.
Sample Answer – Once, I had administered a bit larger dose than what was required as the sight of blood, and those open wounds had really shocked me. But thankfully, my seniors had come to my rescue and prevented any mishap. From that day onwards, I had sworn to myself not to let my emotions have the better of me while working, and I am happy that I have maintained it till now and hope to do the same in the future.
Q6. Can you handle criticism easily?
Tip – You need to understand that criticism is an indispensable part of a job where you have to deal with patients regularly, but your attitude makes all the difference.
Sample Answer – I admit that handling the criticism part was the most difficult during my initial period of practice. But with time, I learned to take it in my stride and let go. As long as I am honest with my work, prioritize my patients' safety and well-being, and am satisfied with myself that I gave my best, I try to learn from it and move on.
Q7. What if you receive a bad review and you feel that it is not at all true?
Tip – It is almost impossible for you to control what other people think about you and the way you do your job. At times, people lose their cool, especially when one's near and dear ones are fighting between life and death situations in a hospital. Therefore, the most appropriate option would be to avoid any aggressive and violent approach even if you have received an undeserved bad reviews.
Sample Answer – It depends on the source of the review. If it's an online review on a serious issue, I would talk to the forum and clear the misunderstandings diplomatically. Still, if I have to face a committee over an issue, I would surely explain my stand-in in detail calmly and rationally.
Q8. Have you ever done any voluntary work?
Tip – Voluntary participation in social services can go a long way in proving how dedicated and serious you are about your job as a nurse.
Sample Answer – I am a member of an NGO which aims at providing medical services free of cost to the poor and needy.
Q9. What are your plans to finance your education?
Tip – This is a very common question asked in the CRNA interviews as this program requires a lot of time and funds. So you must ensure them that you are capable of finding yourself throughout the tenure of your course.
Sample Answer – My parents have decided to fund my living and tuition expenses for the entire course, and I also have a few savings that can help me get through any unforeseen circumstances.
Q10. How much salary do you expect?
Tip – They expect that you have applied to the job after understanding the pay structure. But do not cite any figure when asked this question as you might appear too cheap or too costly. Instead, wait for them to quote a figure before further negotiations.
Sample Answer – I expect to be paid in place of my position, qualifications, and experience demands and the company standards for the particular position.
A few other questions which you can prepare:
What would you do if a senior threatened you?
Tell us about your RN in charge. 
What do you know about this program?
What are your strengths and weaknesses?
What do you do to deal with stress?
Which type of patients do you like treating best?
What if you do not get accepted for the job? 
Where do you see yourself 5 years from now?
Why do you think we should pick you over other candidates?
Other technical questions like- How would you manage a patient with cardiogenic shock?
Clinical Questions:
Have a thorough knowledge about the following medications and receptors:
Epinephrine
Norepinephrine
Vasopressin
Dopamine
Dobutamine
Nitroprusside
Lidocaine
Nitro-glycerine
Esmolol
Metoprolol
Fentanyl
Propofol
Atropine
Digoxin
Heparin
Hope these questions help you to get through your interview smoothly and you ace it with flying colors. All the best! You got it!
Also read Operating Room Nurse Job Description – Types and FAQs
Top 10+ CRNA School Interview Questions