Introduction
A Bar is also known as a Pub or Club. They are preparing drinks and serving the drinks to the customers. A Bar is a retail business establishment that serves alcoholic beverages such as Wine, Beer, Vodka, Liquor, Cocktails, and other beverages such as Mocktails, Soft drinks, and Mineral water. The Bar also sells Snacks or Fast Foods such as Crisp, Peanuts, Garlic Breads or Manchurian, etc. A Bartender is a person who serves alcoholic or soft drinks beverages in the Bar and they will usually use a license for working on a bar. A Bartender generally mixes classic cocktails such as Mojito into Virgin Mojito, Manhattan, etc. Here we will see about Bar Careers.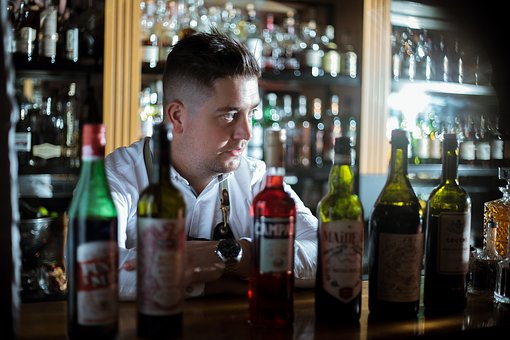 Some steps when applying to bar Careers are
1. Be Professional about your bar.
Always be professional and honest to your bar and make sure you want to do it with all your heart. 
2. Make sure to create an outstanding CV or Resume of yours-
The first thing an employee can check is your resume. Make sure your CV looks attractive and has great skills on it and tells a great story of your work experience. They can check your experience and what you have done like other jobs, studies, etc. You can add your Responsibilities in that role on your CV.
Example-
CV Headline-
In which you have to write (Where did you get the work done and for how long?) Like any bar, the name supposes Afterhours Bar and from 21 March 2018 to 24 April 2020.
Elaborate your responsibilities or position there-
Like collecting empty glasses, serving drinks, Maintaining stocks, etc.
3. Write your cover letter and Description-
When you once added your experience then you should add about yourself also. Don't waste this space by adding repeating details which you have already written on your CV experience.
Example-
Cover letter: – In which you have to write about your skills like when I was working in a coffee shop, I learned to do my work fast or increased my serving skills and I learned so many different languages while handling the guests that's how I developed my team leader skills and communication skills.
You can also write your taste on drinks or favorite drinks like( name of your favorite drinks) and look forward to these drinks on your menu as you are very famous by combining more drinks into one for the taste to make the best of one drink.
4. Make sure to keep it short while applying for bar jobs. Don't write anything which does not match the criteria of the application.
5. Write all the details carefully and be ready with your documents.
Job application process for bar
STEP 1:- Search the bartender jobs on a site or an application such as LinkedIn, etc.
STEP 2:- Go through all the jobs and select a prospective job which you want to do and do some research about the company, job description, the salary, and benefits of a job.
STEP 3:- Create your profile by using your Email or phone number.
STEP 4:- Add your education, course, university, or institute and pass out the year from the university.
STEP 5:- Add your job experience details, location of work, start and end date of your job, and the work description.
STEP 6:- Add your position of responsibility for that role, conducting any events or leading a team, etc. Add main details if there was a word limit on it.
STEP 7:- Add your training or courses details in which you have to write organization or course and the location of the Course, Description about your training and the day when you started the course and ended it. Mention all the details of yours.
STEP 8:- Mention your skills on your CV to look attractive.
STEP 9:- Mention your portfolio or work samples if you have any of these. You can upload the link from your Google drive.
STEP 10:- Add your final accomplishments and additional details.
STEP 11:- If they ask in the application, why should they hire you for this role so you can write about your strengths like experience, skills, and accomplishments in this role. Add your full-time/part-time positions at pubs, bars, etc.
YOU CAN ALSO WRITE AN APPLICATION LETTER FOR A BARTENDER JOB.
SAMPLE OF LETTER-
Salary of bartender –
The average salary of a bartender is $ 1,927 per month. The annual salary of a bartender is $ 23,128 per year.
Benefits of bartender job are
1. The bartender jobs are great in the world, you can travel anywhere for your job because all states, all places have a bar, pubs or clubs.
2. Bartender jobs have a highly paid salary or you can get a tip of service also. These jobs are also suitable for youngsters.
3. You have the opportunity to meet a lot of people because people come into the bar every day.
4. The Bartender jobs help you to boost your self-confidence and make other people happy.
5. If you are not the type of person who thought of sitting at a desk every day for a particular period so you can opt for this role.
6. The shifts are flexible and every day is payday, you have the opportunity to earn every day by getting tips.
7. You have career options also like you have the opportunity to own your bar and a chance to become a bar manager.
8. The bartender job helps to increase communication skills also. Bar managers are responsible for creating bar cleaning for health and hygienic processes.
Interview questions for bar Careers are
QUESTION 1:- Tell me about yourself?
TIP TO ANSWER THE QUESTION- In this question, you have to answer confidentiality and tell about the skills and qualities you have, what has attracted you to the job, and your understanding of the responsibilities that come in the role.
ANSWER 1:- I would describe myself as reliable, hard-working, loyal, conscientious, and enthusiastic.
I want that type of job in which I will be active all day and it is a regular work job. I prefer to work in a job where you have lots of responsibilities and where you have the opportunity to work more additional hours. These types of duties increase the level of confidence. I am a committed, honest, loyal, kind, quiet and good behavior person who can follow all the necessary rules and guidelines that come with the role of a bartender.
I am very confident and if you choose to hire me, I will make sure to do the best job for you and be honest with your bar. I will give my best to you and the Bar as a bartender and make you feel proud.
QUESTION 2:- Why do you want to be a Bartender?
TIP TO ANSWER THE QUESTION- In this type of question, you have to talk about the social interactions that come with the role of the bartender, the level of responsibility you will have, and the opportunity to work additional hours.
ANSWER 2:- I have my own goals outside of work that I want to reach as soon as possible and I want to achieve my goals, I need to have steady, regular, and secure working, and being a bartender gives me all these which I want. I will save my money on traveling from that Bar. I am an Extrovert person who enjoys being around people and loves to socially interact with people, so the position of bartender fulfills my dreams and my needs for interaction with people. I will enjoy the responsibilities that come with the role of bartender.
It is an opportunity to work more hours as a Bartender. Overall, it is a position that fits in with my personal life and I feel I will be very happy if I will get this job if I am successful at the interview today.
QUESTION 3:- What are the three most important things to consider when working in a bar?
TIP TO ANSWER THAT QUESTION- You have to tell about your understanding of the bartender job description and which elements of it, in your thoughts what are the most important things that fit in this role.
ANSWER 3:- Three most important things are- Customer service, Safety, and Being Organized in this role.
Customer service is one of the most important things to consider when working at a bar because if we can't make the customer happy they will probably not come again to the Bar and they will not recommend their friends to visit a Bar.
Safety and law is the second most important thing. I must ensure that the Bar is safe and underage children would not prefer to drink. I would imagine many laws are governing the running of a Bar then I would need to familiarize myself after starting the job.
The next important thing would be being organized and ensuring the Bar is clean, stocked up, and has enough bar staff to cater.
QUESTION 4:- How would you deal with a rude customer?
TIP TO ANSWER THAT QUESTION- In this type of question, you have to tell about your behavior, confidence, and resilience.
ANSWER 4:- I would be remaining calm and use communication skills or perfectly handling the customer to deal with the rude customer. I would not take it personally and maybe this will encourage them to become confrontational. I would listen to them first and let them speak without interfering. Whether their rudeness overstepped the mark or if they were drunk so much or became a problem to other customers and abused me so I would politely ask them to leave.
QUESTION 5:- What hours are you available to work at a bar?
TIP TO ANSWER THAT QUESTION- Only you will know about your work capacity but the more unsociable hours you can work, the greater chance you will have of getting hired for the role of bartender.
ANSWER 5:- My personal life is such that I am available to work most days, some evenings, and at weekends. I would also be available to work at short notice for some time when you need to cover for any bar staff that might have urgent work or is sick. I will work many hours if I get the job.
QUESTION 6:-What is your definition of great customer service?
ANSWER 6:- The great service is anticipating the guest's needs.
Conclusion
The bartender's main purpose is to welcome customer service and give your best to make them happy and the best hours or nights of their lives that relieves or forgets their stress for some time. In the bartender job, Communication skills are one of the most important things, you have to speak politely with your customers and serve your best to them. The mixing and combination of ingredients like alcohol or non-alcohol is the dominant thing of bartender duties. 
Frequently asked questions (FAQs)-
QUESTION 1:- What are the eligibility criteria for applying for a bartender job?
ANSWER 1:- You have to pass your 12th class and you can also complete your graduation degree from any course but if you want a bartender job then you can choose a hotel management course or a bartender course from the best college so it will be easier to get a job in this role.
QUESTION 2:- What is the duration of the bartender course?
ANSWER 2:- The duration of the course is six months.
QUESTION 3:- How much does a bartender earn per month?
ANSWER 3:- The starting salary of a bartender is from $ 1,333 per month but they will continuously get tips for their services so it goes up to around $ 1,335 per month. The highest salaries are $ 2,750 per month.
QUESTION 4:- What can I do after bartending?
ANSWER 4:- You can get a job as a Brand sales representative, cocktails caterer, General Manager, Liquor sales representative, and Wine & spirits merchandiser.