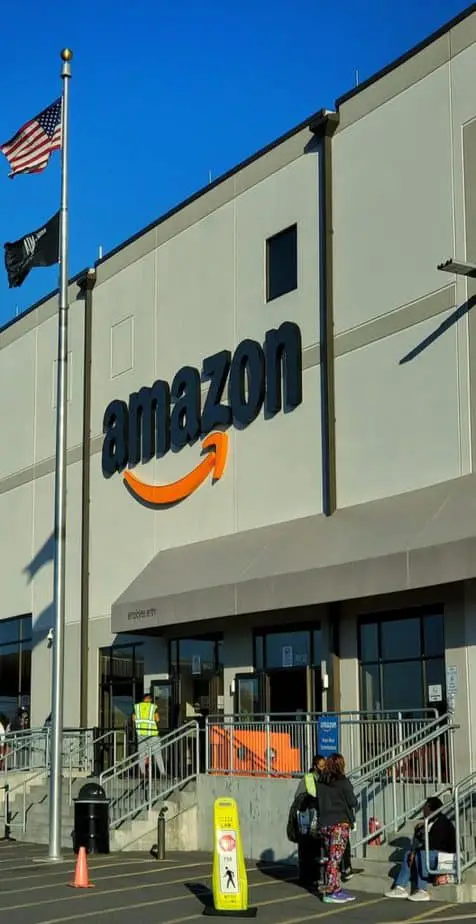 Hello people! In this article, you will learn everything about interning at Amazon. So, if you're someone who wants to apply or has already applied for an internship at Amazon, this article will help you in so many ways!
But before moving further, let me give you an overview of what Amazon is?
Amazon Overview
Amazon is an American online business and cloud computing company (Amazon web services). The company was founded by Jeff Bezos on July 5, 1994. It is headquartered in Seattle, Washington, United States. 
Amazon is considered the world's leading online-based store by total sales and market capitalization. At first, it started as an online bookstore. Eventually, it got bigger and started selling DVDs, Blu-rays, CDs, video downloads/streaming, MP3s, audiobooks, software, video games, electronics, apparel, furniture, food, toys, and jewelry. It also makes consumer electronics like Kindle e-readers, Fire tablets, Fire TV, and Echo. You name it and you will get it on Amazon!
It is the world's largest provider of cloud computing services.
What do Amazon interns actually do?
What you do as an intern varies from company to company and depends on the length of your internship. So a one-month internship could look very different from a six-month-long internship. 
For example, if your internship is for 4 weeks, it will involve getting to know the team. You will most likely not be placed on the project to work on because of the time limit. It will be just about learning about the company and team and seeing whether or not you like the company. 
On the other hand, if your internship is about 6 months long, you will be able to take ownership of projects and see them to an end. With the long internships, you are not only able to be immersed in the company culture but also able to make a real tangible impact on the team you are assigned to as well. And that is super valuable as an intern especially when you get the chance to see what you like and don't like in the company. 
So, in terms of a typical day though it depends on what you want to gain out of an internship. For example, if you just want to have fun, see how things go, and not have a goal, your day might look quite empty. If you just go to the required meetings and do what you're told to do, that is completely fine, you will still be able to learn a few things. 
However, if you want to stand out as an intern and potentially land a full-time role, after the internship, it is really important for you to set measurable goals and be proactive about learning. So that by the end of the internship when you reflect, you can see that even if you were just an intern you were able to make a contribution to the team you were in. 
So the main takeaway would be that no two internships are the same. At some of them, you might be working on multiple projects while at others you might be doing more shadowing and learning. 
So, it's really up to you to make the most of every opportunity that you are offered.
How do teams work together?
Now, let me give you an insight into how teams communicate and collaborate with each other. 
Here too it will depend on the company and the team that you are in. With Amazon as such a big company, different teams have different ways of doing things. Having weekly stand-ups especially during virtual settings can help keep everyone in the team accountable. Especially as an intern, you might not understand half of the things that are being discussed in the team stand-ups because you're working on your own projects. But it's a good way to see how everything fits in together in a company which is pretty cool.
Not only at Amazon but at other large companies, there is really helpful collaboration software. In Amazon, there is Amazon chime video conferencing software to connect virtually. 
Amazon has things called narratives and prfaqs which help the team generate an idea and be able to elaborate or expand it and get people's feedback as well.
The main takeaway for the interns is that at the start you might be quite overwhelmed with the different tools and different ways of doing things in the company, especially if you haven't done a role you are in before. So don't be afraid to ask questions because not to forget you are there to learn!
What challenges do Amazon interns face?
Depending on people's personalities, everyone gets a different set of challenges that they might face. Some of them are listed below with the tips to overcome them:
1. The fear of uncertainty
Some things are just out of your control. You don't know a lot of new terms and it's kind of impossible to pick up everything at once. You can overcome that by, first of all, recognizing that you're not going to know everything in the first few days. Second of all, try your best to make sure that you can cover a lot of things quickly that you're uncertain about to give yourself more peace of mind. 
For Amazon, you will normally get an onboarding plan that is something that links a lot of resources together to make sure you are able to figure out different processes in the company and learn about them. So make sure to utilize the resources that you are given which will help you limit that anxiety and uncertainty that you face. Asking questions you are uncertain about really helps especially when you're an intern. People are always willing to help you. 
2. Connecting with people
People talk less about their life, their hobbies, and career aspirations when they are on a virtual time call. Working from home mainly as a new intern, it's kind of hard to break the ice initially. So, that is something you have to consciously try to do. Make an effort to get to know everyone on your team. Like when you first join, set up a half an hour call with people in your team. That way you can break the ice early on to avoid those initial awkward conversations that you have.
Just make sure that you have a more enjoyable experience working from home because connecting with people is quite important
3. Thinking that your internship is like an interview
You must have heard this phrase from some of your friends or family members and that might be coming from good intentions. Because they want you to keep it in the back of your mind that your performance is being assessed so that in the end you can receive an offer from the company.
However, it's quite an unhealthy mindset sometimes especially if you're an overthinker. You can't just fixate on that long-term end goal and not be able to focus on other things. It does sound kind of extreme but overthinkers will understand what I mean. 
You can overcome this by not focusing on what the company brings to you but what you can offer to the team and what value you can bring to the company. 
How to apply for the internship at Amazon?
The application process for internships at Amazon is pretty much the same as any other company. But to be honest it is quite tough keeping in mind it is one of the world's leading web service companies so it gets thousands of applications on a daily basis. 
You need to go through a bunch of steps before successfully getting your hands on the internship.
1. You need to apply for the internship online by visiting the website called Amazon jobs. You can also apply through different platforms like LinkedIn and Indeed. 
2. Then you need to click on the apply button which will take you to the application form.
3. In the application form, there will be a bunch of questions that you need to answer. For example, your age and educational qualifications.
4. They might ask you to upload your resume as well.
5. After filling out the form, click on the submit button.
And you are done with the application process! You will get the confirmation email right away saying they got your application. 
Once your application is accepted, you have to go through 3 rounds. The first round would be an online coding test of 20 MCQs. The next two would be interviews: telephonic and in-person.
Most probably asked questions at Amazon interns interview
It is always good to know what questions to expect at an interview beforehand. It will not only help you prepare the answers but also builds your confidence.
1. Tell me a bit about yourself.
2. Why do you want to do an internship at Amazon?
3. What do you know about the company?
4. Tell me about your strengths and weaknesses.
5. Describe the time you failed and how you came out of it.
Some tips that will help you ease the application and interview process
These are some most important points you must never take for granted and ignore. Following these tips will help you a lot more than you imagine.
1. Apply, apply, apply!
If you want to do an internship at Amazon, try to apply for all the job positions which align with your skills. You must use different profiles for applications like LinkedIn and indeed. Do all that you can from your side. Even though you are busy with your college, manage some time daily for the application process because it is very important.
2. Use your network!
You must be aware of the fact that at a company like Amazon, there are thousands of applications for the same position. But if you have someone working there or some connections, your application directly goes to HR and that means you are one step closer to getting an internship. Always remember, if you have at least three years of work experience, you must have some connections that will come to your use in the future. So, keep that in mind and build connections at work beforehand because you never know when it will come to use.
3. Prepare a perfect resume
Not only your resume but your LinkedIn profile matters a lot too. You should make sure that your resume plus your LinkedIn profile speaks for itself. The contents of both must align with each other. Do not make the resume too long because the recruiters will not go in-depth. Try to keep it on one page. If you have more work experience then mention it at the top and highlight it. One suggestion for all is to keep your resume up to date. You can do so by going through it once a week and adding changes. This will make you a pro at making resumes. Always keep 3 to 4 resumes ready for different work positions you want to apply for. So you can just show whichever you want when anyone asks and this will help you save a lot of time. Practice making resumes even though you are not applying because in the future it will be handy for you!
4. Interview vocabulary
Many of you must be unaware of this word called "Interview vocabulary" but everyone must know what it is to ease an interview. You must realize that you need to speak their language (company's) while at the interview. You need to know what the company stands for in terms of values. Because companies are ready to pay you for your values. They are ready to teach you technical skills in 2 weeks of time but they can't teach you your values. That is something you must have or if not then you must be able to adapt. Your conversation skills, your confidence, and your ability to be responsible are what the company looks for before hiring anyone.
5. Prepare behavioral questions properly
It is a fact that a lot of weightage is given to behavioral questions in the interview process. That's the reason why you need to prepare yourself well and keep your examples ready from your corporate life mostly. So when you step into an interview, you cannot forget about your technical skills because you have worked on that. But about the behavioral questions, always keep those examples prepared that you want to quote in the interview. They should be real because the recruiter or hiring manager knows what happens in the company and they know up to what extent a situation can go. So, do not try to fool them because that will be a red flag for them. When you talk about your success, do not forget to mention your failures. Show them how you got out of the situation. Behavioral questions are all about how you answer them. They will not look for what you said but how you explained the scenario. So, prepare well for that.
6. What if you fail?
Remember, If you failed an interview, that is completely okay! But how quickly you get out of failing is what is more important. Do not get unmotivated just because you failed an interview. Do not waste your time overthinking just try to apply for another position right away. When you are not offered the position, they tell you the reason why. So, keep your ego aside and work on that. Because remember if one hiring manager says something is missing in you then most probably the next one will say the exact same thing. So if you want to impress the hiring manager, try to listen to what they want and work on the same. Whenever you feel low after failing an interview, keep in mind that you need to succeed only once! After that, every opportunity will come your way.
Conclusion
I would like to sum up this article by saying the Amazon internship is one of the most valuable internships you could work at. 
Everything from the application process to the intern's life at Amazon is mentioned above. Just try to enjoy the time you would spend at the company and never miss the opportunity to learn something because that must be the ultimate goal of your internship.
I hope your doubts regarding the internship got cleared through this article.
Thanks for reading. Have a nice day!
Frequently Asked Questions
1. How many hours do you need to work at Amazon as an intern?
You are allowed to work not more than 40 hours a week. 
2. What equipment will you get during your internship?
As a Software Developer, you will be given a laptop and VPN keys which will be used for your daily work. Mostly you will be getting a MacBook. You will be using your VPN keys to login into the Amazon network.
3. Do Amazon interns get paid?
Of course, they do get paid.
Interning at Amazon- Everything You Need to Know