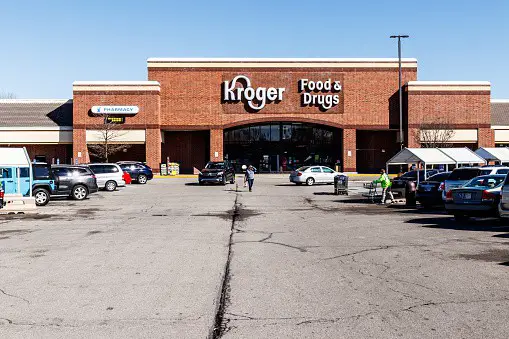 Kroger is an American retail chain that has stores across the United States. It was founded by Bernard Kroger in the year 1883. An interesting and remarkable fact about Kroger is that it is the United States' largest supermarket-based retail chain by revenue. As of 8/2/2021, this public retail company operating in the industry of Food & Drug Stores has a revenue total of $132,498 million. With an approximate number of 2,868 stores ( 2,726 supermarkets and 142 jewelers) the company has 465,000 employees all over the United States. Read more about Kroger Employee Benefit.
The employment at Kroger's is very profitable as it comes with various benefits and bonuses. This concept of Employee Benefit is very much common and broadly discussed among the workers who are willing to get employed. As every person would look for certain perks offered along with the job at a particular company.
What are employee benefits?
Employee benefit is a kind of incentive or compensation provided to the employee by the company. 
These are non-monetary perks offered along with the monthly salary or during the time of selection of an employee. The employee benefits could be related to law-mandated insurance be it personal, health, life, or dental), retirement benefits or pension, stock options, training opportunities, social security, or as small as free snacks. 
These are provided to the employees to boost their confidence and build confinement and trust towards the company. It acts as a retention strategy and could prevent the employees from switching their jobs as often as they generally do. Generally, employment benefits are given by the employer or the company out of their interest, or at times it gets mandatory to do so. As per a comprehensive survey, it is believed that approximately 93% of employees feel satisfied and content because of the employee benefits given to them. While applying for a job, most employers look for the benefits offered by any company and therefore it increases the chances of hiring more workforce. 
Mostly, employees nowadays prefer a suitable working environment and a satisfying present which is why they prefer more perks and at the time are also willing to reserve a part of their income to receive the facilities known as employee benefits. This process of exchanging salary with that of non-monetary perks is commonly known as Salary Packaging. It also helps in a comparatively lesser amount of income tax.
Employee Benefits at Kroger
Workers at Kroger and their comfort is given priority over everything else as it is the workforce of the company which is helping it achieve heights and move forward in the marketing industry. Over 500,000 employees are associated with Kroger who go the extra mile for bringing the company in the limelight as they serve over 11 million happy customers by providing an effortless experience throughout the period. They also provide day-care services to their customers.
Seeing the development on the social front of the marketing industry these days, there is enough room for women employees to get their hands on various jobs vacancies. Kroger has 51% of employees who are women who are contributing majorly towards the growth of the business. 
As per reports, employees at Kroger get employee benefits in different fields- 
Insurance, Health, and Wellness – Offering of any type of insurance by the company is compulsory in most of the countries and therefore there are different elements of indemnification for an employee offered by Kroger like health insurance, vision insurance, accidental death, and dismemberment insurance, mental health care, flexible spending account (FSA), health savings account (HAS), dental insurance, life insurance, disability insurance, supplemental life insurance, health care on-site and occupational accident insurance
Finance & Retirement –  This is an indirect way of providing aid to the employees and is generally the most preferred by employees as well. At Kroger, the employees are given the facility of availing of the very beneficial 401K Plan ( a retirement saving plan). Other facilities in this category include a Retirement plan, employee stock purchase plan, pension plan, supplement workers' compensation, retirement plan, stock options, and charitable gift matching.
Family & Parenting – This is again one of the major factors which affect every employee's decision at some point in time. Kroger provides maternity and paternity leaves to the employees working at the company as it values their well-being. Other amenities falling under this category of employee benefits include Family Medication Leave, adoption assistance, and also the advantage of reduced or flexible working hours. 
Vacation – Working constantly creates pressure on the minds of the workers and therefore Kroger hand over the prerequisite of paid holidays and paid vacation time off which attracts employees' attention. Another important facility is that of bereavement leave which is a paid time off given to the employees at the time of the death of any friend or family member. Last but not least are the sick day leaves.
Professional support – For an efficient workforce and improved results in terms of business functioning, Kroger provides the opportunity of job training to its employees. It places them in a confident zone and also increases the morale of the workers.
The diversity program is yet another initiative taken up by Kroger to make sure that the women and people belonging to ethnic or racial minority groups are benefitted. Rest follows tuitions assistance, apprenticeship program, and professional development.
Perks and Discounts – to meet the employee's needs and comfort, Kroger gives a handful of discounts to its workers. Mobile Phone discounts, Company social events, gym membership, and employee assistance programs are a few advantages that one can benefit from while being employed at Kroger.
Employee Discount
What is Employee Discount?
Employee discount refers to a certain amount of concession or discount given especially to the employees for their services offered to the company. It consists of a discount given on the original price of the products or services by the company.
It helps in motivation on the part of the employees and also indirectly leads to the increase in the sales. Employee discount also helps in retaining the working staff which is very important if a company wants o work without any hindrance or obstacle.
Employee Discount at Kroger (2021)
Being the second-largest retailer in the United States, Kroger believes in doing right by not just the customers but also who serves the customers. 
Therefore, it offers a total of 10% discount on grocery items and an additional 15% discount on furnishings or goods. But these items are to be the ones bought under the rand name of Kroger. This is a new provision made in the year 2021 by Kroger which ultimately benefits the employees. 
In addition to that, the company also generates 20% off on eligible products at the time of Christmas. An employee can also use a 10% discount at Starbucks outlets. 
How to use Employee Discount at Kroger?
Just like any other store, the team members of Kroger are equipped with a unique team member card that the employees can use at any Kroger outlet to avail the discount available to them. Using employee discount is very much feasible as the employee just has to scan the card at the checkout point and the allotted discount will be automatically applied to the bill. 
Employees can also collect their discount coupons and use them all together whenever they wish to. This will be a win-win situation for them.
Kroger During Covid-19
the pandemic has left an irrevocable impact on the lives of every household. To support the families who have had suffered majorly, Kroger has been active throughout this time by providing aid in any form possible.
The company has employed over 100,000 new workers and has also invested more than $1.5 billion bucks to acknowledge the efforts of its employees and also ensured the safety of its employees. They have also supported the necessity of getting vaccinated by awarding the employee a sum of $100 bucks after the vaccination process. The company has also invested $245 million in the cleaning and sanitation department and also $35 million to provide the employees with equipment required while being at work.
Conclusion
Kroger is a vast retail company with many store formats and a large number of employees. Every company needs an efficient and effective operation which is primarily provided by the employees of the company. Every single employee counts on something and has a big contribution in making a company successful and profitable on the professional front. 
Thus, every employee needs to get a cooperative working environment where his/her needs and requirements are also kept in mind. This can be only accomplished by providing them with monetary and non-monetary incentives along with their payroll. It improves the functioning of every single employee and ultimately benefits the company. 
Frequently asked Questions
What are the four major types of employee benefits offered by any company?
Four main employee benefits are generally offered by an employer to its employee. These include – medical insurance, retirement plans, paid holidays or time off and other small scale compensations
How does Kroger pay its employees?
The employees working at Kroger are paid weekly through paychecks and therefore it is convenient for both the employer and employee to maintain the wage record. 
What happens if you forget to use the card to avail discount?
All the employee discounts could be availed only through the card as every card has a unique card number specific to every employee. If the employee doesn't have the card, he can't have the access to the discount offered. 
Can the employee receive a discount on online shopping?
Yes, but the employee has to contact the customer care center in order to add a 10% discount on the items in his/her cart.