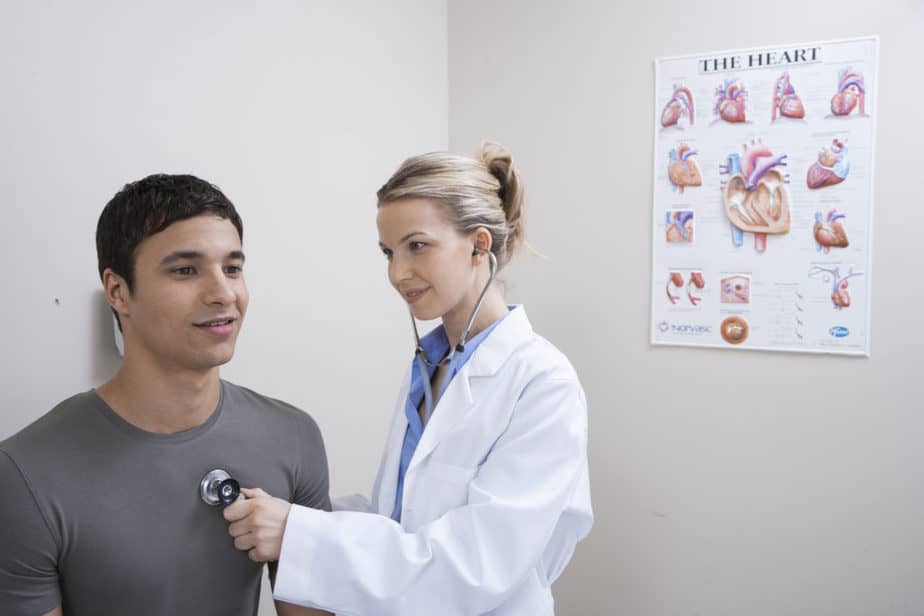 Careers in healthcare are spread over a spectrum of different careers, be it surgeons, therapists, dental care, orthopedics, and many more. Each field has its importance, it makes sure that every individual is treated with utmost care and any further problems to their life are minimized. Let's know about Sports Medicine Degree.
One such healthcare field that has received tremendous popularity in recent years is sports medicine. Sports medicine graduates look after physical injuries that are levied by sports or any physical strain to the body. To pursue a career in sports medicine one needs to complete his bachelor's degree and clinical practice for a few years. 
Let us dive deeper and get to know more about the field in the subsequent sections.
What is sports medicine?
The sports medicine field forms a crucial subpart of the medical industry. Sports medicine majorly deals with athletic injuries. The experts in this industry work with different aspects of healthcare that deal with improving the muscle performance of an individual after an accident. In high-end sports tournaments, sports medicine providers are specially hired to prevent any injuries during the game. 
Sports medicine providers ensure the safety of the athlete or any active patient before and after the game or performance. The field of study is a melange of various health care fields. It majorly consists of physical therapy, training, physiological exercises, and much more. 
Why choose a major in sports medicine?
Sports medicine is an upcoming major with a promising future. The prospects of employment opportunities in this industry are ever-growing which leads to rising demand for high-quality physicians. 
Sports medicine deals with all aspects of the cure for every sports-related cause. This allows the candidate pursuing the field to choose whether they would like to opt to train athletes or everyday active clients. The career depends upon the degree level a candidate opts for and also the environment they want to work in. 
Sports medicine allows the graduates to choose their field of interest along with the environment they would be interested to work with. They could choose to be physicians and treat all kinds of patients, or can select to be athlete trainers and train athletes with exercises that prevent injuries and also take care of any injuries that happen.  
Why choose this major? 
It allows you to independently choose the environment you will work for.
It is an excellent blend of healthcare and sports, this can keep you interested in the work for a longer time if you are a sports enthusiast. 
Sports medicine physicians can also put to work teams that deal with high-profile athletes.
The pay scale is extremely good, for physicians who operate individually the hourly rate is near about $800.  
The field is extremely promising and the career prospects for the same are improving every day. 
Skills required to be a sports medics expert.
No doubt sports come with many skills, and unlike them, sports medicine physicians also need to incorporate in them several skills that can help them improve their career prospects. The basic skills required by sports medicine physicians are listed below. 
A sports medicine physician needs to be extremely sound in understanding the texts written. As a physician, they would sometimes need to look at the patient's entire medical history.  This requires them to be around with details and interpreting information that could help them in making further analysis.
As a healthcare candidate communication plays a vital role as it helps in conveying the treatment plans with patients. A can-do date with good communication skills can easily convey the required information and also convince the patients for exercises that they would not opt for on a general basis. Apart from speaking, the candidate must also have good writing skills to generate medical reports. 
Critical thinking helps physicians to look out for more than one option for a particular problem. This creates a flexible treatment plan according to the patient's needs. 
Human physiology differs significantly, and sometimes understanding a person's body can be a tricky job. As a sports medicine physician, active listening plays a crucial role in locating the type of causes and the severity of the cause faced by the patient. 
Monitoring helps the candidates to look after the health of the patients on a timely basis. A patient's recovery time can differ significantly and this needs to be monitored from time to time on several different criteria. So, monitoring the cause and changing plans according to recovery can be their best gameplay.
As said, the human body differs widely across groups of people. As a physician, a candidate would need to be sound at learning new things, observe the surroundings, work with different people, and much more. 
Compassion allows the candidate to feel for their patients, this cultivates the nature of helping others and looking after them for faster and better recovery. Being compassionate to the patient allows the candidate to gain trust and understand the patient better. 
Sports medicine physicians work with dozens of candidates when it comes to organization. As a manager or any other higher position in the field, organizational skills play a vital role as this helps the candidate to keep records of the patients and manage budgets. 
Dexterity allows physicians to handle their patients with comfort. Physicians often examine a candidate by touching them, this can cause discomfort to the patient. A professional person needs to learn dexterity to make the experience of the patient comfortable. To achieve this ability, physicians often undergo specialized courses and training. 
How to pursue the path of sports medicine ( Educational Background)?
Sports medicine deals with several roles I'm the industry.  Depending upon the seniority of the position a person would like to pursue the educational background significantly changes. The degree a candidate chooses becomes the deciding point for the level of jobs they could undertake in the future. 
 Bachelor's degree
Bachelor's degree is the minimum degree a sports medicine physician must possess. This involves 4 years of medical training and other experiences. Opting for a bachelor's degree paves the path for a candidate to pursue general practice on the candidates in different levels. As a bachelor's degree holder, a person can follow a career path in the following fields. 
Athletic trainer
Coach
Exercise physiologist
Recreational therapist
Teacher
Masters degree
A masters' degree or graduate school allows the candidates to pursue a specialization in the field of study. The emphasis of the master's degree is bifurcated into two parts. One deals with the practical aspect of the degree, that is, one looks for physical training to work with patients. The second is based on research. 
A master's degree is extremely competitive and requires a candidate to complete a few years of training and experience before applying for graduate school. The degrees constitute of,
Occupational therapist
Physician Assistant
Nurse practitioner 
Doctors/Ph.D. 
A Doctor's degree allows for a specialization in the field of physicians. Many healthcare experts pursue a doctoral degree in sports science to specialize and focus their career in treating athletes or sports-related injuries. A doctoral degree offers the healthcare expert higher remuneration and specialization. 
The careers one can choose after doctors degree is:
Any candidate pursuing a degree in sports medicine can easily advance their careers by working for organizations or by individual clinics. The candidates need to polish their experience to get more payscale, knowledge, and clients. 
Certification and licenses
Every health care expert is bound to certain licenses and certifications that they need to hold for a career in the medicinal field. A sports medicine physician also needs to get a different license before they start practicing their career. 
The first certification an occupational therapist needs to earn after completion of a master's degree is the National Board for Certification in Occupational Therapy exam. This falls under the category of state license. If an occupational therapist moves to a different state they would be required to give other exams to gain a practicing license. 
Athletic trainers need to be licensed and take the Board of Certification for the Athletic Trainer exam. Different states have different policies for the same. A physician on the contrary does not require any license to operate in the state. Basic and advanced life skills certifications are required for them to practice their skills.
Physical therapists must hold the National Physical Therapy Examination to become professionally licensed, while physicians must undergo the United States Medical Licensing Examination.
A healthcare expert needs to give examinations every 5 years to renew their license. The examination tests the candidates' knowledge about the latest advancement in the field. The latter especially holds for occupational therapists, physical therapists, and athletic trainers. 
Career prospect
According to several surveys conducted all across the U.S, it has been recorded that the prospects of a career in sports medicine will improve by 19% till the year 2028. This growth scale is quite exponential and surpasses several fields that are present at the top of the career list. 
The 19% growth can be seen not only for trained physicians but also for other sports medicine-related fields of study. Accordingly, an exercise physiologist position will see an upward growth of about 10%, and other fields like physical therapists, dieticians, pediatrics, and others can see a growth of 4% in the overall career prospect. 
Optimal growth in the career prospect can result in a huge contribution to the candidate in terms of job, remunerations, benefits, and much more. 
Not only this, as a sports medicine degree holder students can pursue any kind of degree they wish to specialize in for their future career. An undergraduate candidate can easily land a job at the hospital, professional sports team, and other areas. A master's holder can specialize in kinesiotherapy, occupational therapists, and much more. Students can get a great career outlook if they become licensed physicians. 
A student with a sports degree can also opt for following specialization and degrees that can provide higher chances of career growth.
Health informatics is a field of study that combines healthcare and informatics to take care of patients. This involves developing technologies that can prove highly useful for patients. Technologies used involve microwave detection, machine learning, artificial intelligence, and other related fields. A graduate in business intelligence can opt for this field of study along with sports medicine.
Sports medicine degree holders often go for specialization in executive leadership positions. This allows them to lead a team of healthcare experts from different fields and analyze the team for the work assigned. They can also pursue their own business and can open individual clinics for treatment. 
Athletic trainers work with specialized injuries for athletes. They also work to train athletes with different exercises that can ease the effect and help them have a faster recovery. The treatment varies from person to person and hence a specialization is often undertaken before practicing the profession.
Specialization in kinesiology is quite common for a sports medicine physician.  Kinesiology involves learning about human physiology, lifestyle, and health that contribute to the overall body and its health structure. The specialization offers two paths for a sports medicine degree holder, firstly a physical therapist, and second a physician.
What fields does a sports medicine graduate work in?
Sports medicine is a widely spread stream. A sports medicine graduate can work in hospitals, nursing organizations, schools, sports academies, and many more. A graduate can work in any of the following listed healthcare institutes.
Health practitioner office
The Healthcare practitioner office is one of the most common places that a sports medicine expert works for. They diagnose different patients in this field for physical injuries that can be encountered from any physical training work. A specialized expert also looks after dedicated patients and creates treatments for fast recovery.
Nursing care services are another place where there is a high demand for sports medicine graduates. The field of study encourages them to work with severe diseases and injuries that are attained due to physical hurt. A sports medicine graduate can efficiently work in this field to provide specialized care to patients.
Hospitals include sports medicine experts who have specialized in surgery and diagnosis. A sports medicine person diagnoses and treats patients according to the treatment plans derived by surgical results.
Sports medicine graduates also work for spectator sports and look after the injuries of athletes. They are present on the field for several teams and look after any accident and possibility of injuries.
A sports medicine expert can also be found in schools as coaches and physical education teachers, they help students to instill healthy habits and promote the importance of health and safe gameplay.
What comprises a sports medicine team?
Sports medicine is a field of study that deals with different prospects of human physiology. This requires great attention to detail and expertise in various ligament studies. Sports medicine falls under the category of healthcare and different medical practitioners take this as an additional skill to their current one. 
Any healthcare expert can further complete their course in sports medicine and or opt for additional courses that give them the certification to work in the field. Many sports medicine experts are certified physicians that train to specialize in sports medicine. Apart from physicians many family doctors, pediatricians, orthopedics, also pursue an additional degree in sports medicine.
Sports medicine also involves a lot of individuals who have a nonphysician background and often belong to different medical fields. This comprises, 
Physical therapists look after the recovery of the injured part for any candidate after the accident.
Athletic trainers specialize in designing exercises and other physical activities that can boost the process of recovery. They also conduct programs that help athletes to prevent injuries in the future. 
Dieticians look after the diet of the person and monitor the amount and type of food that the patient needs to consume to achieve faster recovery. 
All the above professions together comprise a team that makes any person receiver from the cause and with minimum damages to the patient. They help the patient to return to their original condition as fast as possible and leave good room for health improvement.
What does a sports medicine expert deal in?
Sports can lead to several injuries. Whether they be due to heavy exercise or natural causes like heat and diet, everything is taken care of by a sports medicine expert. Let us take a quick glimpse at the injuries that sports medicine experts deal with.
Ankle sprains are the most common injuries in the field of sports. Athletes especially have a higher rate of encountering an ankle sprain depending on the nature of the sports they play. A sports medicine physician works with looking after the sprain and checking ligaments for any major accident. X-rays can be taken for more specific details.
Tendonitis is inflammation of the tendons. The accident majorly occurs in adults who excessively use a tendon. The major areas where this cause can occur are the elbow, wrist, finger, and thigh. Sports medicine physicians often look at the type of tendonitis and suggest treatment accordingly.
Some athletes or other patients may also face problems like exercise asthma, which includes asthma triggering during exercise, health illness where a person cannot survive long hours of heat, or food disorder, wherein they cannot consume a particular type of amount of food. 
All these problems are also looked after by a sports medicine physician. A physician understands human physiology from the roots and this helps them to bring concrete solutions to problems. 
Sports medicine physicians also deal with other types of injuries like 
Fractures
Knee and shoulder injuries
Concussions
Cartilage injuries
Once the damage is recovered and taken care of, the physician also guides you in avoiding the problems in the future. A broken ligament or tendril often is prone to major and frequent injuries, this requires proper care and assistance. A sports medicine physician makes sure to provide safety guidelines to prevent the damage and recover it with the right diet and nutrition. 
Average pay scale.
A sports medicine physician can earn a salary ranging anywhere from $61,880 to $234500 per year. This varies according to the industry expertise and the organization they work for. To accurately distribute the salary prospect of the field let us take a look at different levels of job and their average pay. 
A candidate in this position tends to earn anywhere between $40,000 per year. 
A candidate in this position tends to earn anywhere between $80,000 per year.
A candidate in this position tends to earn anywhere between $100,000 per year.
Executive / Expert position 
A candidate in this position tends to earn anywhere between $400,000 per year.
The highest paying industries for sports medicine are:
The Average pay is $273,290
The average pay is $242,350
Administrative, Support, and Waste Management Services
The Average pay is $231,700
The Average pay is $230,800
The Average Pay is $226,170
Healthcare and Social Assistance
The average  is $220,760
The salaries are indicated for an average level for different industries. The figures can significantly differ according to the level of expertise the candidate holds and also upon the industry. Treating individual clients can not the physicians on an hourly basis and they can make more or less than the figures mentioned.
Conclusion
Sports medicine is an upcoming field with high career prospects. If you are an individual who enjoys working in the field and exercises along with helping others with health issues this field could be your perfect match. Start with your bachelor's degree in sports science and choose your specialization as you go forward. 
The pay scale associated with the field is also excellent. Apart from that the field also has a lot of development space and pushes a candidate to add finesse to their work on every step. In totality, this major is a complete package of professional checklists any candidate can ever look for.
FAQ
How do I get started with a career in sports medicine?
To start as a sports medicine physician students have to go through 4 years of bachelors in sports medicine. Apart from that students can choose their specialization through a master's degree.
Does the career provide any scope for career prospects?
The field has excellent growth opportunities. A sports medicine physician can always go for specialized training to become a management leader, organizational head of the healthcare team, and much more.
What average salary can I receive from the profession?
The average salary for the profession is surveyed to be anywhere between $150,000 to $248,000. This can change from organization and seniority level.
Is the profession a right fight for me?
If you are someone who enjoys sports, exercise, and also has a passion for healthcare this field is the perfect match for you.
Sports Medicine Degree- What is sports medicine?