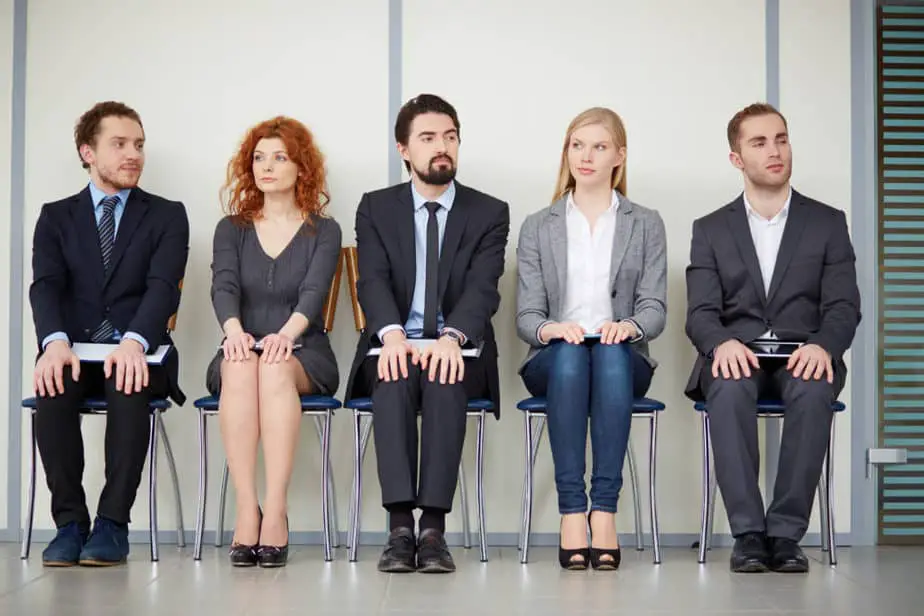 Becoming one of the respected legal members of a society is not easy. First, one has to go through LSAT, then three years of law school, getting licenses from bar to practice as an attorney. The road is filled with hurdles that one must pass to get to the top. The legal profession demands your time, patience, and knowledge. Today's topic- What to wear to a law firm interview?
However, apart from becoming a great student in college and getting your top grades, another element makes sure that you are getting your first job as a lawyer. It's how you present yourself.
If you don't want your first impression to be your last, read this before going to your first ever law firm interview. 
What to wear to a law firm interview
If you have doubts about what to wear on your law firm interview, don't stress about it. As you know, law firms are professional places where anything bright or unusual will attract glares from all directions. To avoid any uncomfortable situation, one can wear off-white, grey, black, and white formal shirts and Pants or Skirts. Of course, one has to be careful not to wear anything which seems casual or offensive to a culture or religion. 
Women should check out the length of the skirt and their comfort level in it. Make sure to practice at home, sitting and walking in the attire before appearing for the interview. Men should also get their clothes altered if they feel tight when sitting.
Speaking of colors, one can choose off-white, grey, black and white, navy, or any other neutral color that shows confidence and dedication in your personality. Avoid wearing yellow or red blazers or any different bright color as they are unsuitable for a law firm environment. Always wear a blazer to look sharp and confident. Wearing minimal jewelry or accessories like watches are fine. However, women must not wear jewelry or accessories with too much glitter.  
So, here are our best tips for you to follow to your following Law firm interview.
What to wear?- Women's Addition.
Color and Dress- Luckily, Women have so many alternatives when it comes to formal dress codes. They can try pants or skirts, either plain or lines. Women don't need to wear ties unless specifically requested by the interviewer. Always wear your blazer black. Women can light formal shade shirts to look confident and tidy from colors like black, grey, or even peach. 
One thing to always remember is that there is no right or wrong way of wearing clothes. It's all about the place and time. So you are good to go if you decide to wear pants or skirts to your formal interview. Whichever clothes you are comfortable in, you can wear them. 
Footwear- Speaking about the footwear, try either black or brown as well as every other color. Wear any neutral color footwear that matches your formal outfit. Women who have never tried heels then don't appear on them to look like Rachel Zane from suits. Trust us on this one, please. Also, avoid plumps, Ankle Booties, Wedge, and cone heels. 
Jewelry– Women can wear minimum jewelry for their law firm interview. They can go for hoops without glitters or regular silver chains. They can also wear a nice watch to get a classy and confident look.
What to wear- Men's Addition
Color and Dress- Because Men don't have many options other than pants that are too plain. But they can try out different colors like white, navy or light blue, black, grey. Always make sure to wear a matching set of blazers with the color of pants. 
The thing is this, If you have never worn green or purple in your life, then anyone with good eyesight will be able to see the uncomfortableness. It is advisable to wear a color that matches your personality and your job profile. For example, wearing a red or pink blazer might look fantastic if you plan to go for a fashion or interior designer job. 
However, with a profession where your clothes don't speak for you, but your work does, Wearing stylish and trending clothes can act reversibly. The same applies to colors that are two bright and noticeable. Like they say when in Rome do as Romans do. Same, when in law firms, wear what law firms people wear. 
Footwear- The first thing anyone notices is your feet. Talking about what to wear is not complete without our beloved shoes. So what are the rules? None. Men can wear the most common color of footwear, i.e., either black or brown. However, Men must avoid wearing boots, brogue, and sandals. Instead, they can try formal footwear such as Derby, Oxford, and Monk.
Accessories-  Unlike Women, Men don't have options. Men can wear watches or rings if they like. Make sure they are not loose on your wrist or fingers to avoid problems. 
Here, one thing to be noted is that do not wear any accessories that might make unnecessary sounds or become a hindrance to you during your law firm interview. Your focus should be on the discussion, and any distraction can be harmful.
What to wear for an online interview?
We all have seen zoom calls videos of people on the internet making blunders. If you don't want to disappoint yourself in your live interview, please wear what you would have worn to your physical interview. It is critical to look sharp and friendly even if the discussion is on a video call. This way, poorly, you show your commitment and seriousness for the job. 
How early should I reach for my law firm interview?
No one likes people who show up late. It reflects badly on you as a person. So always reach half an hour before your interview to calm yourself down and have your mind relaxed. In that time, you can look around, talk to a few people and get yourself comfortable with the environment. In that extra time, you can check your documents and any last-minute mistakes. 
Conclusion
Law firm interviews are hard to get, and especially with times like these, you don't want to blow your chances of getting a  job and independent life. However, by keeping a few things in mind, you can rock your law firm interview in no time. Apart from good grades, there is something called the first impression you make not only with your credentials and scores but also personally. No one is asking you to look like Harvey Specter or Jessica Pearson from suits. However, law firms expect you to dress the part of a lawyer.
Frequently asked questions
Q. 1. Can I wear an overcoat for my law firm interview?
A1 Yes. If you live in or have winter in your area, you can wear a nice overcoat. 
Q2. Is a Law firm interview hard?
A2 It's all about your preparation and what they are looking for. If you have not prepared for it, then everything looks hard.
Q3. Can you wear casual clothes to small law firms?
A3. Be it small or large law firms; dressing is vital to secure a position in the law firm.
Q4. Can you wear pink or peach color to your law firm interview?
A4. Dressing like Elle Woods from Legally blond looks good in movies only. Try wearing black, grey or off-white.
What to wear to a law firm interview?- Dress Code