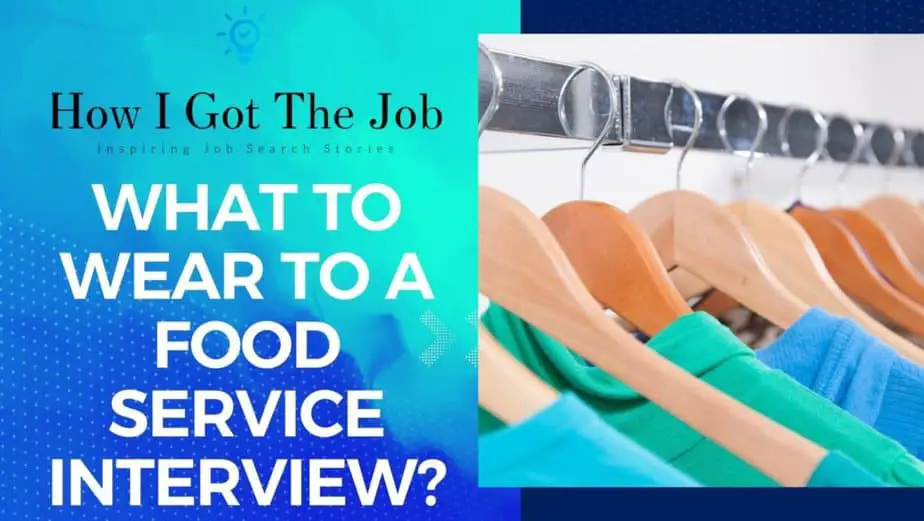 In this article, we will see the answer to the question 'What to wear to a Food Service Interview?
If you have been called up for an interview, then you should consider wearing something formal. However, there is no need to be extremely formal if it is just a casual restaurant. Before going for the interview, you can research the restaurant a little bit. 
If you think that wearing formals will create an impression on the interviewer, you should go for it. On the other hand, do not try to be too casual because your interviewer would not like that. It also might create a bad impression on your personality. 
Interview Clothes that you can try
There are some types of clothes that you can wear if you have been called for an interview from a restaurant. Following are some clothing recommendations lists that you can consider.
Khakis and a decent shirt for men
A skirt or a dress for women
Professional clothes like a simple shirt and a pant would also be a great choice
Sports jacket, tie or a suit or a dress and slacks could also be appropriate for men
Avoid jeans and casual t-shirts for both men and women
Certain restaurants like McDonald's would not like you to interview someone who would come in wearing jeans or something casual like that. So try not to be too casual, but at the same time, you have to be presentable professionally. 
Tips to dress appropriately for the Interview
Most people often get confused as to what they should wear during an interview. Well, you can give the tips mentioned below a try whenever you have an interview next time. 
Dress informally,and be professional
Most fast-food restaurants in the United States are located in casual types of environments, and you can see that most employees wear uniforms. Therefore, if you have been called from a casual restaurant where the environment is quite informal, you should dress in a way that should be informal, but you should look professional at the same time. 
To dress up like this, you can refer to the items that are mentioned above. One should avoid casual sneakers along with jeans clothes for the interview. Dressing simply yet in a presentable way would impress the interviewer. 
Choose Proper Pieces
It is an interview that you are going to not in some kind of a fashion show. Therefore, you need to select your outfits to feel comfortable and presentable at the same time. You do not want to distract the interviewer by wearing unnecessary ornaments. 
For women, one should try considering the lengths of your skirt or the cut of your blouses if you are wearing them. If your body has some kind of tattoo or jewelry, you should consider covering them with the help of your clothes. 
Wear comfortable clothes
Most people cannot decide which set of clothes they should wear for the interview and end up wearing the clothes that make them the most uncomfortable. You should know what kind of fabric suits your body so that you remain calm and comfortable during the interview. 
Feeling uncomfortable during the interview is the last thing that you would want. On the other hand, you might already feel nervous about the interview in the first place. So, choose proper clothes and get ready for the interview. 
Show your personality
What you wear defines your personality. If you think that dressing up casually suits your personality the most, you should dress up that way, but it should be presentable to the interviewer. You do not want your interviewer to assume that you do not have the personality. 
Well, you can prove your interviewer knows about your choice and preferences just by the way you dress up. Do not wear perfumes or something like that has got a strong smell. Try wearing something much lighter. 
Be Yourself 
The interview can make you nervous, but you should keep calm and answer the questions properly. Do not try to be the person that you are not. Instead, you should let your interviewer know about your personality just by your attitude. 
Avoid new haircuts or new looks that might not make you presentable. If you like wearing certain types of colors, then feel free to wear them. Choose the right clothes so that you feel confident during the interview. 
Tutorial Videos for Dressing Up 
There are many tutorial videos on the internet where people will show you how to dress up for a food service interview. With the help of these videos, you can at least get an idea about what you can wear. 
If you do not have the clothes you want to wear for the interview, you can purchase them beforehand. So, watching tutorial videos will help you overcome the confusion that you might have later on. 
Some tutorial videos will also help you guide how to make your hairstyle for the interview. You can look for these videos on the internet and consider those ideas the next time you have an interview for food service. Click the link here to watch a video: https://www.youtube.com/watch?v=TIf8cJmhDuc
Prepare for tInterview
You have now selected the clothes that you are going to wear. Now, it is time to be prepared for the interview. First, you have to think about how you can impress your interviewer by presenting yourself properly.
You might be asked all types of questions, and you should be ready to answer. Do not tell things that are false because it will not only be problematic but is a crime. Just follow the above steps to feel easy and comfortable during the interview. In the end, what matters the most is that whether the interviewer has been impressed or not. 
Wash the clothes you are about to wear for the interview at least one week before the scheduled date of the interview. If your outfit needs repairing, then you should do all those beforehand. You do not want to present yourself with loosened buttons on your shirt. 
Conclusion 
You should give your best whichever interview you have been called for, whether it is from a big company or a small restaurant. You need to show professionalism and be disciplined so that the interviewer is impressed. 
This way, there will be an extra benefit on your personality. Interviewers look for these things on the candidates whether they are on time or not. Therefore, you should talk appropriately and let your interviewer think that you have got an amazing personality. 
Frequently Asked Questions
What kind of clothes to wear for food service interview men?
Ans: The following are the types of clothes for men that you can consider: 
Khaki pants and a full-sleeve shirt 
Chinos pants and a normal shirt
A suit with a tie 
What should a girl wear for a food service interview?
Ans: The following are the type of clothes that you can consider 
Formal dress with proper fitting
 Business skirt with a blouse and a shirt 
Can candidates go for an interview in McDonald's wear jeans?
Ans: Both men and women should avoid wearing jeans if they are going for a McDonald's interview. Try wearing something more formal like pants and a shirt or a suit. 
Can I wear jeans for a fast food interview?
Ans: Since most fast food centers in the US have a casual environment, you can wear jeans for the interview. But, you should avoid wearing those because they would be inappropriate for the interviewer. 

What to wear to a Food Service Interview?