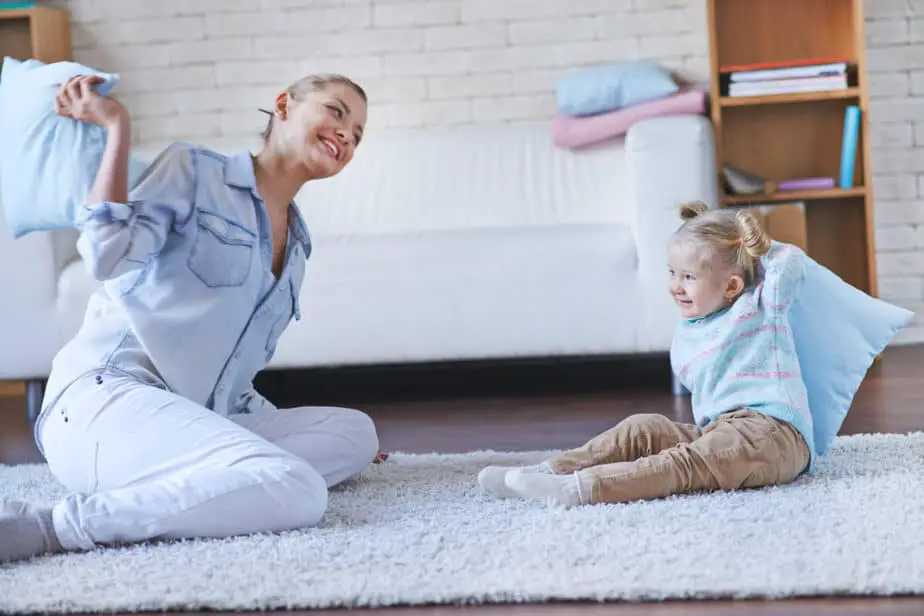 People often underestimate how important and difficult babysitting can be, especially the job interview. You can't babysit unless you pass the interview. Parents or guardians often look for certain qualities and experiences but how you present yourself is very important too. Here, let's see What to wear to a babysitter interview?
The way you present yourself will show how seriously you take your job as well. To be appropriately dressed for the interview you must have a suitable shirt, pants, shoes, accessories, and hair, etc. To avoid overdoing it, it is preferable to wear clean and neat clothes. It could be a little more formal than what you usually wear. Wear comfortable shoes and maybe avoid jewelry as little kids tend to swallow anything as small as earrings.
Appropriate Attire 
Examples of Ideal Clothing
Since you will be working with children, comfortable clothing usually refers to something along the lines of a pair of trousers or khakis and a button-front shirt. Sweaters can be worn if it's cold. 
If you wear a T-shirt maybe you could wear a polo shirt to upgrade it a little.  A modest T-shirt or blouse and jeans work fine too. Dark-colored clothing looks professional and hides stains better too. 
Playing and taking care of children can result in things getting a little messy so you shouldn't wear anything too fancy or expensive. If your job involves changing diapers then maybe something casual to formal may even suffice. You should wear clothes that are easily washable as this potential job may involve getting dirty or stained. This shows that you are prepared and an ideal candidate for the job. 
If you're a student who wears a uniform or works somewhere with a uniform and your interview and straight afterward, you may want to inform the parents so they aren't shocked. Most parents will understand. 
You can bring a spare change of clothes along too so you are comfortable and can perform the duties that your job requires at ease. Just make sure they are in a good condition and not too wrinkly so that you may still appear professional. 
The main thing is to wear something that does not restrict your movement like skirts since playing with children requires a lot of exertion at times. 
A list of things that best be avoided are:
Flashy  or fancy fashion statements
Revealing clothes since this isn't a party, it's an interview 
Ripped clothing
Clothing with racial or sexual comments, images, or political views
Expensive clothes
Clothes that can only be dry cleaned 
It is best to avoid flashy dresses or anything too revealing as it may seem unprofessional and send the wrong message. Clothing with inappropriate words or images is also a big no as parents would not want their children repeating such words or seeing anything like that. 
You shouldn't have an interview after sports practice or any exercise/ activity that may cause you to sweat and smell. It doesn't give the parents a good impression if you show up sweaty in a sports uniform or any sweaty disheveled state. 
Choose a comfortable pair of shoes that you can easily slip on and off. It will be easier for you if they are lightweight in case a toddler decides to throw them to minimize any potential damage.  Dark-colored shoes are better and more practical as they wouldn't look too dirty or worn out that way. Sneakers may be too casual for the interview but as long as they're clean, it's still an acceptable choice. However, heels are not ideal. 
Shoes that are a better fit for the interview can be:
Loafers
Flats
Covered or closed shoes that aren't too casual
Uggs in the winter
Boots in the winter
Sandals in the summer
Keep Accessories to a Minimum
Avoid wearing dangling earrings, necklaces, bracelets, and any other unnecessary jewelry at home. For this interview, you want to look presentable but also kid-friendly. Parents would not want any over-the-top jewelry that could get lost around the house and then swallowed by a toddler. Avoiding wearing jewelry is to ensure that there is nothing for the child to choke on or pull off. 
You wouldn't want to lose or ruin your jewelry anyway. A ring or two is alright but nothing too flashy. Children tend to get grabby with items they find pretty or that grab their attention. Bangles should also be avoided, especially ones that make noise whenever you move. 
A watch on the other hand is a great accessory. It subtly shows your potential employer that you are punctual and serious about your potential job. 
To demonstrate good hygiene you can:
Make sure you brush your hair 
Make sure your brush your teeth 
Shower
Cut your nails if they are long. Your nails should be short for neatness and also convenience when it comes to taking care of the kids. Long nails give the impression that you're afraid to do some real work. 
Spray on some deodorant but don't wear heavy fragrances. Children tend to be sensitive about that and nobody wants to drown in the smell. 
Your hands and clothes should be clean and your hair should be well-groomed. Make sure you are neat. 
Hiding tattoos and taking out piercings may also be preferable. Children often find people with too many visible tattoos unapproachable and babies might yank on a piercing since they tend to grab things.
If you want to wear make-up, keep it simple. You want it to look neutral and not like you're going to a party. It should look like you're going to work. 
To clarify, subtle make-up refers to avoiding a lot of eyeliner, lipstick, blush, and cakey appearance from the foundation. Instead, you can:
Use concealer
Light blush
Lip balm
Pick neutral shades and avoid bright/loud colors 
For your hair to look neat, a simple hairstyle will do. You may want to get your hair trimmed a day before the interview if needed. Otherwise, you just need to make sure your hair is out of your face. Wear it pulled back in a simple hairstyle like a:
Or if your hair doesn't keep getting into your eyes or falling on your face, you can even leave it open. The purpose of this is so you look professional which is often in simplicity. Nothing excessive is required like curling your hair or hair accessories. 
You want a minimal distraction from your hair so it doesn't get in the way of your work and so you don't keep fiddling with it as that looks like you are distracted. You can pin your hair back for example in a barrette if it's too short. 
 This is just an interview and you want your hair to look similar to how it will look if you get hired. If you have brightly dyed hair like blue, red, or green, you may want to keep it tied initially especially for the interview. Afterward, once hired, you can change the way you style your hair as hopefully the parents and children would be more accustomed to it by then. 
What does the research say?
According to an article called How Interviewers Know When to Hire You in 90 Seconds, 65% of employers indicate that clothing could be and sometimes is a factor when it comes to choosing between two otherwise equal candidates. 
Thus it is important to dress appropriately for a babysitting interview as it could make all the difference on whether you get chosen for the position or not! Experience and skills matter a lot when it comes to any job but how you carry yourself and have a lot of weightage too. It says a lot about a person. 
Frequently Asked Questions 
How much does a babysitter earn in the USA?
The average salary of a babysitter in the USA is $ 27,300 per year. It's $14 per hour. According to another source, the average salary is $34,835 per year and $17 per hour in 2021. Top earners make $52,000 annually and $25 per hour.  
What should you take to a babysitting interview?
You should bring your portfolio containing your resume and a list of parent references to show your potential employers. Bring a copy of your certifications, identification, and a notepad with a pen in case you need to note anything down. You should also prepare a few questions to ask the family.
How do you prepare for a babysitter interview?
You should dress professionally which has been explained in this article, be on time for the interview, be polite and refer to the parents as Mister (Mr) and Missus (Mrs) unless they tell you otherwise. It'll help if you practice what to say so that you aren't surprised by questions you aren't able to answer and prepare some questions of your own to ask at the end. 
What are some questions parents ask when interviewing for a babysitter?
Here is a list of questions parents tend to ask when looking for a babysitter:
Have you ever been arrested or convicted of a crime?
Do you have any allergies to any pets and are you uncomfortable around or scared of any pets in particular?
How long have you been working with children in years, and in what ways?
Do you have any training, licenses, or certifications in child care?
For more questions, you can search for articles that contain questions to help you practice for your interviews like How to Interview a Nanny or Babysitter. 
What to wear to a babysitter interview?