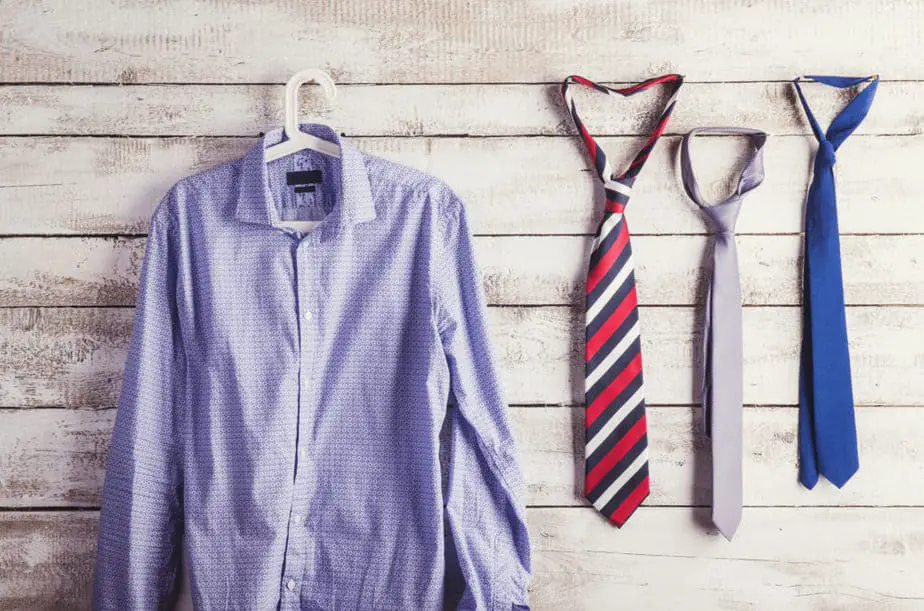 No matter how many times we give one, an Interview is always a hectic event. First, we have our focus on remembering the right informatics and presenting ourselves professionally. And during which, we often miss the little things that might help us ace the interview; our dressing sense. What color tie should I wear to an interview?
Image source: Alibaba
The way you look speaks for you before you do. We all form images about people's personalities by judging the way they have dressed. Be it while walking in the streets, traveling in places, in our workplace, or even at family dinners. So, it is crucial to pay attention to your appearance. The best advice to follow here is to dress how you want to be addressed. The most determining factor that comes to play for this is the colors that we choose to wear. A tailored suit is indeed the best attire to present oneself in during any professional gathering. And the best colors for dressing are solid, confident, and neutral tones like Black, Taupe, Ivory, etc. But what about the tie? What color should it be? If you are confused about it, well, you are not the only one. And we are glad you are giving a thought to your tie before walking into that interview room.
Choosing a perfect tie to match your suit can be tricky. You have to be careful about the size, length, structure, and of course, the color. While figuring out the former things is not that hard, choosing a color can be puzzling. Since a tie is considered the center of attention of your outfit, it needs to be perfect. You would not want to intimidate the interviewer with a daunting color, and you might not want to appear too sluggish with distasteful colors either. The Human mind attributes every color to certain emotions and energies, So, we form images of people based on what type of energy their mere presence brings into the room. Thus, choosing the right color is an easy way into the subconscious of your interviewer.
So, what are the factors you need to consider before choosing what color tie you should wear? Which ones are the best for an interview? What else do you need to know before choosing a tie color? Let us answer the common questions that arise in the mind of every job seeker while dressing up.
Why should you wear a tie?
A tie is a part of traditional business attire. So, if you want to be on the higher side of professionalism, adding a Tie to your outfit is always a good idea. It also represents that you are a man of detail, and you put extra thoughts into your attire. A Tie adds value and weighs up your suit, making it look more formal and put-together. Remember, your interviewer is already forming an impression of you as soon as you walk inside the room. 
Which type of tie is best for interviews?
With the trends, it is confusing to choose the best one among the various types of ties. However, the only types of a Tie prevalent in work culture are the standard and skinny ones. And you do not have to stick to any one of them. You can choose any of the two according to the structure of your tailored suit and your body type. For example, if you have a muscular body, a standard-sized tie will work fine with your attire. But if you're the ectomorph, a standard Tie width might look odd on you. But in the end, it should be more of your choice and less of someone's advice. Choose the one in which you feel more confident.
Patterned v/s solid, which one is better?
Patterns or prints are a good choice only if they are not too distracting or groovy. Remember that you have to uphold professionalism. If you believe that you will do better with patterns, then make sure to choose a sober and conventional one. Think small polka dots or a striped design. Otherwise, solid colors are always there for your save. They are minimal, bold, and classy. In short; just what you need.
Now comes the part we all have been waiting for. Are you ready to nail the dressing part for your interview? Let us get started with three things to keep in mind before finalizing the color of a tie.
Do not choose an unusual color.
A mistake many people commit while selecting a tie is choosing a color too bright to ignore. You want your Tie to be noticeable, but you do not want the interviewer to feel forced to look at it repeatedly. A color that is out of the ordinary will shift the focus of your interviewer to only the tie and might also make them feel uneasy. 
Blend in the tie color with the color of your attire.
Now blending in here does not mean using a tie of the same color as your suit. It means you should be careful to choose colors that go with each other. For example, a purple-colored tie paired with an olive-colored suit will probably look like a disaster. So, make sure to avoid looking too unmatched.
Know your colors.
Being practical and straight to the point, we all have our favorites. We all know clothing pieces, colors, and accessories that suit us the best. And with an event as important as an interview, what matters the most is how you feel confident. So, it is always a good idea to go with a color that makes you feel positive and assured.
Best tie colors for a style statement
You must have already figured out the best tie for yourself, but it does not hurt to know what is trending, right? Here are five tie colors that are in style and give off major professional vibes. Who knows, you might also want to go with one of these? Let us get to it.
Classic blue 
Image source: Pinterest
The classic blue color denotes calmness and elegance. If being the silent mastermind is your vibe, then this color will define you well. It gives a sense of resilience and a refined taste to your look. It might also help ease the stress in the room and help you feel more at peace during the interview. And if you did not already know, this classic blue is known to have a reputation among top entrepreneurs. 
Charcoal black
Image source: Pinterest
Black always signifies power and confidence. If you wear a black suit with a white shirt, a charcoal black tie will match the fit. However, this is a common choice but, it is still a relevant one. If you're that monochrome-loving person, then you've got your color. After all, black can never go wrong. You are sure to make a fine first impression if you walk in with a black tie. 
Olive green
Image source: Pinterest
This dark green color will surely make you stand out if matched rightly with the rest of your fit. It represents the traditional color of peace. If you want to look approachable, then this will work wonders for you. The olive-green color is also often associated with diplomacy and wisdom. If that describes your aura, go for it. Plus, it is a unique color. 
Burgundy
Image source: Pinterest
The rich hue of burgundy represents the richness and a growth mindset. Adding a burgundy tie to your suit will earn you extra points for sophistication and strength. The color will help you embrace your individuality and set the environment around you straight. If you want to speak standards, a burgundy tie will surely impress your interviewer.
Ivory
Image source: Pinterest
A warmer variant of white, Ivory is a soothing color. It goes well with almost any color, which makes it an easy choice. Choosing an Ivory-colored tie will help you appear trustworthy, pure, and fresh. If you are someone who values their sanitary a lot and is always there to lend a helping hand, Ivory will speak the right words for you. If you are confused or do not want to spend time figuring out the perfect matches for your outfit, Ivory is your color.
The final verdict
However hard it may seem, choosing a tie color can be fun if you take it that way. And from what you must have read so far, we hope it does seem a little enjoyable to you. Be it a classic burgundy color or elegant strips, and we have mentioned the best colors you can buy your Tie in for your next interview. Remember, do not be afraid to let your creativity shine with a little help from this guide. Keep in mind the position you are interviewing for, the subconscious effects of each color, and turn on your best matching mind. We hope you are going to be the victor in the interview with your wit and personality. And do not forget to keep that brilliant smile on your face!
What color tie should I wear to an interview?