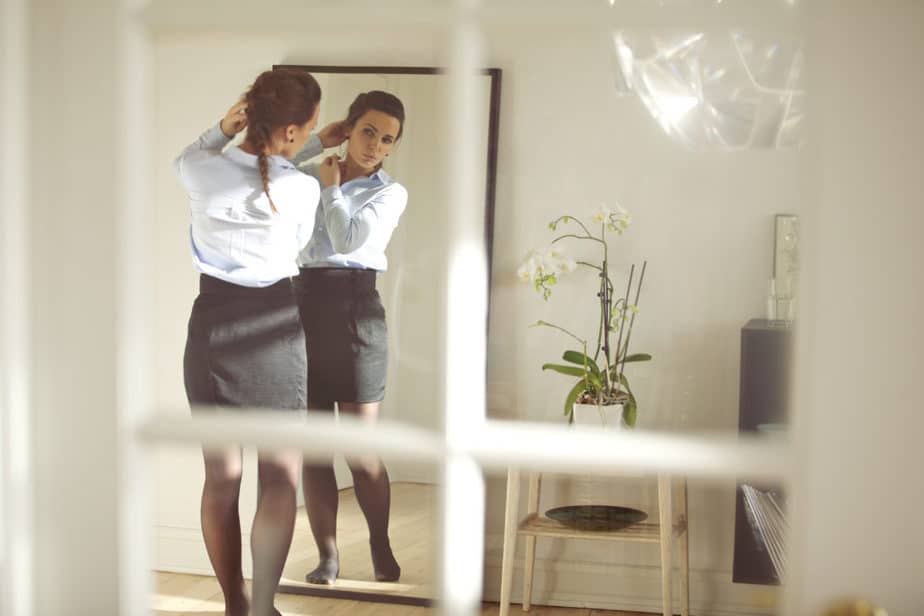 In this article, we will see the Starbucks dress code.
Introduction
Starbucks is widely known for its signature bright green apron all over the world. This helps the employees in making the Starbucks symbol stand out amongst their customers and they wish to keep it that way. 
There have been a series of changes to the Starbucks dress code over the years but the color palette has more or less remained the same.   Starbucks follows a formal color palette consisting of colors like beige, khaki, white, black, brown, gray, and navy. The employee is expected to wear their aprons properly laundered and maintain them throughout their shift. 
The attire guidelines and dress code is fashioned in a manner that accentuates the Starbucks apron and provides a respectable environment for its customers. A detailed guide to the Starbucks dress code is given below. 
Tops form a huge part of what you represent 
Maintaining your top is most crucial as customers notice your apron and name tag the most. Solid colors are always the best option in a formal setting. Other than that, they encourage patterned clothes which are not too bright and bold in design. The top neckline should be that of V-neck, crewneck, or boatneck; round-necked tops are not encouraged to be worn. Make sure the neckline always stays above the hem of the apron. 
Button-down shirts with short, long, or 3/4th sleeves are good to go; undershirts may not match but should nevertheless follow the color palette. Shirts with subdued, compressed plaids, stripes, and patterns and tops with consistent wash are preferred. Polos and turtlenecks or mock necks are welcome as well. Denim shirts and tops also accentuate the apron and fall under the Starbucks prescribed color palette, so feel free to wear them as long as they follow the style and patterns discussed.
Sleeves should not be long enough to come in the way of your work or interfere with food hygiene. Wear tops with sleeves that do not exceed wrist level. If the sleeves are too long, make sure to roll them up neatly to avoid any inconvenience. It is to be kept in mind that Starbucks wants its employees to have a clean and neat look. Hence, all tops should be properly laundered and hemmed, with no tears and holes whatsoever. Tops with huge brand logos or graphics are not allowed to ensure focus on the apron.
Tops should cover the armpit and shoulders. Make sure to select tops that cover the midriff. See-through tops should be avoided and one must make sure that undergarments are in no way visible. Hooded tops are not allowed either. 
Stick to solid colors when it comes to bottoms
You may choose any color from the Starbucks color palette for your bottoms other than white. Unlike tops, printed bottoms are not welcome; hence stick to solid colors. Pants, trousers, skirts, shorts, and jeans fall under the Starbucks dress code for bottoms. As for jeans, it is to be kept in mind that light shades are not allowed, dark washes are preferred. Leggings can be worn underneath skirts or dresses but not by themselves. Again, you must make sure there are no tears or holes in what you wear. Distressed material must be avoided. 
If you wish to wear shorts and skirts, they should be no less than four inches above the knee. Bottoms are not to drag on the floor or come in the way of your work. Make sure to wear clothes that are comfortable and well-fitted. The pants should not be too long. Undergarments should not be visible. Leather and printed bottoms are not welcome. 
Dresses are welcome at Starbucks
The color code and style are pretty much the same as that of tops and bottoms. Dresses should also maintain the four-inch rule if they are above the knee. Make sure the dress follows the color code and sticks to solid colors rather than patterned ones. With the exception of white, any color from the Starbucks palette is welcome. You may wear tights or leggings beneath the dress.
Wear fully covered shoes
This is to ensure that warm liquids do not harm your feet. Shoes should be brown, gray, or black in color. No sandals, flip-flops, open-ended shoes, or shoes with graphic logos are allowed. Make sure they are made of sturdy materials to avoid accidents. Leather or rubber shoes are preferred. 
Starbucks says yes to dyed hair
It seems that Starbucks has been more accepting of its employees' styling preferences. They now allow hair that is permanently dyed; temporary or spray-dyed hair is not allowed as it may interfere with the food hygiene protocols of the company. Semi-temporary dyed hair is accepted as it takes six to seven washes to remove and will not contaminate food and drinks. Do not use glittery dye or temporary glitters on your hair. 
You may dye your hair in whatever color you choose but it is preferred that you commit to it long-term. Apart from this, make sure to tie your hair if it is long and trim your beard or stay clean shaved.
Keep your accessories minimal
Starbucks is fine with jewelry as long as they are minimal in nature. Your hands and fingers should be free of accessories; an unadorned ring on your finger is acceptable. Arm accessories are also not permitted. A maximum of two dainty earrings per ear is allowed, including a small studded nose piercing. No other piercings on the body shall be made visible. Simple necklaces are allowed and all jewelry must stay beneath clothes. 
Ties, bows, and scarves often go with formal attire and can be readily worn at Starbucks. Make sure that they are not bold in color or heavily patterned. Such accessories should not cover the apron or name badge in any way and may stay beneath the apron. Belts are allowed as long as they are not distracting. 
Beanies and hats are welcome as long as they are in solid colors. They should not have logos or graphics of any kind other than the Starmarks brand symbol. Baseball caps are allowed as long as the bill is not facing backward. 
Socks should be of solid colors and maybe slightly patterned. They may not follow the formal color palette as long as they are beneath pants; this does not apply if worn with skirts, dresses, or bottoms that expose the ankle.  
Inking your body is not a problem
Tattoos are welcome but make sure they do not include sexual, racist, or inappropriate words or signs of any kind. Face and neck tattoos are not accepted as long as they are visible. If you have tattoos that do not comply with the rules, cover them with clothes or makeup. However, if such tattoos remain on your hands or fingers, they are unacceptable as they cannot be covered with makeup or clothing to ensure food safety. 
Conclusion 
Starbucks seems to be following a gender-neutral narrative on dress codes and regulations. Its tolerance regarding hair colors and tattoos shows that they are open to being experimental. But, Starbucks still remains a formal place for the employees. One should keep in mind to follow personal hygiene routines – a neat and confident appearance helps in creating an impression both on the manager and the customers. 
Make sure to write your name on the name tag in a manner that is readable to anybody who comes across you; use a reasonable-sized font and black ink to do so. If you have any queries regarding your outfit, make sure to consult the issue with your store manager. 
FAQs
Q.1) Does Starbucks have a uniform of its own?
Ans) Yes, it does. It depends on the region whether uniforms are in use or not. Starbucks may provide you with a uniform of their own depending on which outlet or country/state you may be a part of. You have to pay for it and make sure it is always in good condition. The uniform may include a cap with the Starbucks logo on it.
Q.2) Is nail paint allowed during working hours?
Ans) You are not allowed to wear nail paint, nail varnish, or artificial nails. Nails are to be trimmed short and kept in clean and hygienic conditions.
Q.3) Is wearing perfume a problem?
Ans) You may use perfumes that have light fragrances but do avoid ones that can be overpowering. The use of perfumes is usually encouraged for hygienic reasons.
Q.4) Can pins be worn on clothes or the apron?
Ans) Usually, nothing is allowed to be worn on aprons other than the name tags. Small pins that are not sensitive to any race, culture, or religion and do not advertise any brand or political ideology may be worn. However, it is best to consult the store manager regarding such an issue. 
Q.5) Can one wear sweatpants and joggers to work?
Ans) Activewear or gym wear of any kind is not allowed. Hence, make sure to steer clear of any such clothing items.
Starbucks dress code-Everything you need to know