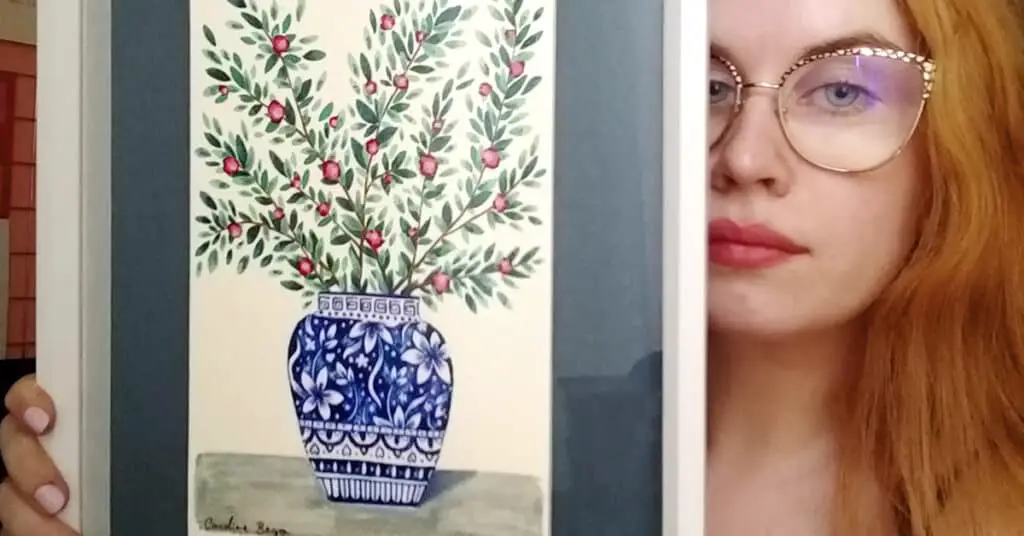 Freelance Illustrator – My name is Caroline Bogo, and I'm a visual artist and illustrator based in Brazil. I have graduated in Visual Arts, but I started working as a textile designer, creating patterns for fashion and linen brands for almost six years. But in the meantime, I spent my spare time dedicating to my personal projects and improving my skills with painting, illustration, and developing my art poetics. During that period of time, I was able to join a large number of graphic fairs where I could exhibit and sell my work and get to meet many other amazing artists as well. Even though I was working in the textile industry, I was hoping to enter the editorial and publishing markets because of my old passion for books. Working as an illustrator has always been a dream of mine. So in 2020, I decided to quit my job as a surface designer in a company and fulfill my dream of becoming a freelance illustrator. Since then, I've been working hard to enter the editorial market, which's been quite challenging – and successful so far- must I say (:
How was your University time?
It was amazing, full of new experiences. I moved to a bigger city, so I could go to museums, galleries and get in touch with students and professors living in the same artistic atmosphere as I was. It was a time that I got to work and practice artistic media that I've never practiced before, like engraving and sculpture, and study art criticism, curation, and performance – that were far from things that I intended to work with – but it was enjoyable and interesting to study about. In general, it was a period of time in which I've learned a lot and got to meet delightful people. 
Why did you choose a career – Freelance Illustrator?
I've always loved art. It was my favorite subject in school, and that's why I've always carried this sketchbook with me so I could spend hours drawing and painting. So when I was about to decide which career I should choose for my life, I thought to myself ''Why not make my passion my work?' That's how I've chosen to study Visual Arts and work with art and illustration (:
What was your first job or nuggets from jobs you had that helped you get to where you are today?
It's quite hard to say. I have worked for six years as a textile designer in many companies, and during that time, I've learned a lot, especially on how to improve my techniques with digital art. I've spent a long time following briefings and world fashion trends, but I was working on my personal stuff and improving my painting and illustration skills in my free time. I guess both of those experiences were very important to help me get where I am today. I basically never stopped creating, even in my spare time.
Any advice about CVs?
Now that I'm a freelancer, my CV's been quite rusty, haha, but I try to update my portfolio as much as I can. I believe your personal experiences are as important as your professional ones, so I believe I'd suggest people add their personal projects to their portfolio as well. Choose your best illustrations and organize them in the most objective way you can.
Advice for someone looking for a job?
Luckily we have social networks, so use them to spread your work, processes, and experiences, but don't rely on them. Send e-mails to people or brands you want to work with, call them, send them a letter or a postal card. And you can also use Linkedin or other platforms to search for job vacancies. It may take weeks, months, or years to find your dream job. I know it sounds cliche, but keep trying and don't give up.
C A R O L I N E   B O G O 
illustrator & visual artist
Also read Working as an illustrator and a storyboard artist
From Job Hunting to Working as a Freelance Illustrator