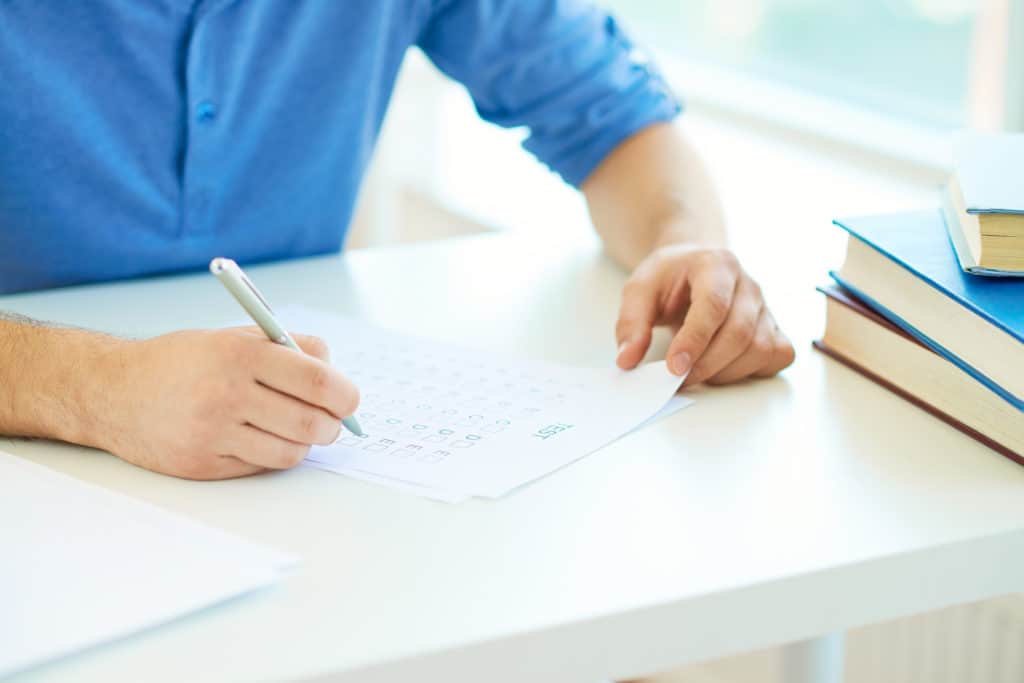 Nowadays more and more employers ask for GED before recruitment, which implies that the majority of jobs require a GED. Thus, getting a GED will open new and better job opportunities and career options. What Jobs can you get with a GED?
WHAT IS A GED?
GED stands for General Education Development tests. This consists of four tests of different subjects that, when passed, indicate that the person has a high school level education. These four tests can be taken at separate times according to one pace.
There are the following four tests:
Mathematical Reasoning – This test takes two hours and the exam is divided into two parts. A break is provided in between the sets. The syllabus consists of basic maths, geometry, algebra, and graphs.


Reasoning Through Language Arts – The total time to finish the test is two hours and thirty minutes. The test is divided into three sections and the syllabus consists of grammar, language, identifying, and creating arguments. A written essay is also to be submitted for which you get forty-five minutes out of the whole duration of the test.


Science – This is a ninety-minute test without any breaks. The syllabus consists of readings for the meaning of science, scientific experiments, and graphics in science.


Social Studies – The duration of the test is seventy minutes without any breaks. Different types of questions including MCQs are given, the syllabus consists of historical events, arguments in social and other basic knowledge of the subject.
The cost per test and the rules are different in different states. The least score of 145 is necessary for each subject to pass. If your score is higher, then that will be beneficial during college admissions. If you are someone who dropped out of high school and cannot attend the four-year-long journey later then GED is a good option as many employers take GED as equivalent to a high school diploma.
ELIGIBILITY 
The minimum age to take the exam is 16 and the individual should not be enrolled in high school. The regulations vary from state to state. Some states have the minimum age of 17 to take the exam whereas in some states you can be allowed to take the exam even if you are underage after taking consent from parents and school districts.
ENROLLING FOR THE TEST
You have to schedule a time online before going to the test center. There are multiple test centers available for which you can check online and fix a time and date at which you will be taking your test. The test is usually taken in person but there is an option of online testing available.
You can take the online test if you are not able to go to a test center, you should have all the equipment needed like a computer, webcam, a good internet connection, and a government-issued ID prepared before the test start. An online proctor monitors you during your test, make sure to sit in a closed room without any distractions. Before taking the test you must score green in a GED ready practice test of the subject you wish to give the final test for. This practice test is to be taken within the last 60 days for each subject for which you will be taking the test. Your state must allow online testing for you to take the test.
JOBS YOU CAN GET 
There are plenty of jobs opportunities you have after passing your GED. If you wish to go for higher studies then also your GED  score will hold an important value in your selection process.
Following are the job options that you can go for:
ADMINISTRATIVE
Financial Clerk – As a financial clerk you write and update the financial record of the clients and help them in any money-related queries and transactions.  

Salary – Around $39,000 per year

Receptionist – As a receptionist you will have to answer and forward calls, take messages, scheduling and confirming meetings, receive visitors and packages.

Salary – Around $40,000 per year

Customer Service Representative – Your main role in this position would be to listen and answer the customers' queries.

Salary – Around $48,000 per year

Administrative Assistant – As an administrative assistant you perform basic clerical work and help in managing and administrating information throughout the office.

Salary – Around $42,000 per year

Centers Information Clerks – The work of an information clerk includes preparing reports, bills, or orders, collecting data and maintaining their records from customers and staff, and answer public queries. Your tasks may vary according to which department you work in.

Salary – Around $40,000 per year

Account Collectors – They try to recover overdue payments. They find solutions for debtors to pay back the amount loaned to them earlier.

Salary – Around $42,000 per year
ART AND DESIGN
If you are an artist like a photographer, painter, or author then you don't need higher education. If you want you can pursue a higher degree to polish your art but you can start working as an artist without that only. Your salary will depend on your sales and can vary accordingly.
BUILDING AND GROUND CLEANING
Pest Control Worker – A pest control worker inspects the property for any sign of insects, rodents, or pests. They remove pests if any of them are found during the inspection and administer chemicals that prevent any such encounters.

Salary – Around $40,000 per year

Ground Maintenance Worker – A ground maintenance worker maintains the outdoor of your house, office, or parks. They are responsible for cleaning and maintaining an attractive and pleasant outdoor environment.

Salary – Around $33,000 per year 

Janitor – A janitor acts as a caretaker. They are responsible for keeping the place thoroughly clean regularly.

Salary – Around $33,000 per year
SOCIAL SERVICES
Community Health Worker – This role provides an opportunity to help the ones who are socially deprived. 

Salary – Around $30,000 per year 

Social Service Assistant – A social assistant works under a licensed social worker, working mostly in an organization. They do all the work assigned including the social services and office-related work.

Salary – Around $48,000 per year 
CONSTRUCTION, INSTALLATION, AND REPAIR
Carpenter – A carpenter constructs, rebuilds, or install structures that are made from wood and other materials. They construct frameworks for a building, including walls, doors, windows, or other various objects.

Salary – Around $52,000 per year 

Electrician – An electrician install, maintain and fix any problem there is with the electrical system of a home or any building. Every building needs electricity and their maintenance and problems are resolved by an electrician.

Salary – Around $55,000 per year 

Machinist – A machinist is a person with knowledge of machine tools and can operate them.

Salary – Around $55,000 per year 

Construction Labor – A construction labor work at the construction sites of various projects. The work usually consists of manual labor and physical construction.

Salary – Around $39,000 per year

Construction Equipment Operator – Equipment operator is responsible for operating the machines used at construction sites. You have to be present every day at the site and the work does not involve physical labor work.

Salary – Around $47,000 per year 

Masonry Workers – Masonry workers also help in the construction of various projects, their main work is to lay the basic layer of bricks and cement and prepare the material required for the same.

Salary – Around $37,000 per year

Installer – An installer can be of different specifications, some only install flooring and tiles, some people install ceiling and drywall, or security alarm installer.

Salary – Around $45,000 per year 
FOOD SERVICES AND PREPARATION
Cook – A cook prepares food as a profession. They work at restaurants, hotels, or cafes and are responsible for preparing dishes and meals.

Salary – Around $48,000 per year 

Baker – A baker prepares baked dishes like pastries, bread, and desserts. They professionally bake and sell these items. They also decorate baked items like pies and cakes.

Salary – Around $40,000 per year

Bartender – A bartender is a person who works at a bar and his only duty is to make and serve drinks. They prepare the drinks according to the customer's request and serve them. They are also responsible for cleaning the utensils and keeping the platform clear of extra glasses.

Salary – Around $38,000 per year

Waiter – As a waiter, you have to be friendly and engaging, this behavior can help you earn some extra tips. You have to encounter all types of people. This job requires maximum engagement with many people every day.

Salary – Around $37,000 per year
HEALTH AND PERSONAL CARE
Child Care Worker – A child care worker will be supervising and taking care of children, managing their meals and hygiene. You will also have to maintain children's activities.

Salary – Around $28,000 per year

Nurse – As a nurse you will be looking after the patients, monitoring their condition, performing tests, and assisting in medical treatments.

Salary – Around $75,000 per year

Home Health Aid – A home health aide is a healthcare professional trained with basic nurse duties and is responsible for taking care and monitoring the patients at their home.

Salary – Around $30,000 per year
LEGAL
Title Abstractor – A title abstractor is responsible for verifying title, real estate records, compiling contracts, and summarizing legal documents.

Salary – Around $42,000 per year

Title Searcher – A title searcher searches for real estate records, analyze the chain of the titles and verify details to determine the legal description and ownership of the property.

Salary – Around $40,000 per year 

Title Examiner – A title examiner searches for the history of the property to determine its cost and gathering records of taxes, bankruptcy, or any other matter related to that property.

Salary – Around $42,000 per year 
MANAGEMENT
Real Estate – Real estate brokers and sales agents usually negotiate with potential clients to buy, sell and rent properties.

Salary – Around $90,000 per year.

Agriculture – Agricultural manager plans and organizes daily activities and handles the administrative work of the farm and the products.

Salary – Around $40,000 per year
You can work as a food service manager, which handles the daily activities of a restaurant and supervise the employees.
Lodging – Lodging managers are responsible for the comfortable stay of their guests in the hotel, they ensure the proper functioning of the overall staff and ensures efficiency and profits

Salary – Around $40,000 per year.
PROTECTION
Security Guard – A security gaud is responsible for securing the premises by patrolling and monitoring surveillance equipment. They can also permit or exhibit the entry of certain people due to security reasons.

Salary – Around $30,000 per year.

Bailiff – A bailiff is an officer who ensures that the courtroom proceedings work according to the law. They maintain decorum and thus are law enforcement officers.

Salary – Around $30,000 per year.

Private Detective – A private detective gathers information and facts that the clients request. They use different modes to gather information on a person, they also assist in investigations when requested.

Salary – Around $32,000 per year.
SALES
Insurance Agent – Insurance agent or insurance sales representative is a person who sells insurance policies. They call and meet with clients and offer the policies according to their needs and also build potential clients.

Salary – Around $50,000 per year.

Cashier – A cashier collects payments through various modes and registers sales and purchases in the record. They also assist customers with any queries.

Salary – Around $25,000 per year.

Retail Sales Representative – A retail sales representative sells retail products and services to the customer, they ensure a smooth selling process.

Salary – Around $35,000 per year.
TRANSPORTATION
Chauffeur – They drive the customers to their desired location, help them carry their luggage, and run errands for them when requested.

Salary – Around $50,000 per year

Taxi or Bus Driver – As a taxi driver you drive customers to their location through a fast and safe route. Bus drivers drive public buses carrying multiple people through a specified route.

Salary – Around $35,000 per year.

Delivery Truck Driver – A delivery truck driver is responsible for carrying goods or products from one location to the other in the given time without any damage.

Salary – Around $40,000 per year.
FARMING, FISHING, AND FORESTRY
Farming Equipment Operators – They are trained to operate the equipment used in daily farming activities, they are responsible for managing the equipment and their proper functioning.

Salary – Around $32,000 per year.

Animal Breeder – Animal breeders select and breed the animals to produce the progeny with the desired characteristics. They select animals carrying the desired traits and then breed them to produce a progeny which carries all the desired traits.

Salary – Around $30,000 per year.

Fishing – They catch fish and other marine life using various techniques which they later sell to be consumed by humans.

Salary – Around $50,000 per year.
Military is also an option. You have to give ASVAB (armed services vocational aptitude battery) which determines the roes best suited for you but with a GED certificate, you can get into tier 2.
Salary – Around $40,000 per year.
Joining the military have many additional benefits, and if you gain a good credit score in college then you can also get into tier
A majority of job opportunities available require a high school diploma or a GED thus if you want your options to maximize then you should get a GED. Apart from this, GED o high school diploma is asked by almost every university if you wish to study further. You can prepare within a few months, there are resources and sample tests available for help.
GED AND HIGH SCHOOL DIPLOMA  
A GED is equivalent to a high school diploma. If you were not able to attend your high school for some reason then you can try getting a GED as it will open up many job opportunities for you. Many employers consider GED as equal to a high school diploma, and a majority of job opportunities require you to have at least any one of the two. If your goal is to work then you can take your GED after which you will have many opportunities open up for you. If your goal is to study further then also this will help you because the majority of universities ask for either a high school diploma or a GED.
With a good score in your GED combined with SAT, you will be able to get into any school of your choice. Some people don't have the option of attending four years of high school thus GED comes as a rescue. It takes relatively less time, you can prepare in a few months and the cost of taking the tests is also not very high. Thus, not attending high school will not be a problem in your career path.
Did you know that you can take your GED for free or at a discount?
There is a program called GEDWorks that allows you to get your GED for free through your employer. Through this program, you can earn your GED while you work. The costs are covered by the employer or healthcare provider. You get access to study materials, practice tests, tutoring, preparation courses, a personal advisor without costing you anything. The advisors assist you throughout the process, give tips for preparation, and guide them through the study materials.
Employers can also track your overall performance and progress. They support you through your preparation. Many companies provide their employees this program. Apart from workplaces, there are health plan providers who help students with this program. Some states also provide the opportunity to take a free GED or at a discounted rate as a part of a promotion.
Cons of GED
There is no denying in that gaining a GED certificate will open doors for you. It will give you knowledge equivalent to someone who graduated with a high school diploma. Even if you want to get a job or become a freelancer or open a business, then also it cal open up good opportunities for you. But there are some cons among these benefits:
Some people and employers will not take GED as equal to a high school diploma. They think of it as an easy short path in comparison to a high school diploma.
People who completed their GED are statistically less likely to attend and complete their college degrees.
There are better job opportunities in many sectors of the country but there may come restrictions in the way. The unemployment rate of people with GED  is increasing in comparison to people with a high school diploma.
Workplaces where rules are considered very important see people with a diploma as someone who can abide by the rules.
Military selections are very specific, and holding a GED certificate can give you a little disadvantage from the start of the selection process. The dropout rate of GED certificate holders is more than a diploma holder after acceptance into military services.
There comes a gap of a few years once you drop out and before you become eligible to take the GED test.
Mostly, you will miss out on the fun high school experience. The schools offer various athletic options, scholarship chances, and extracurricular activities which get limited when you pursue a GED certificate. A four-year-long high school journey reflects your determination to pursue something, and the addition of all the activities you do during this period gives an advantage during college admissions ad some other job opportunities.
There are plenty of advantages in getting a GED certificate but the choice should be based solely on your needs and your overall situation. Opportunities open up once you excel at anything with good determination.
CONCLUSION
As listed above, you can see how beneficial a GED certificate can be for you. Better job opportunities and higher education, whatever your plans are, a GED will only open good opportunities for you. It is only the first step towards your path to success. You can later add to your knowledge to succeed further. Even if you can not attend the long journey of high school, a GED will hold the same value throughout your career, hence you will not miss out on any opportunity.
It is cost-efficient, the amount of taking the test is around $120 ( including all four tests), this cost may vary in a different state. You can still have the option of free or discounted GED programs offered by any companies to their employees and other helping organizations which help the student throughout their preparation by covering costs and provide valuable help. If the state allows, you can also give GED while sitting in your room through online testing. Gaining this certificate will open many doors for you and will be the stepping stone towards your way to success.
What Jobs can you get with a GED?- How to get in?