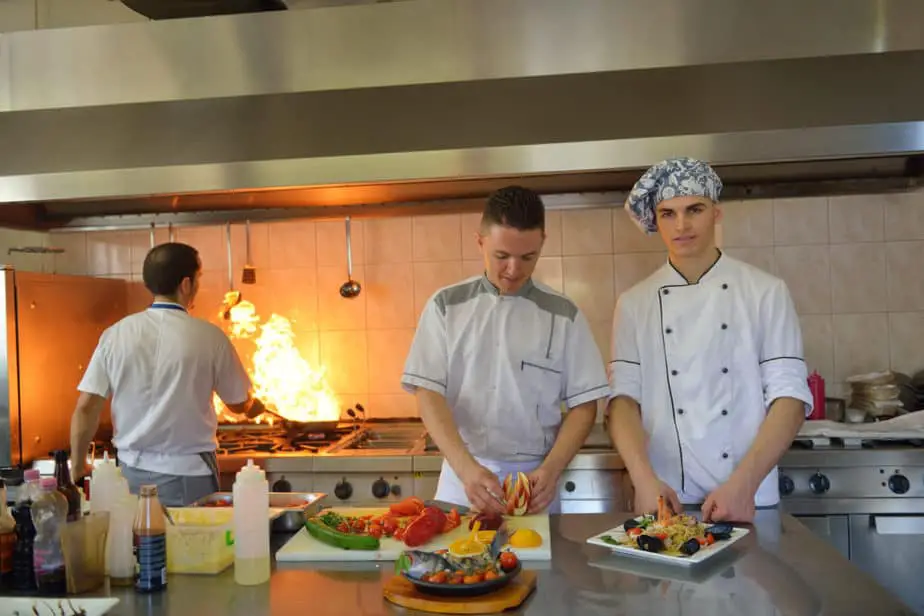 INTRODUCTION
Qdoba Careers originated from Qdoba Mexican grills. It is a popular Mexican fast-food restaurant that came into existence in 1995. They operate with the sole mission of adding flavor to the lives of those they come in contact with. Qdoba Mexican Grill specializes in adding flavor to its customers through its food, communities, and employees. The idea of 'adding flavor to the lives of individuals' stems from a belief that every person is different and unique in their ways, and showing a little kindness will make life comfortable for every one of us.
Qdoba Mexican Eats has several locations in the United States and Canada that provide job opportunities to several people. These store locations believe in giving back to their host communities by employing people in that community. They offer a rewardable employment opportunity with many benefits to further education and build a great career. As they continue to expand, they keep employing new hires to fill positions at their franchise locations to help meet customer demands. These job positions can vary from crew member, team member to assistant manager, restaurant manager, etc. Are you looking for a work environment that offers career growth and rewarding benefits? Then Qdoba careers are the best place for you to be. This article will introduce you to several job opportunities available at Qdoba Careers, the job application process, the benefits of working at Qdoba Mexican Grills, and the interview questions. These details will help you secure a job at Qdoba Careers.
WHAT DO QDOBA CAREERS REPRESENT?
Have you been wondering who the brain behind Qdoba Careers is or how they have managed to become this popular in several states? Well, you are about to get an answer finally. Qdoba Careers was founded in 1995 with Zuma Fresh Mexican Grill in Denver, Colorado, U.S. Anthony Miller, and Robert Hauser established it. Zuma Fresh Mexican Grills welcomed customers in its first year but took time to attend to them because of many customers in the queue. In 1997, Zuma Fresh Mexican Grill changed its name to Z-Teca Mexican Grill because of a lawsuit from another restaurant. This restaurant situated in Boston charged Z-Teca Mexican Grill to court for using the same name, which was also confusing their customers.
In a bid to advance their business, Z-Teca Mexican Grill started offering franchise opportunities to entrepreneurs as they looked forward to going beyond the borders of Colorado. As a result, Z-Teca Mexican Grill witnessed an influx of investors willing to invest in the organization. Unfortunately, they also received several court injunctions from companies who felt that the name Z-TECA sounded like theirs. So, in 1999, Heckler associates coined the phrase Qdoba to end all the trade name problems faced by the restaurant. Franchise and vendor opportunities gave birth to many locations in the United States and Canada, which was how Qdoba careers came into existence.
WHAT ARE JOB OPPORTUNITIES AVAILABLE AT QDOBA CAREERS?
Qdoba careers offer a lot of job opportunities to young individuals from age 16 and above. Some of these positions include the following:
Cook
Team Member
Team Leader
Restaurant Manager
Assistant Manager
Delivery Driver
Shift Supervisor
Customer Care Representative, etc.
The above-listed positions are both entry-level positions and management positions. You can decide to join Qdoba Careers and diligently work your way up to a management position like the Restaurant Manager. There are opportunities you can take advantage of.
JOB POSITIONS EXPLAINED
The above job positions available at Qdoba careers can open up job applicants to many opportunities, some of which include an expansion of their social networks and an upgrade in their skills. These positions also allow employees to earn salaries as they work. Some of these positions include:
Cooks: If you are applying to work as a cook at Qdoba, you must be conversant with preparing several recipes with essential kitchen equipment. You will be required to prepare foods using natural ingredients, keep the restaurant clean, and maintain a healthy lifestyle. As a cook, you will also need to lift supplies regularly, and you may be privileged to work on a per-time basis. Cooks at Qdoba Mexican Grills earn an average of $9.00 per hour.


Team Members: As a team member, you will work closely with customers, which requires that you are at your best. Your duties would involve greetings and welcoming your customers, receiving and processing customers' orders, explaining policies and services, etc. You may also be expected to get involved in lifting supplies, which will require that you are physically capable of running around.

It would help if you had a basic understanding of maths because you must handle the cash register to document sales. Working as a team member may also involve getting involved in the preparation of meals if customers are on the high side. This job position is an entry-level position. You don't need to possess any special certificate, with basic skills you can get the job. Team members are privileged to earn an average of $13:00 per hour.


Team Leader/Restaurant Manager/Assistant Manager/Shift Supervisor: If you desire to work in any management position, you are expected to possess driving permits, essential leadership skills and showcase an outstanding level of availability. You will be required to promote sales, attend to customers' needs, hire and train personnel, monitor inventory, and set schedules. You must also possess an exemplary attitude that motivates team members to work. To apply for this job, you must be 18 years and above and maintain a level of experience working in a food setting. If you use it for the team leader post, you can earn an average of $ midnight per hour, depending on your location. But, if you decide to apply for a restaurant or assistant manager position, you will earn an average of $35,000 per year.
WHAT ARE THE BENEFITS ATTACHED TO WORKING AT QDOBA CAREERS?
Qdoba Careers offers employees benefits that are not limited to their status because they believe in adding flavor to their employees. They know that if their employees are well treated, they will extend the excellent treatment to customers who visit the restaurant. Some of these benefits include the following:
Discount on Meals and service awards: Employees who purchase food from the restaurant do so at a discounted rate. Also, employees receive awards for exemplary service to customers regularly.
Healthcare coverage and Paid vacation: Employees at Qdoba are privileged to enjoy a health plan that provides their dental, visuals, and general medical conditions. They also receive payment when they go on vacation.
Tuition reimbursement, special retirement plans, employee assistance programs, and special insurance packages are also available to management employees.
HOW DO I APPLY FOR A JOB AT QDOBA CAREERS?
Do you want to be a part of Qdoba's career? Did any of the aforementioned benefits catch your interest? If yes, then I will show you how to begin your application process. But before that, it is important to note that Qdoba careers do not make provision for any printable application forms, you either visit their site and search for job openings, or you visit any of the local stores. Now, let's get started with how to apply for a job at Qdoba careers:
Step 1: Visit Qdoba careers official website https://careers.qdoba.com/
Step 2: Begin your career search by clicking on your desired job position, location in the search bar. After you have done that, click on the search button.
Step 3: Your search result page will contain available job positions within your locations. Review the results properly before proceeding with the job position of your choice.
Step 4: Click on the apply button in front of the position you want to apply for.
Step 5:You will be directed to a page that reveals the job description and specific requirements for that position. Properly go through the requirements and duties if you are a good fit and think that the job is worth considering. Then click on the apply button.
Step 6: It will lead you to an application page where you will be required to fill in your contact information and answer some personal questions.
Once you have finished answering your questions, review your application. If you are satisfied with it, then proceed to submit your application. 
Furthermore, if you have a restaurant located close to you, it will be nice to visit the restaurant. You can fill in your application at the location. Having submitted your application, the hiring managers would process your application to see if you possess the requirement for a hiring need. If yes, you will be contacted and scheduled for an interview a few days after your application. You can also follow up on your application by visiting the restaurant if you are not contacted on time. When visiting the restaurant, pay attention to the daily tasks of team members so that you will be familiar with the daily operations at Qdoba careers.
WHAT DOES THE INTERVIEW PROCESS AT QDOBA CAREERS ENTAIL?
The interview process at Qdoba Careers is usually a straightforward process that involves a period of questioning by the hiring manager. This process helps the hiring manager through the process of selecting the right candidate for the job. They ask a couple of simple questions that may include the following:
Can you tell us about yourself?
The best way to answer this question is to give a brief introduction about yourself, your past experiences, your strengths, accomplishments, and your educational background. Your answer should interest the hiring manager to want to get to know more about you. So be clear and bold in providing your answer.


Why do you want to work at Qdoba Careers?
Before going for an interview, it is necessary to conduct research and have a basic understanding of Qdoba Careers. This will help you state the reasons why you want to work at Qdoba. Were you attracted by their vision, mission, or benefits? Just state a good reason that displays your level of intelligence.


Where do you see yourself in the next five years?
Every organization has a goal for the future, and they love to employ employees who have plans for the future. So go ahead and share your plans with them. Also, let the advancement of the organization be featured in your plans. 
Hiring managers could ask more questions if they are not impressed with your answers. Do well to answer questions clearly and concisely. Dress corporately and demonstrate your communication and leadership skills, especially if you are applying for a management position. I wish you the best!!
FREQUENTLY ASKED QUESTIONS
What should I wear for an interview at Qdoba Careers?
If you are applying for an entry-level position, it will be most appropriate to wear business casual, but if you are going for a management position, then it will be appropriate to dress formally. I.e., wear a suit.
How is the work environment at Qdoba Careers?
Qdoba Careers possess a work environment that adds flavor to the lives of its employees. They have a fun-filled atmosphere, and your job is laid out in a simple and understandable process. So, working at Qdoba is not necessarily hard.
What is the duration of a Qdoba interview?
The interview process at Qdoba careers involves a period of questions and answers that usually last for 30 minutes. Applicants are called for a face-to-face meeting with hiring managers to determine if they are the most qualified for the job they are applying for. 
Was I able to help you? If yes, let me know in the comment section below!!
Qdoba Careers- Job Application Process, Their Salary, and Benefits