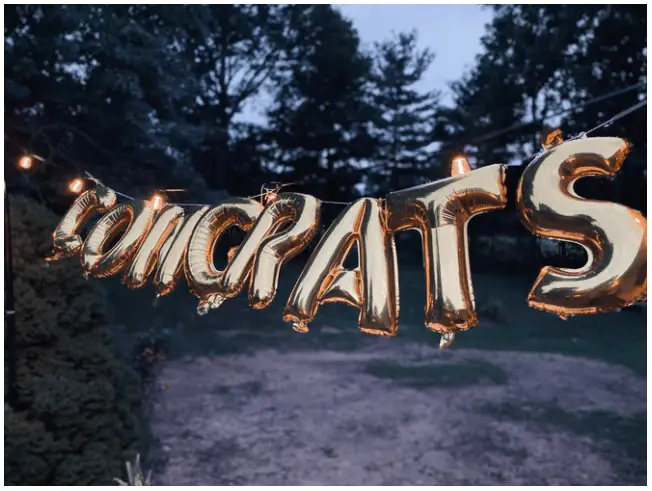 Other Ways to Say "Congratulations" I am so thrilled and grateful to received a congratulatory message from you. Thank you".
A happy moment in our life is something we always look forward to. No matter how much tired we get or how hopeless we feel from time to time, a little good message from someone makes our day. But happiness does not just reside in selfish desires. Humans are social beings, and in every stage of our life, we meet new people who end up becoming more than just strangers. We create special bonds with them, share our good and bad days, show them our true selves, and feel like their presence in our lives is actually a blessing in disguise. We cry with them, laugh with them, and even fight at times, and during all these situations, we come to understand how much we share with them. They are our well-wishers, and whatever we achieve in our lives, they will always congratulate us with a lot of affection in their hearts and a beautiful smile on their faces.
Happiness is a fleeting moment in our lives. It stays for a moment, and then it's just gone. But it's not gone forever. Life is about ups and downs, after all, and to keep moving forward in this slope is what we like to call our journey. Grief, pain, failure, anger, loss- these emotions may make us feel like we are tearing apart, and to a certain extent, they even do. But these areas necessary for a human's emotional growth as any other positive emotion.
Talking about emotions, I mentioned before that happiness is one of the most desirable emotions every human being looks for. But one cannot experience happiness only in their own company. Let's say that you are the kind of person who is not very interactive and usually maintains a safe distance from other people. You may have your reasons for being such an "anti-social" person, but you sure have a special person with whom you like to share your success or happiness. Yes, enjoying your own company is one thing, but you don't just sit at a place all alone when you receive something you have always desired for. Even in online games, when you are done finishing a mission before any of your competitors, you celebrate your victory with your teammates. Similarly, there are situations when we win in competitions or receive a scholarship or get our dream job- these little things help us move a step forward, and to make our success more delightful and memorable, we share our joy with the people we love.
However, it is not just us who like to celebrate our own special days. As I said, we share our success with our loved ones, and just like that, our loved ones also share their pride and joy with us. Whether we talk about our families or friends or teammates or any other person, we can achieve something in our life because we have them. It is a fact, though, that no human can achieve something in their life without someone else's cooperation and support. Their wishes, encouraging words, blessings, love, and support are what helps us move forward.
We always see when we succeed at any stage of our life or are blessed with good news, we receive a huge amount of "congratulations" from several people. And as we no longer live in medieval society, we can immediately receive their good wishes as fast as they get the news. The Internet sure is an advantage in this time and age where meeting someone is not that easy but sending a small text is. Whether we hear their "best wishes" and "congratulations" in text messages or calls or simply just in person, sometimes replying just a little "thanks" become a bit overused. Especially in cases of text messages. Let's imagine that you got your dream job and a really great friend of yours congratulates you for your achievement. But all you reply to them is with a "thank you." I am not saying that simply stating a "thank you" and showing your gratitude is bad. But a little change from time to time in your responses may help you little. And there can be several situations like that in your life.
Other Ways to Say "Congratulations"
We may think a simple reply is alright but sometimes being a bit more creative with your replies, especially to the people you are genuinely close to, can help.
Let's say that you recently got admitted to your dream university. After going through long sleepless nights, studying, and preparing for your entrance exams, the people around you must have supported you a lot. And when you step into this stage of your life, it is a new beginning for you. People will always give you their best wishes and supports, and in case you too feel like you have something to say to them, then go on! But if you cannot come up with a proper reply other than a simple "thank you," then here are a few examples from which you can take some help without making them too formal or corny:
1. "I am so thrilled and grateful to have received a congratulatory message from you. I have always wanted to thank you for your support and guidance you have provided me all this time. And I hope that I will continue receiving your support. Now that I have achieved my goal, I will work even harder to succeed one day. Stay safe, and once again, thank you for your best wishes."
2. "Thank you so much for your kind and encouraging words. I am grateful to have an intelligent person like you by my side. This university was one of your recommendations, and when I properly looked it up, I understood why you suggested this. And now that I have received this news, I see your message which made my day. Thank you for all your blessings and support."
3. "Seeing your text the very first thing in the morning made my day. Ever since I started preparing for my entrance exams, you were always there to help me out. Whether it was just a question I couldn't solve or my own insecurities and lack of confidence that I couldn't overcome- you helped me through every situation. It's all thanks to your support and encouraging words that I can achieve my goal. Thank you so much!"
4. "Thank you so much for reaching out to me! It genuinely means a lot. You have always been supportive of my decisions, and even this time, when I lost hope, you were the one who motivated me. I was almost on the verge of giving up on my dream, but it taught me not to. And that is why I am where I am today. Your blessings and support helped me through, and I promise never to disappoint you."
5. "I am so grateful to have such a person like you in my life. You have always been my role model and when I finally decided to go for this university, you encouraged me to give my all. I worked hard just like how you told me and the faith that you showed in me helped me reach my goal. Thank you so much for all that you have done and I promise, I will continue to make you proud and happy."
Getting your dream university is one kind of happiness, but receiving first place in a competition gives you just a completely different joy and victory emotion. When you are competing with other people over a particular subject, the pressure you undergo is pretty frustrating. But even in such a stressful situation, if you manage to make your way through and reach the first place, your joy is beyond comparison. And people will definitely congratulate you on your achievement, whether they are your well-wishers or your rivals. So, here are some other replies you can use in a situation like this:
1. "Hearing this message from you fills me with joy. I am so happy that I was able to make you feel proud. Your faith in me helped me move forward and give my best. Your support and blessings have always been with me, and I hope it continues to stay here. I promise I will continue to make you proud too. Thank you so much!"
2. "I could have never gotten this war without your support. You are my inspiration, my role model. If I decided to take this path for myself, it is because of you. You made me understand the value of this art, and only because of your lessons have I gotten this first place. Thank you so much for all your support!"
3. "Thank you for your kind words; I genuinely appreciate them. Even if we are supposed to be rivals, I never stopped looking up to you. Your handwork inspired me and so many others, and it is because I have a competitor like you, I gave my all. You pushed me to my limits, and I knew that I couldn't just slack off if I had to defeat you. You have been such a great help. I hope we get to compete with each other again."
4. "You are so sweet and kind; your cheerful message made my day. I know that wherever I am, you will always be praying for my well-being and good luck, and I am so glad to have such a kind and sweet cheerleader like you in my life. Thank you so much for always being such a great help. I know I can always count on you. And I promise to continue you making
proud."
5. "I am so grateful that you kept me in your thoughts. Last night when I received your mail, it put such a genuine smile on my face. My heart is full of appreciation and gratitude towards you. Thank you so much for always encouraging me with your words. I will continue to work hard and give my best in life."
When we were kids, we often dream about the kind of job we would like to do when we grow up. Seeing our parents every day, leaving for the office inspired us to think a little about our future un such a young age. And with time, we even understand our own desires and passion and find our dream job. But when we finally receive it in our own hands, do we come to understand how much we wanted to do it. And it never would have been possible if we didn't have people supporting us.
Here are some other examples you can take suggestions from to reply to a congratulatory message regarding your dream job:
1. "Thank you so much for the kind words you have sent me. I have always wanted to show you my appreciation but I never got the chance. Your support and blessings always helped me through. Even when I was having a bad day, you always stayed by my side. I am genuinely grateful to have such an amazing person like you in my life."
2. "Even since I was in high school, I wanted to work here someday. And today, I can't believe that I have finally arrived here. Honestly, I never trusted myself enough, but the faith you showed in me helped me get my dream job. I never gave up because you were there to support me. Thank you so much for everything that you have done for me!"
3. "It touches my heart to see that you have always been rooting for me. I never talked to you about this personally, but I understood how much you had supported me when I heard people mentioning you in these conversations. Thank you so much for your encouraging words and well-wishes; I promise I will continue giving my all to this dream job of mine."
4. "Thank you so much for congratulating me. This new job means a lot to me, and to see you as one of my cheerleaders definitely put a smile on my face. I will never forget your kindness and the blessings you continued to give me all this time. It means a lot to me."
5. "I am grateful for the kind and encouraging words you have sent me. Your words mean a lot and I promise to give my all in this job. Thank you so much for being my mentor and always showing your trust in me. Without your guidance, I might have gotten lost."
Getting your dream job is such an amazing achievement. But as you become a part of the company, you also desire to strive for the next goal. And when you finally get promoted, you feel like your hard work actually paid off. Here are a few responses you can take some help from to say to your coworkers and other well-wishers when you get a promotion:
1. "I appreciate you for taking your time out of your busy schedule and writing me this congratulatory note. Thank you so much for your good wishes and encouraging words. I am grateful to have such a supportive supervisor like you. It is a pleasure working with you."
2. "Doing this job was not easy, but you taught me so much. As my senior, I will always look up to you for your hard work and incredible knowledge. I was able to get this promotion because of your assistance. If it weren't for you, I'd be a goner. So, thank you so much."
3. "This little congratulatory note means a lot me. I know I can get frustrated at times but having emotional support like you helped me stand even during the toughest times. I came to understand so much more because you were there to guide me. Thank you so much. I promise I will continue giving my best!"
4. "To have such kind coworkers like you is a blessing. Seeing this note on my desk in the morning genuinely made my day a lot better. Without your assistance and support, I would never have gotten this position. I look forward to working with you all. Thank you so much for your kind and supportive words."
Throughout our lives, we share our happiness in many forms. But the happiness a woman receives when she realizes that she is pregnant is immeasurable. The whole period of nine months sure is a complicated stage and exciting and full of new experiences. Whether it is the first time you hold your child or the first time they take their baby steps, everything they do fills their mother with joy. And if you have recently discovered this news and are getting a huge number of congratulatory messages, here are few responses ready for you as well:
1. "Thank you so much for this beautiful message! I too look forward to the day my child is born, and I take them to meet you. I am pretty certain they'll love to have you as their playmate."
2. "Your kind words brought me to tears. I am so grateful to have you in my life, and I know that I can always count on you. To me, this child is my everything, and I will do my best to give them the best life I can."
3. "If I want to become a mother like someone, I will become one like you. Just the way you have raised me, I want to raise my child like that too. I will take of myself, don't worry. And I know if I ever feel like asking for any help, I'll come right at your doorstep."
4. "Thank you so much for your positive message. This is a new phase in my life, and my husband and I are eagerly waiting to welcome our child into this world. We look forward to making our little family and welcome all the love and support from my friends and families. You are always welcome here to play with them anytime you want!"
5. "The cramps and morning sickness really doesn't help, but this is one of the best moments of my life. I genuinely appreciate your kind words, and yes, I am doing perfectly fine. Once the baby is here, and you ever feel like you're up for babysitting, feel free to call me! I am sure they'll love me to have your company too!"
Pregnancy is only the first step because when you reach parenthood, it becomes a completely different situation. Taking care of your newborn baby can be a tough task but don't worry. Your well-wishers will always try their best to give you their support and best advice. As the new parents, here are a few replies you can send them back:
1. "Thank you so much for taking your time and sharing your kind thoughts with us. Both the mother and the baby are doing great, and I am so grateful to have these two in my life. It is good to know that we have people like you who are always concerned about our well-being."
2. "If our child could talk, he/she would definitely say a lot of thanks to you. He/she is doing great and is in perfect health. We really appreciate your kind and supportive words. You are always welcome to come to play with our child!"
3. "I am so happy to hear from you! I know parenthood can be complicated, but we are so thrilled to start our new family finally. We want to provide our child with the best, and to have people like you in our lives always feels like a blessing."
4. "Thank you so much for your good wishes. The delivery was long and painful, but we made it together. Your kind and supportive words have always provided me strength, and I'm certain you will continue to support our child too."
5. "It is just so fascinating to finally hold our baby in our arms. He/she is excellent and healthy, and it is all thanks to your prayers that we are finally able to start a new life."
So, here are a few examples of all these specific situations you can take some help from. Don't worry. Replying to congratulations is not that big of a hassle. But even if you feel like it, then these suggestions may help you a little. Believe me, letting a person know how much their words mean to you and how much you appreciate them is genuinely a great thing to do.
Also read: NEW BABY WISHES TO CONGRATULATE THE PARENTS (COWORKERS)
Other Ways to Say "Congratulations"