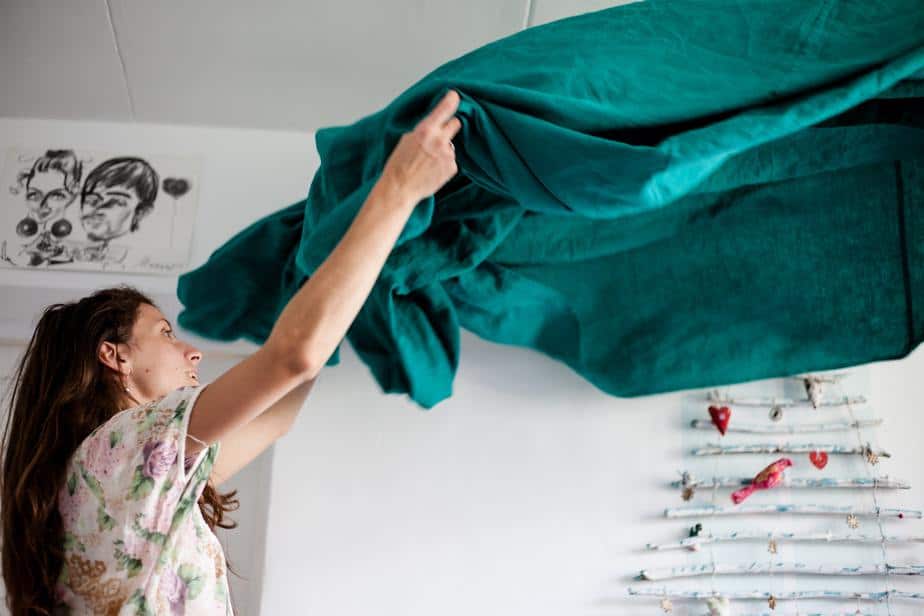 When choosing which company to join in the case of a home cleaning service provider, as important as it is to opt for a good company, it is also important to know about the procedure and franchise, especially for the location you are looking to join. We will discuss Molly Maid Careers here.
Molly Maid Careers
Molly Maid was founded in Canada in 1979 brought to the United States in 1984. It was found by Adrienne and Chris Stringer[7]. The company was named after the character Molly Brown from the 1964 film The Unsinkable Molly Brown. The company provides high-quality home cleaning services. Each independent franchise performing services at each Molly Maid franchised location owns and operates it independently. 
Molly Maid offers generous pay, family-friendly schedules, day-time works with weekends and holidays, and a paid training for individuals looking for part-time and full-time jobs. Jobs at Molly Maid include Customer Service Representative, Team Leader, Partner, Sales Estimator. Average Molly Maid cleaner hourly pay in Canada is approximately $25,000 per year for a cleaner to $34,768 per year for Route Manager. While in the United States, the national salary average is $26,923. More details regarding application, eligibility, and salary, etc., have been clarified better as we move forward.
Job Opportunities
Molly Maid has nearly 500 locations in Unites States and Puerto Rico. It provides following services:
Recurring Cleaning Service
Occasional and One Time Cleaning Service
Move Out and Move-in Cleaning
Apartment Cleaning
Special Event Cleaning
Housekeeping Services
Refrigerator Cleaning
Oven Cleaning
Higher preference is given to job seekers with prior work experiences in cleaning service provision and recommendations. During the application process, field knowledge and knowledge about maid services' history make for a good point in getting the job. Conditions to apply at Molly Maid include individuals being aged 18 years and above. Molly Maid runs background checks upon applicants and provides paid training to employees to ensure good work quality among all workers.
Job Positions at Molly Maid include:
Customer Service Representative:
Customer Service Representatives are responsible for bringing in new clients, maintaining existing client and public relations, reviewing and considering comments, questions, and customer concerns, maintaining records, and keeping deep knowledge about the company, working, and recent updates. Other responsibilities include assisting with personnel management, including hiring and recruiting functions, responding to service and customer complaint calls, and scheduling estimates and cleaning. Suited candidates for the role require patience, vocabulary, understanding of human nature, good response skills, organization, public relation handling skills. This may also require knowledge about data entry, software like Microsoft Office programs. Major criteria for selection include a minimum of two years of admin experience, detail-oriented professional with strong data entry skills, strong written and verbal communication, and a team player who can work independently, having a valid Driver's license.
Team Leader:
Being a Team leader requires an interest in managerial skills as well as a keen dedication to responsibilities. Molly Maid looks for knowledgeable, encouraging, and attentive professional workers who are keen on supporting and guiding the workers and clients with respect and generosity. If an individual exhibits a similar skill, they may stand a good chance of getting the job. Team leader responsibilities also include checking on the teamwork, quality, safety, and satisfaction of clients.
Partner:
Partners are the maids of the Molly Maid Company who help in providing the main service. Human nature aspects much appreciated for the job include being honest, trustworthy, dedicated, responsible, hard-working, and patient. Job seekers who find interest and joy in providing public service, enjoy the cleaning process, have good public relations skills, translate and adapt to given conditions, works, and clients. Good teamwork skills make good candidates for the job and enjoy the job as well. 
Partners get provided with equipment as well as transportation to and from customer homes as well. They have opportunities for bonuses and incentives along with a paid time off. Along with this, they are expected to have a great eye for detail and clean houses by what they are taught during their extensive training at the beginning when they join Molly Maid. 
They have to work according to customized cleaning plans and work hands-on in the cleaning process. Interested individuals must be physically and mentally capable of performing the task, including direct contact with dust and dirt, standing, bending, pushing, kneeling, etc., during the process repeated if required. Working also requires individuals to vacuum every room, scrub, dust, and polish according to whatever is required for the work.
Other positions include: Sales Estimator, etc.
OPENING OWN MOLLY MAID FRANCHISE:
Jobs are limited to maid services and higher positions in Molly Maid, which requires a certain investment. Individuals looking for a higher position in the company for a long-term job can also apply for opening their own Molly Maid Franchise. Owning a franchise comes with professional standards and steps to making high-income success attainable, financial independence, and an accountable job.
 In this way, an individual acquires an authoritative position in the company, which also requires great managerial skills. This comes under the decision of the main Molly Maid company. One can apply with a good CV that proves them appropriate for the position and proves them to have the required skills and knowledge. This will make their chance of getting to open their own franchisee higher. The company checks if the candidate matches the professional standards and financial requirements to make the final decision.
Opening a franchisee may be done in two ways. One can either directly supervise the franchisee and do their main business out of it, or they can hire other people for supervision and get updated about the franchisee and keep it as their side job. 
Provisions by Molly Maid: 
Sure Start and Training Program- This is an extensive training program where one is taken through a step-by-step journey of opening a franchise conducted through the seminar. A team of seasoned professional are included. A Franchise Consultant (FC) is assigned to every area. Through the Franchise Consultant, help is within reach for every franchise owner. The franchise owner is available through call in-person and through regional meetings where they are the steadfast supporter and developer of the assigned franchise. This comes backed up with the operation team, marketing guru, and IT Wizards support through Molly Maid.


Molly Maid owners are provided with business management software. This software is recognized and acclaimed by Bill Gates as Molly Maid has received twice in the Windows World Open Competition.
Benefits of owning a Molly Maid franchise include:
Having recurring revenue can be achieved by providing a satisfactory and reliable service that leads to good customer relations and repeat customers.
Ongoing Support – A dedicated franchise business coach supports the owner and supports the resources required to grow the business.
Funding Guidance – Molly Maid provides help in seeking details to finance the business
Working with a National Brand – Molly Maid being a national brand, opening a franchise becomes easier. It comes with an existing customer base who know about the franchise and prevailing recognition and trust.
Lifestyle Flexibility – Molly Maid provides normal business hours working. Due to sufficient support by Molly Maid and working staff, the owner gets to have a flexible lifestyle that does not restrict them.
INVESTMENT:
The estimated initial investment includes the franchise fee as well as the Territory fee. This varies for each franchise from location to location. Owners of a new franchise can expect an initial investment of $110,000 to $155,200. This comes with the inclusive cost of startup, first three months of operating expense, initial package fee, territory fee, auto lease expenses, equipment, rent expenditures, real estate, permit, insurance, and much more. Another way to work with Molly Maid other than being the working service provider is by getting promoted by the company. Promotions are often done on basis of leadership qualities, reviews, recommendations, work quality and public relation skills in the amount of time individuals have worked with the company.
Certain factors determine the ultimate total investment. Territory size is one of the major and initial factors. This is based on demographics, upper-income homes, number of businesses, household income in the area of interest. A 15% discount off the initial franchise cost is provided to honorably discharged veterans who meet Vet Fran guidelines. This is done as a recognition of their honorable services. The start-up cost is calculated based on whether an individual is rebranding their current business or starting one from scratch. The investment cost is then calculated depending on the same. If the candidate has an existing residential cleaning business, they have an advantage of a roll-in discount when they rebrand to Molly Maid based on the scope of their current business.
Another way includes purchasing a franchise on sale. This helps bypass the initial obstacles faced by a freshly started franchise. One can search these under "franchise resale." One of the main factors to consider while buying a franchise is having a franchisor interested in the franchise's success and development. This is usually managed by Molly Maid too. Buying an existing franchise comes with an existing experienced team trained and will be a great help for a smoother transition. The existing customer base will allow the work to continue while the buyer can observe financial projections, business cycle forecasts, understand them, and make necessary changes if required.
Link for updates about existing and available territories to open franchise and application: https://franchise.mollymaid.com/
Salary
| | | | | | |
| --- | --- | --- | --- | --- | --- |
| HOUSE CLEANERS | $441 per week | HOUSE CLEANER | $441 per week | CUSTOMER SERVICE REPRESENTATIVE | $13.73 per hour |
| OPERATIONS MANAGER | $39,738 per year | HOUSEKEEPER | $455 per week | CUSTOMER SERVICE MANAGER | $15.54 per hour |
| OFFICER MANAGER | $15.45 per hour | CLEANER | $458 per week | CUSTOMER SERVICE TEAM LAD | $26,782 per year |
Molly Maid prices have average range from $75 to $96 for a crew of two cleaners for an hour of service.
Application Process
Application for the job is supposed to be done through the official website, including lists of job requirements at each franchise location. The application requires personal details such as name, contact, email-id, address details, driver's license, previous experience, and current jobs. The website provides company and job information important for applicators to have a view of. The application offers an option to inquire about doubts and sends a confirmation email after form submission.
The average hearing time for application status is a week. In case of inquiry, individuals can contact the location during business hours or visit during business hours dressed well for better presentation. 
Perks of Working at Molly Maids
Perks of Working at Molly Maids include full-time and part-time jobs, benefits packages, competitive wages, paid time offs, paid training, sick days, and day-time work schedules.
Interview Questions
The interview is done face-to-face and takes one to two weeks. The process includes a phone call first and then an offline job interview. Good tips for an interview would have a good vocabulary, proper answers, and proper dress code suited for the job one wants. A professional approach to the interview betters the interview and impression. Exhibiting interest in the job and qualities required for the job make one a good candidate.
Commonly asked interview questions include:
Why should you be hired for the job?
Why do you want to join the company?
What are your previous work experiences?
What drives you to do this job?
What have you learned through past experiences?
How did you hear about the position in Molly Maid?
Tell us about yourself.
Tell us about a difficult situation that you have overcome before.
Are you physically fit to perform the job?
How do you handle multiple or repetitive tasks?
What did you major in, and why?
What do you know about the company and this position?
What is your greatest strength and weakness?
When working with a team, how do you keep each team member involved and motivated?
What is the most challenging aspect of being in this job?
How would you handle a job conflict with peers and authorities?
How would you handle special or extra requests by customers?
Also read Chili's Careers – Job Opportunities, Salary, and Interview Questions
Molly Maid Careers – Job Opportunities, Salary, and Interview Questions