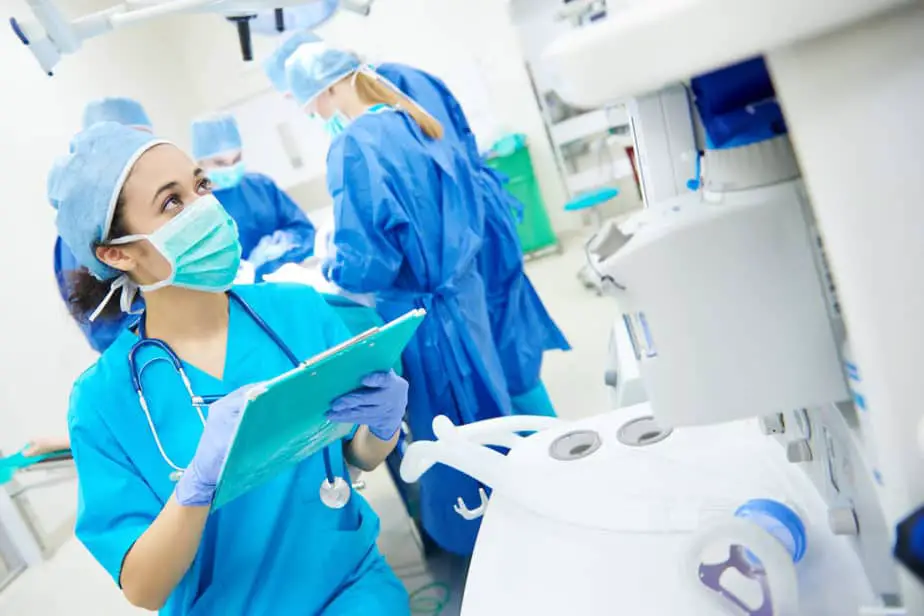 The "MEDICAL-SURGICAL NURSES" are the bedrock of all practices of nursing in the USA. These nurses are also known as PERIOPERATIVE nurses, concerned with the pursuit of taking care of grown-up patients. 
THE ACADEMY OF MEDICAL SURGICAL NURSES was established in 1991 which serves in a total of 50 states. This organization has its headquarters in Pitman, New Jersey, USA.
The purpose of this medical concerned organization is Nursing association, nursing education, and development of the profession.
The academy of medical-surgical nurses is an association for medical surgical nurses professionals. 
This medical professional organization runs with the slogan of COMPASSION, COMMITMENT, AND CONNECTION.
This particular set of nurses under the academy of medical-surgical nurses provide a diligent amount of medical support and care to elderly people. They help elderly patients before and after the surgical procedure. All the adults associated with a different assortment of medical affairs post-surgery are taken care of by these medical-surgical nurses. These nurses also help the patients who are rehabilitating from various surgical procedures. These nurses are entitled to the duty of close monitoring all the non-critical as well as critical patients after they through a surgical procedure.
The medical-surgical nurses have very thorough and extensive knowledge regarding all the pharmaceutical works in order to take care of the patients. They are very docile and devoted to their work.
These nurses are highly trained with ample knowledge which helps in taking well care of the patients.
All these nurses have great management skills and that trained to be understanding towards their patients. The nurses also have the right amount of patience and right communication skills, to carry out their work i.e, taking care of parents smoothly. All these nurses are team players as in order to take care of the patients they all have to work as one. These nurses are emotionally stable in every situation as they will have to go through a lot of different types of emotionally challenging situations. These nurses even train their patients, in case of emergency situations in the future. They teach every simple method to the patients so that they can take care of themselves when they are far away from the hospital.
These nurses work at various places including Small/Big clinics, physicians' offices, hospitals, emergency ambulances, they even work as travel nurses in some situations or some of them are only traveling medical-surgical nurses. 
AN INDIVIDUAL HAS TO GO THROUGH CERTAIN STEPS
IN ORDER TO BECOME A MEDICAL-SURGICAL NURSE, AN INDIVIDUAL HAS TO GO THROUGH CERTAIN STEPS
• FIRSTLY, a person has to graduate with 2 years of Associates' degree in nursing.
• SECONDLY, earn a 3-year diploma in nursing which is mostly hospital-based.
•  After this the THIRD step is to get a four years bachelor's degree in nursing.
• The FOURTH and major step is to pass the RN licensing exam. This exam is widely known as NATIONAL COUNCIL LICENSURE EXAMINATION. This is the major exam practiced in the USA and Canada, in order to get a nursing license. 
After getting the license you are now eligible to become a medical-surgical nurse. However, this profession requires a lot of hard work, training, and experience. 
The license helps you to become a trainee of the medical surgical nursing team. You will first get one year of training and more knowledge in order to make sure that you have an ample amount of grasp of your professional field. 
This training is provided by the hospitals under the name of a postgraduate degree. Once you cross this hurdle of intense training, you will be receiving a certificate which will be a relic for you. This will show that now you are a completely drained and educated medical-surgical nurse. 
 THE CERTIFICATE THAT WILL BE PROVIDED TO YOU, CONSISTS OF TWO TYPES. YOU WILL BE RECEIVING EITHER ONE OF THESE CERTIFICATES:   "CNOR" or "CNFA" and "CMSRN".
With the help of this certificate, you will be now eligible to work or to be hired by any clinic or hospital. 
Both of these certificates are provided by the authority known as COMPETENCY AND CREDENTIALING INSTITUTE (CCI).
Other than CCI, the association for critical care nurses (ACCN) also provide a certificate for this medical surgical nursing. But only in the specialty for those nurses to take care of elderly patients of cardiac surgery. However, the best approach to get the certificate is from CCI as it's applicable for all the specialties in medicine
Both of these certificates have different functions and require few different steps from one to achieve it.
A CNOR certificate is associated with getting training and knowledge in order to treat patients before and after the surgical procedure. In order to get this certificate, the nurses are trained with the right knowledge for treating the patients, pre, and post-surgery
In order to qualify so that you can get the certificate you have to qualify certain steps, such as:
• Having ongoing unhindered RN license
• You will have to be working as a full-time or part-time trainee nurse. Sometimes you may have to also work overtime.
• For getting this certificate you must have experience of working about 2 years or 2400 hours-1200 hours in the operating room where a surgical procedure is carried out.
The other main and important step regarding this certificate is that you have to renew this certificate every five years. Each and every CNOR certificate has a validity of 5 years. The individual has to be very punctual and determined about getting their certificate renewed every five years.
CNFA certification Is associated with becoming an assistant in the medical nursing department. 
For this certificate also an individual must go through these following steps-stones:
• For this certificate to an individual must have an ongoing unhindered RN license.
• For getting this certificate firstly you must have the CNOR certificate or you must be an ARNP along with a certificate in a certain specialty.
• You also must have a bachelor's degree in nursing.
• For getting this certificate you must have the experience of 2000 hours by working together before surgery, ongoing surgery, or post surgery.
In some cases, you can even get this certificate by working for a minimum of 500 hours for two years. However, for getting the certificate in such a short time you must earn a lot of merits and you may also have to do a lot of overtime to prove your credibility.
The crucial certificate for the medical-surgical nurses, which help them in their career a lot is the CMSRN certificate
The third and the most important certificate which is really mandatory especially for the medical-surgical nurses are is  Certified Medical-Surgical Registered Nurse (CMSRN). 
In order to get this specific certificate you have to follow these step stones:
• Firstly having an unhandled ongoing RN license.
• Having experience of at least two thousand hours regarding surgical medicine. This means working in the operating theatre.
However, a proper practice of 3 years including pre-surgery, working during surgery, and post-surgery is considered the most suitable approach. This gets added to your merit list of experience.
In order to become a medical-surgical nurse, it may take you some time before you actually begin to work as a professional medical-surgical nurse.  firstly it may take you approx. 5 years or more to get a certificate(based on your preparation technique and the time you take to crack the exam). After getting your certificate and license you will be getting additional training.
When all of these are done then only you are eligible to get above the position of a trainee.
You can get some of the best SURGICAL NURSING PROGRAM  from Minnesota State University, Molloy College, Harvard University, Stanford University, University of New Mexico, Curry College, University of Massachusetts Medical School, Delaware County Community College
SALARY: The average salary reported by the bureau of labor statistics was dollar $73,300 in 2019. By 2021, it increased up to $98,303.
However, the salary of the trainee for a fresher is less compared to the experience once. Gradually over time, it increases.
Mostly the salary of these nurses depends on educational qualification. The higher level of degree and experience they have, the more is the salary.
The salary is also often affected by the medical institution you get an education from.
The salary of medical surgical nursing is also affected by the place/state they reside in. As different places offer different levels of income.
For getting more guaranteed good placement you need to have a good quality of education and a proper certificate provided by CCI. 
The salary also gradually increases with the increase in the amount of experience.
Sometimes there are chances to get the highest salary by shifting from one place to another. 
The best and the better way to become a good medical surgical nurse is by getting the right education and the proper certificate from CCI. Along with getting a good quality of training from a reputed hospital. Gradually by experience your level and demand will increase.
All the best!!
Medical-Surgical Nurses- Steps to go through