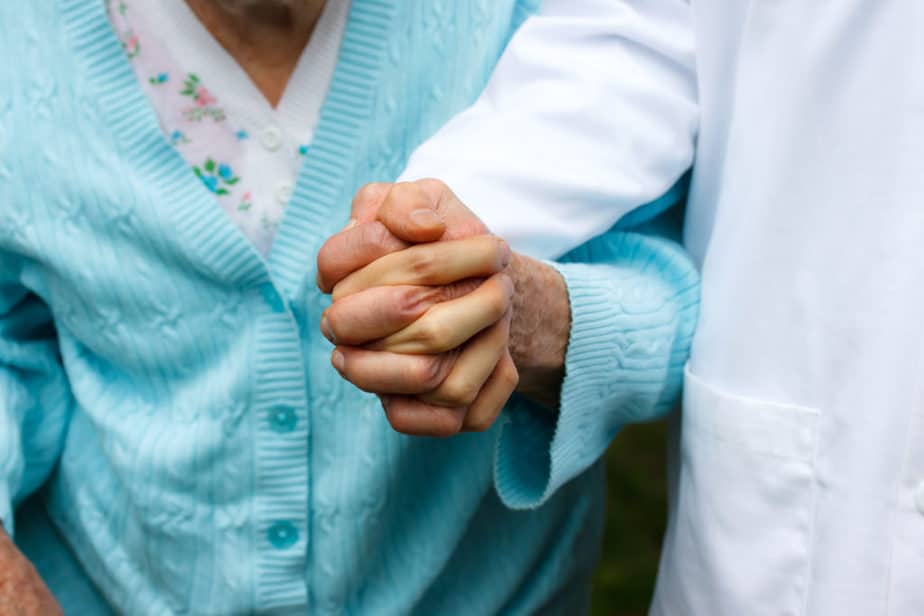 Some people want to become doctors, engineers, and lawyers while others realize that they do not necessarily need highly professional occupations for them to make a living for themselves. People who work as maids, geriatric nurses, and caregivers may need to gather a set of skills before they become good at their job. Although in society today, these skills are not as highly valued as Doctors are, but they keep the home and the family running smoothly. Here, Everything You Need To Know About Becoming A Care Giver.
The core requirement to become a good caregiver is not only the ability to do domestic chores but cultivating a heart of empathy toward the homeowner or client. An educated person with the bare minimum certification of a high school diploma or a general education degree (GED) can apply for the position of caregiver in private homes or elsewhere. This level of education is fine in the field of hospitality and home management because first off, the main essence is the ability to communicate with the client. Caregivers may at times need to have a registered vehicle for mobility. Caregivers are required to have a verified identification (I.D.) card and should have a reputable background. As an entry-level requirement, a caregiver should be well-versed in first aid. 
If you are considering a job role as a caregiver, you need to consider: what is does the job description of a caregiver entail? What is the monthly or annual salary to expect in your geographical area? What are the basic and specialized skills I need to acquire? What qualifications and attributes would meet up with the job role? Why become a caregiver in the first place? We will get to discuss everything you need to know about becoming a caregiver. During the course of this article, we will be referring to a caregiver as "she" since this job position is predominantly feminine. Remember that performing the role of a caregiver directly means helping clients with their daily activities as the word "Care Giver" implies. 
The Primary Job Description for Caregivers
The three primary roles of a caregiver employed in an elderly home or rehabilitation facility are as follows;
Help clients with everyday activities, from a variety of domestic chores to running many errands
Help client with mobility from one place to the other
Give client emotional support and companionship
Certainly, some other duties make up the job description of a caregiver but these are the three cardinal duties. 
Caregiver Duties and Responsibilities
Home management and care planning: Caregivers should expect to manage the home and make sure it runs smoothly. They carry out cooking, packing stuff, and cleaning the house floors and furniture.  Caregivers go all out to render personal care services like assistance with bathing, toileting, grooming and dressing, and exercise. They frequently help with organizing and clearing the living quarters of their clients.
Food preparation and diet planning: Caregivers should know the technique of preparing common meals. They may be required to learn how to follow a prescribed diet plan and prepare special meals if necessary.
Serving as a medical advocate: A caregiver must administer medications as outlined by the health professional. She must enforce that the dosage and timing of drug administration are followed strictly. She may need to inform family members or doctors of the medical condition of the client when the need arises to do so.
Assistance with ease of mobility: A caregiver should be able to assist the client in locomotion either with a wheelchair or walking stick. She must receive training on how to respectfully carry the client from the wheelchair to the car, or how to shift the client from one body position to another.
Personal hygiene and adequate care for clients with special needs: Getting the elderly client to shower, cut fingers,s and toenails are some personal hygiene management the caregiver must do. Adequate care for someone with Alzheimer's disease or dementia will require an experienced caregiver to be assigned.
Emotional support and companionship: Aside from medical and non-medical assistance, a caretaker should become a stable companion and supporter in all matters personal and emotional to the client.
Back-up services and transitions: The caregiver establishes contact and rapport with the nearest healthcare facilities in case of a health crisis. A caretaker should also provide alternate caregivers if she is to take a work break.
Event preparation and time management: Caregivers are required to pack up items and prepare the transportation of the client to any event he attends. Prior planning and preparing for likely challenges are part of the job of a personalized caregiver. A caregiver or nurse must make sure to bring the client to medical appointments on time and put deadlines on things important to them on schedule.
The Different Types of Caregivers
Some people consider all maids as caregivers and consider all caregivers as maids. A caregiver's duties vary depending on the type of caregiver they are. The category a caregiver belongs to can also depend on the relationship with the client they are helping, and how much support that individual needs. The most common type of caregiver is the family caregiver as they take care of a family member without pay. In most cases, a caregiver is a member of an extended family or friend who offers in-home, non-medical assistance.
The other types are professional caregivers. Those are the ones that refer to the individuals they take care of as "clients". Professional caregivers are registered under a private agency or a geriatrist healthcare institution. Most often, we shall be referring to professional caregivers in this written text.
The other types of caregivers are independent, private, informal, and volunteer caregivers. Independent caregivers work full-time by themselves. They are private caregivers that are not registered under any agencies but possess the qualifications for the job. Regardless of what type, caregivers are the underdog that ensures conductive living in a home.
Qualifications and Attributes That Meet Up With the Job Role
In America and most developed areas, the job role of a caregiver first starts with one's age being above 18 years. A caregiver must have completed high school certification or General Education Degree (GED) before being hired. Without further emphasis, aspiring caregivers must be able to read and speak English. She must pass a background check and have a valid government-issued ID. She should have First Aid and CPR certification as that is essential in the field of hospitality and home management. 
Some firms offer training courses and online certifications for Caregivers. For some clients, whose illnesses require specialized care, additional training may be required.
Caregivers must have the ability to multi-task, be flexible and organized.  They must learn to remain calm and efficiently handle any emergencies that may arise. They should cultivate patience and a heart of empathy. Being observant and good at listening and responding to others' needs is paramount for the job role as a caregiver. No matter your diligence and commitment to the job, a caregiver and the individual at times may find it hard to get along and that should be expected from time to time. Frankly, caregiving though regarded as a menial job in society is not an easy job — but it does ease off as you bond with the client. 
How Much Salary Do Caregivers Make
According to indeed, their data analytical studies reveal that the average pay for a Caregiver is $12.23 per hour. The wages per hour may vary, based on the experience level, specialized training, or qualifications required for that particular client. If the given care is specialized, say, for example, Alzheimer's patients or diabetic clients, then the hourly rate will differ as well. Caregivers who are healthcare professionals, such as Certified Nursing Aids, may have their own salary scheme.
The national average salary for a Caregiver is $22,470 in the United States and £18,018 in the United Kingdom. The subtle observation is that jobs related to caregivers such as babysitters, CNAs, Home Health Aide, and so on, range between $20,000 – $40,000 per annum on average. [Referenced from GlassDoor] Someone may wonder; 'why are caregivers paid so little?' One big reason for the low rate is the greed of the managers of private recruitment agencies. Some caregivers are being paid 'in kind' especially in some private homes where poor youths are compelled to work as caregivers so that are provided with food, shelter, and tuition fees.
Why You Should Not Become a Caregiver
So you applied for a job to take care of an individual in his grandson's house and you were successfully employed. You made your first two checks, and you feel lucky to have an easy-going, generous client. In the middle of the third week, you start to realize that you can no longer tolerate the tantrums and irritations from the elderly person you take care of. You start to understand why the last two caregivers quit their jobs and you doubt if you made the right choice of becoming a caretaker. This is a common scenario that plays out with most caregivers or home nurses.
Statistics show that more than half of caregivers complain that their job role takes a toll on them especially psychologically.  Also, more than 75 percent say it takes a toll on their own family lives back at home. Transporting clients to and from appointments, shopping for groceries, running small errands result in physical and mental exhaustion in the course of their working hours. Overwhelmed with their responsibilities, some caregivers might experience 'caregiver burnout', because they may not spend enough time on their own refreshment and development.
Why You Should Become a Caregiver
In the USA, job seekers may look for roles similar to a Caregiver like a Patient Care Technician or Patient Advocate. These roles including caregiving are all vital to the clients they serve and perform an important function. However, there are some benefits that result from choosing the career path of a caregiver. Being able to see the positive good lights in the role as caregiver is part of what has allowed many caregivers to be satisfied. Though demanding, one can find passion and satisfaction in their caregiving jobs.
 The feeling of importance – of being needed and wanted and the love between caregiver and client are have kept some happy in their role as caregivers. Giving time and effort to someone else to help improve the quality of their lives is gratifying.  A handful of the legal jobs in the industry of hospitality often add in giving peoples' lives meaning and helps them feel successful. 'The joy of giving always surpasses the joy of receiving' as one spiritual leader admonishes has found fulfillment even in secular jobs like caregiving. Caregivers take out the difficulty of having to attend to an incapacitated loved one. A caregiver eliminates challenges out of everyday routine and boosts independence. While it's not an easy job, it makes the life of the client betters and eases the workload on fellow family members and partners of the deformed. They add value and accrue respect to both parties.
Caregivers should be able to find a reasonable balance between their role as a caregiver and that of an independent person. Many caregivers should not be devoting all their energy to caring for someone else whiling neglecting themselves, and then run the risk of burnout after. This only leads to anxiety and thus, no sense of job satisfaction that we described above can come out of it.
Frequently Asked Questions
Must a have a college degree or nursing certificate to become a caregiver?
No. You need to have the bare minimum certification of high school diploma or a general education degree (GED) to be to apply for the position of caregiver in private homes or anywhere else.
Is caregiving a menial job?
Some undermine caregivers as minor, low-skill workers but that should not discourage you. You are doing your part in developing society through your services.
How long does it take to learn to become a caregiver?
As short as a month. All you need to always do is the primary roles as a new caregiver, and as time passes, you will acquire more secondary skills.
Will employment benefits such as 401k be available for this kind of job position?
It varies on who employed you and what category of caregiver you are.
Everything You Need To Know About Becoming A Care Giver