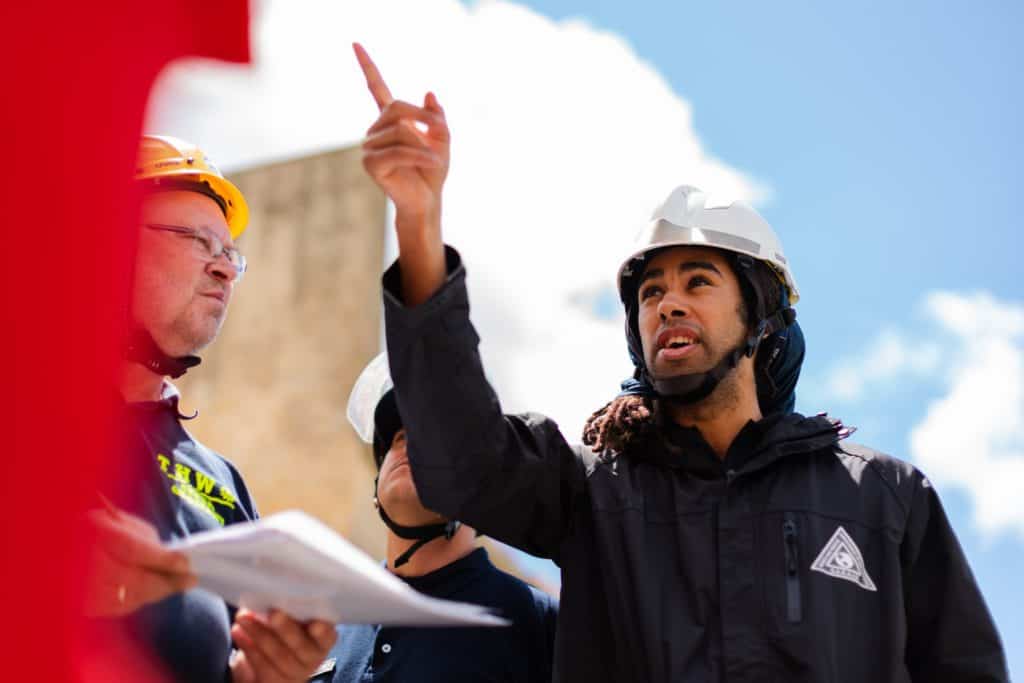 First of all, what is meant by manpower?
Manpower is the physical strength that a man puts to proceed with some task. This can be the force applied by one person to do some task or the cumulative force of a group of people to do a task. For example, the total number of workers in a site is called the workforce. But also, the word "manpower" can be used to define the number of employees assigned to do a particular project in work. Or this can be the staff of a company. We will discuss Manpower Careers here.
Manpower affects almost every field of work. Unless machines run all the tasks, every workplace needs manpower for its survival. Manpower is essential to handle the machines unless the machines are automated or worked by robotics. Without adequate manpower in a business or a company, it will not be successful. The staff should be trained to proceed with the relevant tasks, and also there should be supervisors or managers to lead them. All these stakeholders act as the "manpower" of that company. 
So what is the "Manpower group" in U. S.?
"Manpower" is a company founded in 1948, in Milwaukee, Wisconsin, by the attorneys Elmer Winter and Aaron Scheinfeld. It had begun with the idea that Winter and Aaron needed a typist to work on a project that needed to be done before a deadline but were unable to find someone for the job temporarily. 
They were confused about how other companies hire employees and so had to ask other businesses about how they found their staff in emergencies. So Milwaukee and Wisconsin noticed that all of them had a problem with that point. So Winter and Aaron decided to establish a manpower company to supply staff for emergency cases to the job market. And that is how the "Manpower group" was originated. With the high demand, their company was expanded throughout the united states in a short duration of time. They established their new office outlets in Minneapolis, Cleveland, Cincinnati, New York, Pittsburg, and Boston. 
In 1953 they established the novel Manpower foundation to give the necessary training and education for the job seekers. As a result, manpower companies became successful and expanded their business to international locations, such as Toronto, Montreal, etc. By 1956, it expanded to the United Kingdom and other areas of Europe. Currently, it has office outlets in 29 countries around the world. 
By 1958, a new department called "Salespower" was created by Aaron Schienfield. It provided human resources for job positions such as:
Salesmen
Demonstrators
telephone merchandisers
comparison shoppers
product samplers
survey takers
interviewers. 
By 1962, the company launched MEOS (manpower employment outlook survey). Reaching many milestones, Manpower company is currently run by a board of directors with the CEO Jonas Prising. Jeff Joerres holds the role of executive chairman, and Darryl Green is promoted to president and chief operating officer. 
What is the purpose of Manpower?
Manpower supports their clients by providing relevant professional employee services that help them access demanded talent when they need it. Manpower is looking towards bright, results-focused employees at every level, such as junior recruiter, experienced and expert recruiters, or career changers. 
If you have experience in a customer care role such as customer service centers, salesmen jobs, cashier jobs, you can certainly find your dream employment post with Manpower. Whatever your current position is, they would like to invite you to join them. 
Manpower is the on demand resourcing specialist. And there are some other subdivisions or departments  of manpower as follows, 
Experis
Talent solutions
Talent solutions right management
Brook street
Manpower Careers
To find jobs in "Manpower" you can reach the main website of the company Manpower.com and find job vacancies in it, or you can always visit an office outlet, or through a phone call, you can ask about the available job opportunities. 
If you need to find a job through the website here are the steps that you need to follow. 
Step 1: Go to a browser and search the URL  https://www.manpower.com and reach the official website of the manpower company.


Step 2: From the home interface, you may see 3 options called "Explore your job fit," "Job Search & Career Advice Newsletter," and "Manpower Engineering Jobs." Select your intended option. Or else you can type the job type and your location in the advanced search. 

Step 3: If you click "Explore your job fit" you may reach an interface called "My path". Click the button "Get started".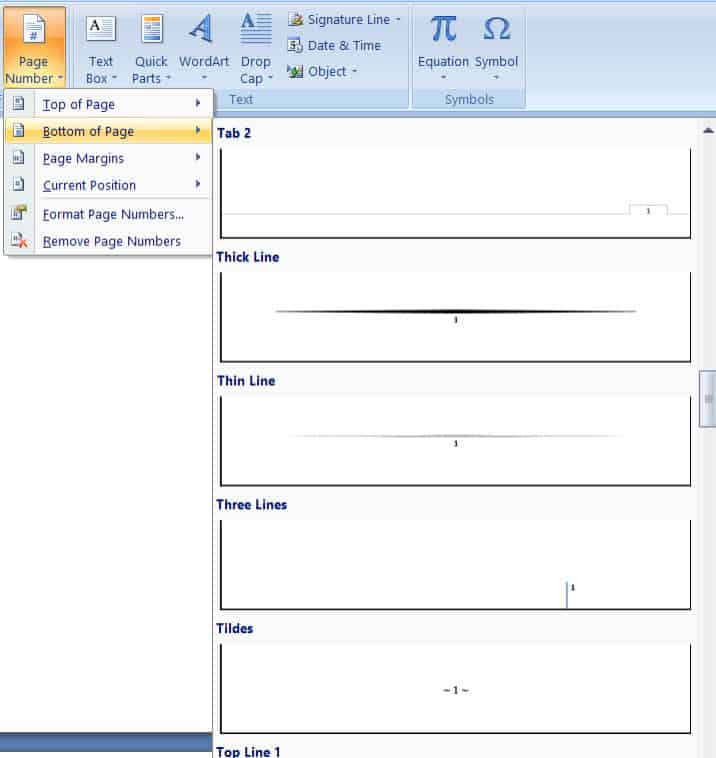 Step 4: You may need to go through an assessment to be selected for the deserved profession. See results after answering all the questions relevantly. The questions may include,

"What company do you work for?"
"What is the highest level of education you have achieved?"
"What are your name and email address."
Some MCQ type of questions about your skills and leadership qualities.



Step 5: You may be recruited to some job with relevance to your qualifications. 


Step 6: If you click on the "Job search and career advice newsletter" option from the home page, you may get an interface to fill in some of your information and submit it. So you will receive the newsletter about their job vacancies through email every month.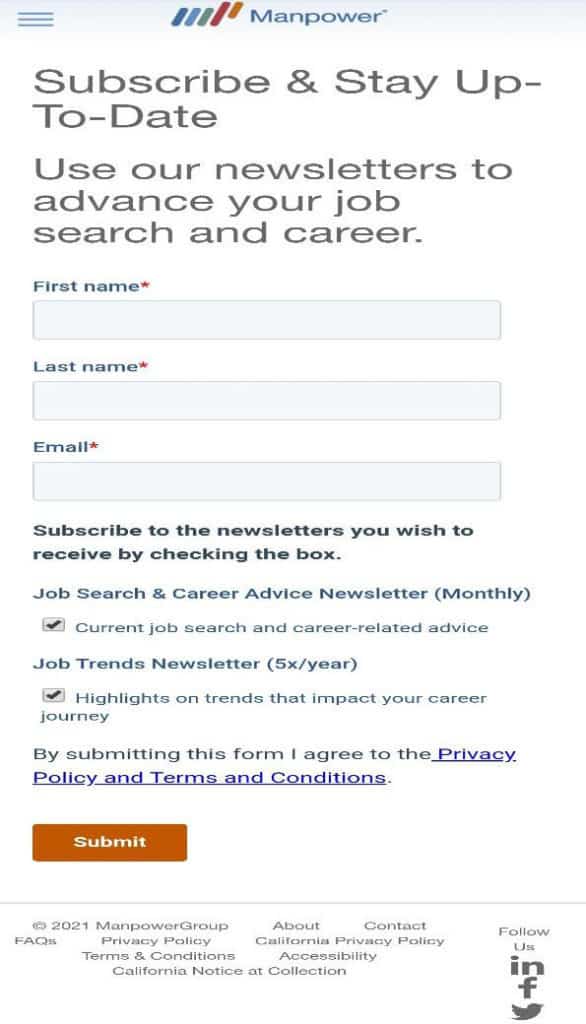 Step 7: If you click on "Manpower engineering jobs" on the home page, you will reach an interface with existing job opportunities in the company. 


Step 8: You can search for jobs by sorting them according to relevance, date, or distance.  
What are the job opportunities in "Manpower"?
So on the page "Manpower engineering jobs," there are some jobs in the manpower companies that the candidates mostly search for.

Data processing technician
Design drafter
Facilities engineer (pharmaceutical or medical device.)
Fanuc Robotics technician
Formulation/ packaging operator 3rd shift
Manufacturing process engineer
Multi-skilled maintenance (CNC/PLC)
Operational excellence engineer
Overhead transmission designer or engineer
Process engineer
Project engineer
Project manager/ pharma, Biomed manufacturing
Quality control reviewer
Regulatory affairs associate
Sales engineer (HVAS)
Senior process development engineer
Small cell construction manager
Technical writer, investigation deviation
Electrical design engineer
Electronics technician
HR project coordinator
Maintenance technician
Pipe superintend
Production assembler technician
Project engineer
Application services engineer
Automotive powertrain engineer (recent grad)
Manager, medical device manufacturing and development
Manufacturing engineer
Principal firmware engineer
Product development engineer
What are the salaries of the careers in Manpower?
The company pays an employee an average of $62,940 per year. The employees may be recruited to short-term contract-based jobs with excellent payments. Overall salaries may range from $38,730 to $114,945, according to the position you get. 
| | |
| --- | --- |
| Retail sales associate | $15.21 per hour |
| Technical consultant | $34.64 per hour |
| Outside sales rep | $59,862 per year |
| Inbound sales representative | $15.13 per hour |
| Sales associate | $49,629 per year |
| Sales professional | $16.51 per hour |
| Forklift operator | $14.47 per hour |
| Warehouse associate | $12.77 per hour |
| Warehouse worker | $13.86 per hour |
| Retail sales associate | $15.21 per hour |
| Receiving associate | $13.50 per hour |
| Customer service associate/cashier | $10.03 per hour |
| Logistics associate | $13.50 per hour |
| Production worker | $13.49 per hour |
| Assembler | $13.92 per hour |
| Machine operator | $13.70 per hour |
| Production assembler | $16.18 per hour |
| Packager | $15.36 per hour |
| CNC operator | $14.11 per hour |
| CNC Programmer | $18.33 per hour |
| Cutter | $13.50 per hour |
| Die setter | $18.04 per hour |
| Electrical assembler | $14.97 per hour |
| Entry-level production operator | $8.88 per hour |
| Finisher | $4.29 per hour |
| Injection mold operator | $12.41 per hour |
| Line assembler | $32,000 per year |
| Line operator | $13.80 per hour |
| Machine operator | $13.70 per hour |
| Manufacturing associate | $10 per hour |
| Packager | $15.36 per hour |
| Production assembler | $16.18 per hour |
| Entry-level technician | $16.47 per hour |
| Maintenance technician | $18.29 per hour |
| Mechanic | $20.54 per hour |
| Operator | $16.42 per hour |
| Manufacturing technician | $17.72 per hour |
| Automotive technician | $14.72 per hour |
| Cable installer | $14.27 per hour |
| Cable technician | $13.28 per hour |
| Entry-level technician | $16.47 per hour |
| HVAC technician  | $20.86 per hour |
| Inspector | $16.42 per hour |
| Installation technician | $ 15.80 per hour |
| Lot attendant | $ 17.93 per hour |
| Maintenance mechanic | $24.18 per hour |
| Maintenance technician | $17.72 per hour |
| Mechanic | $20.54 per hour |
| Operator | $16.42 per hour |
| Operator trainee | $15.35 per hour |
| Quality technician  | $17 per hour |
What are the necessary requirements for the Manpower careers?
The required qualifications differ from one job to another. But for most of the jobs, the minimum age limit is 18 years old. And the working hours of manpower is usually 9.00 am to 5.00 pm. And also it is closed on Saturdays and Sundays. Like every organization, manpower looks for your skills and abilities when hiring for contract-based jobs. 
As they collaborate with many companies, they require your skills in a relevant field, but also they give you the necessary training and recruit you to the relevant jobs. Other than the professional skills, you may need personal skills such as communication skills, problem-solving and decision-making skills, multitasking ability, crisis management, behavioral consultative solutions, etc. 
When recruiting you to a job, you may be analyzed according to criteria containing skills and competencies, experience, age, education level, soft skills, etc. In addition, they have identified key attributes that they know are demonstrated by top performers within our businesses: 
Drive and determination
Resilience
Motivation
Passion
Focus
Growth mindset
Duties and Responsibilities of Some Highly Demanded Manpower Jobs
Data processing technician – Organizing and cataloging data
Design drafter – Technically drafting the designs done by architects and engineers using different relevant software
Manufacturing process engineer – Suggesting new machines and technologies resolve the problems of the company management.
Overhead transmission designer – Managing transmission line projects
Quality control reviewer – Assessing the product tests, identifying product defects, support improvements and repairs.
Regulatory affairs associate – Regulating the products entered to the market by approving good products and preventing bad products.
Small cell construction manager – On-site management and assessing the signed-up development projects completed on the agreed time.
Product assembler technician – Packaging and repairing products for higher quality assurance.
Electrical design engineer – Evaluating electrical systems by conducting researches.
CNC programmer – Computer numerically controlled programmers are responsible for interpreting project blueprints and designing programs.
Principal firmware engineer – Development and implementation of customized software to different industries. 
Pipe superintend – Supervising the mechanical team, quality of the work, and assuring the completion of tasks in due time for the agreed budget.
Automotive technician – Maintenance and repair of vehicles
HR project coordinator – Maintenance of HR policies and providing professional support for the necessary projects.
Sales Engineer (HVAC) – Provides estimations for the projects related to heating, ventilation, and air conditioning (HVAC)
Cable installer – Maintenance and repairing of cable systems for television, internet services. Providing cable access for homes, companies, and organizations
Logistic associate – Coordinating the shipping and distribution of products, managing the inventory, and communicating with customers and third-party services.  
Fanuc robotics technician – Repairing and maintenance of the robotics or robotics-related automated machinery in the production sites.
How about the process of hiring?
In the process of hiring, after you send your application, they might interview you either face to face or through a phone call. This phase might recheck the details you have entered in the application, and also, you will be assessed about your communication skills. But also keep in mind that you will only be hired if there are relevant vacancies in the job market for your qualifications. If you do not meet their criteria, you may be eliminated during the process. 
In the selection process, selecting the most suitable candidates is done by counterchecking with the references provided. Employers will also carry out background checks to establish criminal records such as drug use and driving offenses. After you go through all these processes, you will be called for a final interview to discuss the wages, salary, and working schedules. Finally, the selection process ends with the employers offering you the vacant positions as qualified candidates. 
Also read Is building a career as a finishing supervisor worth it?
Looking for Manpower Careers?