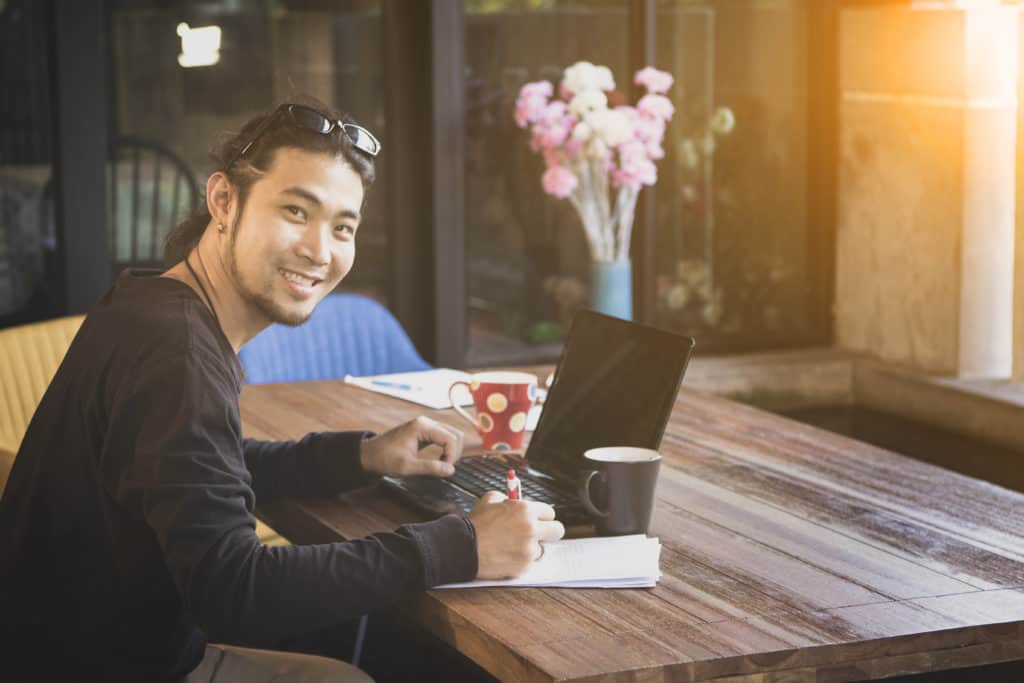 I am sure all my fellow bookworms have spent hours daydreaming about the possibility of a job where you get to earn while keeping up with your habit to read. Well, here's some good news. There are tons of jobs that are perfectly suited to the demands and skills of an avid book-lover. Here's a mini-guide to explore and get to know more about the job of your dreams. Here's a list of career opportunities you might want to look into.
Proofreading
Copywriting
Content writing
Literary Agent
Book Scout
Book Reviewer
Editor
Professor/ Teacher 
Lawyer
Book-shop owner
Librarian
Audiobook narrator
Translator 
Journalism
We will dive into more detail about the requirements or qualifications in the upcoming paragraphs. Keep on reading!
Proofreading


is a very flexible career option. A degree or an academic qualification is not essential. However, major firms in the U.S usually prefer candidates who have a certain academic credibility.  Here's a list of relevant qualifications that might increase your chances of getting hired:-

A bachelor's degree in English or Journalism
Proofreading certification courses
Proofreading tests that score the student for easier evaluation, 
An editorial internship.



The most important thing to get hired as a proofreader is the person's ability to detect and correct grammatical errors, wrong punctuations, spelling mistakes and incomprehensive statements. The perfect way to hone your skills is to read any literary material as a proofreader and look for small typographical or grammatical errors in them.


Pro tip – Here's a tiny tip that might help you further in your attempts to secure a proofreading job. Familiarise yourself with famous proofreading software that major firms or successful proofreaders use. These might include software such as Microsoft Word, QuarkXpress, Adobe Acrobat, and InDesign. You might also want to increase and hone your typing speed for faster corrections.



Copywriting


A copywriter's chief aim is to put their marketing and writing skills to use to develop content that can market a product, person, or opinion. The content is used to entice a potential buyer to avail of the services or products that a business is promoting. One doesn't necessarily require any academic qualification to become a copywriter. However, here's a list of relevant qualifications that might increase your chances of getting hired :

A bachelor's degree in English / Journalism / Marketing
A Master's degree in English / Journalism / Marketing
A relevant internship
A certification course



A copywriter's scope is never-ending. One might write for blogs, websites, brochures, presentations, video scripts, product descriptions, advertising, the list goes on and on. Since there are no preset qualifications, it is very important to perfect your skills of persuasive writing. Taking courses online might help one to get a better hang of how persuasive writing works.


Pro tip – With the enhancement of technology and internet usage all over the world, it might be useful to get an idea about upcoming SEO ( Search Engine Optimization) techniques. You might also want to indulge a bit of time in researching market trends and digital marketing. 



Content writing


As the name suggests, the principal aim of a content writer is to come up with creative content for academic, business, or pleasure purposes. This might include blogs, social media posts, academic journals, so on and so forth. Content writing is a great career opportunity since the demand for content will not decrease in the foreseeable future. Just like copywriting, academic qualifications are not mandatory. Nonetheless, some qualifications will make your client more inclined to hire you. Here's a list

A bachelor's degree in English or other related fields
A Master's degree in English or other related fields
A suitable internship



Since there are innumerably diverse opportunities in this field, you can choose your area of specialization accordingly. The competition for content writing has been on the rise for the past few years. So, it is in your best interest to start as facts as you can and put your creative cells to use.


Pro-tip – Aside from excellent creativity and writing skills, one should have a thorough understanding of SEO ( Search Engine Optimization ) and its workings. Basic HTML skills like adding hyperlinks, headlines and basic editing might also come in very handy.



Literary Agent


In simple words, a literary agent is a guru or guide to getting your work published or thriving in the market. They represent writers or poets and help them hire publishers or publishing agencies. They also assist the marketing process and often act as intermediaries. They might also help in negotiations regarding the payment and royalties. Although there are no fixed degrees or qualifications that can help you become a literary agent, relevant or related qualifications might help. Here's a shortlist.

A bachelor's degree in English or other related fields
A Master's degree in English or other related fields
A suitable internship in the publishing industry
A related elective course like in Rhetorics, Criticism or Writing.



Multiple Literary Agencies are operating in the USA that hires professional agents to represent budding writers. Apart from excellent negotiation skills, you might also want to hone up your reading skills since literary agents sometimes also analyze manuscripts. 


Pro tip – Literary agents should also have a clear understanding of how the market works.  Since most literary agents usually specialize in a particular genre, a beginner should choose a specific genre that they want to start working with. This will help gain a piece of thorough knowledge about that field.



Book Scout


A book scout usually combines their reading and marketing skills to investigate and come up with suitable books for publishing. A literary/book scout may also analyze books in a particular language and then refer them to another publication for translation and printing. A literary scout or a book scout may also work in the film industry to come up with suitable plots for film adaptations. Just like all other related fields, there are no hard and fast rules related to the academic qualifications required to qualify as a book scout. Some preferable options that might increase your visibility in the market are :

A bachelor's degree in English or other related fields
A Master degree in English or other related fields
A suitable internship in the publishing industry
Certificate courses in communication 



Pro tip – fast readers usually have an upper hand when it comes to being a book scout or a literary scout. So it might be useful for you to brush up on your reading speed. You must also have a clear understanding of the market and literary trends at that moment. Training courses in analyzing market trends might also come in handy.



Book Reviewer


All of us bookworms have sometimes dreamt of being book reviewers and earning our lives by just reading books and writing about our experiences. A book reviewer also known as a book critic can help make or break an author's career. Since it's an extremely sophisticated and sensitive job, it takes years of expertise. The trendsetters of the literary universe and the market, book reviewers are often very important for increasing the visibility of a book. 


Since the work of a book includes excellent reading and comprehension skills, there are no mandatory qualifications. Like most other careers in the book, industry-academic qualifications play no role other than increasing the chances of getting hired. Some relevant options are – 

A bachelor's degree in English or other related fields
A Master degree in English or other related fields
A suitable internship
Certificate courses that help in increasing comprehension



Pro tip – book critics or book reviewers often have to read a huge number of books from multi-faceted genres. It is important to not get stuck on one genre. This will help in increasing your credibility and make you more approachable. Interactive sessions with fellow bibliophiles may help increase your connectivity and networking strengths.



Editor

A book is incomplete without being reviewed by a book editor. They read a single book multiple times and analyze it thoroughly for mistakes or errors that the writer may have accidentally skipped. Their primary job is to improve the quality of the book and deliver.  an improved reading experience to the bibliophiles. They go through the grammar and review the literary content before publication to ensure that the best quality content is delivered. Relevant academic qualifications that are not crucial but might assist you in getting hired as a professional book editor are –

A bachelor's degree in English or other related fields
A Master's degree in English or other related fields
A suitable internship
Certificate courses that help in increasing comprehension



People sometimes refer to book editing as a dying profession. In an era where people strive to be self-sufficient, most writers are expected to self-edit their books. However, that is usually impossible. Although it is difficult, editing is a very satisfactory and rewarding career choice.


Pro tip- You need to know how to market your skills to potential clients. It is best to work upon your persuasion skills to convince people that your talent will help them.



Professor / Teacher


I am pretty sure we do not need an explanation about the job opportunities that one will be provided if one qualifies as a professor or teacher. Referred to as one of the most essential services that human beings can provide, teaching is a very rewarding career option. The job satisfaction level is usually high and you get to influence the lives of many people. Most universities and schools require some formal education and qualifications. Nevertheless, you might also choose to be a home tutor The necessary qualifications are

Bachelor's degree in any field of your choice ( mandatory) 
Masters degree in any field of your choice ( optional) 
Certificate from a district of a state-approved teacher preparation program.



To be a licensed teacher in the US you need to be a citizen of the US. If you are a foreigner with a work visa you might also be eligible for a teaching career in the USA. 


Pro tip – Since most teachers or professors work with a huge number of students,  it is important to have effective communication skills. It is important to address and recognize the grievances of your students and work accordingly. 



Lawyer


A lawyer not only gets to practice his deductive and debating skills in the courtroom but also has to indulge in reading a lot of literary work. If you are someone who likes to go through interesting court cases, books about the ethics and morality of justice and legal documents explaining the procedures of a courtroom, the profession of a lawyer will be perfect for you. Unlike other professionals listed here, some mandatory academic qualifications are required to practice law in the USA. The necessary academic qualifications are: 

A bachelor's degree regarding law and legal studies, history, or social sciences
Qualification in the law school admission test.
3 years of law school ( most states in the USA require a Juris Doctor  degree from an accredited law school by the American bar association) 
You also need to qualify for the TOEFL if English is not your native language.
Each state in the US requires the law graduates to pass the bar exams to practice law in the respective state. The National Conference of Bar Examiners conducts this exam.



Pro-tip- Toyer in the USA you need to be very patient in your ambitions. You might also want to brush up on your reasoning skills and comprehensibility of complex written material. Efficient research and problem problem-solving might also come in handy in the courtroom. 



Book-shop owner


As bibliophiles,  when we first think of being in love with the idea of reading books, the image of a quaint bookshop pops up in our heads. Most of the bibliophiles here will admit that they have dreamt about opening a small quaint book store filled with the aroma of new crisp pages of books. Instead of shunning away from this thought, you might convert this dream into a reality. A book shop owner usually collects books from dealers and manufacturers and sells them to potential buyers. They might also thrift used books and make them available to the client at a discounted price. There are no mandatory academic qualifications required to be a bookshop owner. You might choose to have the following qualifications:

A bachelor's degree in English or other related fields
A Master's degree in English or other related fields



Pro-tip – a book shop owner should have the necessary marketing skills. You should practice efficient communication with the client or potential to convince them to buy a book. Up-to-date knowledge about recent books and their plots will help a bookshop owner to recommend books to potential buyers. 



Librarian

A librarian is in charge of maintaining a library and also efficiently handling visitors. They might help the visitors look up books or search for information. A librarian also classifies books and other library materials into suitable genres. Most librarians also have reference desk duties. The relevant qualifications that a librarian might need in the US are:

A bachelor's degree in English or any other relevant field
A master's degree in library science ( MLS). 
Eligibility from an accredited program from an American Library Association



Pro-tip – an efficient librarian should be well versed in research methods and strategies. They should incorporate their organizing and communicating skills while dealing with various aspects of being a librarian.

 

An audiobook narrator


Most of us do not usually have the time to read a physical book or an ebook page by page. Reading requires comprehension which in turn requires extreme concentration. Most of the environments that we live in cannot offer such peaceful and quiet places that are required for the concentration. This is a reason why audiobooks are thriving. One might listen to their favorite audiobook while doing other chores or activities.


This flexibility of audiobooks has tremendously helped its market to prosper and has increased the demand for audiobook narrators. Most agencies that hire audiobook narrators do not have hard and fast rules regarding academic qualifications. However,  

bachelor's degree in English or any language and/or 
Masters degree in English or any other language



might come in handy.


Pro tip – here are some pointers that should come in handy while practicing to be a full-time audiobook narrator:

Enunciation of each word with a perfect accent.
Having a good recording device
Practicing breathing techniques that will help you to breathe through your diagram instead of your chest
Overcoming local or regional accents
Learning to stay in character
Practicing voice modulation or acting skills.



Translator

The primary job of a translator is to read a book or any literary piece in one language and translate it efficiently to another. They can also help in the conversion of information from one language to another. Their work setting includes schools, hospitals, conference centers, meeting rooms, so on and so forth. The necessary qualifications to become a legal interpreter or translator in the USA are:


A bachelor's degree in English or any other language
Native-level proficiency or academic qualification in two or more languages.
Certificate courses in translation or interpretation. ( The American translators association offers a list of programs and other helpful resources to enthusiasts) 



Pro-tip- people who grew up in a bilingual household usually have an upper hand over native English speakers. It is very important to have a professional grasp of two or more languages. Regular practice in not one but two or more languages is of paramount importance.

 

Journalism


A career in journalism may seem ideal to all those who like to analyze and report about the current affairs in the world. Journalism is a mass- favorite due to its rewarding pay and the sense of thrill that accompanies it. Qualifications that you might require to be a legal journalist in the USA are :

A bachelor's degree in journalism
A master's degree in journalism
Relevant internships or apprenticeships. 



Pro-tip – It is very important to have practical knowledge about the field of journalism. Internships in media outlets including magazines, websites, and newspapers might help one achieve this.
Conclusion
All bibliophiles may turn their dream into reality by being ambitious about a career that will help them earn money and brush up on their reading skills. However, the most important skill that any enthusiast should hone is the skill of patience. It is important to brush up on your skills and keep an eye on your competitors while preparing for any career choice. A little bit of luck and a lot of practice goes a long way in achieving the impossible.
Frequently Asked Questions
What are the pays for the aforementioned career choices? 

Proofreaders – 22.67 dollars per hour
Copywriter- 55,190 dollars per year
Content Writer- 17.88 dollars per hour
Literary Agent – 29.59 dollars per hour
Book Scouts- 59,329 dollars per year
Book Reviewers- 62,611 dollars per year
Editor – 53,420 dollars per year
Teacher – 15.03 dollars per hour
Professors – 63,065 dollars per year
Lawyer- 73,546 dollars per year
Bookshop Owner – 17.44 dollars per hour
Librarian-  56,359 dollars per year
Audiobook narrator- 58,015 dollars per year
Journalist-  56,359 dollars per year
Translator – 45,702 dollars per year



How much time does a bachelor's degree take in the USA?
It usually takes 4 years of the complete full study. However, there are also some accelerated programs that can be finished faster.


How long does a Master's degree take in the USA?
A master's degree usually takes 2 years of full-time study.


How can one search for internships?
One might reach out to firms or enterprises physically or through their website to apply for scholarships. There are also websites available that list internship opportunities in various fields.
Jobs For People Who Like To Read