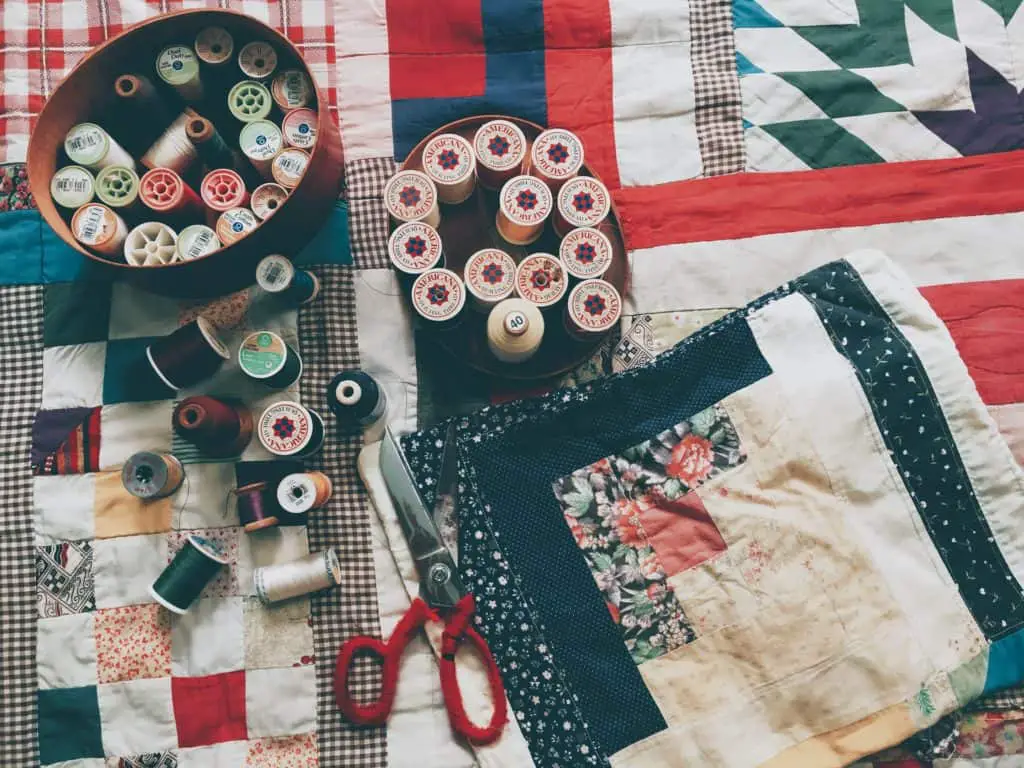 Is Quilting Hard? – Quilting is being done as a passion, fine art, and as a hobby as well. It has different perspectives, often an expression of nostalgia, symbolic representation, a medium to use one's voice. It's a process of stitching a minimum of 3 layers of fabric together. Quilting has also been a platform for women's empowerment, like in the case of Harriet powers. Even when cornered by racism, she found her voice in quilting. 
Is Quilting Hard?
For a beginner, it can be overwhelming without having an idea of where to start. But in the technology world, there are many resources on the internet and off-internet. In addition, many blogs and videos focus on guiding beginners. In this article, we shall discuss techniques, types, styles, and the process of quilting.
Quilting is not hard if you know the place to start and the process of developing it further. The first step is to know the skills required for quilting.
To stitch seam, sew patchwork
Familiarity with the quilting terms
Knowledge of the sewing machine
Knowledge of tool usage
Accurate eye for measurement
Basic sewing techniques
Basic understanding of how to read patterns
Types of Quilts
Amish Quilt – This style has blocks, traditional colors and patterns, nature themes
Hawaiian Quilt Pattern – This kind of quilt has symmetric motifs, most commonly practiced in Hawaiian Islands
Traditional Quilt Block – Nine patch quilt block, bow tie quilt block, star quilt block, Dresden plate quilt block, rail fence quilt block, cathedral window quilt block, flying geese quilt block, bear paw quilt block, pinwheel quilt block, pineapple quilt block, half square triangle quilt block, wedding ring quilt block, 12-inch quilt block, tumbling quilt block, flower quilt block, drunkard's path quilt block, log cabin quilt block, hourglass quilt block, string quilt block, paper pieced quilt block, wonky quilt block, snowball quilt block, applique quilt block, crazy quilt block, Irish chain quilt block, basketweave quilt block, diamond quilt block are mostly used. These blocks have been based on how they look. 
Process of Quilting
The start should be familiarising with the quilting terms and tools used. Then, a basic idea flows on how quilting is done. Now, let's approach that step by step. The first step should be about the decisions to be made regarding the pattern and fabric. Then the tools required for quilting should be procured. If you're a novice, picking a simple pattern will help to stay on the course. The fabric to be used should be pre-washed and ironed, so it is ready for work. Two to three different fabrics in different colors are to be selected. The next step is to measure and cut the patchwork and then lay out the design you want. Now the selected patchwork should be sewn in straight rows. After the patchworks are sewn, the separate rows should be sewn together to be a quilt. Iron the quilt after sewing and move on to basting to hold together the quilt sandwich. Stitching and binding the quilt by choosing the simple technique or which you fancy the most brings the quilting process to completion.
Choosing the fabric – A canvas to an artist is the fabric to the quilt. There are different kinds of fabric – cotton, silk, corduroy, and wool. The right fabric should be decided based on color, a balanced view of color would give a pleasant aesthetic, then scale of the quilt.
Tools Required – Learning about the various tools specific to each kind of pattern is important. The basic tools which are required are ruler, cutter, sewing machine if machine quilting is done, thread snips, and design specific tools
Quilting – The prewashing and ironing of the fabric is necessity-based, nowadays the store-bought fabric mostly doesn't require prewashing. Careful measurement and cutting of patchwork should be done. All the patchwork rows should be sewn together to form a quilt of the design wanted. Now, this should be ironed and basted to hold together the quilt sandwich, with the following order backing, batting (middle of the quilt), and front. Simple, straight-lined, and rowed pattern stitches are seen. Starting with simple stitching is wise. Binding is the finishing touch, for which different methods are followed, choose the one that suits better.
Styles
Hand Quilting: From the title, a basic idea can be got. It requires the same basic tools, and again with varying design patterns, tools vary accordingly. In this the quilt top is sewn with hand, it is the classical way of quilting, requiring a lot of patience. The hand stitching has the advantage of freestyling. This is considered to be easier for beginner
Machine Quilting: Straight line quilting/ even-feed foot, in which a walking foot is used to guide through the quilt sandwich. Free motion machine quilting, has intricate designs as done in hand quilting. This requires a lot of practice to master.
Longarm Quilting: Longarm quilting has an extended head of 10 to 14 feet, which quickly sews all three layers of the quilt.
Quilting Techniques
Here, some of the quilting techniques have been explained.
Applique – It is nothing but adding textures, and design to the larger fabric. It can range from simple to complex, based on the quilter's expertise.
Block and Patchwork Quilt Technique – In this, blocks and patchworks are sewn to create the quilt.
English Paper Piercing – Paper piecing of desired geometry is obtained and stitched onto the fabric.
Trapunto Quilting – The middle portion batting is stuffed between the backing and front.
Quilting, when done in a group, promotes the feeling of community. It is part of American tradition. Although, some see quilting as a form of fine art. The authenticity and the heritage it carries give historical importance to quilting.
Resources to Learn Quilting
Below I have listed the best books to learn about quilting:
Quilting: The Complete Beginner's Guide to Learn Quilting: Basic Quilting Book
Quilting: New and Unique Quilt Inspired by Scotland Iconic Tartans
The Big Book of Rule Work Quilting: Learn to Finish Your Quilts: Rule Work Quilting
Patchwork And Quilting Book
Rowan Patchwork and Quilting Book No.4
Quilting Sourcebook
Complete Book of Quilting
The list of online quilting classes based on affordability, skill level, duration of the class, accessibility of the content, materials, teachers.
Iquilt Beginning of Quilting – Price range $20-$35
Missouri Star Academy – free tutorials on YouTube, beginner-friendly courses, price range- free or $15-$20
Annie's Creative Studio – Price range: Monthly subscription – $7.99 $14.99 to purchase the course
Learn How to Quilt – Cost: Free
Academy of Quilting – Price range between $28 to $73
Craftsy – Subscription per month is $ 7.99 or $79 per year
Quilting Daily – Price range: $3.99 to $ 605
Creativebug – Unlimited subscription is $7.95 a month; Unlimited plus subscription is $9.95 per month/$ 95.40 per year.
 Quilting as Business
Quilting is a $3.58 billion industry. Some of the basic business ideas are,
Selling Homemade Quilts
Setting Up Boutique
Teaching Quilting
Making Quilting Kits
Selling Quilting Supplies
Designing and Selling Patterns
Frequently Asked Question
Is quilting a good hobby? Yes, it is considered rewarding and relaxing, it brings out artistic views.
Is quilting expensive? It can be expensive at the start, but as you learn and master the cost comes down
Is quilting hard? It's not hard, start with a simple technique. Enlist the help of tutorials or classes or books. Join a group for support.
Also read The Complete Guide On Kinesthetic Learning
Is Quilting Hard? – Types, Process and Techniques