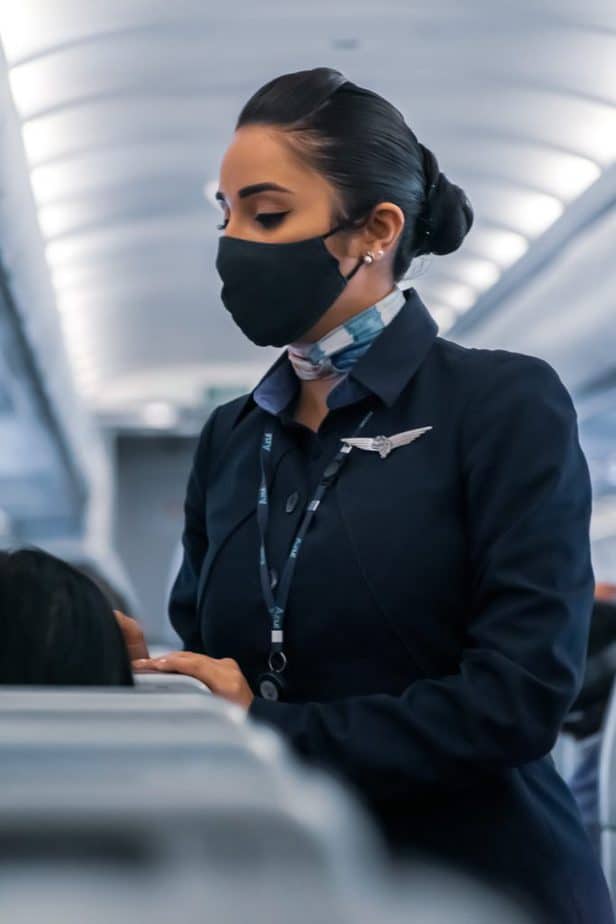 Introduction
Deciding what you want to spend your life doing is a big decision to make. You have to consider that it is a good fit for you. That it is something you enjoy doing and you would like to be involved in it for a considerable length of time at least. Having in mind as well that you are not making your choice solely based on the fact that there is a large pay. But also, because you believe you are a very capable candidate for that role. Is Flight Attendant a Good Career?
A flight attendant is a good career choice. Both the benefits and possible dangers should be considered when making such an important decision. It is better to do the necessary research and know enough about it to be sure it is indeed what you want to do. Read on to find out the necessary things you should know.
Requirements for becoming a flight attendant
These requirements vary as each airline has its separate policy. You do not have to possess a special level of education to become a flight attendant. Although in some airlines it will be beneficial for you to have at least a year of a college education. If not college, at least you must have attended some tourism and travel training instead.
You are required to have taken both math and English in high school at least. 
You must be at least 21 years old to apply for the position of a flight attendant depending on the airline.
You must be fluent in English and if applying for international airlines, other languages as well.
You must have good interpersonal skills. In the case of any disturbance while in the air, you can keep calm and keep passengers in check.
You should be able to work with others as you will have colleagues in the cabin crew. 
You should be able to perform emergency first aid in the case of a medical emergency.
You must be able to multitask.
You should be able to handle sudden difficult situations.
You must be certified by the Federal Aviation Administration.
Cons of being a flight attendant
Being a flight attendant requires you to move around a lot and you will be away from home consequently. It is stressful. You could be in the air for up to 72 hours and from time to time you have to be attending to the passengers. You will be exhausted the majority of the time.
If you are sick and you have a flight to be on, there may not be someone to take the position in your stead. In that case, you cannot call in sick. It may be hard to have a relationship when you tend to move around a lot. Especially if wherever your significant other works does not require them to move around frequently. 
It may be difficult to sustain that. Your first paycheck as a flight attendant may not be exactly what you expect. You must have spent a few years in the field to get high pay.  
It is easy to dream about what you want to do with your life but the difficult part is taking action. Getting to that point you want to reach. In this field, landing a job at an airline may be very challenging. It is a very competitive field. Getting into a training program may take several months. After getting the adequate training you need to enroll for the job, the next thing is to apply for one. 
Getting a job position at an airline could take a long time also because they get occupied very quickly.
Pros of being a flight attendant
In my personal opinion, the pros well outweigh the cons. We all know about the most obvious of them all. You get to travel the world and you get to meet different kinds of people from different cultures. Besides this, there are a lot of other good things about being a flight attendant. You also get to live in different places, though for a short period, it never gets boring. You get to visit so many different places and you get paid to do all of this!
Depending on the airline, family discounts are also given. You have health and life insurance as a flight attendant. A few airlines provide some privileges like free medical services and lodgings in hotels. As well as you getting to meet a lot of new people is great, you also improve your social skills with interaction. You learn from the people you have met. You may enjoy the company of other people. It is an exciting experience for you to provide good customer service and while doing so you get to go places. 
As a flight attendant, you could get free food from restaurants in cities you get to travel to. You can explore the various restaurants in each city and you do not even have to pay to eat! This all will depend on the policy. You also get to exercise your leadership and independent skills. You will not be on board the flight with your manager to take directions from. 
What do flight attendants do?
They are primarily available to serve as a guide for the passengers. They provide the needed information needed for the flight. They also make the passengers as comfortable as possible.
They greet the passengers as they board the plane and check their tickets. This is to give them directions to their allocated seats. 
They assist in the briefings that the pilot does before takeoff and landing. 
They help assure the passengers during flight turbulences that could get very intense. 
They distribute snacks and food for the passengers. 
They ensure that the passengers are adhering to all flight rules and regulations. E.g., keeping all devices off at takeoff and landing. 
They ensure that passengers are safely strapped in their seats in the case of rapid movements. 
They show the passengers how the safety equipment is used and show them the exists as well.
They must appear dressed according to whatever dress code is given.
They must be available to attend to whatever questions the passengers have for them. 
Why is a flight attendant a good career?
This may have been a lifelong dream of yours. You may have decided to do something else until you are of the right age to become one and you are finally at that point in your life. It is an exciting feeling to work where you feel like you belong. Somewhere you feel you should be doing something you love and getting paid for it. It's a win-win.
If you are up for an adventure, becoming a flight attendant is a good choice. It could be difficult to get an airline to work for. You would get a position at an airline eventually. There are over five thousand airlines around the globe and every cabin crew needs a flight attendant. The pros of this career choice outweigh the cons as you have seen above. 
If you are also up for a spontaneous living, this is the right pick for you. You might want a frequent change, not being in one place for a long period. As a flight attendant, your schedule is a very flexible one. You will be on call to chaperone flights that have different destinations. You have to make sure that going in different directions frequently is something that you will be fine with. It requires traveling a lot and meeting different kinds of people. 
You will meet people with bad attitudes and you should be able to handle such situations by being polite and professional at all times. The job may get tiring but the adventure is all worth it in the end. 
Conclusion
This flight attendant position is honestly a very good one, to say the least. There are so many great opportunities and perks to the job. Personally, the best will have to be getting to see different beautiful cities, restaurants and the people of course. 
You have the opportunity to learn new things about cultures you never knew about.  You can decide what your favorite thing about it is from the long list I have laid out. If this is your dream job, you should go for it. Good luck!
Is Flight Attendant a Good Career?