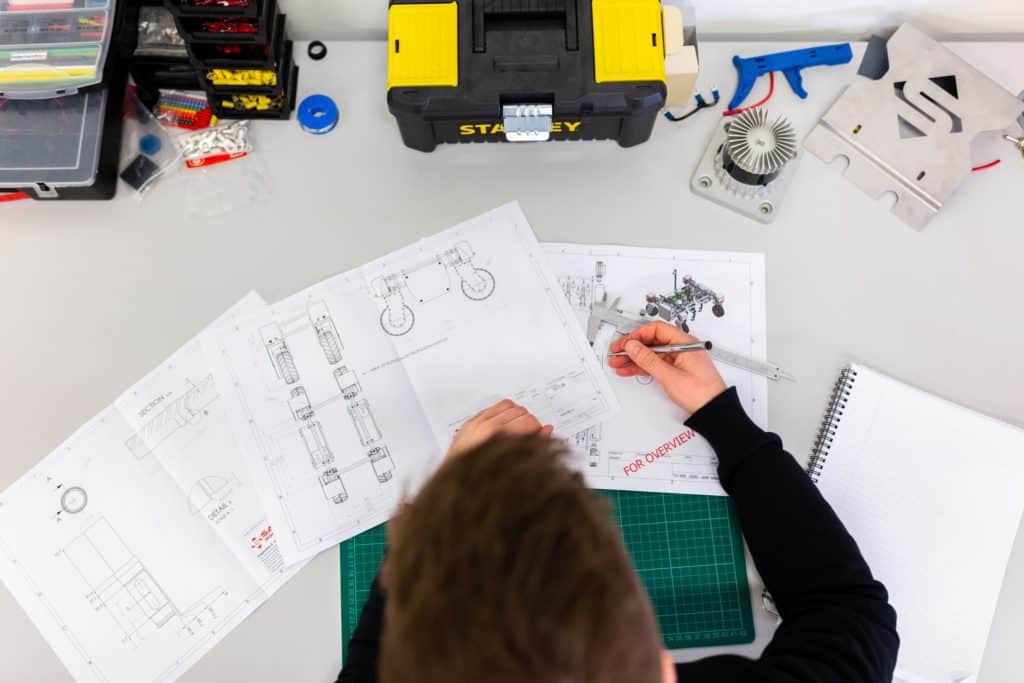 Is Engineering a good career in 2021? – Engineering is a diverse discipline that offers a variety of lucrative possibilities.  The majority of engineers specialize in one field, such as architectural, industrial, or computer engineering. A bachelor's degree in engineering or a related discipline is often required for engineering positions. A master's degree may also be required for several engineering careers, particularly in customer relations. Engineers with a specialized degree may be qualified for a career in a related field. Regardless of your field of study, an engineering degree will include a substantial amount of mathematics and science coursework. Dealing with the most updated technology is a fulfilling career path for many engineers. 
The engineering sector is making the fastest evolution and revolutionary advancements thanks to these superior technologies. Engineers usually love collaborating with other project employees to achieve technological advances. Their working atmosphere is never static. We have included here details about job growth, income, academic qualifications, and other relevant stuff. You will find it helpful if you are interested in pursuing a career as an engineer, mechanical or environmental.
What is Engineering and why is it in Demand?
The integration of mathematics and science to resolve our day-to-day life issues is known as engineering. Engineers work out how structures operate and put inventions to use. Engineers play a critical role in making advancements accessible to the rest of the world. Engineering is the purposeful use of skills and understanding to fix complex issues, protect people, and enhance the quality of life. It transforms a notion or a conceptual thought into a physical manifestation.  Pretty much every single human-made thing we encounter in everyday life basis was aided by engineering. Engineers are responsible for everything from cell phones, transmitters, and watches to buildings, elevators, computers, and the World wide web.
Engineering is responsible for most elements that enhance our life to become extra easier, provide more fun, and much more efficient. Engineers provide ideas that draw on scientific findings to benefit human lives while combining productivity, quality, affordability, and morality. Engineers are distinguished from others by translating concepts into genuine techniques in a realistic and cost-effective approach. Detail-specific critical thinkers, innovative solution-seekers, and enthusiasts who enjoy working out how things operate and devising ways to enhance them are drawn to engineering occupations. Engineers need a broad understanding of mathematics, science, and computer applications to flourish in their profession.
The demand for engineering is soaring at an all-time high. Artificial Intelligence (AI), robotics, Data Science, and Cloud Computing are revolutionizing the way humans operate, affecting practically every business. As a result, businesses worldwide are significantly investing in these innovations, not only to fuel current economic activity but also to find recent advances that will be profit generators in the coming years. In the ongoing scenario, some sorts of engineering employment provide better prospects, so you might want to investigate a high-demand specialization. But, although which expertise you pursue, engineering is indeed a strong career path.
Is Engineering a good career, what are its benefits?
There aren't too many professions that give such a diverse set of benefits, allow you to utilize multiple aspects of your intellect, and allow you to make a meaningful difference in society.  Consider a profession where no two days are just the same, in which you can combine innovative abilities with technical expertise, where you perform as part of a group, where you can explore, make a meaningful impact, and earn fair pay. Here we've covered some key aspects that your engineering job will offer you. These may be additional soft skills or career growth options, or contentment. Read on to dig out about all the benefits that engineering will provide you:
Job Contentment. What great way to make the most out of your passion for science and math than to pursue a profession in it? It's critical to pick a job that you appreciate. After all, you'll be working at your job for a countless number of hours or more and many days a week. Engineering can be a rewarding career to work in. As a professional engineer, you will be tasked with tackling real-world issues and determining the finest alternatives. It necessitates inventive, innovative, and rational reasoning. Engineering, like the rest of the world, is continually changing. Every other day at work is unique.


Teamwork Skills Get Developed. Direct association and effective communication with clients, distributors, and colleague engineers – are also required when developing a creative plan for complicated problems. As a result, teamwork is an essential part of any productive engineering career, and you'll be collaborating with the brightest and most intriguing goal-oriented experts. You will be able to learn a lot from your mentors and will be able to grow as a person and an engineer. Your Technical skills will also get honed.


A Decent Wage and Financial Security. Engineering is a financially rewarding profession. A job in engineering necessitates a distinct set of abilities. As a result, it's only fair that it includes premium pay.  It is a proven truth that engineering college grads make at least 20% higher than the median employee income. They can also probably earn significantly more in their careers than graduates of most other fields. Engineers begin their careers with the best pay rate of any profession.


Reputation Among the Peers. Significance Engineers contribute to our country's global competitiveness, living standards, national defines, and community security is on another degree. You should feel proud to be a part of such a prestigious career. Professionals could contribute to developing a high-efficiency aircraft engine, power-efficient houses, essential surgical devices, automatic automobiles, or a completely new type of renewable energy. There is countless chance to make a constructive effect in the community.


Thinking Outside the Box. Engineering is an innovative career by definition. Since we live in a period of fast technical and human development, engineers must think critically today more than ever. Engineering might be the perfect career for you if you enjoy asking questions, exploring, developing, discovering, and constructing.


A Myriad of Employability Opportunities. Engineers are logical people, solution-oriented speakers, and organizational members, so it's no surprise that they're in high demand in many areas. Engineers are well-educated and skilled critical thinkers who are valued by many types of enterprises. That's a fantastic addition to any workforce in any business.
Top 10 Engineering Branches that are in High Demand!
Industrial Engineer
Innovative production necessitates precision, which industrial engineers achieve. They're primarily responsible for creating industrial plans that are as efficient as possible. Designing and enhancing infrastructure, machinery, methods, and operations for production, resource handling, and various other work settings is the practice of industrial engineering. They find the optimum ways for industries to use machinery, workers, and operations by analyzing data. Industrial engineers could figure out how to transport things around a plant and employ industrial labor most effectively. This is an excellent career for folks who enjoy figuring out the quickest and most effective ways to complete jobs. This recruitment boom is expected to continue in the future years, with significant competition.  The path to a career in industrial engineering, manufacturing processes, or a related field is to study industrial engineering, manufacturing engineering, or a similar specialism. 
Environmental Engineering
The practice of environmental engineering involves the prevention, reduction, and elimination of contamination sources that influence the air, water, and land. It also includes monitoring and evaluating pollutant concentrations, determining sources of pollution, cleaning up and recovering contaminated places, and assuring that local, state, and federal standards are followed. Environmental engineering professionals are dedicated to discovering renewable energy alternatives and remedies to global warming and other environmental issues. They also develop waste and water treatment equipment for rural and urban regions and better sanitation facilities to prevent water-borne infections. They investigate the impacts of technological advancement on the atmosphere, such as global warming, pollution, the causes of water scarcity, acid rain, and many more. In summary, environmental engineers are always working to ensure the health of the planet and its inhabitants.
Electronics Engineer
Electrical devices are a big feature of contemporary living, and you will be responsible for designing and implementing them as an electronics engineer. The discipline of engineering that works with electricity and electronics is known as electrical engineering. Electronic engineers design communications and data transmission equipment, such as desktops and laptops. It is also the second most preferred engineering major after mechanical engineering. Electronics engineers may even be engaged in significant national military programs such as connectivity and satellite communications. The upcoming requirement for these engineers is expected to be significant. Engineering services, research & innovation, and industrial sectors are the biggest employers of electrical engineers. Those interested in becoming electronics engineers can major in electrical engineering, electronics engineering, or a relevant field.
Mechanical Engineering
Mechanical engineering is by far the highest prominent engineering degree. Design, manufacture, evaluation, and maintenance of the equipment, machinery, materials, and operating mechanisms and devices to evaluate their condition and efficiency are all covered by mechanical engineering. Automobiles, industrial and agricultural equipment, manufacturing facilities, and a wide range of instruments and devices fall under this category. It is one of the widest engineering areas, encompassing everything from individual components to sophisticated, large-scale structures in architecture and execution.  Mechanical engineers have a bright future, with a forecasted growth rate of 4% from 2019 to 2029. This is one of the most successful engineering careers that graduates can opt for.
Process Engineer (Petroleum & Chemical)
Professionals who work in the petroleum and chemical industries are likewise in significant demand.  Petroleum engineers are in charge of directing oil exploration and researching new drilling locations. Chemical engineers design the procedures that transform crude oil and gas into marketable goods. It is the practice of developing machinery, methods, and procedures for modifying raw ingredients and combining, blending, and treating chemicals to create useful products. These engineers handle challenges involving the manufacture, storage, and transit of chemicals, food, fuel, and other products using mathematical, science, and other technical skills.
Civil Engineering
Civil engineering has been one of the earliest engineering specialties, and it entails the design and implementation of highways, railways, waterways, infrastructures, and other structural features. Civil engineering majors will be in high necessity as the world's population expands, forcing the construction of more buildings. Civil engineers operate in a wide range of environments and circumstances. They frequently spend much of their time operating in an office and working on building sites to keep an eye on construction activities and handle difficulties on the job. It is a wonderful career choice because it encompasses a wide range of positions in both the government and non – governmental sectors. The Civil Engineering field has a lot of room for expansion.
Aerospace Engineer
Aerospace engineers design aviation machinery and spaceships. Airplane development, space vehicle construction, and missile launches are among topics studied by majors in this subject. That, of course, comprises rocket technology.  They also might construct national defense systems. They are involved in the engineering and production process after they have developed these devices. They make certain that their supplies are appropriate and perform as intended. Aerospace engineers have a bright future ahead of them. Aerospace engineers should see a 3% increase in employment, according to the Bureau of Labour Statistics. It is one of the highest-paying engineering careers, with a wide range of responsibilities.
Biomedical Engineering
Biomedical engineers work as scientists, developers, and pioneers in the field of medicine. They integrate their medical and engineering backgrounds to create and develop medical equipment and other healthcare services. Biomedical engineering is the development of structures, instruments, and technologies for use in medical practice. Teaming up with medical practitioners, such as surgeons, pharmacists, specialists, counselors, and scholars, to discover, analyze, and fully comprehend their needs for systems, apparatus, and gadgets is also part of the job. Biomedical engineers work on some of the most pressing issues today, such as illness treatments and artificial limb design, to name a few.
Computer Engineering
This discipline combines abilities taught in electrical and computer engineering to design and create hardware, software, and hardware-software integrations. Computer engineering is a fantastic professional choice for a promising future. It provides an excessive number of work alternatives, such as programming, web development, online marketing, IT management, etc. A computer engineer must be versatile to thrive in their work, from detecting the slightest of faults in extensive codes to know different programming languages. A computer engineer must be able to sort through an unending stream of data or code and have a solid grasp of numerous programs.
Nuclear Engineering
Nuclear engineers are responsible for capturing the radiation released by nuclear power plants. Nuclear engineering is a field that focuses on dealing with the use of nuclear energy in a range of applications, such as nuclear power plants and submarine launch vehicles. Research, development, building, installation, and evaluation of technology, systems, and procedures related to the synthesis, control, and identification of radioactive radiation are all covered by nuclear engineering. Neutrino detectors and nuclear reactors for electric power plants and ships and radioisotope manufacturing and studies are among these technologies. Managing and safeguarding humans from the possible negative effects of nuclear power are also part of nuclear engineering.
Disadvantages of Becoming an Engineer
Job growth in some fields is stagnating. Some engineering disciplines may have restricted work opportunities in certain industries. Manufacturing jobs in the United States have been in the downturn for quite a considerable period. To stay on top of the game and be adaptable enough to adjust to the market, you'll need to keep learning.


Increased workload and, therefore, pressure. Civil engineers are responsible for the design and construction of projects. These constructions are frequently of vital economic, industrial, and national significance. The planning of such infrastructures requires a great deal of thought, computation, and labor. Therefore,  engineers should have a keen—attention to precision and accuracy.  Mistakes can have significant implications. As a result of the increased responsibility, there is often a great deal of pressure.


Accidents on the job. An industrial site or a mine houses massive construction machines, trucks, and construction debris, among other things. At many job sites, dust, sharp tools, pollution, fire, chemicals, and work accidents are typical concerns.


Occupational hours are long. Tasks can be stressful and difficult at times. It can be difficult to stick to schedules. Long and difficult work hours are frequently the result of such circumstances. The engineers are frequently seen working lengthy schedules to complete the project.


Locations in the wild. For some people, working outside could be enjoyable. However, in many people, this is not the scenario, but engineers may be required to work in distant and difficult locations. While it may be enjoyable for some engineers, it is not for everyone.
What is the basic Qualification required to become an engineer?
Aspiring engineers normally ought to get a bachelor's degree from a school recognized by the Accreditation Board of Engineering and Technology after completing graduation from high school (ABET). At all tiers, colleges and universities provide virtual, combined, and conventional engineering courses.  A bachelor's degree is required for the majority of engineering entry-level employment.  Those with bachelor's degrees, on the other hand, may be qualified to work as engineering professionals. Many applicants utilize their associate program points to complete preliminary and general education prerequisites when upgrading to a bachelor's program. Candidates for a bachelor's degree in engineering usually register in specialized programs that prepare them for various engineering vocations. Many bachelor's degree programs concentrate on popular engineering fields like environmental, automotive, civil, electronics, biomedical, or computer science.
Specialized programs in disciplines including marine engineering, audio engineering, and wind science are available to students with specific inclinations.  Generalist engineering degrees are available at several schools. Calculus, linear algebra, physics, chemistry, and general engineering are common core-curriculum courses in various engineering degrees. Normally, this stage takes four years to execute.
Licensure and Certification for Becoming an Engineer
Ensure certainly that the institution you choose offers an ABET-accredited mechanical engineering curriculum. According to the Bureau of Labor Statistics, most employers prefer applicants with credentials from authorized programs. For entry-level work positions in engineering, licensure is indeed not necessary. As your career progresses, you might wish to pursue becoming a certified professional engineer. Eligible candidates wishing to acquire state engineering licensing must typically meet the following requirements:
Obtain a bachelor's degree in engineering from an ABET-accredited institution.
Obtain a passing grade on the Fundamentals of Engineering exam.
Usually, at least four years of real work expertise are required.
Complete the Professional Engineering exam.
Engineers may be required to participate in continued education to extend their licenses regularly in some regions. In most cases, licenses from one province are valid in several other provinces.
How much salary does an engineer earn on average?
Engineering careers pay some of the greatest median initial wage year in and year out. Engineers earned an average annual salary annual pay of $91,010, reported by the US Bureau of Labor Statistics (BLS). The technology industry is expected to add roughly 140,000 new positions in the next ten years. As a result, the amount of effort and dedication required to achieve an engineering degree seems to be well good enough to justify it.
The Bottom Line
Engineer work prospects are likely to rise at about the same rate as the national median, though the increase will vary by specialty; on the whole, career chances for engineers are anticipated to be excellent.  Usually, entry-level engineering occupations demand a bachelor's degree, although some research careers may necessitate a doctorate. Starting wages for college graduates are one of the finest, and the field also offers a plethora of career growth opportunities.  
There is usually a lot of convergence between the various disciplines.  As a result, engineers must have a broad comprehension of various engineering disciplines in addition to their field of competence. For instance, a construction manager must comprehend structural design fundamentals, an aerospace engineer must use mechanical engineering theories, and nuclear engineers must have a solid understanding of technical engineering. Engineers, especially notably, need a thorough understanding of mathematics, physics, and computer applications like modeling and computer-aided design. This is why, although undergraduates select a specialization, numerous university programs provide fundamental engineering courses in a variety of domains.
Is Engineering a good career in 2021?