Choosing a career for yourself in your high school days can be one of the toughest jobs. But deciding it, early in your life will help you for your bright future. Dentistry in the USA is a rewarding career, and being an orthodontist is putting the cherry on the top of the cake. But one has to be prepared for a lot of hard work and investment of both time and money to become one of them.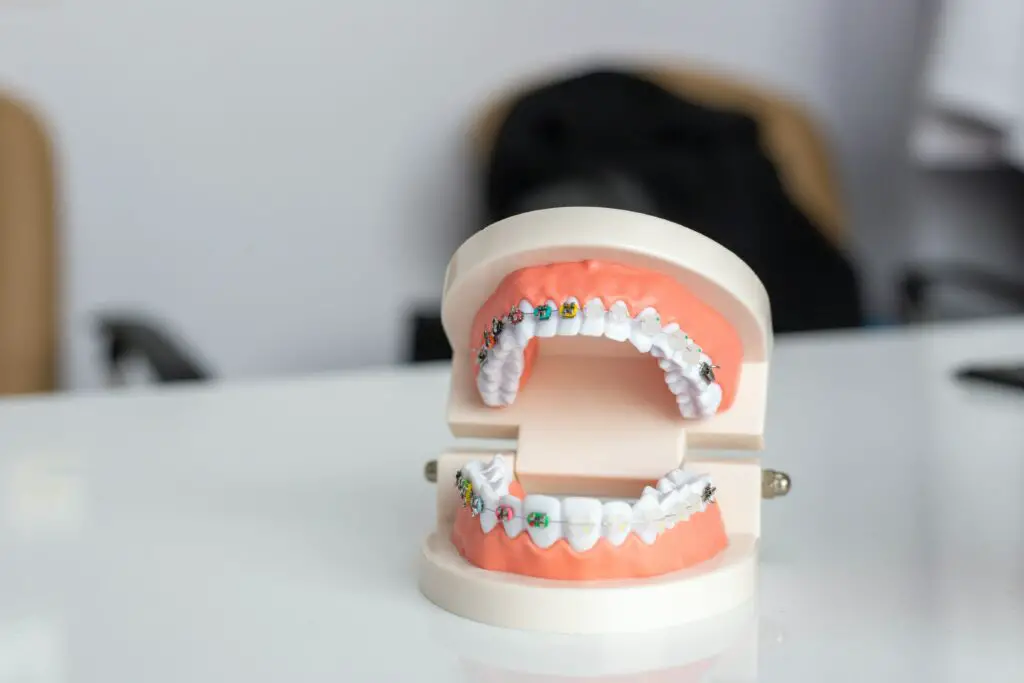 What is an orthodontist?
An orthodontist is a dentist who specializes in the diagnosis, prevention, correction, and management of crooked teeth, shifted jaws, and misaligned bite patterns. They use removable and fixed dental appliances like braces, bands, and retainers, to correct the teeth in the mouth and head gears on patients with jaw abnormalities. Orthodontists correct the dental problems of all age groups.
How To Become An Orthodontist?
1. Earn an undergraduate degree
The first step towards achieving your goal is to obtain an undergraduate degree. Each dental college has its prerequisites, but one can take the following majors during high school – chemistry, organic chemistry, biochemistry, biology, statistic, English, and physics, as these majors help students to get through the dental admission test (DAT).
Aspirants  should take part in some extracurricular activity like working in nursing homes, Science Olympiad,  etc. Working on your communication skill by taking part in debates, public speaking, school newspaper, etc. will help you in the future while dealing with patients and having good patient- doctor relationship.
It takes around 10-11 years to become a certified and licensed orthodontic practitioner in the USA. It will take four years to complete undergraduate school, another four years to complete a degree from dental school, and two to three years in completing an orthodontic residency So before opting for orthodontics as your career, it is advisable to talk to a dentist about their work  and the challenges they face in their career. It will be better if you can shadow in a dental clinic for a better understanding of the field in which you want to pursue your career.
2. Qualify dental admission test
To get enrolled in dental school in U.S. and Canada aspirants have to take Dental Admission Test (DAT). This test compromise of multiple-choice questions which are from natural science (biology, general chemistry, and organic chemistry), quantitative reasoning, reading comprehension, and perceptual ability. One can give this exam during the junior year of one's undergraduate studies. If the scores are not good aspirants can retake the exam up to three times.DAT (Dental acceptance score) ranging from 1-30. Usually above 19 is considered a good score.
Some of the top dental colleges in the USA. Harvard University – The Harvard School of Dental Medicine (HSDM) is located in Boston, Massachusetts Annual fees are $63, 400 Acceptance rate is 3.8%. The University of Washington – located in Seattle, Washington Annual fees are $54,422 Acceptance rate 13.7%. The University of Pennsylvania – located in Philadelphia, Pennsylvania  Annual fees are $76,090Acceptance rate 6.6% The University of Michigan – located in Ann Arbor, Michigan Annual fees are $38,095 Acceptance rate 6.2% The University of California – located in San Francisco, California Annual fees are $ 43,410 Acceptance rate 6.3%
3.  Earn a DDS/DMD degree
After completing dental school student will receive DDS or DMD degree. Both degrees are equivalent. They have the same accreditation body and curriculum requirements. The duration of this program is 4 years. Studies in the first and second years mainly focussed on anatomy, physiology, dental anatomy, oral pathology, and pre-clinical practice of dentistry.
The third and fourth years focused mainly on clinical practice, lectures, and seminars on subjects like endodontics, oral implantology, diagnostics, oral surgery, prosthodontics, radiology practice management, sedation, and pain control.
4. Earn your dental license                                                                      
 To earn a dental license earlier one had to take the national board dental exam (NBDE), but now one has to take Integrated National Board Dental Examination (INBDE). It is a computer-based two-day examination. Day 1 consists of 360 test items (3 sets of 100 standalone items,1 set of 60 case questions). Day 2 includes 140 test items (2 sets of 70 case questions).
The INBDE is scored on a scale of 49-99. 75 or above is considered a passing score. Dental students and professionals have to qualify this exam for licensure in the United States as well as for applying for dental specialization. Dentist who has done their training in other countries must qualify this exam to take admission in advance standing programs in US dental school.
5. Complete an orthodontics residency
Most dentists choose to do general dentistry after completing a DDS degree, however, some dentists opt for specialization. There are many dental specialties like endodontics, periodontics, prosthodontics, orthodontists, and oral surgery where one can do his specialization. 
For being an orthodontist, one must complete an orthodontic residency accredited by ADA's Commission of Dental Accreditation. It's a three-year program where one learns skills related to the correction and management of dental problems like straightening misaligned teeth and abnormal jaw growth.
 There are two systems used to find these postdoctoral programs-postdoctoral application support service (PASS)and post-doctoral dental matching program (MATCH), which provide a standard format that allows applicants to fill out just one application to apply to multiple programs.  They can earn Ph.D. in orthodontics or a master's degree according to their career goal.
6. Earn an Orthodontic license
After completing your residency, now you have to get a license to practice as an orthodontist. Requirements for a license may differ from state to state but some common prerequisites are graduation from an accredited dental school, clearing the Integrated National Board examination, and passing state clinical tests.  State dental boards can be contacted for more details.
For certification, one can take a written exam after eighteen months of residency and after passing it one gets qualified for the clinical exam. Thereafter, you are certified by the American Board of Orthodontics. After ten years, recertification is required.
Conclusion
The path to becoming an orthodontist is long and highly competitive. But it is a very respectable and rewarding career in the US. It is among the top best job in the US. The average annual salary ranges from$2 08,000 -$286,050, which differs according to geographical location, and with experience and skill sky is the limit.
How To Become An Orthodontist?