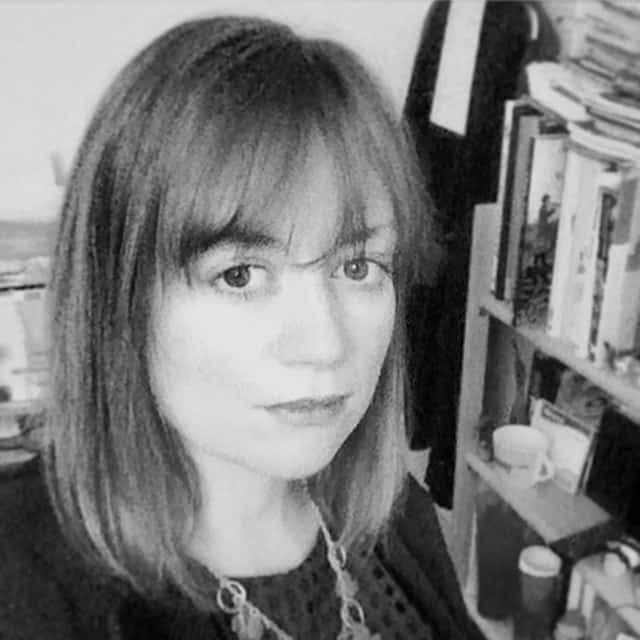 I'm a freelance illustrator who also produces educational workshops and events with over a decade's experience working in the cultural and heritage industries. I've had over a decade of experience working in museums and galleries but was one of the many cultural workers made redundant during the pandemic.
What Did You Study?
I did an Art Foundation at Bucks New Uni, then a BA (Hons) Graphic Design specializing in Illustration at Norwich University College of the Arts, and an MA in Sequential Design and Illustration University Brighton. I didn't really have clear plans as to what I wanted to do with my career – just that I wanted to do something creative. I've really appreciated the fact that the courses I did were quite broad, so I got to learn about photography, animation, and design as well as Illustration. I've found it useful to have a bit of knowledge about these subjects in my career when it comes to commissioning or working with creatives from different specialisms. Similarly, doing an MA meant I met people from all kinds of creative backgrounds – some people had studied architecture or 3D design, for example. They brought different approaches to the subject, and so we all learned from each other. If you are a creative person but are not too sure where you 'fit,' then choose to study something you'll enjoy. There's a lot of cross-over between different creative subjects, and just because you've learned one thing doesn't mean that you can never try something else.
Why Did You Choose A Career In Museums And Galleries?
It was actually quite by accident! I needed to have a part-time job to afford to do my MA – I'd worked in retail, which had helped get me a Ticketing Assistant role for the National Trust as my customer service experience in retail was really valued. I then worked as Front of House (FOH) at The Roald Dahl Museum and Story Centre, where I worked my way up to Visitor Services and Outside Events Supervisor. I was fortunate that the Roald Dahl Museum (RDM) provided FOH with many opportunities to work in different departments. Hence, I was able to gain retail, visitor services, and education/workshop experience. This isn't always the case – especially not in larger organizations, so I'd actually recommend working in a smaller venue as there are potentially more opportunities to broaden your skills. I also produced all of the external storytelling events, which took place at festivals, in hospitals, theatres, and pubs! So that was really varied and led to some exciting projects, such as working on a huge event with Kew Gardens to celebrate the Fiftieth Anniversary of Charlie and the Chocolate Factory.
I used my design knowledge to understand how branding works really helped when working with licensed characters and stories. I also ran late-night openings and commissioned musicians and face painters, which sparked an interest in running events. I was fortunate that the RDM paid for me to attend an evening course at Central Saint Martins on running events in the Creative Industries, which really helped me understand all of the procedures that need consideration when planning an event. I worked part-time at the RDM whilst studying for my MA, and it was through a university scheme that I won a placement working in the archives of the Royal College of Art. I then got the opportunity to apply for a Project Assistant Role at the V&A before my job at the RDM became full-time.
I also used my holiday to do an internship at London Zoo in their events department, which led to some work in their Learning and Interpretation Department. As well as working and studying for my MA, I was lucky enough to benefit from the Labour government's Community Arts Scheme, which provided funding to schools and communities to run artist residencies, so I also did that. Having built up all of this experience, I then applied to and got the role of Retail and Visitor Services Manager at the House of Illustration (HOI), where I was able to use both my creative and career experience to the role – something which I think is actually quite rare! Sadly I was made redundant from this role when they closed to the public because of COVID.
What Was Your First Job Or Nuggets From Jobs You Had That Helped You Get To Where You Are Today?
Retail jobs or any jobs where you have to work with the public are essential. Don't underestimate the skills that you learn working in these types of roles. You have to deal with people from all kinds of backgrounds and sometimes deal with difficult or angry visitors with a smile on your face. Having good people skills is a crucial (but an often surprisingly underrated!) element of working FOH in cultural venues and also really important for moving into management roles. (To be a good manager, you have to really understand people and what motivates them.) Working in retail is also really helpful if you are creative and want to sell your own work – if you are observant and see how things are packaged, what customers like and what they don't like, you can apply all of this to your own merchandise.
How Do You Prepare For Interviews?
For Front of House/Visitor Experience roles, there will always be some key questions you'll be asked every time – for example, questions to test your customer service knowledge, which might come in the form of some scenarios being readout and you have to say how you would deal with them. Or provide examples of when you've given good customer service or had to deal with a difficult situation. This is because, for VE roles, the ability to stay calm in a crisis is crucial! It doesn't matter if you don't have an example from a job; it could be something you've had to deal with in life. I've also had to prepare presentations, which is quite daunting, but it's the only part of the interview that you have control over, so if you think of it like that, it can be less nerve-wracking! Always double-check what will be available to you to present – have a back-up plan if the technology fails.
I did a presentation with my slides' print-outs once when there was no computer for a PowerPoint presentation. Lo-tech doesn't mean bad – I got the job with that! I would also say it doesn't matter if you're a bit nervous as it shows you care about getting the job, but equally try not to get too stressed out about it. I've also recently had to do some interviews and presentations over Zoom, and if you've never done that before, just make sure that you're familiar with how Zoom (or other video calling software) works. This is definitely a new 2020 thing! I'd recommend watching online presentations or talks to see how other people do it. And definitely research the place that you are applying to thoroughly. If you're able to visit it in person, that will really help give you a feel for the place and help you decide if you would like to work there. (More difficult as things stand! But you can still research online) You'll almost definitely be asked, 'Why do you want to work here?' and a thorough knowledge of the organization will really help with that answer.
Can You Provide Some Book Recommendations?
I don't think I've ever read any books specifically related to how to do any of my previous roles. There are books available if you're interested in volunteer management or just general management, but I really think that nothing beats experience. If you're particularly interested in working in a specific place, it might help you read books related to that place. I was asked which were my favorite Roald Dahl books for my interview at the RDM. Although I wasn't asked about books in my interview for HOI, I had studied illustration was a real bonus as I was familiar with a lot of the names and terminology used. I would actually recommend reading any books – firstly because reading is delightful (the one good thing about Lockdown is I have been getting through my book pile!) but also if you want to be more scientific about it, reading fiction has been shown to help with developing empathy and therefore people skills – in other words, it allows you to understand other people better which is crucial for working in a visitor focussed environment or for working within or managing a team.
It's also perfect for improving your vocabulary and writing skills, which is beneficial in any job. You learn a lot on the job in cultural organizations – it's one of the bonuses that you pick up a lot of specialist knowledge without even really trying as it's just all around you all of the time! I think that's probably one of the reasons I'd recommend working in the cultural industries.
Things are changing very fast in the industry; How do you keep yourself updated. Please list techniques or newsletters, podcasts, events, etc.
Well, things have changed massively this year. All of the cultural organizations that I would recommend looking at for jobs have temporarily (or in some cases permanently) closed, and many have laid off staff – particularly in Visitor Experience. Keeping myself updated at the moment, therefore, means watching the news and figuring out how the evolving pandemic situation will affect my employment prospects in the short and long-term. My fear is that everywhere will be so worried about money, they will try to exist on less staff and not re-employ people to the same levels. This means looking at other sectors to gain skills until the cultural sector is back to "normal" again, but so many sectors that ordinarily I'd say I had transferable skills for are equally badly affected, so there are no easy answers. It isn't easy right now.
I recommend following @fairmuseumjobs and @fohmuseums on social media as through them; you'll find lots of other professionals in the sector or people trying to get their first jobs. I've found following people who also work (or worked) in museums and galleries to be really helpful when going through redundancy as there were so many other people going through the same thing. I attended the Fair Museum Jobs summit, which was all online, and I also participated as a panelist. Many graduates and people wanted to start careers in museums who attended and found it really useful. One of the questions that came up a lot was whether you needed particular qualifications to work in museums and galleries, and for Visitor Experience roles, you don't at all. Other departments might have different requirements, but it's not something that I look for when I've recruited for roles in the past. Also, I would recommend going to retail trade shows and attending their talks program if you're interested in cultural retail. Still, of course, trade shows have been just as badly affected by COVID. I did attend Top Drawer online this year, and the talks were really amazing, so I'd recommend that if you're interested in the retail side of things.
Any Advice About CVs?
Keep it concise and clear. I've done a lot of recruitment and seen many CVs and covering letters, and all you want is to see that someone understands the role and has the skills to do it. I'd stick with a covering letter of one page and the CV the same – maybe two if it's really impossible to fit everything in. And always, always make sure you write individual applications for each role you apply for. Please don't send the same application to each job as it looks like you're not really interested. That doesn't mean re-writing it every time; make sure that you've actually thought about how your skills and experience match the role and that the important parts are highlighted, and irrelevant bits are cut out. Also, get someone to proof-read it – if there are spelling and grammatical errors that can count against you, and when things are as competitive as they are right now, you can't afford to make the smallest of mistakes.
Advice For Someone Looking For a Job?
This is a tricky question to answer right now! If you'd asked me this at the beginning of the year, I'd probably have had a clear answer, whereas now I'm afraid I'm as lost as anyone else is in this pandemic. The only really practical advice I can offer (which a lot of my friends who are also out of work are saying) is to try and get through the next few months and hope that when things get more normal again, more job opportunities arise. The competition is and will be really fierce – somehow, you've got to be able to stand out amongst everyone else. So I'd say do spend time on your applications, note what areas you're weaker in or lack experience for, and see if you can gain experience in these areas whilst you're job searching. Whilst I would hope most recruiters will be sympathetic to those out of work having gaps on their CVs, it's a good idea to make sure you are doing something.
There are loads of free online courses – I've done some great ones on futurelearn.com, and the Open University has a lot. Plus, lots of these are career-oriented, so I've done a mixture of personal interest courses and ones that I think will keep me up to date or fill any gaps in my professional knowledge. Self-directed projects are also really good as it shows you can take control of a situation and be organized and motivated. I co-managed an online Illustrators' Fair in December, which had over 160 participants – not only was this a good thing to do career-wise, but it gave me a project to work on and kept me feeling motivated.
Why Do You Think You Were Selected Among Other Candidates?
As I don't know anything about the other candidates I was competing against, it's tough to say, and I would just be guessing. But as I have had to recruit for roles, I can say that when I've selected people for roles, they are the best overall fit for the role – in skills, experience, and just being a friendly, engaging person! The most recent interviews I did were 'blind,' so I didn't see anything that could give away any personal attributes (like name, age, address, etc.) until the candidates had been selected for interview. This is meant to stop any unconscious bias from coming into play. During the interview, the candidates were scored for each question, and the person with the highest score got the job. It makes it a fairer process, and sometimes people can get half a point more than someone else, which gets them the job, so if you are rejected, it doesn't mean you've done poorly. Just that someone else answered one of the questions more fully or had more experience. I think interviews are actually quite a lot like exams – you have to revise and then try and get a high score!
Lessons from jobs that you couldn't get.
When I haven't got a job, I've usually felt there's been a good reason for it – like lack of experience or answering a question poorly as I've been on the other side and carried out recruitment, that's also helped with not taking it too personally as I understand the processes. Always try to get feedback – I had some recently from an interview that was really helpful as I now know that if I want to apply for a similar role, I'll need to build my experience in a specific area. If the recruitment process seems chaotic or the people who interview you are not very nice, then it's fair enough to wonder whether you'd actually want to work there anyway! I think you have to be a bit fateful about it because there is an element of being in the right place at the right time as well. Someone once said that you have to 'make your own luck,' which I thought was unhelpful at the time, but now I can understand it a bit better – I think what that actually means is: create opportunities for yourself. Say yes to things and make connections, and always be nice to people! You never know when someone might be a helpful contact in the future.
Also read From job hunting to working as a digital illustrator
From Hobby To Becoming An Illustrator – Here's My Story