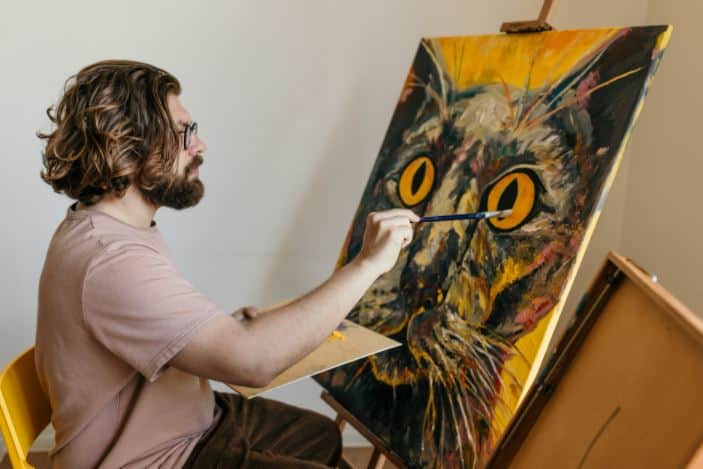 Art therapy is just a form of an expressive therapy in which the people who are being led by an art therapist use the creative process of making art that they are taught to express their feeling. In art therapy the therapist uses the process of self expression at its resulting artwork to help the clients understand their emotions. Art therapist helps his/her clients to understand their emotional conflicts, improve self esteem, management of their addictions, restoration of the normal functioning of their body, reduction of anxiety and development of social skills.
Is Art Therapist Career right for you?
Before anyone decides that they are going to become an art therapist, it is very important to know all the demands of this profession and ensure that you are going to meet the demands as well as enjoying the profession as an Art therapist. There are demands that an art therapist should meet before qualifying for the profession. Demand number one and very important for the profession is the education, it is through education that you will get the training as a therapist, then to operate as an art therapist you need to have a license, this one you will receive after you have been registered and certified as an art therapist. As an art therapist it will not be your choice to choose who to work with, you will work with people from different age groups and different parts. In this article we shall discuss on how to be an art therapist.
To be an art therapist you must have a professional experience in the area where therapy is being offered or in a health care. This experience may be from working in areas such as nursing, psychotherapy, social work, school, special needs area and others. You can also get the experience from working as a volunteer in a therapeutic setting. To practice as an art therapist you must be registered and have a license. To be a qualified and experienced therapist you must have the following qualities; The customer serving skills, knowledge in psychology, an active listener who judges less, calmness in situations that are very irritating and stressful, be able to understand reactions of people, understanding and very sensitive to what you are told, always be flexible and ready to change at any time and the ability to work effectively under a lot of pressure.
Art therapist uses various techniques to encourage their clients to express themselves artistically. They use techniques such as painting, sculpting, drawing and coloring. Therapists ask their clients questions such as what the basis of their thoughts are and then they will use that information to understand what s the underlying message that the client is trying to derive by the art. The art therapist will then use the therapeutic skills to make the client understand their mental challenge then it is the duty of the art therapist to help the client in building a coping skill. Art therapy is actually a form of therapy that utilizes various forms of art to help people to improve themselves; it enables a client to have improved self esteem, social skills, reduction of anxiety and development of insight into their mental state.
When working as an art therapist you should have a main goal of improving or restoration of the client's functioning and the feeling of your client as well. This will be achieved by encouraging your client to engage in processes that are creative, to explore what they feel and to enjoy making art. Art therapist should work with clients to help them venture into the underlying message that they communicate through their art, and in combination with the therapeutic counseling techniques you should be able to build a coping skills and make them have self awareness.
Art therapy works with people of all age groups from children to elderly, it also works with people with people that have different challenges; others can have severe medical and behavioral conditions while others may lack medical issues but they are looking for self awareness and personal insights. Art therapy is important for people who are dealing with several issues such as; people who experience anxiety and stress, couples who had an emotional conflict and they are trying to reconcile, individuals who have low self esteem and they want to increase and individuals who have bad memories that frightens them and create an emotional upset to them.
In art therapy, there is nothing that is either right or wrong. This is because art therapy is a way of evaluating and doing an exploration of a person. In art therapy, you allow a client to find more about who they really are without judging them from what they say and their thinking. Art therapy utilizes a noble principle of positive psychology and this helps the clients in the management of their emotions and the confrontation of all the challenges that they face for the ultimate goal of their well being.
Art therapy is different from art in other context. The difference comes from the relationship that exists between a therapist and client. In art therapy, the therapist establishes a convenient environment that is either psychological or physical that both the client and the art therapist can explore together and understand each other through. This environment should make the client feel safe and free to share even the secret that had planned never to share it with anyone in their lifetime. In art therapy, there is a belief that everyone has the capacity of expressing what they feel creatively through art. In art, as a therapist you should put much of your focus on the therapeutic needs of your client to express themselves than on the beauty of the art that they make.
EDUCATION REQUIREMENT
Before you are registered as a qualified art therapist you must study master's degree in art therapy and successfully complete the course. You can take the course on full time basis or you can do it part time. It will take you two years as a full time student and four years as a part time student, you have to choose which one to go for. When you study this master's degree you will be taught about making of image, importance of boundaries, therapeutic relationship and psychotherapeutic practice. To be accepted into the art course, you will be required to have a first degree in art or any other relevant subject to the art therapy. For those people with a strong art background, they can be accepted into the course without the first degree in art. People who are allowed into the course are mature and are flexible with experience of work in fields such as mental health care. You will be required to show a sample of your art work before being admitted to the course.
Art therapy is a profession that deals with mental health. As an art therapist you must have an educational background on the development of human, the human disorders both behavioral and psychological, techniques of therapy and theories of counseling. Visual art is very important for all art therapists. During admission into the art school you will be required to demonstrate that you deeply understand visual art and you are interested in it and process of creativity. The demonstration will help to ensure that you are capable of using art as a form of therapy. You will demonstrate by involving in an interview with a person from art program or you can show your art platform. There are art therapy colleges which offer their course online but they are less as compared to those colleges that do it in-person. You should always be keen when learning online courses because you can find that others are not even legit.
So it is now clear to you that you must have master's degree before you become certified as an Art therapist. The standards for education in America requires a graduate who have a coursework that includes training creatively, basis in psychology that enables a person to have psychological development, art therapy, you should have knowledge of different cultures and be competent in their practices and psycho diagnostic techniques which will help in the diagnosis of clients. An art therapy student must complete a minimum of 100 hours of supervised practical and a minimum of 600 hours of supervised internship clinically. On top of those entire training requirement, preparation straining in the studio art which involves painting, drawing and many other arts are very important after you have graduated. If you have undergraduate degree or a doctorate in art therapy, you are not qualified to be an art therapist because you cannot practice without a license and certification; only those who have master's degree are given the license to work as an art therapist. Pursue a master's degree in art therapy then after you have graduated you can now pursue the national credentialed in art therapy and you will be given license to work.
HOW TO KNOW IF YOU'RE EDUCATIONAL PROGRAM IS QUALITY
There are many art therapy colleges and before you decide to join one, ensure that that college meets the Educational standard requirement of an art college in your country. It is important to study in a college that meets all the requirements so that you can get certified for the art therapy when you complete your college education. There is a professional art therapy association that gives guidelines on the standards of each art college in a country. If your college does not meet the standards you will not be able to be registered and practice your profession at the end of your course. This means you will have wasted your time and money that you used for the study. High quality programs in the college will prepare a student for the skills required for an art therapist as well as the post-graduate certification as art therapist. Reviews are normally done annually in the art therapy colleges to ensure that the resources that are used are of standard quality, the curriculum is updated, and the policies and faculty meets the learning needs of art therapy.
ART THERAPY FOR CHILDREN
Art therapy in children is very important and sensitive. Art therapy will enable children to express what they experienced and document it because some of them might find it hard to talk about it. Art therapy utilizes the knowledge of the growth and development of a child in the assessment of the psychology of a child or an adult to understand how this person behaves when they are normal; and by doing this it will help to form the basis of treatment and therapeutic plan. Through art therapy you can also be able to understand the feeling of a child and what they are imagining. Some children have undergone torture and abuse in their lives and they find it hard to talk about it, but through art therapy an experienced therapist will understand their message. Art therapy also helps to understand children who are not able to write or have some disabilities that hinder them from expressing themselves. When you work with children it is very important to give them the freedom in choosing the art material that they will use. Also allow them to choose the art they want to do during the therapy, the things they want to create and what they basically want to discuss with you.
HOW TO GET ART THERAPY CLIENTS
Once you have completed your Art therapy education in the college, then you are registered you automatically become a member of the professional art therapy association and you are allowed to become part of their online community. From there you can now build your online portfolio and once you are established you can use your portfolio to advertise yourself. You can display your client's testimonials and a complete work of some of your clients. The online portfolio will enable you to get clients. There are platforms online that you can find jobs as an art therapist. You need to search for as many places as possible and make sure you apply. The more places you search and apply the better, and that increases your chances of getting a job as an art therapist. If you consider factors such as your location of work then it is good that you narrow the search to the location that you would prefer to work into. Some areas will definitely have more opportunities as compared to other areas and expect completion in some areas. With experience it is also possible for you to employ yourself.
You can be self employed and practice your career as an art therapist and build up your practice. With time you will be getting experience and you will become senior. When you become a senior you will be able to manage other therapists or you can also be a teacher of art therapy. As an art therapist, salary will vary from one country to another. It is very important to have passion in what you are doing than to put all your concerns to salary. In some countries salary for an art therapist is very low and this might be the contrary of how you use to think about the salary. You should have more passion in what you are doing; the love of what you do matters more than what you earn. The patients clients will come to you as their art therapist because they believe in you and you should never fail to serve them well because the salary you receive is small, do the work with love. In some countries art therapy is not considered as a career while in other countries art therapy is a career and the art therapist are being paid well. In those countries that art therapy is not considered as a career, art therapists work independently.
In conclusion, to be an art therapist you must have the specific skills we mentioned earlier in the article and this will enable an art therapist to act professionally and safely when dealing with clients. You should know that an art therapist as a therapist that can even work with individuals who have different conditions either physically or emotionally. All art therapists should have understanding on how to interact with the clients professionally as an art therapist. On top of all that, the privacy and confidentiality of a client is very important. An art therapist should have knowledge about the ethical issues arising in the art therapy sector and to make sure that he/ she adhere to all the ethical guidelines. Every art therapist should have a deep knowledge on the type of art that they want to apply to their clients. This will enable them to use the arts that are effective to their clients and thus effective therapy. It is clear now that as an art therapist you must meet some requirements which are very vital in the profession. Such requirements include the skills and personal qualities. All these combinations make it necessary to certify all the art therapists.
THERAPEUTIC ACTIVITIES
There are various activities that an art therapist should know how to apply them during therapy of clients. The following are some of the activities that are therapeutic
Art Therapy Post Card Activity
Post card is an interesting activity that engages the mind of a client, this activity is very important in therapy because it enables a person to discover themselves. This activity is very effective and can be done in groups or individual level. Here a client is given a post card that is two sided, one side is blank while the other side has lines. A client is supposed to draw anything on the blank part. A person is supposed to recall past events and can write it on the lined page and if it is an image that is recalled you can draw it on the blank page. An art therapist will use his/ her therapeutic skills to understand the message that this person is trying to convey. It is the responsibility of an art therapist to work with this person to resolve what is disturbing the person and to ensure that a coping skill is created.
Creating a Family Sculpture
This is another effective therapeutic activity that is very engaging and interesting to participate in. In this activity you use clay, decorative thins and fabric in creating the sculptures. In this activity, an individual is supposed to create his/ her family members using the materials available. By doing this you are exploring the emotional dynamic of a client and you will be able to understand the role of each family member to the life of this person.
Collage Vision of a Perfect Day
This activity is effective and interesting. It allows an individual to identify things that when they see makes them happy and those things that when they see upsets their emotions. This activity uses collage to help an individual to recall their vision of sadness and happiness. As an art therapist you should engage your client in this activity so that you can understand their emotional dynamics and factors that influence their emotions.
Color in a Design
This is another effective and interesting activity to engage your client in. In this activity you provide your client with paints to color designs that are there or they can as well draw their own designs and color them (Gerber, 2014). This activity helps is important in the relaxation of the client.
Mark Project for Art Therapy
This is an effective activity that helps an individual to know who they really are. In this activity you ask your client to write who they think they are and what other people think they are. By doing this an art therapist will use the skills that they have in their work and make the client have self realization.
REFERENCE
American Art Therapy Association. (2013). Ethical principles for art therapists. Retrieved from http://www.arttherapy.org/aata-ethics.html
Art Therapy Credentials Board. (2013). Official preparation guide for the Art Therapy Credentials Board Examination (ATCBE). Retrieved from http://www.atcb.org/pdf/ATCB_Prep_Guide.pdf
Canadian Art Therapy Association. (2015). CATA educational standards. Retrieved from http://canadianarttherapy.org/resources/Documents/CATA%20Educational%20St andards%20-%202015-04-05.pdf
Chlorine,P.G & Robb, M. (2012): Art enrichment: assesseding a  collaboration between  Head  Start  and  a  graduate  art  therapy  program.  Art  Therapy:  Journal  of  the American Art Therapy Association, 29:4, 180-187.
Deaver, S. J. (2014). Standard occupational classification policy committee. Retrieved from American Art Therapy Association's Member's Only website:
Elkins, D. E., & Deaver, S. P. (2015).  American Art Therapy Association, Inc.: 2013 membership survey report. Art Therapy: Journal of the American Art Therapy Association, 32, 60-69.
Elmendorf, D. (2016, July).   Accreditation council for art therapy education. Paper presented at the meeting of Coalition for Art Therapy Educators, Baltimore, MD.
Gerber,  N.  (2014).  The  therapist  artist:  An  individual  and  collective worldview. In M. Boy (Ed.). The identity of the art therapist. Springfield, THE: Charles C. Thomas Publisher, Ltd.
Havlena, J. (2016, July). Undergraduate art therapy educators focus group. Focus group presented at the American Art Therapy Association Conference, Baltimore, MD.
McAlevey, M. E., Anand, S. A., & Towne, T. (2016, July). ATCB code of ethics, professional practice, and disciplinary procedures: What's new. Panel presentation at the American Art Therapy Association Annual Conference, Baltimore, MD
Rosen, C. M., & Atkins, S. S. (2014). Am I doing expressive arts therapy or creativity in counseling? Journal of Creativity in Mental Health, 9(2), 292–303. doi:10.1080/15401383.2014.906874
Wedding, D. and Corsini, R. (2014) Current psychotherapies (tenth edition). Belmont, CA: Brooks/Cole.
What is Art Therapy American Art Therapy Association? (April 15, 2016a). Retrieved from, http://www.arttherapy.org/upload/whatisarttherapy.pdf
For More enlightenments on Career Talk Check out these amazing contents
How to become an Art Therapist