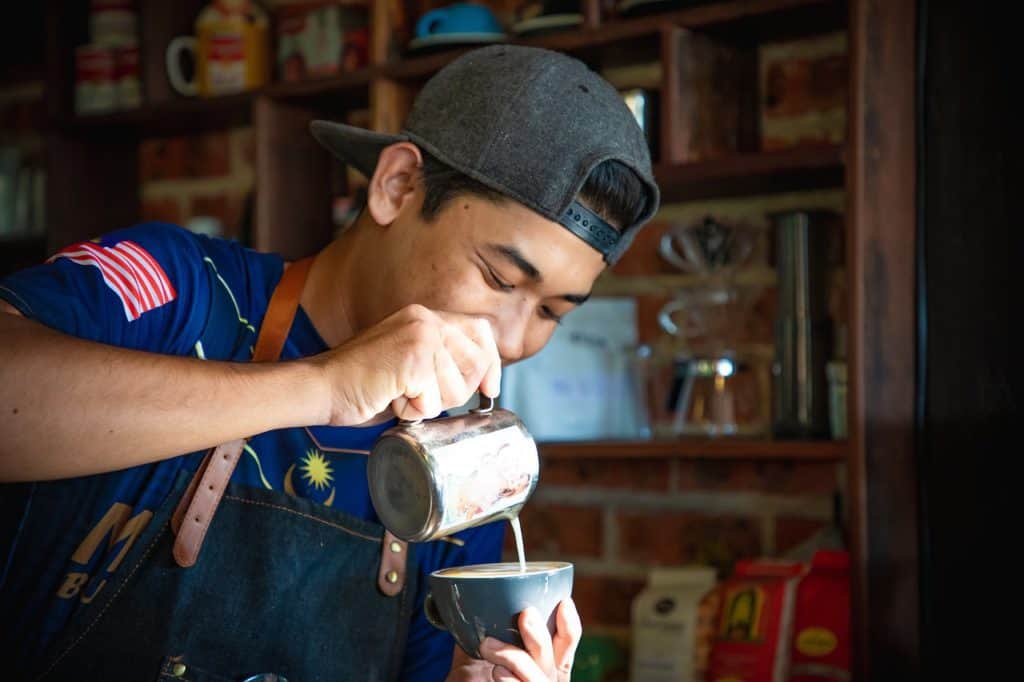 Café architects assemble…the wisdom ship for becoming a barista is all set to sail on your gadget screens as we talk about what it takes to be a Barista, their objectives, the responsibilities that the word 'Barista' brings with itself, and most importantly, a style guide that directs you to an ideal CV, bound to make the employees think that being a coffee technician is indeed your cup of coffee! Here is the title- How to be a Barista?
BARISTA AS A VOCATION
While it might not seem much to one who stops by a coffee house since a mere thought breezes its way through their mind- " Damn, this coffee is good, I'm a regular here now…", they don't know what goes behind the making of that amazing espresso-based coffee that smoothes down their parched throats and into their caffeine- addict stomach. But being a Barista isn't an easy job. It takes skills like the stability of hands, a sharp memory, and patience to get the recipe just right for customer satisfaction and work credibility since most espresso recipes need the barista to prepare and pull varying shots of espresso-compacted coffee along with other ingredients.
(Furthermore, if the barista aims to experiment and invent their recipes, they can, after years of practice and expertise.)
To begin with, the authenticity of being a barista comes with making and serving espresso-based coffee drinks (however, based on the baristas in the US, they also serve cold alcoholic and non-alcoholic beverages and snacks too). Espresso is an Italian coffee-brewing method that requires a certain quantity of near-boiling water (about 90 °C or 190 °F) forced under 9-10 pressure bars and needs good consistency- finely grounded coffee beans since espresso coffee is of the consistency of warm honey because of the dissolved solids, while so isn't the case with Drip Coffee, Siphon/ Vacuum Coffee, Soft Brew or a French Press. In addition, the perfect espresso coffee is brewed when the barista gets the foaming, frothing, and pouring the milk, and sometimes latte art. Furthermore, to experiment and invent their recipes, sure you think that brewing it the espresso way is as complicated as experimenting at a Chemistry lab, right? For the gist of it, here are some espresso-based drinks alongside preparation style variations: 
Style Variations:
Short Black Espresso
Long Coffee
Caffè Crema
Portuguese
Decaf cold brew
Staccato
Espresso Brews:
Cappuccino
Cafe Cubano
Guillermo
Latte
Ristretto
Americano
Flat White
Mocha
Roberto
Frappe
Café Breve
Lungo
Galao
Correto, Irish and Turkish Coffees
(These are just some drinks, while others include Doppio/ Zorro, Affogato, Marochino, and so on… ) 
What is expected of a Barista?
In addition to brewing the coffee using the espresso method,
The barista needs to be trained in the use of commercial brew machinery, latte art machinery, the ability to differentiate between the shade and quality of each batch of coffee beans (Arabica, Robusta, Liberica, and Excelsa), and whether that batch satisfies the weather conditions. Knowledge of the origins of coffee and its cultivation is a must.
 More importantly, a barista needs to be in touch with his interpersonal skills for correct recommendations for the customers depending on their mood and the time of the day. 
As mentioned before, the barista also acts as a cashier for the shop and receives the order requests, operates the snack machinery, manages the order counter, is in charge of the inventory and coffee bean supply and other drink-related supplies such as coffee capsules, etc. and waits on the tables too. 
Skills to be a Barista
When one decides to be a café technician, they sign up for a lot more than just infusing coffee into the beverages. 
Mechanical Skills: When training, baristas need to become efficient in the use of commercial espresso machines as it can be a tricky one to wrap your head around. It's also important that besides the know-how of the machine, the barista has speed and efficiency, especially during the rush hours which would include the week-day mornings in general. Coffee is the go-to energy drink when people have had their teeth sunk more than ten hours a day into their work. 
Memory: to the man at the counter, espresso comes with a single, double, triple, or quad-shot plus by the names Americano, Macchiato, etc. but getting the recipe for these right is what makes them different. For example, a Macchiato made with 1 shot of espresso, coffee-steamed milk mix, and the top layer of steamed milk foam with bean oil compounds is different from an Americano made with 1 shot of espresso and 2 parts of water, or depending on the preferences- half and half quantity of both. 
Latte Art: a successful barista knows his way around the presentation of coffee for the customers to be attracted to the coffee house. 
Science of Coffee: every career needs its professional to have apt knowledge of the field. You can't get a batch of Roberto or Arabica ground correctly if you don't know the history of coffee. So, it's always suggested for a barista to be equipped with the production, processing, and roasting knowledge of the coffee beans. It's important to know the difference between a strong or rich and mild or sweet coffee.
Interpersonal Skills: A big part of their job is to be able to grasp the mood and emotions of the customers and then suggest to them their cup of coffee. This particular aspect goes a long way for a barista's work life and personal life as well! In a way, he/she might be increasing coffee consumption and the popularity of their workplace. 
Communication Skills: Everybody likes their coffee to their taste, so a barista needs to jot down the correct order and ensure the customer's ease of communication.
Marketing Skills: as difficult as it may sound, a barista just needs to be an espresso expert for the customers to become regular. And of course, cashiering skills are handy too. 
Multitasking: As mentioned before, baristas are also the cashiers at most of the places, and sometimes have to wait on the tables and ensure the order counter's cleanliness. 
Hygiene: In a sense, ensuring the hygiene of the counter adds to the aesthetic of the coffee house and is a good indicator of the barista's sincerity. A barista needs to clean and maintain all the equipment like the espresso machine, the latte art pen, jug, and so on. 
While the terms of this post may seem a tad unappealing and effort-taking, it isn't all that bad as a barista can earn approx. $20, 080 as annual median salary. Besides, A barista when decides to be one comes with his passion, love, and motivation for coffee and its aroma. Learning a few skills can't set back a determined person!
Barista's Objective
To begin with, a Barista would want to be a barista precisely because they have a passion for Coffee and all things related, therefore they wish to prepare and pull the shot and serve it with a side of cookies or cake. 
But when it comes to getting a job and putting the objective up on your resume, just your coffee-induced emotions wouldn't work as well as objectives like your workaholic emotions directed towards the company you are sending your resume for a perusal too. Ensuring your work quality and determination towards the job profile is what brings the interviewer around. The objective is, thus, written precisely to inform your intentions towards the job to the company you are applying in. 
Some Sample Objectives that align with your proficiency as a Barista are as follows:
As is already known, a barista needs interpersonal skills for the customers to visit the coffee house you work in. Below are the suggestions that ought to align with the resume of baristas that are freshers, proficient, or experts:
Seeking the post of a Barista at "Name of the Coffee House" with an amiable nature, inquisitive mind, and dedication towards the job. 
Coffee enthusiast and a confident individual applying for the profile of Barista at "Name of the Coffee Shop", aiming to deliver an exceptional customer experience with proficiency in latte art.
Coffee brew expert looking to earn the job of Barista at your café; trained in management, and possess excellent interpersonal skills to adapt to the nuance of drinker's preferences. 
To hold the position of Barista at "XYZ" with an impeccable work experience of "X years" where a broad experience of coffee brewing techniques and excellence in catering to individual guest preferences via personalized coffee cupping will be utilized. 
As you can observe, the objective is supposed to be short and crisp, highlighting your best skills that will act as an eye-catcher for the interviewer. Giving the gist of it, let's move ahead and look at the style guide for creating an impressive resume for the profile of Barista!
Writing Style Guide
Apart from the web pages bustling with ample resume creator websites that have resume sections feature, easing your work to some extent, be warned that creating a resume is not as difficult as your mind may portray it, most definitely doesn't need you to pay $5 to make it look impressive. You could simply use those $5 to buy yourself a bar of coffee-flavored chocolate! 
So here is a step-by-step guide on all the resume sections along with a detailed description of what should be written under them. (Later, we will provide some sample resumes for you to take a reference from.): 
Contact Details: Name, Address, Phone Number, Email Address. Make certain to incorporate elective contact channels too, for example, your Linkedin profile, Facebook or Instagram handles for references to your work.
Objective: This is vital to your resume as it sets the tone and vibe of your resume. Remember to keep it crisp and short, just 1 to 3 lines highlighting your key skills as a Barista and your role in adding value to the business indicating you being a perfect fit for the job.
Work Experience: Clearly express your work history from your in-service training (if relevant) up to your present position. Utilize short bulleted sentences to list the main day-by-day exercises under every job you have had. 
Also, incorporate work history outside of the conventional espresso industry, which might be significant for the business to think about like once-off occasions wherein you served at a neighbor's wedding or serving connoisseur drinks at an extraordinary family occasion. Mention other relevant experiences like working as a cashier or a waiter at other cafes or restaurants. 
(This section is of paramount importance if you are a fresher on the lookout for your first job because customer service is the key requirement for the barista industry.)
Education, Licenses, and Training Courses: Mention your schooling, graduation, and post-graduation, or diplomas or accreditations of any Barista Academy that you are alumni of or are attending. Also, mention any barista Workshops that you have Attended. 
Skills: integrate the tasks mentioned in the job posting and other relevant skill sets like Machinery Operation, Coffee Knowledge, Brewing Techniques, and so on. While incorporating your skills may not be mandatory, it certainly adds character to your profile. 
Qualifications: Give precise insights concerning the qualifications and certifications you have finished with a certain institution, qualification name, and dates. Remember to incorporate the courses you are currently finishing. Likewise, add any achievements that you have like participation in the World Barista Championship (a two-day competition), which is held in different countries every year. Barista training programs are offered through junior colleges. A few managers extend on-the-job training, which shows understudies how to make hot and cold espresso drinks.
And…with these steps, you have your ideal resume ready- with the perfect detail-orientation, the resume prepared is bound to get the interviewers hooked to your profile, and there comes the Job opportunity your way. 
Resume
It is important to be aware of the demands of contemporary times. Accordingly, a resume is a prerequisite for grabbing a job opportunity. As some of you might want to question the power of a resume, here's a short and crisp answer for you:
A resume is a testimonial of the skills and qualifications associated with a particular field of work, which helps an employer seek the correct persona for a specific profile of work. Being a barista, although requires the person to be an expert at operating the espresso machine, yet if the person shows a resume briefing the employer about the qualifications and certifications, the employer gets an assurance regarding the skills of the employee, depending on their work experience and educational background, for instance. 
As promised before, let's have a look at a sample resume structure in which you can incorporate your sections:
Below as you can see, is a sample resume that you can use for your reference and per your Contact details, objective, work history, education, qualifications and certifications, achievements in the field, and most importantly, the skill sets, whip up an ideal resume and add a creative touch to it as well using software like Illustrator or online creative platforms like Canva, etc. as a testimonial of your artistic skills. As a cherry on the top, a sample video of your coffee-making process, and an impressive, cute, or chic latte art design such as a leaf, a flower, or a heart, can go a long way in helping you make an impression on the interviewer.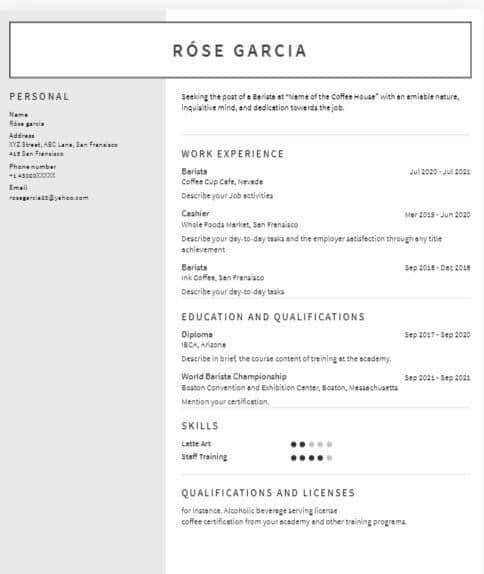 What does a Barista do?
 The word Barista, supposedly meaning a bartender but meaning to be a coffee technician in the English language, has its etymology traced in the Italian language. Barista, in a literal sense, means someone who works behind the counters. 
Are the origins of Coffee important?
The interconnectivity between cultures is one aspect factual in its nature and comes with the power to take a person by surprise to this date, for instance, while many of us might mistake in tracing the origins of coffee being in Cuba, its credibility of discovery lies in the mountains of Arabia, its species named "Coffea Arabica"! Its convenience was first experienced by Asian men but is now considered to be a staple drink of the west, especially in Southern Europe- Italy, Portugal, Southern France, Spain, Switzerland, and Bulgaria. But any misconception of coffee's origins doesn't stand completely baseless.
How Much Does a Barista Earn annually?
The Bureau of Labour Statistics research suggests that a Barista earns a median annual salary of $19, 970. However, a salary package would also depend upon your employer but according to the statistics, a barista's earnings may range between $6.49 to $11. 96 per hour. Furthermore,  the baristas working in the Northeastern and western US like California, Columbia, and  Nevada have annual median salaries of $25,760, $28,090, and $25,010 which also stands true for similar professions like Bartender, etc. 
Conclusion
So, with the resume sample, our ship now harbors and rests as it has made all the stops that the route had in its way. Hoping that with each stop, you (probably trying to attain some guidance as you are soon either graduating or it is that semester of your training program where you are out on a hunt for internships) gathered all the relevant information that might guide you in your near future. 
FAQs
What is the duration of a diploma course from a Barista Academy?
At least 1 year-long course is required for the barista to be fully trained.


What kind of questions can be asked at the interview for a barista?
Here are some sample questions:

What is the difference between a french press and espresso coffee?
How many shots of espresso are used in an Americano?
Which all tools are a necessity for Latte art?
What is the technique of cleaning and maintaining an espresso machine?



Is a degree necessary for becoming a Barista?
Fortunately, being a regular barista doesn't need a degree, rather there is on-the-job training and after around 3 months of practice, the barista starts to get a hang of the process. However, it would be suggested to pursue a diploma Barista Course for those who wish to win the World Barista Championship. 


Can a Barista become the manager of the coffee house or shop?
Yes, because a barista also needs to handle the cashier desk. However, to be a manager, it is suggested that one should take up hotel management or business administration courses from a reputed college or university.


Is barista a white-collar profession?
Unlike a white-collar job, which is done behind a desk, while staring at your computer screens, basically a standard 9 to 5 job, no, the barista is a blue-collar profession. It requires you to do manual labor, doesn't have fi hours of work, although there are working shifts. 


Can one get a job without a resume?
Since the profile of a barista comes in the blue-collar sector, one can surely apply for the post without a resume in their hands. But going an extra mile for your passion is what you would expect of yourself. Furthermore, with the world turning competitive in the humanities field, it would be a plus point to apply with a resume in hand as a testimonial of your efficiency. 


What makes my resume stand out from the rest of the barista applicants?
An applicant knows how to get behind the mechanism of the espresso machine, knows the working of the counter, and there they go thinking they are all set for the job, which is true. However, if one knows Latte Art, has qualifications and certifications for it, then the chances of your resume helping you land the job increase manifold with guaranteed higher pay. 


Which skills should I highlight on my resume?
As mentioned above, all skill sets that are handy for the profile of a cashier and barista must be mentioned with their efficiency indicators. Do remember to enlist all your work experiences related to different skills. 
How to be a Barista?- Sample Resume, and Skills Required