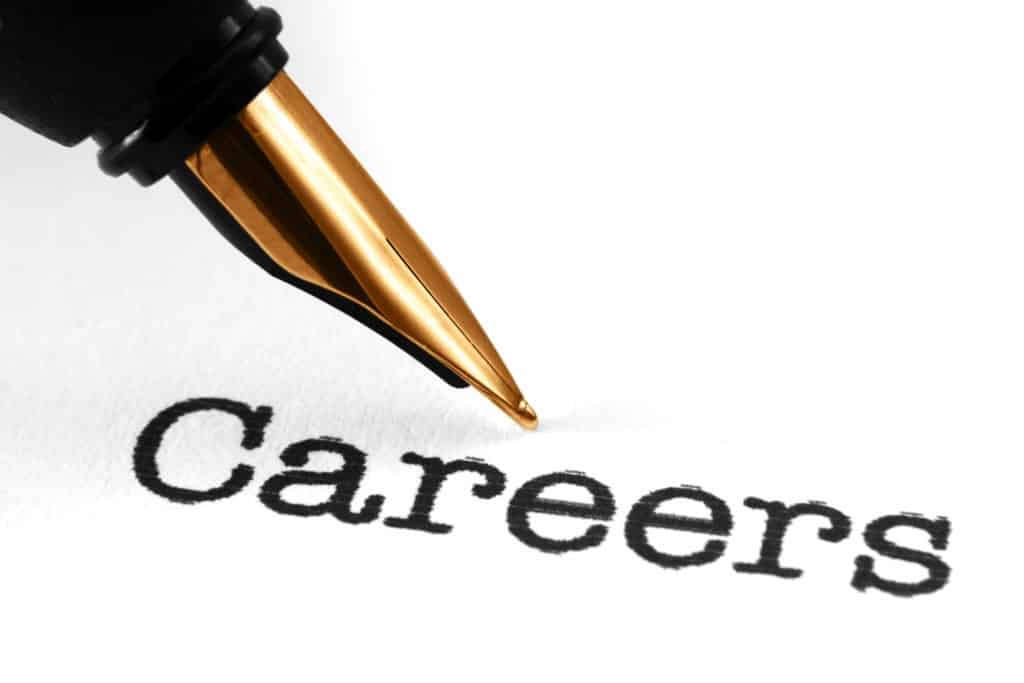 Are you seeking a new career but not sure where to begin? Allow us to assist you in exploring the job opportunities waiting for you. If you want to start your career as a clothing retailer, Crazy 8 is one of your best options as a well-known name in the industry. With more than 300 stores in over 30 countries, Crazy 8 is a major online retailer in the U.S. As a leading retailer of children's clothing. Crazy 8 focuses on fashion trends for children from newborns to young teens. In this article, we'll see how to Apply in Crazy 8 Careers?
In August 2007, the Crazy 8 company launched, and it is the newest brand under the Gymboree group's line-up. Besides its other retail stores, Gymboree Corporation also operates Janie & Jack stores and Gymboree retail.
You can now shop directly by using the Crazy 8 website at any time and from anywhere in the world. Online applications are available for Crazy 8 jobs. In addition, you can find careers at any of Crazy 8 retail locations or their corporate office by going to the Crazy 8 Careers website. Job postings are available in all countries through the website. A profile must be created to submit your resume and application. Your application should be able to stand out from the crowd by highlighting any experience you have.
Job Roles at Crazy 8
Crazy 8 offer both corporate and in-store positions, and besides that, job seekers have access to several other employment options. 
Below you will find some job openings at Crazy 8 that may be of interest:
You will have a few job duties at Crazy 8 to perform if you want to become an associate. The following are among them:
As a sales associate, you should greet customers and answer their questions.
Your primary duties and responsibilities as a Sales Associate include determining the customer requirements, answering their questions about the products, and recommending the most suitable solutions.
You should provide excellent sales service so that your customers are satisfied.
Be friendly towards customers and maintain eye contact when performing the job. 
Respecting your co-workers and following all company best-practice standards outlined in your work center is necessary.
It is your responsibility to keep the work area of the Crazy 8 center clean at all times and orient the products correctly. 
Qualifications and Requirements for Sales Associate Role
Before you apply for this position at Crazy 8, follow the requirements outlined in this article if you are interested in being a member of the Crazy 8 family. As mentioned below, you must meet these qualifications:
To become a sales associate at Crazy 8, you should have a High school diploma or General Equivalency Diploma (GED).
Your sales and communication skills need to be excellent.
You should make sure to maintain good working relations with store leaders, associates, and customers by being friendly, respectful, cooperative, and pleasant.
To succeed in sales, you need to know the principles of sales.
You will require basic knowledge of mathematics before applying for this post in Crazy 8.
Pay Scale: Crazy 8 sets the pay range for this role between $9 and $12 per hour, depending on experience. In this case, the starting salary will depend on whether the candidate has prior experience in the field. In Crazy 8, sales associates work shifts ranging from 8 to 11 hours daily.
You will have some responsibilities if you would like to become an area supervisor at Crazy 8. Some of these include:
When a manager is taking duty, the area supervisor manages the specific area of the store and oversees all the planning for the smooth operation of the store to promote its growth pattern.
You will make sure all commodities on sale are displayed correctly and keep their work area clean at all times. 
In the Area Supervisor position, you will need to manage the opening and closing of the store, supervise associates, and ensure that the store environment is friendly and easy to shop in. 
You will need to ensure a bridge to connect all the positions in a hold and supervise their smooth workflow. 
As an area supervisor, the employer may also ask you to take up many other responsibilities. When needed, this will include taking on responsibilities such as conducting and overseeing the company operational processes.
Qualifications and Requirements for Area Supervisor Role
You will require certain specific qualifications to apply for the post of area supervisor at Crazy 8. The following are some of these things:
To apply for an area supervisor job, you must obtain a college degree. 
Excellent communication skills, both verbally and in writing, are essential.
You understand legal guidelines and company policies in this field.
You are responsible for overseeing a specific area of the store, including markdowns, sizes, and cleanliness.
You can communicate effectively in English.
Pay Scale: When they hire you as an area supervisor at Crazy 8, your salary will range between $10 to $14 per hour. As a fresher, you will likely begin at the lowest end of the wage scale, but you will see your salary increase rapidly over time and passage of experience. The working hours of an area supervisor at Crazy 8 are between 10.00 am and 9.00 pm.
District managers have lots of duties and responsibilities to fulfill to improve sales in each district. You should complete the following tasks. 
As the district manager for Crazy 8, you are responsible for managing the operation. You will need to make sure your team meets revenue targets the branch is running smoothly.
You should take care of each branch and need to ensure that each client receives excellent customer service.
It is essential to develop an excellent branch management team that will maintain profit margins and implement the business plan.
You act as a liaison between the headquarters and the branch offices by visiting regularly and interacting with management.
Ensure the P&L reports in each store are up-to-date, fixing discrepancies between actual performance and the company's projection.
It is crucial that you hire, train, and discipline the store managers.
Maintaining a neat and clean environment is your responsibility.
Qualifications and Requirements for District Manager Role
Before you apply for a district manager position at Crazy 8, follow the requirements outlined in this article if you are interested in being a member of the Crazy 8 family. In addition, as mentioned below, you must meet these qualifications:
It is highly recommended that you hold a business administration degree or a related course of study.
Working experience in retail store management is required.
Your leadership skills and decision-making abilities should be strong.
Need working experience in managing multiple store locations
You should be excellent at interpersonal communication and negotiation skills.
Communication skills should be proficient in both written and oral forms.
Pay Scale: When you worked as a district manager at Crazy 8, you were well paid. Salary will vary according to the skills. As a fresher, you will earn a minimum of $15, and at a higher level of experience, you may receive up to $17 per hour. At Crazy 8, the working hours of district managers are usually between 10.00 am and 9.00 pm.
You will have a few duties to fulfill if you wish to become a team leader at Crazy 8. Some of these include:
You will be required to set a clear organizational goal, along with KPIs (Key Performance Indicators) if you are a retail team leader.
You can create a motivating work environment by creating a positive and healthy work environment.
It is vital to communicate with your teams about their work performance. 
Your priority should be listening to your employee feedback and resolving any disputes you find.
Qualifications and Requirements for Retail Team Leader Role
Crazy 8 considers applicants for a retail team leader position only if they meet the requirements below. The requirements are:
You must have at least one year of experience leading teams.
You ideally have a degree in management.
For interfacing with people in any situation, it is imperative to have strong communication skills.
Having strong leadership skills that can manage a sales team and guide them effectively.
Having basic computer skills, particularly Microsoft Office, is a requirement.
Pay Scale: Retail Team Leaders at Crazy 8 receive a minimum wage of $11 to $13 per hour. You will most likely start at minimum wage if this is your first job. Crazy 8 will promote the retail team leader to a manager based on their performance, and their salaries will be accordingly high. As Crazy 8, retail team leader, your working hours are from 10.00 am and 9.00 pm.
What are the Application Procedures at Crazy 8?
Are you interested in becoming a Crazy 8 employee? This article will certainly provide you with valuable information. A definite pattern is followed by Crazy 8 when selecting candidates for a job. In the following sections, we will discuss the steps involved in applying for a position at Crazy 8 as briefly as possible. 
Step 1: Visit the Crazy 8 official page.
Step 2: You can access the top career jobs section of the company website by clicking the link in the red box as shown in the screenshot below.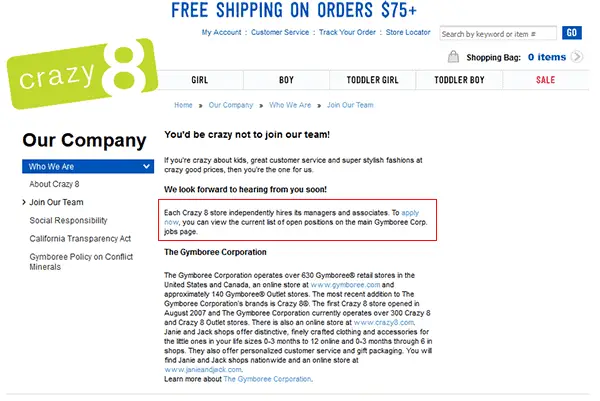 Step 3: By clicking the link, you can search for a job title by clicking on the Search button.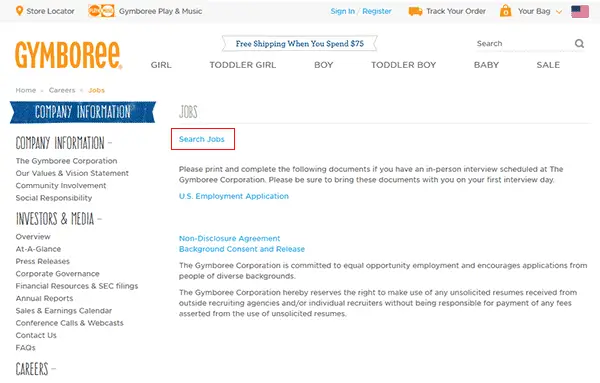 Step 4: You can search for current openings by typing Crazy 8 in the keyword input field and clicking Search at the bottom of the page.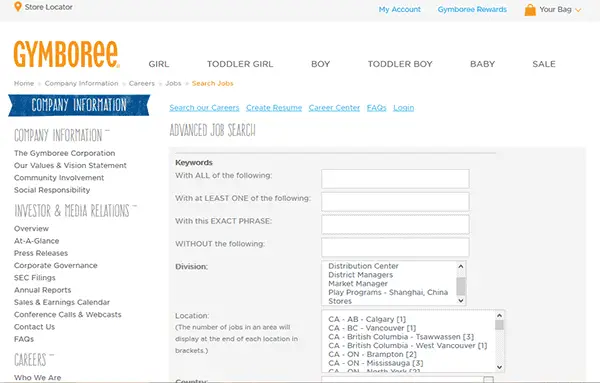 Step 5: After typing Crazy 8, the website will display details regarding current job opening positions (including the location information). Choose a job title of interest to you.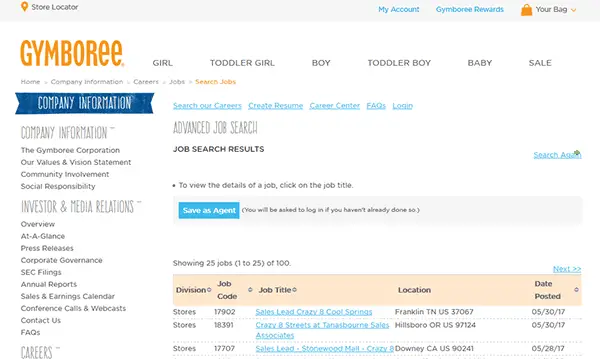 Step 6: Choose how you learned about the job. Scroll down the page and select how you found out about it. By clicking the Submit Your Resume to This Job button, you will move to the next step.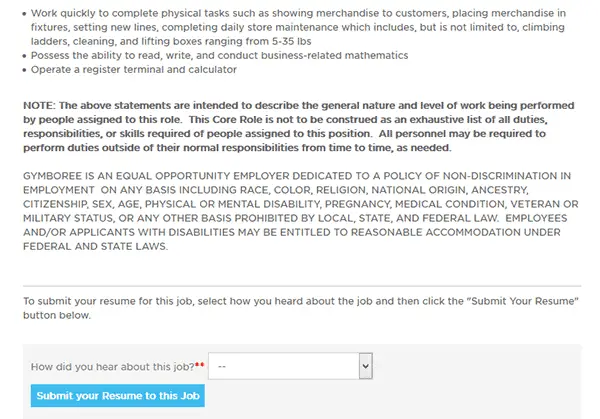 Step 7: Create an account by providing your username and password to get started with the application process. Click the Create Your Resume Profile link if you are a first-time user.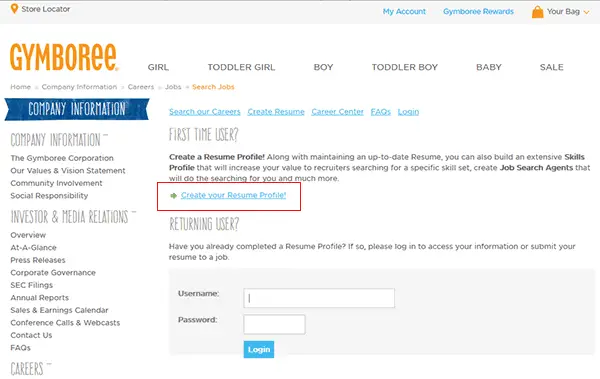 Step 8: Next, you will need to attach your resume/CV and any other documents relevant to your application (such as references, transcripts, etc.). Then you enter all relevant Personal Information like your name, your address, your city, state, contact numbers, etc and detail your qualifications and work experience. Next is to answer the questions regarding how available you are to work on each day. You will have the option to accept the terms and conditions of the business agreement after filling out all the above information. Then, click on the Submit Profile button.
Step 9: You will have Candidate Questions after you have filled out all the details.
Step 10: In the next step, they will ask job-specific questions. 
Step 11: As long as you follow all the steps outlined above, your application will be successful, and you will receive a Thank you for applying message from the Crazy 8 team.
How Does working at Crazy 8 Benefits You?
Would you like to know more about Crazy 8's employment benefits? In the following article, we will help you with much information about the benefits of working for this company. 
Crazy 8 provided their employees with the following benefits:
To their trusted employees, they offer 401(K) plans.
PTO (Paid Time Off)/ Vacation Policy to all employees.
This organization provides flexible working schedules.
Crazy 8 offers its employees a variety of insurances such as health insurance, life insurance, and dental insurance.
Women employees have access to several benefits such as paid maternity leave and unpaid maternity leave.
Paid Sick Leave
What Type of Questions Asked in Crazy 8 Interviews?
Having trouble figuring out the questions they ask during an interview? If you are confused, you can trust us to guide you, and it will assist you. So here are a few probing questions that we are going to discuss in this section. These questions are just a bunch of common questions asked in Crazy 8 interviews. However, they will vary according to the interviewer, the position to hold, and many other related factors. 
How would you describe yourself?
A concise description of your personal and professional self.
Are there any people who inspire you? 
Mention your guardian or mentor's name, who inspired you for this.
Do you know anything about Crazy 8?
You should have a brief note on the historical background of Crazy 8 and other operational information.
What do you know about kids' apparel?
You need to list out the varieties of kids' apparel offered by Crazy 8 stores to show your proficiency over the respective job role.
What is your greatest strength?
Workaholic, enthusiastic about learning, customer satisfaction proficiency can be key points to mention as your greatest strength.
What is your greatest weakness?
You should cite some positive factors of your driving as the greatest weakness. For example, answers like "I get too much focused in deep researching," etc. 
Do you have any work experience?
Cite the previous experiences in the relative field domains. 
How can we benefit from hiring you?
Cite your experience, positive work ethics, which can be beneficial for the hiring company. 
Conclusion
Crazy 8 provides numerous employment opportunities. Applicants can choose which position they are interested in. However, it is essential to fill out the form with patience and care. Now you know what types of work Crazy 8 offers and how to apply for them. So, grab this golden opportunity to be part of the Yogurtland family without any further delay.
Frequently Asked Questions
What is the minimum age required to get hired at Crazy 8?
Crazy 8 starts hiring at the minimum age of 16 years or above. 


Interested in working at Crazy 8? How do I apply?
You can apply online through the website and also directly by visiting the store.


Are you able to tell us what time Crazy 8 is open?
Crazy 8 is open Monday to Saturday from 10 am to 9 pm and on Sunday from 12 pm to 6 pm.


Can you provide any customer care number and mail address?

To contact a customer service representative, dial= 877-427-8998
Calling Time: Monday – Saturday =7:00 am to 10:00 pm
Sunday = 9:00 am to 8:00 pm
Email: [email protected]
How to Apply in Crazy 8 Careers?