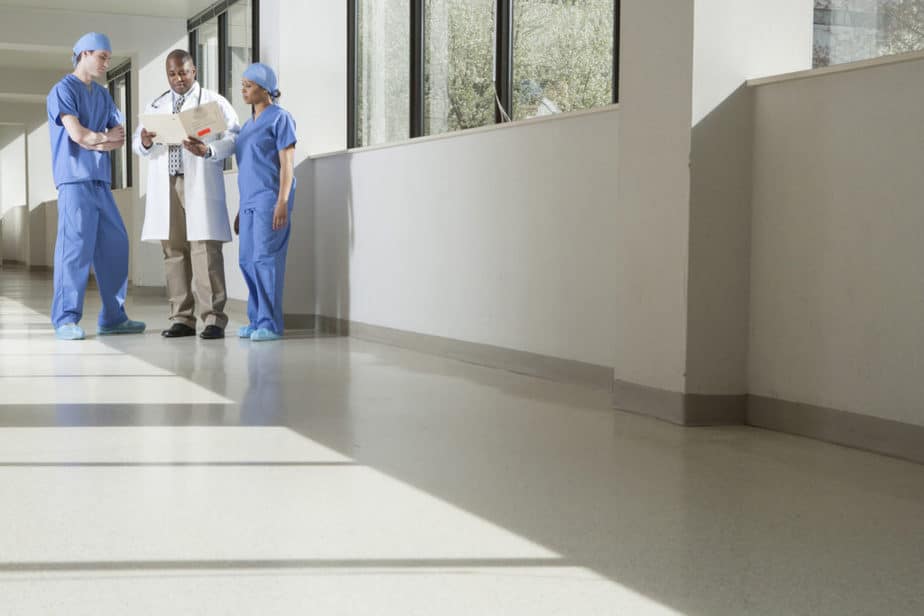 HCA is an abbreviation of the Hospital Corporation of America. Known as one of the best hospital companies in the United States, HCA was established in 1968 with the sole vision of creating a unit of hospitals that can provide patient-focused care to their communities. They also had plans to strengthen hospitals and improve the practice of medicine through the use of combined resources. HCA was established by Dr. Thomas F. Frist Sr, Dr. Thomas F. Frist Jr, and Jack C. Massey. It had its headquarters in Nashville and also started building relevance from Nashville's Park View Hospital. Let's explore HCA Careers.
HCA Careers exist to offer individuals who desire to build a career in the medical field opportunities. With an average of 2000 sites of care, HCA gives nurses, doctors, therapists, etc., the privilege of having a lifelong career accompanied by a lot of benefits. Working with HCA careers will provide you with the exposure needed to grow and make available essential networking opportunities for you. It will also allow you to try out a new career path till you discover where your strength lies. Their conducive work environment ensures that you have everything you need to thrive in your career. This could be the best place for you, but before you apply, let us take you through the available job positions and their descriptions, salary package, the application process, and the benefits of working at HCA. 
WHAT DO HCA CAREERS REPRESENT?
Founded in 1968 as a small organization of hospitals desiring to give the best of healthcare to individuals, HCA has grown consistently into a world-leading organization that seeks to advance the health condition of individuals. This corporation has over the years shown its steadfast commitment to the practice of medicine through the use of combined resources. Known as an American operator of health care facilities, HCA Healthcare now controls 186 hospitals and approximately 2,000 sites of care. Their area of operation involves; medical education, stroke care, maternity safety, workforce education, and support, legal liabilities, community engagement, enhanced surgical recovery, etc.
HCA Healthcare is well equipped with effective surgery centers, freestanding emergency rooms, urgent care centers, and physician clinics in 21 states and the United Kingdom. They possess an average of 280,000 employees and affiliates. This includes about a hundred nurses and fifty doctors. So, beyond offering patient-based care, this corporation provides job opportunities for trained professionals in the medical field. If you want to start a career that will work well throughout your lifetime, then here is an option.
WHAT ARE JOB POSITIONS AVAILABLE AT HCA CAREERS?
There are several job opportunities at HCA Careers that give you the privilege of identifying, growing, and building a career. Depending on your specialization and interest, options are available to help you with your purpose discovery journey. Some of them include the following:
Health Care Assistant
Staff Nurse
Customer Service Officer
Receptionist
Resident Doctors
Clinical Analyst
Radiographer
Theatre Practitioner
Specialist Physiotherapist
These job positions are not limited to the list stated above; they are various other options. Visit the site for different available parts.
WHAT DO THESE JOBS ENTAIL?
The above-listed jobs come with different responsibilities and require specific skills and qualifications. It is essential that you properly come to terms with these responsibilities before applying for any job position. Let's take a look at what it entails: 
Receptionist Jobs: 
Working as a receptionist at HCA Healthcare will require excellent communications skills because you will be interacting with every patient who pays a visit to the health facility. In addition, you will be required to give a good impression every time you receive a patient into the hospital, so you will need to possess a certain level of experience operating as a receptionist in any large organization. This will help you treat patients politely. It is also essential that you know the healthcare industry before forwarding an application because there will undoubtedly be some differences in operations. Your responsibilities will include the following:
Welcoming Patients: As patients and visitors visit the hospital, you are expected to greet them politely. You are also to make sure that no patient is left unattended to
Provide an efficient telephone Service: Working as a receptionist also means that you serve as the intermediary between patients and visitors, so you will be expected to keep the telephone lines actively efficient so that doctors, nurses will be able to communicate effectively with patients and provide the best of service to them.
Manage all deliveries and couriers: You will be in charge of monitoring the deliveries and couriers that come into the hospital. As a front desk officer, you are to ensure that nothing goes wrong with the deliveries.
Monitor the filling of logbooks: You must ensure that the records of different shifts are correctly filled and completed daily. This is to help authorities track activities when there is a challenge. You will also be required to take on any other tasks as assigned to you. But you must ensure that you are always at your duty post. These are the significant responsibilities; once you apply, all the other details will be made available at your request.
Staff Nurse Jobs: 
This job position is for trained nurses capable of working with a team to deliver care to ensure that patients are well taken care of in a professionally comfortable manner and environment. To function in this work area, you must be passionate about patient care so that you can give your best to the job position in seemingly tricky scenarios. You also must be respectful, loving, and responsible for your actions when attending to a patient. In addition to that, you must excel in communication and possess various experiences in NHS, Private Ward, Oncology, and cancer care. You must also be a registered nurse with a valid identity card. Your responsibilities will include the following: 
Patient Care: As a staff nurse, you are expected to understand the individual care needs of patients and treat them specially and individually. From the understanding of their needs, you are to draw a plan that will adequately cover the needs of everyone and ensure that no one is left out. You are also going to monitor them closely to make sure that they are responding to treatment and call the doctor's attention if you notice a case of deterioration.
Report and Document Adverse Incidents Properly: As a staff nurse, you will also be charged with reporting adverse patient cases to the doctors. Beyond submitting a report, you will also need to ensure that the details of the events are appropriately documented.
Maintain effective communication: Patients don't only have physical needs sometimes; they have emotional needs. As a staff nurse, you must appropriately communicate with the patients and their families to give the best of treatment to them.
Team Bonding: You will be required to work with a team of nurses and be accountable to them. Because being a staff nurse can be tricky and challenging; however, working as a group can help make the burden lighter.
Staff nurses are required in different departments of the hospitals, so depending on your department, your responsibilities may be more than the list presented above. In addition, the department you will be applying to is dependent on your area of specialization. So ensure that you conduct appropriate research before applying for the job. Once you apply for a staff nurse job, a team member in the location you used for will contact you on the details. 
Clinical Analyst Jobs: 
The position of a clinical analyst demands that you pay attention to details because you will be dealing with a lot of information. It also requires that you possess adequate experience with the operation of health information systems, machine learning, coding, databases. In addition to this, you must be a creatively critical thinker with a track record of results in data management. Finally, you should be able to organize your tasks and plan your time well so that you can accomplish more in a limited time. Your responsibilities would include the following:
Coordinate data analysis: As a clinical analyst, you are expected to manage data and present credible reports when necessary. You are employed to ensure that nothing goes wrong in the analysis of data. Most importantly, your words must be accurate and presented on time.
Assess the outcomes of care offered to patients: Clinical analysts conduct a holistic assessment of the hospital's performance. Through data, you are expected to assess patient care, reveal their shortcomings, and suggest areas of improvement that will drive excellence in patient care.
Work as part of a team: As a clinical analyst, you will need to carry your team members along as you work so that they can be a check on your tasks and availability of quality and timely data analysis. 
Provide data analysis: Working as a clinical analyst requires you to offer high-quality data analysis that will put clinicians in check. This analysis will help them put in more action to deliver optimum care to patients and ensure that resources are channeled into providing effective services.
Upon application, a team member will be assigned to you to help provide the necessary information needed to thrive on the team. 
Resident Doctor Jobs: 
These job positions offer treatment to a variety of patients. As a resident doctor, you will have to give your best to a simple health condition, complex scenario, and also manage a range of other commitments. So, you must be hardworking and passionate about patient care, possess excellent communication abilities, GMC registration and license, MBBS medical qualification, and a broad level of training and experience. You must also have excellent skills in managing patients. Your responsibilities will include the following: 
Provide treatment to a variety of patients: As a resident doctor, you will be expected to work under the supervision of the Consultant to offer treatments to a vast range of patients. The Consultant in Charge will also need to oversee the plans you have in place for your inpatients, so be accountable.
Maintain medical standards while offering care to inpatients: The treatment and care you provide to inpatients must be in line with the standards of medical care. You will also be expected to improve on your abilities personally.
Daily assessment of patients and participation in ward rounds: As a resident doctor, you will need to check on patients to ascertain their response to treatment. This would involve that you go forward games so that no patient is left unattended.
Provide a safe environment for patients: You will need to be polite and welcoming as a resident doctor. This means that you have to make the patient trust you enough to allow you to treat them. As you go about your duties, you must show a professional approach to work by ensuring that you give equal opportunities to patients and protect their dignity and privacy. 
Health Care Assistant Jobs: 
If you apply for this job position, you will be required to work with the registered nurse in carrying out investigations and treatments as needed. To this end, you must be hardworking, attentive, disciplined, and diligent. Your primary responsibilities will include the following: 
Keeping clinics clean: You will need to clean up the hospital environment under the directions of the registered nurse. You will get involved in disposing of waste bins and mopping the floor to ensure that the clinic is prepared for the patient's visit.
Chaperoning of medical staff and patients: As a health care assistant, you will need to assist consultants and radiologists where necessary. You will also pay attention to patients and ensure that they are well taken care of.
Ordering and maintaining stock: You are in charge of placing orders for hospital stocks. This means that you will need to take inventory of the availability of supplies and supervise their maintenance.
Administrative functions: Your duty cuts across offering support to different hospital units. You will also need to render aid and perform some administrative duties like documentation of patients records and monitoring daily checklists. 
Customer Service Officer Jobs: 
Those who apply for this job must excel in offering excellent customer service to customers. You must possess experience in customer service and adequate knowledge of how to work with teams. You must also be able to build healthy work relationships because you will be interacting with many people. In addition, you must know how to operate Microsoft Office and Excel, with excellent communication abilities either via telephone or email. Your responsibilities will include the following: 
Respond to patient inquiries: As a customer service officer, you will need to take calls, respond to emails of customers who need information about how the hospital operates. 
Process customer's request: Depending on what customers want, you will need to ensure that their needs are met by contacting the appropriate quarters. You will need to collect all the necessary information required to give patients the best of treatments.
Ensure that all KPIs are achieved: You will need to make sure that long-term and short-term goals are achieved through the service you offer to customers. 
Establish contact with insurance companies: You will also be expected to make calls or send mails to insurance companies to build a relationship with them that will benefit patients and staff on the team.
As you go about your duties, you must keep to time and appointment targets accurately. 
Radiographer Jobs: 
If you are applying as a radiographer, you must possess a bachelor's or doctor's degree in Radiography, advanced knowledge of cross-sectional modalities, and a broad level of experience. You will need to be flexible because you will be participating in extended workdays and be an example to others. In addition, you must possess excellent organization and communication skills, which is highly important. You will be expected to perform the following duties:
Maintain medical standards and adhere to protocols: As you conduct examinations on patients and provide care, you must ensure that you follow medical standards.
Provide optimum care to patients: You will need to ensure that patients are adequately taken care of. You will also need to provide safety to patients, relatives, and visitors.
Set up policies and protocols: You will need to work with a team in ensuring that appropriate procedures are set up for imaging and patient pathways. 
Give reports and observe patients' confidentiality: Radiologists need to submit reports on the maintenance of equipment and call the attention of others when they are faulty. They are also to protect the information and health details of their patients. 
WHAT ARE THE SALARY EXPECTATIONS OF THE POSITIONS AVAILABLE AT HCA CAREERS?
Depending on your job position and the location, your salary may vary. However, let's take a cursory look at what is obtainable in some job positions:
As a Receptionist, you would also earn an average of $18.60 per hour.
As a Staff Nurse, you can make an average of $31.00 per hour.
As a Radiographer, you can make an average of $22.00 per hour.
As a Customer Service Officer, you would be privileged to make an average of $39,000 per year.
As a Clinical Analyst, you can make an average of 79,000 per year
As a Health Care Assistant, you can make an average of $37,000 per year.
As a Resident Doctor, you would be privileged to make an average of $57,800 per year.
WHAT OTHER BENEFITS WILL I ENJOY IF I WORK AT HCA CAREERS?
HCA careers offer several benefits as rewards to staff for the services they offer. They include the following:
Private Medical Insurance
Investment in career development
Annual Salary Review
25 days holidays in a year
Relocation support was necessary
HOW CAN I APPLY FOR A JOB AT HCA CAREERS?
Having understood the essential requirements and various job positions, let us consider the basic processes you need to follow to submit an online application:
First, visit http://hcahealthcare.com/ to get started. Once you are on the web page, you will see a job panel.
Second, click on the job panel. You will be given a result page that contains several job positions. Properly go through the available job positions to check if you meet the criteria. Take your time to assess the duties and responsibilities, skills required and benefits attached. Once you are satisfied, proceed and click the apply button.  
Third, Once you click the apply button, three options will be presented to you. They include applying manually, filling in a resume, or using their last application for those who already have an account. Choose the option that is comfortable for you.
Fourth, you will be asked to fill in your email address and choose a password to proceed with your application. Narrow your search to job positions available around you.
Fifth, after entering the necessary details, a link will be sent to your email. The link will lead you to a personality assessment test to help ascertain your fitness for the role. If successful, you will be invited for a phone interview and be required to go through other checks. You can also decide to apply with your Linkedin profile if it's updated. The account created helps you to set job alerts and monitor the progress of your application.
FREQUENTLY ASKED QUESTIONS
How many days will it take to get a response for an application? 
It is usually nothing less than 3-4 business days. If your application meets their expectation, you will be contacted within the space of 3 days.
What tips do I need to excel at the HCA assessment test?
Adequate preparation will help you ace the assessment test. Ensure that you practice IQ questions to have an idea of what you are going to face. 
Do HCA careers offer part-time job positions?
Yes, they do. It will vary from location to location. Also, the demands of the job positions could be a contributing factor.
HCA Careers- Job Description, Their Salary, And Benefits