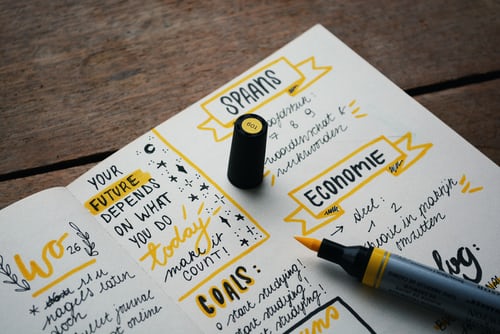 The relationship we share with the weekdays and weekends are completely different from one another. Just imagine it's Friday, and you are almost done with your work at the office and ready to relax and enjoy for the next two days without any hesitation. The sheer amount of joy and pleasure you find is immeasurable. Now, let's compare this feeling of yours with the one which you get while getting up on a Monday morning. Exhausting, right? Getting back to your constant routine can be very boring at times, especially when you are not trying to do something more productive for yourself. And at such times, you should definitely reconsider your schedule as well as plans.
Setting up new plans and goals for yourself is actually a very effective idea to remain productive. We may not have given much emphasis on our goals during our childhood, but eventually, we got to learn about their importance. Making new plans and setting up new goals motivates us to work hard to reach our destination. For example, after graduating high school, you sure have had a university planned for yourself to study a specific course. This goal of yours must-have encouraged you to keep working for and give your best, and only because of that were you able to secure a seat there. However, when we are done studying and finally decide to step towards the next stage of our life, i.e., looking for a proper job, things may start to get a little boring there.
Securing a good job for yourself can be such a relief after graduating from high school or college. Many want to secure their job for passion, many for money, and whichever it would be, they become part of that office life. However, there is no guarantee that a person will enjoy their day-to-day routine without bringing even a little change in it. You are working for money, good for you. You're working to fulfill your passion, then keep doing that. But to constantly run on the same track without setting up a new destination for yourself can actually turn your lifestyle down.
Waking up, getting ready, finally reaching your office, and starting another new day for yourself is a general routine for a working individual. But let me ask you when you sit down on your desk and decide to start working, what are you exactly? Are you planning to spend your day working on a particular project? Or are you thinking about how you're going to present in front of the board? Or maybe you are just thinking how fast you can work and finally get back home? All of the above?
Well, I am not saying that you should not think of these questions. After all, these are your basic goals, which you are supposed to complete during a given time period. However, remaining fixated on these projects will not help you move forward and excel in your career. We have such a habit of getting overwhelmed by these things that we sometimes stop looking at the bigger picture. And when you see such a thing happening in your profession, start setting up a career goal for yourself.
SO, WHAT EXACTLY IS A CAREER GOAL?
I believe the term is self-explanatory. However, if you want a definite meaning of career goals, it can be defined as a "clearly documented statement of purpose that specifies what you intend to achieve in your career path, the strategy for actualizing it, and the timeframe within which it should be realized." Writing down your plans help you look at the bigger picture more clearly while encouraging you to work more to reach your goal. For example, let's say you are in the sales department but want to start your own business one day. You may think that keeping all your ideas inside your head is more than enough to plan; then I suppose you might be wrong. Instead, try to form a properly structured plan for yourself that you can follow.
Career goals help you question your qualifications as well as your potential. Whether you are a working individual or a student who will soon graduate from university or high school, setting a career goal for yourself can never harm you. You can ask yourself questions such as "Where do I see myself in this job in the next five years?" or "Which areas should I improve?" or "what new skills I need for my next goal?" and to help you answer these questions, your laid out career goal will help you understand. It will force you to make an objective decision based on such questions so that you can secure your future.
WHY SHOULD YOU WRITE DOWN YOUR CAREER GOALS?
Like I mentioned above, setting up your career goal and writing it down helps you look at your objective more clearly. However, there are a lot more benefits to writing down your career goals than only this one. Some of them are as follows:
You get to question yourself regarding your plans and goals. Once you set up your destination and are determined to reach there, you must keep improving yourself. And you can only do that by asking yourself several questions. You need to be more specific and clear about your own decisions, and to do so, you will have to question your abilities and skills from time to time to understand where you lack and where you excel.
It gives you a sense of direction. While working at your office, there can be times when you get completely distracted due to several reasons and end up with a fickle mindset. Too much workload and stress, along with a stagnant lifestyle, can be very hectic if you are not planning seriously for your future. Career goals give you that sense to understand where you can be in the next few years. It is supposed to be the daily energy drink that compels you to work better and harder to achieve your goal. It will help you understand the phases and steps you will face one after another to get there. This sense of direction and security can be of great assistance.
TIPS TO FOLLOW WHILE WRITING DOWN YOUR CAREER GOALS
So, are you done deciding what you want to do? All your plans are finally set to be written down? Well then, it's great news! But let me ask, do you know-how are going to write your career goals properly? Writing your plans in a refined manner can be a hassle for some. And if you are having such problems, then here are a few tips you can take help from:
SELF-REFLECT BEFORE WRITING YOUR GOALS: Being specific about your goal is a great thing. However, if you remain oblivious about your own good and bad points, how do you expect to work in the future? You may think that you are good at particular skillsets, but if you are not aware of the skills you need to improve, you cannot expect your plan to succeed. To achieve your goal, you will have to learn more about yourself. And what better thing can one do than self-reflect. Question yourself and find more about your potential. If you do that, you will be able to mention all these points while writing your career goal statement, which will give you a clear view.
BE SPECIFIC ABOUT YOUR IDEAS: Remember, it is your own career plan which will provide you with a view of your near future. But if you remain uncertain about the path you are choosing, what will be the point of writing down your plans? Do not just write about your goal and what you want to achieve but also mention bow you are going to achieve. Being specific with your ideas can be very beneficial. Try to formulate a structured plan which will tell you about how to reach your destination step by step. It will help you understand what you should be and should not be doing while moving forward.
USE CONFIDENT LANGUAGE: Writing your career plans in a lousy manner is never going to motivate you. The first person who should be cheering for your future is yourself. And if you decide to write your career goals with a halfhearted attitude, how do you expect to get all fired up from reading it and start working? Along with being specific with your ideas, be more confident with your words too. Try using statements such as "I will do it!" or "I must focus here before moving to the next stage." Your words will reflect your confidence and determination, which are essential for you to achieve your goals. And if you are able to express your emotions in the form of words, you will definitely look more forward to your goal.
TRY TO REMAIN FLEXIBLE: Fixing a goal is a great idea, but sometimes, one can get so obsessed with the idea that they forget to look at other alternatives. In your case as well, remember that plans change. No one can say for sure what's going to happen tomorrow and how it will affect your decisions. Even changes in your schedule are getting too hectic, which does not allow you to focus on your other plans.
Here, I am not telling you to drop your goals but remind you to remain flexible according to the situation. Your goals can shift, and in such a case, don't stop. Instead, take out your notepad and write down another career goal for yourself.
EXAMPLES RELATED TO CAREER GOAL STATEMENTS
Now that you are done looking at the reasons and tips for writing down your career goals, here are few examples of such statements from which you can take some help:
My goal is to set my career as a Graphic designer in the XYZ Company. To so, I will have to prepare properly for the finals to receive my degree finally. During my interview, I will remain more confident with my academic achievements if I can score well. I will also have to work on my skills, improve my organization skills and imbibe a problem-solving attitude. I will also have to work on my skills in Photoshop, Illustrator, Indesign, and Acrobat. 


I plan to become an IT specialist in the next three years, and I promise myself that I will do that. To reach my goal, I will first have to work on my installing skills. I will have to gain specialized experience by configuring and/or testing software on customer workstations through a graduate internship job for almost a year. I will then have to get my Masters Degree in Information Systems and then improve my customer service and oral communication skills.


In the next four years, I will work as an Application Support Analyst that improves the performance of an organization's trading architecture. To achieve my goal, I will first have to pursue a Bachelor's degree in Computer Science. I will also gain more Unix/Linux system administration skills, including troubleshooting techniques and scripting languages from an internship and volunteer work.


In the next year, I am going to get myself a Certified Public Accountant license. I am going to prepare myself a well-defined study plan and start working for the CPA exams. I will study from the review course for three to four hours after coming from work and prepare notes on the given topics.


My aim to get promoted from a sales representative position to a Sales Manager, and I will achieve this goal by the next year. To advance in my career, I will establish a track record of exceeding sales targets, undertake an MBA, and develop strong leadership qualities. I am also going to work on my communication and interpersonal skills, which will help me a lot in the future.


My dream has always been to Cloud Security Engineer, and I will become one in the next five years in the XYZ Company. To achieve my goal, I will first have to start by working with the engineering team to gain more architecting solutions within Amazon Web Services (AWS), Azure, and GCP. I will also work on my communication, interpersonal, and technical writing skills to secure my job in this field.


Becoming an Associate Principal Scientist is no easy feat, but I promise to achieve it. I will become one in the next six years, and to do so, I will gain experience by working in the pharmaceutical research projects for six years. I will thoroughly go through all the scientific knowledge present in pharmacology and learn more about disease mechanisms. I will also work on my interpersonal and communication skills to maintain a stable and healthy relationship with my teammates and coworkers.


Now that I have completed my graduation, I will now start applying for a professional receptionist position in X, Y and Z firms. To achieve my goal, I will have to project a professional image by being alert and approachable during the interview and working hours. I am also going to learn about industry-specific software, standard office equipment, improve on communication. My voice tone, body language, and communication skills are a must for this profession, and so, I will work more on them to appear more confident.


In the next three years, I will be working as a social worker in the ABC organization, providing early intervention services to infants, toddlers, and families. I have always wanted to be a part of this job and to achieve this; I will first get my Master's degree in Social Work. I will maintain my current licensure and gain more information regarding this social issue by conducting surveys and interviews. I will gain at least one year of experience in the pediatric unit, which will further help me in this profession.


I will become a Senior Medical Laboratory Scientist at Cleveland Clinic in the next five years. To achieve my goal, I will first have to be certified as a medical terminologist. I will work on my skills to meet the High Complexity Testing Personnel qualifications. I will also be working on my critical thinking, decisive judgment, and ability to work without supervision and improving myself.


I will get a job as a Data Analyst in the XYZ financial institution by the next year. This has always been my dream, and to achieve this goal, I will work on my project management skills. I will also work hard to obtain my PMP certification and also express my desire for growth and advancement to my current supervisor.


To become a Senior Project Manager in Panasonic USA in the next six years, I will refine my project management skills and become a Certified Scrum Master (CSM). I will also focus on understanding software development, lifecycle best practices, and developing expertise in project management tools, including MS Project, Smartsheets, and MS Office.
It does not matter whether you are only a student or a working individual. Setting career goals is never a bad option. These ideas are supposed to be futuristic, which helps you build a specific path for yourself to move towards your future. It is more than just a to-do list as it actually helps you gain a broader insight into the professional world.
Also read Building A Career With Creative Skills – Reggie Beltran
Career Goal Statements & Tips to Follow