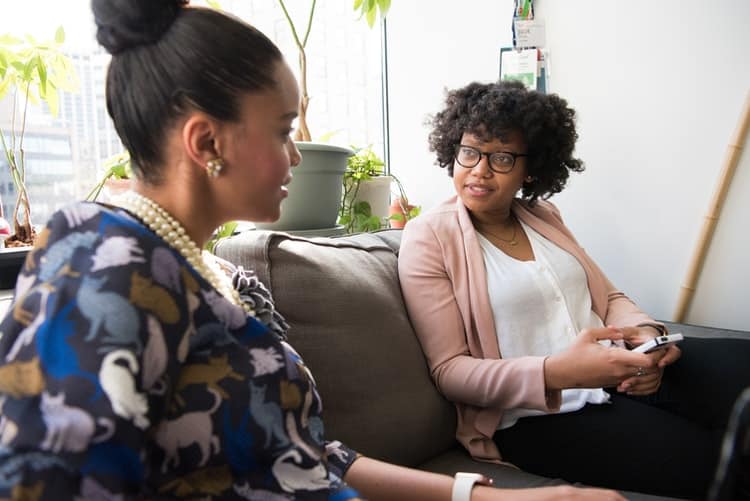 How to ask someone to be a professional reference may seem like an awkward situation to many people, but it is actually a straightforward process. In this article, we discuss how to ask someone to be a reference. In most cases, a potential employee must have a reference, which may be a previous colleague or coworker or even a college professor. The best reference for you will be someone who knows the job, and the references on your job application list should reflect that. If you've worked in the past at a company and have a good rapport with a former employer or another industry related business leader, you may wish to ask that person to be your reference.
When asking someone to be your reference, remember to explain why the person's recommendation is relevant to the position you are applying for. For example, if you're applying for an administrative position, you could explain that you have successfully managed three different departments within a large financial firm. If the prospective employer were to try and verify those three different departments, he or she would likely like to question your former supervisor, manager, or employer to ascertain whether or not you have the capacity and knowledge required for the job.
How Do I Choose Whom To Ask To Be A Reference?
How do I choose whom to be a reference in my employment application for a job? I have all rights to choose whomever I want to refer to. The real question then is, why would I choose someone other than myself to refer my candidacy to a potential employer? The simple answer is that most recruiters require it to verify candidate suitability for a particular job opening.
The more time an applicant spends looking up potential employers' websites, the more likely it is the applicant will spend time during the interview process engaging the panel, researching the company is relevant not only for the interview process but to enlighten the potential reference on the scope of the job he is applying for, for the referee to access the risks associated with the job and also the financial liabilities that may be associated with the job. The key point to remember is that the applicant's references' quality establishes a good first impression. An applicant rarely comes through a job interview alone. Usually, there are a number of other people competing for the same position. If the applicant comes across as professional, determined, and ready to learn quickly and confidently, her references will deliver positive results. However, if her references are full of unprofessional and ill-informed comments about the company and the applicant's own contributions, this can send a red flag to the HR department.
Simultaneously, as asking the right questions to determine if someone is the right fit, it is important to ensure that the person to whom the references are given has never had a job with that particular organization. For instance, if the HR person asks the applicant's previous employer's references, they must have no experience with that company! Such a question is not pertinent when asking the references about a current employee. Nor is it relevant when interviewing applicants for future jobs. The HR professional needs to ask only one question: "Did you have a good time at X Company?"
Asking the right questions when considering someone to be one of the references is critical. They can determine a lot about the potential applicant's character and how they may conduct themselves in the workplace. The HR professional may receive a variety of responses when they ask the applicant these questions. A few may make perfect references, and others may not respond at all. The best way to find out who responds best is to talk to the references.
How Do I Ask My Former Employer To Be A Reference?
It is a question more employees are asking lately as the economic recession as a result of COVID grinds on. Many employers who have been reliable providers of jobs for the past 16 years are forced to lay off workers due to financial strains. Even during tough times, people have to find a way to keep afloat. Asking your former employer to be a reference might be a good way to get a positive review and recommendation from a future employer. What's more, individuals who have had a positive working relationship with past employers have a bit of assurance that things will be fine if their former boss becomes a reference to the new employer.
Many employees are so used to the fact that their employer has always given them the best positions or the highest pay that they fail to realize that their former boss isn't an indication of all that they have experienced. They forget that employers can be just as picky as humans. So while their request isn't an unreasonable one, it is still very important to make certain that they do not misconstrue the gesture. Here are some tips to follow when asking your former employer to be your reference.
Make sure your reference has relatively fair knowledge about the industry you seek to be employed in. You need to detail exactly what skills your reference possesses and what sets him apart from all the others and makes him knowledgeable enough to refer you for that particular job. He or she doesn't necessarily need to go into too many details. However: the reference should point out some of the advantages you will bring to the company.
When writing your reference letter, your referee must make sure to allow the new employer to understand anything that might make you a good fit for the job role you are applying for. Your reference should also mention what you have done well in a past position. By highlighting these facts, your reference allows your employer to see the best in you.
Your reference will need to show your new employer that you are eager to work for them. It is important to make sure you voice this thought to your former employer in your request for your reference letter via email, postal mail, or personal interaction.
Even if you have not worked for a very long while with your previous employer, it is important that you still provide them with a positive story of your time there. If you left a job because you were not happy, and you went to another company within a year, they would appreciate your willingness to try harder, as well as your desire to better yourself. This can make them more likely to recommend you for a new employer or even hire you for a new job in the future.
Apart from having a good reference, you should prepare well to interview them for the job you are applying for. You should also ask the interviewer plenty of questions relating to the job you are applying for. The more you know about the company, the easier it will be to sell yourself to a future employer. You may find that your reference is the person that will tip the glass over and make the hiring decision swing positively in your direction.
How Do I Get A Reference If I Have No Working Experience?
Many applicants just fresh out of college are forced to apply for a job without having any work experience. This is a widespread occurrence, even though some employers are reluctant to hire someone who has no work experience at all. In fact, many US companies are now conducting a comprehensive check on all their potential candidates before they hire them. If you don't have a job and want to apply for a US job, you have to know how do I get a reference. Here's some important advice to help you with that.
First of all, you need to have a well-written resume. A well-written resume can be your passport to a better life in the US job market. If you just come across as a hard-working person with nothing much to offer, chances are, you won't get that job. Applicants with a good curriculum vitae often land the job. So, if you have nothing to sell, start from scratch and work on your resume.
As an applicant with no prior work experience, you need to get enough referrals so that you will be able to secure interviews. Referrals are the best way for employers to determine whether or not an applicant is worth interviewing or not. If you get no referrals, you'll have nothing to get hired with, and your job application will be considered last.
So, how do you get more references? Referrals come in two ways – either from friends and family or from your previous employer. Friends and family can be a great help if the applicant has no former employer. Your college professor can also be a good reference for you because he or she knows you fairly well and will be in a good position to recommend you to an employer. If you're employed and working, then it is quite easy to acquire references. However, if you're not employed, you can try networking through the company or industry you're currently in.
How many references do you need? It's better to have more than two, three or four good references from different angles. The more references you have, the better your chances of securing that dream position. The downside to having too many references is that you might look like a spammer. The good news, though, is that employers are now seeing the value of it. They want references so they can see how you manage your time and handle your work.
Does your potential employer require that you submit your references to them before you get a work visa? No one knows if that's the case with your prospective employer, but you must submit at least one reference letter with your resume. Keep in mind that this letter is meant to give your best work history. It doesn't necessarily have to be about your work. You can talk about some of your best experiences at work and how they shaped you as an individual.
If your references are not good enough it may affect your chances of securing the job. 
Right And Wrong Way To Ask Someone To Be Your Reference
The right way to ask for a reference is simple: be as straightforward as possible. Be professional in your approach, and don't take the person for granted. But most importantly, be respectful. This person could be your best chance at a new job.
There are a lot of books on etiquette, including "The Social Code" by Roger Bannister. In one of his stories, he asks some men if they know why they're asking that question in the first place. The men had been interviewed before a job and were asked this question. Most of them had an answer to that one simple question: They're asked to be your reference. If they don't deliver it, they lose their reference point.
So how do you avoid this situation? You have to make yourself available to anyone. Ask them to give you their reference if they can. Don't just request it. Make it mandatory – the reference must come from someone with whom you have an immediate relationship, someone you trust implicitly.
Now, there are two ways to go about this. You must make sure you let the person who asked you for the reference know that you will appreciate it if he or she gives it automatically. The second is to give it with no strings attached. You must also make them understand that they have a choice to decline and that you absolutely can do without it, then ask if they can be your reference later (they'll appreciate that) or use it as a negotiating tool later.
Be sure to sound humble and very formal while asking a former employer to give them your reference, and bear in mind that he or she reserves the right to refuses. Asking for reference from your boss can lead to some awkward moments when they bring up something that you might not want to discuss in a professional setting. However, in a casual conversation at the grocery store, for example, it might be easier.
In some cases, when you ask for a reference from an authority in the industry with whom you are not very familiar, attempt not to be too direct. You must come across as friendly and jovial. A reference can be a casual acquaintanceship rather than a professional one? Don't worry. Because you can make the conversation even more casual by telling them a bit about yourself and what you're looking for in the person you're asking to be your reference.
For example, if you're looking for a reference for a software engineer but don't really know much about him or her, tell them that you're interested in their experience as a software engineer. Still, you also want to learn more about them as a person. Maybe you'd like to ask them about their favorite vacation spot or something else. Or you could mention a project that you worked on together once or twice. Whatever you do, always be direct with your reference. After all, it's not as if it's possible to get someone to refer you to just about anyone these days.
On the other hand, if you happen to know that this person is an expert at cross-engineered systems, let them explain it to you. Be sure to ask lots of questions. It's one thing to say that you're interested in the person; it's another to ask them how they became so well-known in their field. It would be very impolite and unfair to turn around and ask them how you can become famous too, or ask them about any public media outlet that you may be able to use to get a reference.
Asking for a reference is a good idea, and it's always a smart move to be as forthcoming as you possibly can be. After all, no one wants to work with a rude or unpleasant person. So always be polite in asking for a reference. Explain to them how it relates to their work, and ask them to give you one. Most people will understand your desire to get a reference after a while.
Even if you are turned down, don't allow that to put anyone off. If you are applying for a job, It would be unreasonable to do so without providing a reference, and you'd probably risk the chance of getting the job.
Benefits Of Having A Reference When Apply For A Job
The importance of having a reference when applying for a job is paramount. Having references available when applying for jobs can save many wasted hours. It is important to have a professional reference with you when applying for jobs. A reference can help bolster any claims about your personality and/or work background. Hence the importance of obtaining a good reference cannot be overemphasized. A  good reference letter attached to your curriculum vitae can boost employee confidence and make you stand out in a pool of applicants.
The importance of having a reference comes with an understanding that employers are usually skeptical about applicants who do not have any references. There has been much discussion in recent times about the veracity of resumes, and some companies are making it mandatory for potential candidates to provide one or more references when applying for a new job. Many people have argued that employers do not check a candidate's resume very carefully anyway; it is more likely that they will glance over a reference provided by the applicant to be convinced of their personality and skill set. If you intend to apply for a new job and have no reference available, then you will have to put some considerable effort into having one prepared – if possible, before applying.
Why does employer care about references? The most logical reason is that they want to make sure that they are hiring a good fit for their organization. They would like to conduct a job interview screening with minimal risk of hiring someone who does not possess the required skill sets and qualities that will best fit the job. The hiring manager will often ask a candidate to supply a list of professional references and base their decision on this. If the applicant fails to include a good enough reference package, likely, they will not be offered the job.
Although most job seekers focus primarily on their skillsets when preparing a resume, the importance of personal references is often overlooked. Potential candidates must understand the importance of including such information. This is especially true if the job is a large one where reputation is important. A good business tool, which can be downloaded from the internet, can be an excellent source of information that will help applicants learn more about the importance of personal references.
Applicants must also realize that the hiring process involves the reviewing of dozens of job references. Therefore, an applicant must be certain that they have included all necessary information. It is also important for potential candidates to remember that the best references are those that the employer could personally interview. In this regard, if a person does not feel comfortable providing their own references, it may be beneficial to enlist a friend or family member's assistance that can provide good insight into the applicants' personality.
No matter how well a person does in their jobs or what kind of employer they work for, it is possible that they could experience a lack of job security. This would certainly constitute a negative impact on their overall persona and could lead to a poor outlook on life. Therefore, potential job seekers need to know the importance of checking personal references. Although qualifications and experience are very important, having a great reference is fundamental to career advancement.
Also read Good Reasons to Ask for Money
Best Ways To Ask Someone To Be A Reference [+Examples]