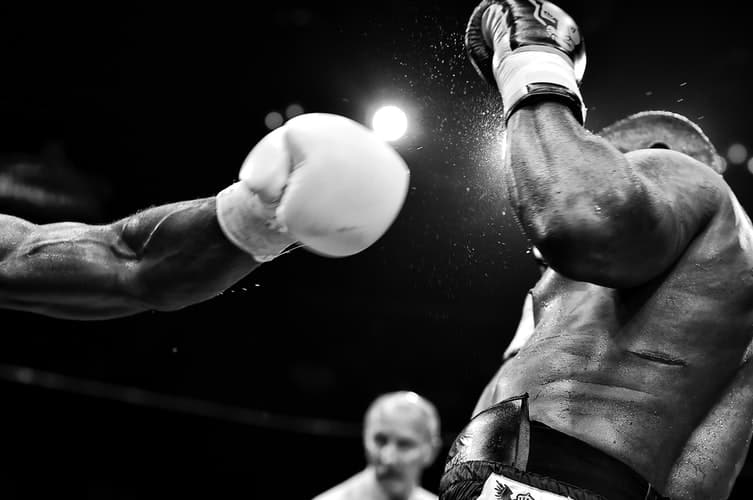 ---
Beyond the Glitz and the Glam | Becoming a Professional Boxer
Most people would assume that becoming a professional boxer earns a considerable amount of income for sacrificing beyond blood, sweat, and tears both in the ring and in rigorous training. From earning your state licensure to being able to make significant strides in the amateur circuit, to earning your pro license, to building your own team and finally getting signed by a big-time promoter, the barriers for entry that a fighter must hurdle towards before even gaining the 'professional' status is both tremendous and tedious at best. While the case of an exorbitant payout may be true for fighters sitting on top of the highest echelons of the food chain, with renowned boxing icons such as Floyd Mayweather Jr., Tyson Fury, and Evander Holyfield getting paid as much as $50 million to $100 million per fight, the truth for the life of most athletes who attempt to make a career out of the famed sport, however, could be less alluring than what we see on TV.
According to the latest publication by the US Bureau of Labor Statistics, the average American athlete or sports competitor (the class where professional boxers were clustered into) made median annual earnings of $51,370 in 2019, a number which has not changed since the publication of previous results from the same research in 2017. While merely a statistical average, the amount is considerably higher than that of the working American citizen's median annual salary, who only earned a total of $39,810 in the same year. While this leaves a measurable wage gap of just 29% between competitive professional athletes such as pro boxers and non-athletic professionals, the payday is still a far cry from what most people would expect from the glamorous lifestyles portrayed boxing stars, both in the news and in fiction. Even in taking the $51,370 median into account, this would mean that a sizable amount of professional boxers earn an income lower than the stated median. 
More importantly, this statistic also reveals that the ruthless, cutthroat disposition of the sport does not just exist within the four corners of the ring but also outside statistic uncovers the stark difference between becoming a boxer just for the sake of competing in the sport versus coming into the profession to become the absolute best because the best get paid very, very well. 
Average professional boxer's annual payout: $51,370
What is a Pro Boxer's Job Description?
Has an accurate job description for the profession of boxing ever been provided by anyone? What duties and responsibilities would such a profession entail? According to experts, it is pretty much a given that a boxer isn't just hired to solely fight for an x amount of rounds in a ring. There's a lot more to it than just throwing a punch.
Before an aspiring amateur boxer even steps foot in a professional fight, he must first earn licensure from his state's athletic commission, which will require him to undergo lengthy medical and physical testing for irregularities such as the presence of performance-enhancing drugs (PEDs) and recreational drugs in the body. Once his license is a sure thing, the boxer must go through extensive conditioning, training, and strategic planning with a trusted team that he'll need to assemble with his manager. A boxer's physique must develop to the absolute peak of its genetic potential to throw the strongest and fastest hooks and jabs and protect him from the harrowing beating he might endure from both his opponent and in the cardio-heavy activity of boxing in general. Many boxers succeed not because of their strength but with a proper strategy and some lengthy endurance. On top of this, a boxer's weight can't just fall at any random number; he must weigh within the weight class he is qualified to fight in; a potentially cruel system that has caused the cancellation of fights and, in some extreme cases, has even caused death due to excessive dehydration and rapid weight loss forced upon fighters that were too heavy for their weight class. While doing all of this (and incurring potentially hefty expenses from said activities while you're at it), a boxer must also, of course, be able to find an opponent for fighting against; otherwise, what would all this be for anyway?
Depending on the boxer's ranking (an assessment varying from each sanctioning body, which mostly considers a professional boxer's win-draw-lose ratio, level of experience, and popularity), a fighter may have to do a series of promotional events to sell the fight to audiences. These events will also incorporate additional state and federal requirements mandated by athletic commissions for the fight to occur. Only after the final weigh-in will a professional boxer be irreversibly set for his fight day. Finally, there's the fighting in the ring itself, which is the most dangerous—life-threatening aspect of the job. While boxing fights are heavily regulated with strict, life-protecting rules right from the weight and material used in the boxing gloves to padding the ring, all the way to the various ways of stoppage that a referee can choose to impose if he feels a fighter's life is in danger, the amount of boxers dying from succumbing to injury is real, and averages to about 7 a year. This also doesn't consider the extensive list of post-boxing health risks that a boxer may incur if he is unfortunate, such as dementia and chronic brain damage. 
After the fight, whether it's a win, loss, or draw, it's pretty much a period of well-deserved downtime for most professional boxers. Unless you're working a second job, the only thing you have to worry about once the bell rings is the post-match interview, some more press duties if you're really a well-known personality. It's onto recovery until the cycle repeats itself. 
Unbuttoning the Champion's Purse
The tough job description and possibly measly payouts from the profession of boxing may be painstakingly stiff for the majority of athletes who chose to commit to the sport, but what about for those among them who manage to climb the ranks, pull the brass ring, and manage to kick it with the absolute best?
Floyd Mayweather earned the biggest payday for a professional boxer in his 10 round-TKO wins against UFC star Conor McGregor on August 26, 2017. The undefeated, five-division world champion bagged a total sum of $275 Million for a single bout, an irregularity even amongst his champion-level peers, and a gargantuan anomaly from the median of boxer's earnings that was previously discussed. He certainly didn't take the moniker of Floyd "Money" Mayweather for nothing.
Even if you manage to get your name into the card of a star-studded pay-per-view event such as that of the Mayweather-Guerrero super-fight on May 4, 2013, you probably would've stood to earn around $60,000 to $375,000 for the night. If you had fought in an earlier period in history, say, in 1991, you're likely to have earned even less even after the computations factored in by inflation. Even the most renowned boxing icon of all time, Muhammad Ali, earned a humble total of $8 million from his bout against Larry Holmes way back in 1980. 
Apart from the purse winnings, professional boxers may also enjoy a handful of additional compensation in payouts such as sponsorship deals, merchandise sales, and fight bonuses. Of course, it goes without saying that these add-ons would come in largely only after a boxer has made his name from a few good wins here and there or if he's already notoriously popular, and could potentially only be at a life-changing amount depending on the veracity of deals that a boxer's manager may negotiate for his boxer to sign. In a 2019 Forbes report, British professional boxing star Anthony Joshua earned a total of $11 million in endorsement deals alone. Perhaps a touch of charisma and a winning personality wouldn't hurt if a pursuit to a boxing career is under the cards for you!
The Bottom-Line
Boxers certainly live a unique, challenging, and most times unrewarding lifestyle in their pursuit to the top, yet only a select few could leap from being a random name on a billboard; to a legend with an illustrious career and gold around his waist. There's certainly a steep difference between earning below the average as a fledgling fighter, earning just at the median after gaining a bit of experience, and earning light-years beyond the median from fighting against the absolute best fighters in the world. But do you have to go through all of that trouble to make significant money fighting in boxing? Maybe not. 
One's path to boxing stardom has been proven to not strictly, and only be walked through the conventional path we previously enumerated. Not if you're a proven elite either somewhere else in the combat sporting industry or if you've already earned some iota of a name as a known personality. In his aforementioned highest paying bout, Mayweather's opponent wasn't even against a fellow professional boxer who earned his status as an elite fighter of the sport per se. Mayweather earned his highest payday fighting against a combat fighter from a different sport; Mixed Martial Arts (MMA). Despite suffering a blistering loss, Ultimate Fighting Championship (UFC) star Conor McGregor scored an expected payday of $75 million from the fight, a number that is miles away from his highest UFC payday at $15 million. If you're looking for a combat sport quickly rising to eclipse boxing's storied popularity, look no further than in MMA.
Astonishingly enough, one might not even have to be an anomalous elite competing in any athletic field either, for that matter, to make a payday in the ring. On August 25, 2018, many fight fans dubbed as the 'amateur boxing match of the century' was fought between youtube stars Olajide "KSI" Olatunji and Logan Paul. The bout, along with an undercard filled with a who's who of internet personalities itching to get an uppercut in against their opponent just for the hell of it, was not even broadcasted on live television and was streamed via pay-per-view on Youtube for $10 a pop. Despite barely having any semblance of a boxing or professional athletic background, both Olatunji and Paul made a jaw-dropping fortune of £75 million each from the event, about that was fuelled primarily with bickering, drama-filled trifles launched from the comfort of their very own personal Youtube Channels. This is certainly no recommendation to suddenly drop everything you own and challenge your mortal nemeses to a 6-rounder at the nearest YMCA. Still, it is certainly a palpable sign that a major shift in boxing is happening at this moment, away from its locked up, Luddite traditions and towards more open, entertainment-based offerings. You might need to get famous elsewhere, first. 
Nevertheless, the sport of boxing will most likely stay as a lucrative one for a long time despite rising competition from the alternative in MMA, provided primarily by promotion giant UFC. Whether you aggressively pursue it through the conventional way or make a name for yourself outside boxing and then use it as a stepping stone for a colossal payday, an earning, no matter how big, will present itself if you are lucky enough to play your cards right, and work ruthlessly and consistently hard towards the goals you wish to pursue in professional boxing. You have to start while your body is still young and your heart is still burning.
---
Bibliography
Badenhausen, Kurt. "How Floyd Mayweather Made A Record $275 Million For One Night Of Work." Forbes, 5 Jun. 2018, 7:54 a.m., https://www.forbes.com/sites/kurtbadenhausen/2018/06/05/how-floyd-mayweather-earned-275-million-for-one-night-of-work/?sh=6c8bf2346e4d
Brookhouse, Brent. "KSI vs. Logan Paul fight purses, salaries: Prize money each fighter on the main card will take home." CBS Sports, 10 Nov. 2019, 9:15 a.m., https://www.cbssports.com/boxing/news/ksi-vs-logan-paul-fight-purses-salaries-prize-money-each-fighter-on-main-card-will-take-home/
Gerardo. "How Many Boxers Die A Year? (And How To Prevent It)." Combat Museum, n.d., https://combatmuseum.com/how-many-boxers-die-a-year-and-how-to-prevent-it/#:~:text=On%20average%2C%20about%207%20boxers,both%20pro%20and%20amateur%20boxers.
Nag, Anwesha. "Top 10 highest-paid UFC fighters." Sportskeeda, 12 Dec. 2020, 6:06 a.m., https://www.sportskeeda.com/mma/top-10-highest-paid-ufc-fighters
Parkinson, Nick. "Forbes 2020: Fury, Wilder, Joshua make top 20 to highlight the dominance of heavyweight boxing." ESPN 5, 22 Jun. 2020, https://tv5.espn.com/boxing/story/_/id/29333644/forbes-2020-fury-wilder-joshua-make-top-20-highlight-dominance-heavyweight-boxing
Ringside. "The Negative Side Effects Of Being A Pro Boxer." World Boxing News, 12 Sept. 2020, https://www.worldboxingnews.net/2020/12/09/negative-side-effects-pro-boxer/
Sarkar, Raj. "How Much Money Does Floyd Mayweather Make Per Fight?" Essentially Sports, 16 Sept. 2020, 11:44 p.m.,  https://www.essentiallysports.com/boxing-news-how-much-money-does-floyd-mayweather-make-per-fight/
Skyler, Heather. "How to Get Licensed as a Pro Boxer." Chron, 28 Jun. 2018, https://work.chron.com/licensed-pro-boxer-23579.html
Thompson, Jayne. "Salaries of Pro Boxers." Chron, 27 Jun. 2018, https://work.chron.com/salaries-pro-boxers-30165.html
Wondracz, Adrian. "Calls to outlaw a controversial diet after the teenage boxer, 18, collapsed on the street and died after trying to make the weight limit for her next fight." Daily Mail Online, 15 Dec. 2018, https://www.dailymail.co.uk/news/article-6498665/Death-rising-boxer-Jessica-Lindsay-weight-cutting-sparks-overhaul-weight-loss-trend.html#:~:text=There%20have%20been%20calls%20to,life%20of%20a%20teenage%20boxer.&text=Jessica%20Lindsay%20collapsed%20on%20a,from%20an%20upcoming%20weigh%2Din.&text=The%2018%2Dyear%2Dold%20Perth,the%20Muay%20Thai%20kickboxing%20arena%2C&text=Days%20later%20she%20died%20of%20major%20organ%20failure.
"Athletes and Sports Competitors." US Bureau of Labor Statistics, 2019, https://www.bls.gov/ooh/entertainment-and-sports/athletes-and-sports-competitors.htm#tab-1
"Be a Boxer: Requirements, Description, and Outlook." Study.com, 14 Jan. 2021 https://study.com/articles/Be_a_Boxer_Requirements_Description_and_Outlook.html
"Boxer • Job Description, Salary & Benefits." AllAboutCareers, n.d., https://www.allaboutcareers.com/job-profile/boxer/#:~:text=Well%20you're%20in%20the,ribs%20from%20time%20to%20time!&text=Professional%20boxers%20tend%20to%20compete,e.g.%20flyweight%2C%20bantamweight%20or%20heavyweight.
Also read How I got a job in Sports marketing
Becoming a Professional Boxer: How much could you exactly earn?