Microsoft is the second biggest company in the world with a market valuation of $2.587 T. It competes with Apple for the top spot. For a brief period of time, it took down Apple to be the most valued company in the World.Let us know more about that the Microsoft Core Competencies-Know More.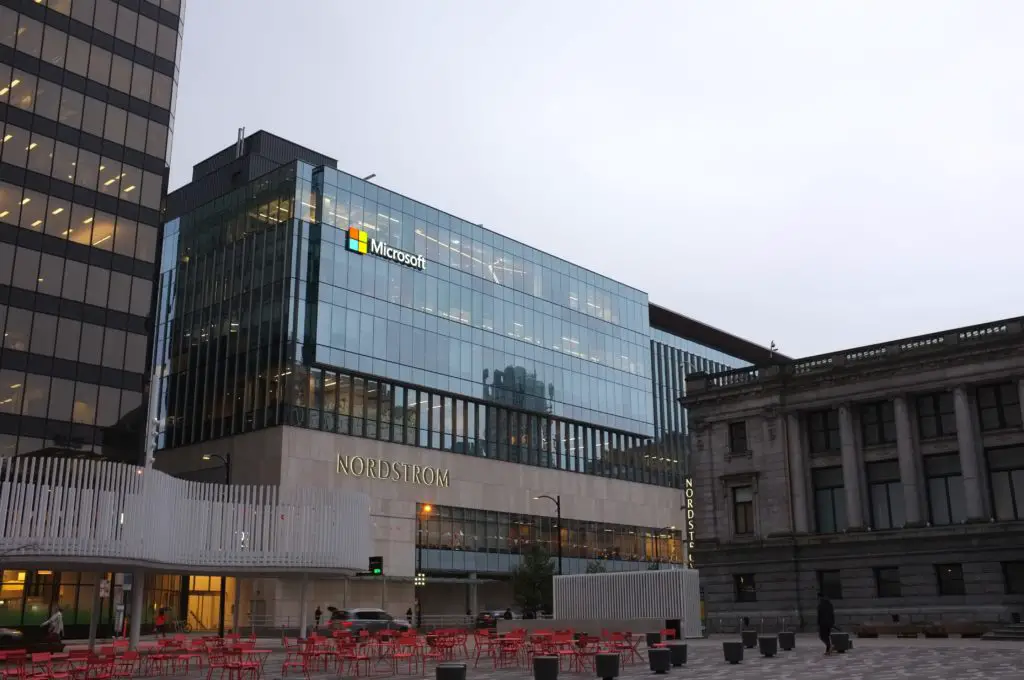 Microsoft has a wide range of businesses in different sectors, most of which are related to Information Technology. The most popular products of Microsoft are Microsoft Windows (Operating System), Microsoft Office 365 (Office Commercial), and Microsoft Internet Explorer, Microsoft Edge platform being the latest browser of Microsoft.
Companies like Microsoft cannot stay at the top without having an edge in the market. Microsoft's core competencies are the edge that it has over other players in the market. As mentioned above Microsoft is a big corporation with diversified businesses. It has several core competencies which will be explained in detail in this article.
Microsoft is a market leader and has a huge online presence. This review regarding Microsoft's core competencies has been made through research and analysis through several articles on the Internet.
Targeting Core Competencies Of Microsoft
Brand Value 
With years of service to its customer and strong management, Microsoft has formed a very strong brand value. Windows is the most widely used OS platform in the world.
Brand Value helps a company in a lot of things. It helps the company in launching new products with convenience and ease. Brand value gives a company the edge in the market over other players and customer loyalty.
Compatibility Factor
Microsoft Windows platform has been made to run on all desktop brands. None of the Microsoft products or services are so rigid as to run on a singular platform. It is one of the features of Microsoft that helps its products pass through globally.
Microsoft has formed a global footprint in the market with the help of its compatibility with all devices which helps its products sail through globally. For example, most of apple's products and services do not work on different devices than Apple. 
Network Externalities Based On Enterprise-Level Cloud Services
With the global economy heading towards forming a digital world. Cloud services for the storage of data in digital form are gaining more and more popularity in the market. 
Microsoft's enterprise-level cloud service is the strongest contender in the field. Microsoft's cloud platform serves both enterprises level companies and the general public in the market.
Network Externalities Based On Leading Market Share For Desktop OS
Microsoft has the largest user base for its Windows Operating System in the market. 87.56% of the users use Windows on their desktops. This core competency factor of Microsoft is related to the compatibility factor of Microsoft products and services.
Having a monopoly in the OS platform business helps Microsoft with a lot of things. It can easily inform its customers about new products, even force customers to use its products by giving them in-built access through their Windows OS.
Microsoft's core competencies help it sustain its position in the market. Microsoft as a company is flush with cash and can enter into new businesses anytime it wants. It launches new products and services by looking over the demand in the market. 
About The Founder Who Helped Microsoft Build Its Brand Value
Bill Gates, the 4th richest person in the World, is also the owner of the world's largest charitable organization, named Bill & Melinda Gates Foundation. It was launched 20 years ago and has since served millions of people all over the world.
Bill Gates founded Microsoft in the year 1974 with his college friend Paul Allen. Microsoft is known all over the world today with the help of Bill Gates and its OS platform "Windows" which is popular and known all over the world.
Windows OS has no competitors in the whole world, no other operating system has even come close to the market leadership held by Windows. The second-largest Operating System is Mac OS with a market share of 9.54%. One of the major reasons behind Microsoft's leadership is its compatibility with all devices and its user-friendly UI.
Bill Gates Microsoft's mission itself is to empower every person and every organization on the planet to achieve more. By making an Operating System like Windows, Microsoft has proven it wants to dominate the market with everyone. 
Microsoft Competencies explained in detail
The diagram above shows all the competencies of Microsoft, both core and non-core competencies. All the major core competencies of Microsoft have been mentioned above, now we will see all the competencies of Microsoft in detail. 
Business Applications Of Microsoft
Cloud Business Applications: With Microsoft's Cloud Business Applications you can demonstrate your skills as a Dynamic 365 partner and deliver business ready-to-use applications and services.
ERP (Enterprise Resource Planning): With the help of ERP you can help your customers make data-driven decisions that are globally visible, scalable, and have digital intelligence.
Project And Portfolio: Microsoft business applications can help you deliver properly engineered project and portfolio management solutions to the customers.
Data And AI
Data Analytics: Deliver customers informative business insights which they can use to grow or remodel their businesses.
Data Platform: Microsoft's data platform can help customers harness a large amount of data and analytics within the cloud and hybrid environments.
Apps and Infrastructure
Cloud Platform: Microsoft's Cloud Platform can help both enterprises and general people to store their data on its cloud platform and securely store them digitally.
DevOps: Development Operations helps deliver powerful end technology directly into customers' hands. 
App Integration: Seamlessly integrate application data, and automatize the business processes of your company.
Application Development: With Microsoft's application development services you can easily provide development services via an enterprise-grade platform.
Data Centre: Data Centers store a huge amount of information. With Microsoft, you can transform your data centers to be more versatile, scalable, and cost-efficient. 
Modern Workplace
Small and Medium Enterprise Cloud Solutions: You can help small and medium-level enterprises grow their businesses in a secured and productive manner with Microsoft's cloud platform.
Messaging: With a proper Exchange in Exchange online merchandise, you can help customers facilitate their businesses by providing them with products that suit their requirements.
Collaboration and Content: Microsoft can provide you SharePoint Solutions to the users, and help them grab the opportunity in a rapidly growing market.
Windows & Devices: Windows is the most versatile and scalable OS in the market. It can help customers use all sorts of devices through its OS.
Cloud Productivity: Office-365 is the Market leader in enterprise-grade productivity solutions. Customers can conveniently use this platform to better their productivity and growth.
Security
Microsoft provides security features for all of its products and services. For Windows, it provides users with a free Windows Defender that helps get rid of basic threats, and viruses.
Microsofts' Windows platform is compatible with most devices in the market, from businessmen to students, from coders to Hackers, all of them use Microsoft Windows. Although some Hackers prefer Linux systems, the majority of the market is held by Microsoft.
Microsoft competes with other market players in all of the above-mentioned services. Microsoft's growth is driven by innovation and customer satisfaction. Windows has millions of customer service stores all over the world. It makes its customers feel satisfied with its first-class services, and easy procedures for grievance redressals.
Along with Windows, Microsoft 365 that consists of Microsoft Word, Microsoft PowerPoint, Microsoft Excel, and Microsoft One Note, etc is one of the major revenue sources of Microsoft. 
Microsoft Word and PowerPoint are used all over the world by students and businesses for making presentations and making notes. 
On the other hand, Microsoft Excel has dominated the market in Accounting, Data Management, Financial Analysis, Charting, and Graphing, etc. In today's generation, the skill to use Microsoft Excel can help you in getting a job as well. People do online courses to learn to use Excel most efficiently.
Conclusion
Microsoft has achieved several milestones with hard work and by giving importance to its customer reviews. No company can grow to number one without public support from all over the world. Microsoft has built trust in its customers with time and patience. People don't doubt its products working or long-lasting capabilities anymore. It takes time and a lot of effort to build such Brand value.
Microsoft is not a new-age IT company, it has been at the top for more than a decade now, and to retain that position it works on sustaining its core competencies. Because those factors are the ones that provide Microsoft with the edge over other players and help it sustain its position at the top.
Frequently Asked Questions
Q1. What are the core competencies of Microsoft?
Microsoft's major core competencies are its brand value, excellent compatibility of its products, its enterprise-level cloud services, and its monopoly in the Dekstop OS.
Q2. How does Microsoft plan to hold on to its core competencies in the future?
Constant innovation and development with the changing market trends are the way to sustain the edge a company has in the market. Microsoft has left no stone unturned to take part, directly or indirectly (through investments), in the latest technologies or developments of the consumer business.
Q3. What are the threats that Microsoft needs to deal with to hold on to the edge it has over other market players?
Microsoft holds a monopoly in the Dekstop OS system, and as of now, there is no other company big enough to hurt Microsoft in its OS. Other than that, new political regulations over large IT companies like Microsoft, are the biggest trouble in the future ahead.
Q4. How important is it for Microsoft to have core competencies?
Core competencies for big businesses help them to launch new technology in the market with ease. Other than that, core competencies also help these companies by making it difficult for other new-age companies in gaining market share. 
Therefore, core competencies are crucial for Microsoft to sustain its value in the market for the long term.
Microsoft Core Competencies-Know More