It's the 1900s. Your neighbors all take the train or walk to work. Your neighborhood isn't the super-rich, billionaire type, so none of them have horses. But you don't walk to work or rely on the train, not because you have a horse, but because you have a Model T. The Model T was the game-changer. It brought the motor car to ordinary households. A company's vision plays a major role in crafting the future. In this article we are going to see about Ford mission statement, vision & values analysis.
In the case of Ford, it had a far-reaching consequence on the expansion of the human race. Can we really imagine where we would have been without the motor car? That's how a company's vision should be, achievable in accordance with its mission. A glimpse at Ford's mission, vision, and values are like taking a walk-through history. Their values guide their path, and the mission helps them get there.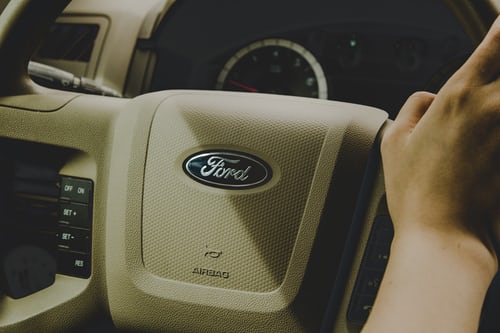 From the Model T to Electricity
Ford is the company that comes to mind while talking about the American way of life. The company has achieved global success and recognition for making the lives of millions easier while promoting and advancing scientific and technological progress in automobile engineering. Ford embodied the American spirit, first by bringing the Model T to ordinary households, and then kept it alive by providing unemployment in the hundreds of thousands. The main characteristic of Ford is their management, who were able to recognize talent and apportion authority to the right people for important jobs. 
Ford Motors- Mission Statement: "Our mission is to strengthen communities and help make people's lives better. Our purpose is to drive human progress through freedom of movement."
Strengthen Communities
Ford realizes that driving is a vital part of community life. Parents drive their kids to school and then drive to work. Seniors drive their dates to prom nights, and moms drive their middle-schoolers to soccer or t-ball games. Safer roads, especially for senior citizens, mean a strong community. Ford's Driving Skills for Life imbibes first-time novice drivers with important values and skills to make them responsible drivers and citizens. This program, which is initialized under the Ford Fund, works with local communities and is catered and customized for different countries. 
Make People's lives better.
Ford Motors Company Fund makes widespread investment into local communities and has initialized programs to help the marginalized in many countries around the world. These programs include education, grants, safe driving, and many more. The fund also gives away billions of dollars to non-profits and seeks to promote sustainable development in various regions and countries. Their volunteer corps gives employees the chance to give back to society not just via donations but also by using their expertise to enrich the lives of people by the propagation of skills, knowledge, and the use of technology. Ford also believes in giving back to veterans that have sacrificed their lives for their country via programs such as Ford Focus on Freedom and other related workshops and initiatives for military personnel. 
To drive human progress through freedom of movement. 
Ford recognizes another fundamental human and American ideal and strives towards it. That economic and human progress is amplified by freedom. In Ford's case, it facilitates the freedom of movement by producing top-of-the-line fuel-efficient cars at affordable prices. Its mission to drive human progress is also represented by its commitment to sustainable development and a cleaner world. Ford seeks to connect people with their loved ones to help them achieve fraternity and camaraderie with their fellow humans. The progress of technology should also mean progress for the environment and humanity. Ford's mission to innovate to help achieve its climate goals is hence entrenched in the American way.
Ford Motors- Purpose: We are here for one purpose, to help build a better world, where every person is free to move and pursue their dreams.
To help build a better world.
So many companies make it their mission and purpose to make the world a better place. For these companies and people, Corporate Social Responsibility comes naturally and is the moral thing to do. They realize the implications of this philanthropy as having a positive impact on their brand by amplifying their values. This also helps attract both customers and clients to their products. For customers, Ford's purpose and mission to build a better world by building safer cars is exactly the kind of trust they look for while selecting their next car. For employees, this means that they believe that Ford will look after them while at the company and even afterward. Building a better world means building a better future. Ford does this by investing in technology, infrastructure, and education via its many programs. 
Every person is free to move and pursue their dreams.
Ford's journey and its mission have become synonymous with the American Dream. Ford sees itself and its cars as an enabler of dreams. Be they the dreams of family life, traveling, or starting a business. Ford's cars are used for a number of purposes, and the company sees itself as an extension of those purposes. By making it easier, cheaper, and cleaner to travel, Ford helps people achieve their dreams. 
Ford Motors- Vision: "To become the world's most trusted company, designing smart vehicles for a smart world."
To become the world's most trusted company.
If there is one thing that buyers look for in cars and automobile companies, it is trust. There is a reason why Ford emphasizes family and the American way. People trust their families, and they trust the American way with its values of hard work, sacrifice, and innovation. Ford wants to take these values to the world, and it sees its brand becoming widely recognized for the safety and assurance that its products portray. Ford hopes to take this trust to the citizens of the world not just via its brand or product but through its Corporate Responsibility programs that promote their values and put them into action. Trust can come from many directions, and Ford hopes to win over customers through its many partnerships and social initiatives. 
Designing smart vehicles for a smart world.
The difference between the current industrial revolution and the previous ones is that people are always looking for something more, something extra. Our phones, watches, computers, refrigerators, and microwaves were all upgraded using technology. It is Ford's vision that our cars should also follow the same route. This means innovating its products not just for aesthetic or utilitarian purposes but to make life on earth better. Ford's vision hence has a pivotal space for electric vehicles. It expects to be one of the biggest electric car manufacturers in the world, thereby considerably reducing carbon emissions and greenhouse gases. Ford also dreams to integrate Artificial Intelligence into commercial, everyday cars and has partnered with Argo AI for the same. Ford is currently testing self-driving cars which utilize Artificial Intelligence for a safer drive. Ford seeks to give its customers a memorable driving experience by making smarter vehicles to cater to an ever-shifting world. 
Ford Motors: Values Analysis
Put People First
Studies by various websites have shown that two-thirds of Ford employees are motivated by the company's values. This result is a testament to Ford's first truth of valuing human resources and customers, i.e., people. By showing people that they care, Ford works towards its vision of being the most trusted company in the world. This value leans into Ford's human-centered, family-based approach to its brand. Putting people first means that Ford does not have to choose between technology or community as the two are synonymous in Ford's plans. 
Do the Right Thing
Ford realizes that trust is built by its action, and their actions are heavily influenced by integrity and morality. Ford builds and innovates technology for the betterment of humankind. They use this technology to safeguard and enrich communities. In particular, it means using this technology to save the environment and reduce accidents on the roads. Ford also has a history of treating its employees with respect and keeping working conditions suitable for productivity. In the future, they look to further promote human rights and sustainable development to keep this value intact. 
Create Tomorrow
Ever since Henry Ford's Model T, Ford has been making the impossible possible. The company was established to expand the horizons of humankind by revolutionizing travel. Today, the company is all set to create the future with its Self-Driving vehicles, Electric Vehicles, and smart mobility solutions. Ford recognizes that creating tomorrow doesn't just mean material innovation but also needs human progress. Ford's emphasis on education, communities, and sustainability is a testament to this value. It's not just about envisioning the future, it's also about creating it. Ford's future is cleaner, greener, and more illuminated.
Play to Win
Another American ideal is putting 100% of the effort and playing to win. Ford has overcome countless hurdles by believing in this value. Ford has remained one of the best-selling automobile brands by constantly keeping up the competitive spirit of maintaining high standards. Ford realizes that businesses are dynamic in nature and constitute ever-shifting components made up of thousands of decisions. Ford hopes to win the small battles and makes the right decisions to remain ahead of the pack. 
Be Curious
Ford seeks to solve humankind's most pressing issues. It does not shy away from tough problems but in fact, races to them with the speed of a race car. It is this idea that led the company's founder Henry Ford to solve humankind's transportation problem. It is this same curiosity that runs through the veins of every employee and client at Ford. Like any successful company, Ford has often embraced new technology and methods which have kept them afloat in turbulent times. They believe that progress is a by-product of curiosity and hope to keep the fire of innovation burning. 
One Ford
Ford has mastered the art of integrating solo acts into a symphony. It can achieve this harmony by mutual trust between employees and the administration. This has a lot to do with good wages and working conditions, which allow its employees to view the company as a big family. This value also transcends into its global operations and care for local communities around the world. The values of family and fraternity are shared by all Ford plants around the world.
Built Ford Tough
Ford hasn't become one of the best in the world by giving up. Ford embodies the American way of hard work and resilience. Just like Rome, Ford wasn't built in a day. Ford realizes that the roads may not always be smooth, but that shouldn't stop a Ford from getting to its destination. Similar to how a Ford truck is tough and built to last, Ford's projects, be they motor vehicles or socio-environmental programs, are meant for future generations. Ford believes in lasting solutions that influence a paradigm shift in the way things are done and that tough problems require tough solutions. Ford doesn't believe in the words, "It can't be done."
What do Ford's mission, vision, and values mean for the company and its employees?
In a survey conducted by comparably.com, a stunning 94% of Ford employees opined that they were proud of the Automobile company. This is far superior to the industry average and has a lot to do with how Ford has positioned itself over the years. Ford's vision for its future and the future of transportation is highly optimistic and dynamic. This has had a positive effect on their employees and customers as people are drawn to affable ideas. Employees feel more responsible and cherish this responsibility. They feel valued and needed and view themselves as assets to society. It is no wonder that in the same survey, about two-thirds of Ford employees felt motivated by the company's values. Ford likes to push its employees who also like a good challenge. This has led to greater innovation in its products, and the company has been able to deliver on its mission. 
Self-Driving (Conclusion)
Ford obviously places a high emphasis on trust. This is to be expected for an automobile manufacturer. By living up to the standards set by its founder Henry Ford, the company has been able to win the trust of clients and customers. This trust will come in handy while producing and releasing self-driving vehicles. Ford has also found that the secret to a successful business is happy employees. Ford's values ensure that the company stays true to its roots of treating employees and customers with respect. Ford is uniquely poised to take advantage of the current big-data boom, and its legions of willing, motivated employees, engineers, scientists, and managers will have the lion's share in realizing this future. One could say that Ford's values, fueled by its mission, self-drive the company into the future!
Ford Mission Statement, Vision & Values Analysis- know More